Twi-ny, This Week in New York
Ken Landauer's "King" offers a tempting respite at Socrates Sculpture Park
JOSIAH WEDGWOOD AND HIS CIRCLE
The UBS Art Gallery
1285 Sixth Ave. between 51st & 52nd Sts.
Monday through Friday, 8:00 am — 6:00 pm
Through April 18
Admission: free
212-713-2885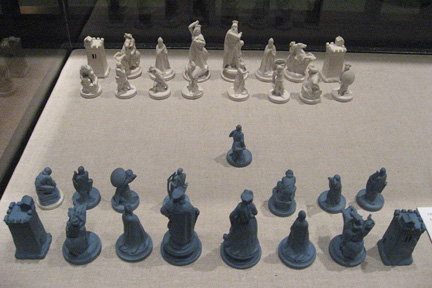 twi-ny/mdr
Historical Wedgwood display is on view at UBS Gallery

Josiah Wedgwood might have started life as a poor potter's son in Staffordshire, but he ultimately became a major figure in the Industrial Revolution, an abolitionist with a brilliant scientific mind (he was a member of the Royal Society) who developed innovative factories with groundbreaking methods of mass production and distribution. The maternal grandfather of Charles Darwin, Wedgwood transformed the pottery industry, incorporating classical and Asian styles as well as flora into his popular cream ware, jasper ware, stone ware, cane ware, pearl ware, basalt, bone china, and other ceramic products. The UBS Art Gallery in Midtown is lined with two aisles of cases displaying more than one hundred fabulous works, dating from the 1750s to the twentieth century, comprising a wide array of pots, pitchers, plates, urns, vases, and cups in addition to Sir Joshua Reynolds's 1782 "Portrait of Josiah Wedgwood," a sculptural bust of Sir Walter Scott, and other artifacts. Among the more spectacular pieces is a mid-twentieth-century engine-turned black-and-white jasper dip vase; an eighteenth-century cream ware vase with cloudy agate glaze, featuring two female figures on opposite sides; a pair of extravagantly decorated late nineteenth-century majolica water ewers; earthenware created for Catherine the Great; and even a chess set. You don't have to be into pottery to enjoy this splendid exhibit.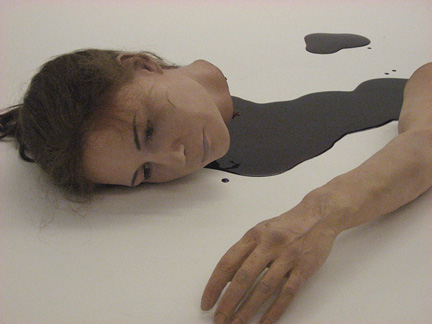 twi-ny/mdr
Mathilde ter Heijne, "Menschen Opfern," detail, 2002
UNDER PAIN OF DEATH
Austrian Cultural Forum
11 East 52nd St. between Madison & Fifth Aves.
Closed Sunday
Through May 10
Admission: free
212-319-5300

Curated by Gerald Matt and Abraham Orden, "Under Pain of Death" examines torture, ritual sacrifice, and the death penalty through the work of a disparate group of international contemporary artists. Manfred Erhautz's "Elektrischer Stuhl, Los(t) Angeles Version" is a life-size electric chair made out of colorful Lego pieces and placed in an acrylic glass case, as if a special toy. Artur Zmijewski's video "The Game of Tag (Fangen)" shows naked men and women playing tag in two rooms, one an actual Nazi concentration camp gas chamber, turning death into a game. In "The Wonder Gaze (St. James Park)," Ken Gonzales-Day removes the victim of a lynching from an iconic photograph, calling into question why a group of white southerners have gathered together around a tree. Adam McEwen takes a famous image of Benito Mussolini and Calra Petacci hanging by their feet shortly after their execution and turns it upside down, making them look like angels floating toward heaven. Lucinda Devlin's Omega Series takes viewers into real execution chambers in the United States, but there are no people present, no witnesses, no executioner, and no death-row inmate, casting a cold yet ghostly presence over the vacant rooms. In "Menschen Opfern," Mathilde ter Heijne creates three life-size versions of herself, one holding her chopped-off head in one corner, while another head and other body parts lie in a pool of blood in another corner, re-creating the story of Iphigenia, while singing a piece from Gluck's opera that deals with male power and female sacrifice. In ter Heijne's short film "Suicide Bomb," a young woman continually blows herself up while an unseen narrator reads from studies about the causes and effects of such terrorism.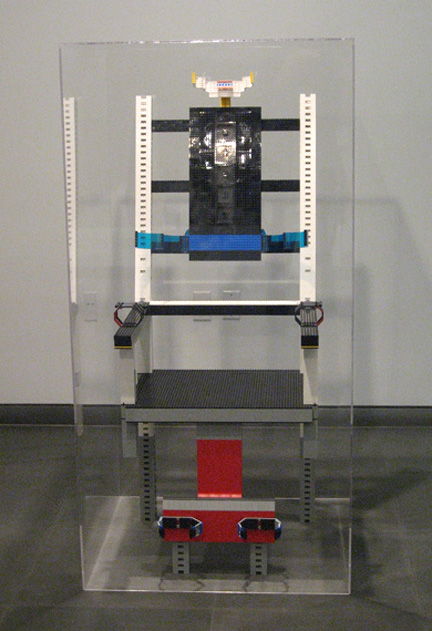 twi-ny/mdr
Manfred Erhautz, "Elektrischer Stuhl, Los(t) Angeles Version," acrylic glass and Lego, 1999

Mary Ellen Carroll uses newspaper clippings to shine attention on the cruelty of specific executions, including one in which the executioner had trouble finding "a suitable vein." While the United States debates over what constitutes torture and whether it is an effective military tool, Chieh-Jen Chen's "Lingchi — Echoes of a Historical Photograph" depicts the horror of a Chinese method of execution that involves gouging out two huge holes from a man's chest; at one point, Chen essentially goes inside the body, using the two holes as eyes surveying the frightened and terrified people around him. For "Kill 'em All. Let God Sort 'em Out," Nick Oberthaler brings religion into the picture, hiding a small Jesus in an Easter flag. In "Last Supper," Bigert & Bergstrom follow former prison chef Brian Price as he re-creates a final meal he made for a murderer on death row. Also taking on the "eye for an eye" theme are Andy Warhol, Andres Serrano, Steven Cohen, Glenn Ligon, and others. The exhibit is supplemented with film screenings of CREMASTER 2 (Matthew Barney, 1999), FUNNY GAMES (Michael Haneke, 1997), MR. DEATH (Errol Morris, 2000), and other feature-length works that deal with death and torture.
Wednesday, February 20 Chamber Music Series Focus Concert: New Sounds from Austria's Cutting Edge and Beyond, with Either/Or Ensemble playing works by Ablinger, Carrick, Furrer, Haas, and Stankovski, free but reservations required, 7:30
Wednesday, February 25 THE TIME OF THE WOLF (Michael Haneke, 2003), 6:00, and CACHÉ (HIDDEN) (Michael Haneke, 2005), 8:00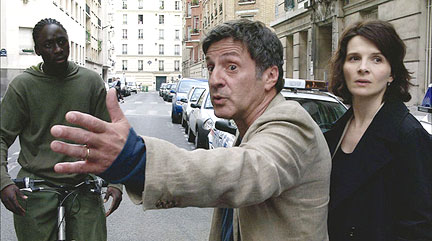 Daniel Auteil and Juliette Binoche find their share of trouble in CACHÉ
CACHÉ (HIDDEN) (Michael Haneke, 2005)
http://www.cache-lefilm.com
http://www.sonyclassics.com/cache

Writer-director Michael Haneke (THE PIANO TEACHER, FUNNY GAMES) was named Best Director at Cannes for this slow-moving yet gripping psychological drama about a seemingly happy French family whose lives are about to be torn apart. CACHÉ stars Daniel Auteil as Georges, the host of a literary public television talk show, and Juliette Binoche as his wife, Anne, a book editor. One day a mysterious videotape is left for them, showing a continuous shot of their house. More tapes follow, wrapped in childish drawings of a boy with blood coming out of his mouth. Fearing for the safety of their son, Pierrot (Lester Makedonsky), they go to the police, who say they cannot do anything until an actual crime has been committed. As the tapes reveal more information and invite more danger, Georges's secrets and lies threaten the future of his marriage. CACHÉ is a tense, involving thriller that is both uncomfortable and captivating to watch. Haneke zooms in closely on the relationship between Georges and Anne, keeping all other characters in the background; in fact, there is no musical score or even any incidental music to enhance the searing emotions coming from Auteil and Binoche. Oh, and be sure to pay close attention to the long final shot for just one more crucial twist that many people in the audience will miss.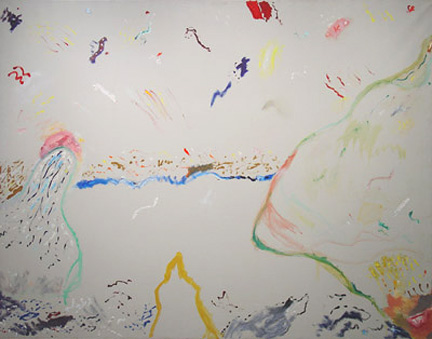 Lori Bookstein Fine Art
Aristodimos Kaldis, "The Four Elements of Nature," oil on canvas, 1976
ARISTODIMOS KALDIS: FOUR MAJOR WORKS, 1956-1977 / A LIFE IN ART: FIFTY YEARS OF COLLECTING
Lori Bookstein Fine Art
37 West 57th St. between Fifth & Sixth Aves.
Through March 3
Closed Sunday & Monday
Admission: free
212-750-0949

Born in Turkey in 1899 and raised in Greece, Aristodimos Kaldis came to America in 1917 and moved to New York City in 1930, where he worked for the Federal Art Project, led a strike against the Waldorf=Astoria, and became a well respected educator and lecturer. He was also a wonderful painter. A contemporary of such artists as Diego Rivera, Mark Rothko, and Willem de Kooning and a two-time Guggenheim Fellow, Kaldis painted lush landscapes filled with broad brushstrokes and striking color, reminiscent of van Gogh, Kandinsky, and Cézanne. This small but impressive show features four large-scale abstract pieces, ranging from 1956's "Study for Panhellenic Landscape" to 1974's "Waterfall" and 1977's "Cavo d'Oro." But while those three paintings are dense and lush, "The Four Elements of Nature" (1976) is simply captivating, wide open and welcoming in a very different way, evoking Miro. In the back room, Lori Bookstein is displaying "A Life in Art: Fifty Years of Collecting," featuring more than fifty works owned by an anonymous collector with a taste for outsider folk art. The exhibition includes several outstanding drawings by Bill Traylor, Acharya Vyakul, and James Castle, among others.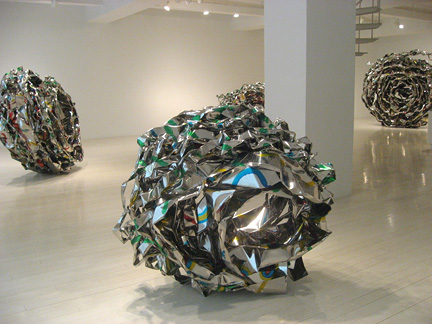 twi-ny/mdr
New works by John Chamberlain shine at PaceWildenstein
ALSO IN MIDTOWN
On the same floor as Lori Bookstein, the Project (37 West 57th St., www.elproyecto.com) is presenting Chen Xiaoyun's "Love You, Big Boss" (through March 30), which includes three video installations made to create controversy. In "I'm King," a man stands in a cage, reading off names of such political figures as Josef Stalin, Bill Clinton, Woodrow Wilson, Richard Nixon, and many others while cutting back and forth to another cage, where he is having actual intercourse with a woman, commenting on power — and the abuse of power — and turning the viewer into a voyeur. In "Fly with You," a man in a field twirls objects over his head, including a suitcase, mannequin parts, a chair, and, ultimately, a live bird, which will drive PETA crazy. And in "Love You, Big Boss," a ragtag orchestra in a sad theater is playing the American National Anthem, but each musician, many using homemade instruments, are playing their own way and at their own pace, resulting in a cacophony sure to enrage those filled with patriotic fervor.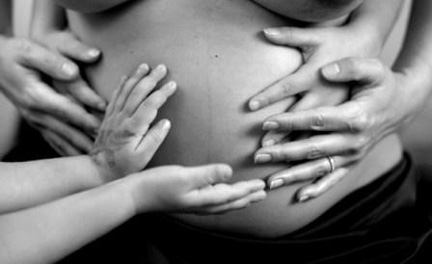 © Denise Guerin
Denise Guerin's "Enceinte" series is at Destination Maternity

Through March 15, PaceWildenstein (32 East 57th St., www.pacewildenstein.com) is presenting five new glittering works by John Chamberlain, continuing his shift away from automotive steel placed on walls, like three-dimensional paintings, in favor of conglomerations of stainless-steel strips dabbed with various splashes of paint and laid out on the floor. Four of the intriguingly named pieces ("Smndtyrqurd," "gandersacue," "Incidentallyneutered," and "Nipplespierre") twist in vortex-like circles, sucking viewers in, while the fifth ("Popsicletoes") is a tall, vertical sculpture standing in the corner. Now in his eighties, Chamberlain is still reinventing himself in fascinating, entertaining ways. While continuing down 57th St., duck into Destination Maternity (575 Madison Ave., www.destinationmaternity.com), where Denise Guerin's "Enceinte: A Belly Fortress" will be on view through May 29, consisting of five intimate photographs of pregnant women's bellies, taken while Guerin herself was present. Finally, Marlborough (40 West 57th St., www.marlboroughgallery.com) will be displaying "Alberto Magnelli — A Retrospective: 1912-1965" through March 8, a lovely collection of thirty-four paintings and thirty drawings by the man considered to be Italy's first abstract painter.
Film Festival of the Week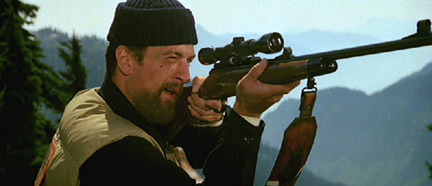 Robert De Niro takes aim in one of 1978's best films, THE DEER HUNTER
BEST FILMS OF 1978
Symphony Space, Leonard Nimoy Thalia
2537 Broadway at 95th St.
212-864-5400
Continuing its thirtieth anniversary celebration, Symphony Space pays tribute to some of the best films of 1978 in this month-long salute. While we're glad to see Woody Allen's underrated Bergman tribute, INTERIORS, make the cut, as well as Scorsese's innovative concert film THE LAST WALTZ, Terrence Malick's lush and beautiful DAYS OF HEAVEN, and Michael Cimino's still-remarkable Vietnam War epic, THE DEER HUNTER, we would have preferred Warren Beatty's HEAVEN CAN WAIT, Bergman's AUTUMN SONATA, and Steve Rash's THE BUDDY HOLLY STORY instead of COMING HOME and AN UNMARRIED WOMAN, but heck, at least we're getting GREASE over THE WIZ.
Sunday, February 24
and
Tuesday, February 26 INTERIORS (Woody Allen, 1978)
Sunday, February 24
and
Tuesday, February 26 COMING HOME (Hal Ashby, 1978)
Sunday, March 2
and
Tuesday, March 4 PRETTY BABY (Louis Malle, 1978)
Tuesday, March 4 THE LAST WALTZ (Martin Scorsese, 1978)
Sunday, March 9
and
Tuesday, March 11 THE DEER HUNTER (Michael Cimino, 1978)
Tuesday, March 11 DAYS OF HEAVEN (Terrence Malick, 1978)
Sunday, March 16
and
Tuesday, March 18 AN UNMARRIED WOMAN (Paul Mazursky, 1978)
Sunday, March 23
and
Tuesday, March 25 GREASE (Randal Kleiser, 1978)
Music Festival of the Week
BROOKLYN NEXT
Brooklyn Academy of Music & other Brooklyn venues
Through February 24
718-636-4100
A Brooklyn institution, BAM celebrates the music of the world's coolest borough in the ambitious "Brooklyn Next," a festival that features 175 shows at 17 venues. Among the participating locations are Southpaw, Union Hall, Barbès, Frank's Lounge, Zebulon, Solomon's Porch Café, Pete's Candy Store, Monkey Town, and Five Spot; although the majority of performers are not extremely well known, they might very well be soon, so this is a great opportunity to check out some up-and-coming talent as well as some fab places. There's jazz, funk, punk, folk, country, alternative, soul, rap, jazz, techno, house — a little bit of everything. If the below list is a bit too daunting, we highly recommend the Charles Gayle Trio, Takka Takka, the National, Wumni, Rasheeda Wallace, DJ Spinna, Amayo's Fu-Arkistra, and the Johnny Cash Birthday Bash. And one of the best things of the fest is that the vast majority of shows are either free or less than twelve bucks to get in.
Wednesday, February 20 Brooklyn Next Launch Party: Tortured Soul with Pimps of Joytime and Turntables on the Hudson, Southpaw, 7:30
Thursday, February 21 Yva Las Vegass, Kenny Forsh & K-Men's Crew, Ching Chong Song, the Pizzas, and the New York Howl, Goodbye Blue Monday, 7:30
Thursday, February 21 Favourite Sons and the Mugs, Union Hall, $10, 8:00
Thursday, February 21 Kaissa, Le Grand Dakar, 8:00 & 10:00
Thursday, February 21 Sanda Weibl, 8:00, and Matt Munisteri, 10:00, Barbès
Thursday, February 21 The Rebel (Country Teasers), Monkey Town, 8:00 & 10:30
Thursday, February 21 Soul Cycle, 8:30, and Myoshia, 9:30, Frank's Lounge
Thursday, February 21 Karen Bernod, Solomon's Porch Café, 9:00
Thursday, February 21 Williamsburg Youth Jazz Ensemble, Williamsburg Music Center, 9:00
Thursday, February 21 The Interpreter featuring Skeletons and Kings of All Cities and Bee's Nest Group, Zebulon, 9:00
Thursday, February 21 Charles Burst, 9:00, and Takka Takka, 10:00, Magnetic Field
Thursday, February 21 Sasha Dobson, 9:00, and Meowskers, 10:30, Pete's Candy Store
Thursday, February 21 DJ Evil Dee, Sputnik, 10:00
Thursday, February 21 Da Feel and Nate Jones, Five Spot, 10:00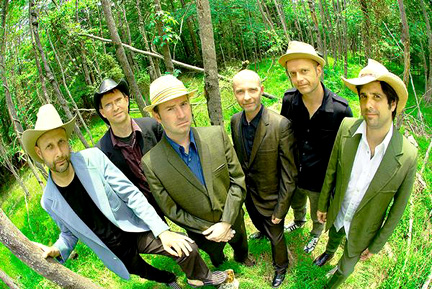 Chicha Libre will be at Barbès for Next fest

Friday, February 22 Les Chauds Lapins, 8:00, and Chicha Libre, 10:00, Barbès
Friday, February 22 Skeleton Breath, the Woes, Greg & Hawk, Naomi Shelton & the Gospel Queens, and Zest Rock, Goodbye Blue Monday, 7:30
Friday, February 22 Excepter, Monkey Town, $10, 7:30 & 10:00
Friday, February 22 Laura Cantrell and Mia Riddle & Her Band, Union Hall, $12, 8:00
Friday, February 22 Tantra with Rhythm Justice band, 8:00, Kelly Renee, 10:00, and Alkebulan, 11:00, Five Spot
Friday, February 22 Hiro Homma Group (with Headhunters' Jerry Z), Le Grand Dakar, 8:00 & 10:00
Friday, February 22 Gato Loco (Quarteto Y Orquestra) with Dancers, and Drumadics with Trixie Little and the Evil Hate Monkey, FiveMyles, 8:30
Friday, February 22 Mike Wexler, 9:00, and Death Vessel, 10:30, free, Pete's Candy Store
Friday, February 22 Jeff King Band, Solomon's Porch Café, 9:00
Friday, February 22 Lines of Reason, Williamsburg Music Center, 9:00
Friday, February 22 Nuclear Family, Junk Science, the Dugout, and the Project, Southpaw, 9:00
Friday, February 22 Charles Gayle Trio, 9:00, and UB 313, 11:00, Zebulon
Friday, February 22 DJ Reborn with Mrk Drkfthr, Sputnik, 10:00
Friday, February 22 Goes Cube, Magnetic Field, 10:00
Friday, February 22 DJ Adam Scott, Frank's Lounge, 10:00
Friday, February 22 Soul Summit Music with special guests DJ Spinna and Strafe, BAMcafé, free, 10:00 — 4:00 am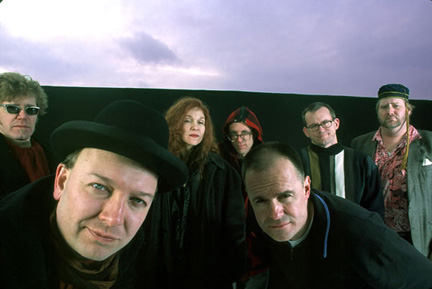 Life in a Blender will mix things up at Barbès

Friday, February 22
and
Saturday, February 23 The National with My Brightest Diamond, BAM Howard Gilman Opera House, 8:00
Saturday, February 23 Diana Joy, Alana Amram and the Rough Gems, Twi & Humblefeather, Ras Moshe Trio, and Complex, Goodbye Blue Monday, 7:30
Saturday, February 23 Tony Conrad, Monkey Town, 7:30 & 10:00
Saturday, February 23 Buyu, Solomon's Porch Café, 8:00
Saturday, February 23 Johnny Cash Birthday Bash with Alex Battles Whiskey Rebellion and Friends, and Sit & Die Co., Southpaw, 8:00
Saturday, February 23 Wumni, Restoration Youth Arts Academy African Drummers and special guest DJs, Bedford-Stuyvesant Restoration Corporation, 8:00
Saturday, February 23 Angela Johnson Listening Party, 8:00, Chris Rob, 9:00, and Moneh, 10:00, Frank's Lounge
Saturday, February 23 Brian Carpenter's Ghost Train Orchestra, 8:00, and Life in a Blender, 10:00, Barbès
Saturday, February 23 Tribe of Judah, Dakar Restaurant, 8:00 & 10:00
Saturday, February 23 Travis Morrison Hellfighters, and a Sunny Day in Glasgow, Union Hall, $10, 8:00
Saturday, February 23 Female Jazz Vocalists: Maritri Garrett, Desiree Gordon, Sarah Holtzschue, Nzinga Job, Da'neesa Monk, Yolanda Sangweni, Jane Wang, Hosted by Iowan Tribal, FiveMyles, 8:30
Saturday, February 23 Gerry Eastman Ensemble, Williamsburg Music Center, 9:00
Saturday, February 23 The Mess Arounds, 9:00, and the A-Bones, 10:00, Magnetic Field
Saturday, February 23 Louis, 9:00, and Ola Podrida, 10:30, free, Pete's Candy Store
Saturday, February 23 Baye Kouyate Et Les Tougarake, 9:00, and Amayo's Fu-Arkistra, 11:00, Zebulon
Saturday, February 23 DJ Spinna, Sputnik, 10:00
Saturday, February 23 Rasheeda Wallace, 10:00, and Nakia Henry, 11:00, Five Spot
Saturday, February 23 Soul Summit Music with Special Guest Danil Wright, BAMcafé, free, 10:00 — 2:00 am
Sunday, February 24 Dan Zanes and Friends, BAM Howard Gilman Opera House, 11:00 am & 2:00
Israeli Festival of the Week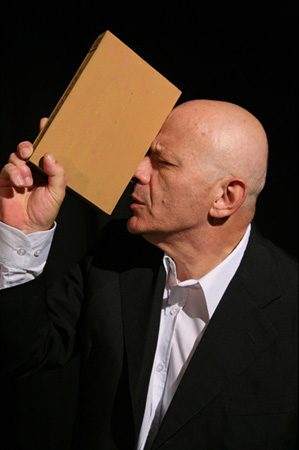 Gérard Alon
The Herzliya Ensemble will perform BLACK RAIN at nonstop fest
ISRAEL NON-STOP 2008
JCC in Manhattan (unless otherwise noted)
334 Amsterdam Ave. at 76th St.
646-505-5708
The JCC's annual festival of Israeli arts features dance, theater, music, painting, photography, cooking, and film. Although the vast majority of events are free, tickets are on sale for some of the more exciting programs, including Ofira Henig's staging of BLACK RAIN, Oharid Naharin's Batsheva Ensemble's family friendly KAMUYOT, and Moti Katz's one-man show THE ACTOR'S KITCHEN.
Thursday, February 28
and
Saturday, March 1 BLACK RAIN, performed by the Herzliya Ensemble and Haifa Theatre, written and adapted by Shimon Bouzaglo, directed by Ofira Henig, $20, 8:00
Saturday, March 1 Meet the Artist: Ofira Henig and Harel Stanton, discussion with Henig and BLACK RAIN cast members at 1:15 and with Stanton at 2:30, Society for the Advancement of Judaism, 15 West 86th St. between Columbus and Central Park West, free
Saturday, March 1 Gaga Movement Workshop with the Batsheva Ensemble, R & R Shabbat at the JCC in Manhattan, participatory program, free, 3:00
Saturday, March 1 Meet the Artist: Israeli Culture 101, panel discussion, R & R Shabbat at the JCC in Manhattan, free, 4:00
Saturday, March 1 Shalom Hanoch: Live in Concert, Symphony Space, $35-$85, 8:00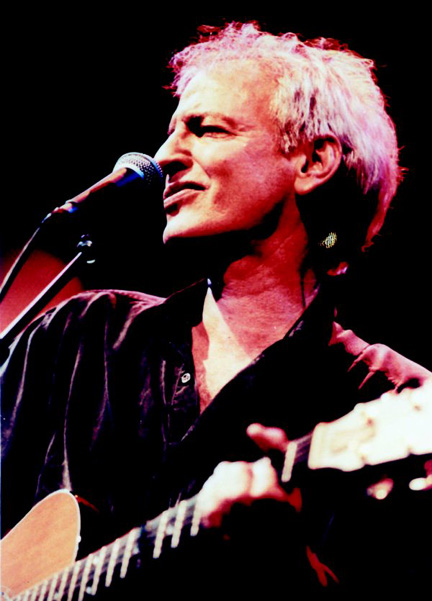 Shalom Hanoch will rock Symphony Space on March 1

Sunday, March 2 Music from the Land of Milk and Honey, concert for kids 6 and under, with Sivan Vigder presenting a tribute to Hakeves Hashisha Asar (the 16th Lamb), $13, 10:00 am
Sunday, March 2 Galila Ron-Feder, for adults and kids ages seven and up, $10, 11:00 am & 2:30 pm
Sunday, March 2 Meet the Artist: Harel Stanton, Pure Faith: Harel Stanton Photography, free, 12 noon
Sunday, March 2
through
Tuesday, March 4 KAMUYOT, performed by the Batsheva Ensemble and choreographed by Ohad Naharin, for adults and children six and up, $20 per adult, $12 children sixteen and under (call 646-505-5708 to receive child discount)
Sunday, March 2 Chumus Chafla!, cooking class at 12 noon, followed by demos and tastings, free, 1:00 — 3:00,
Sunday, March 2 DAI, excerpts from the one-woman show written and performed by Iris Bahr, free, 1:00
Sunday, March 2 BLACK RAIN, performed by the Herzliya Ensemble and Haifa Theatre, written and adapted by Shimon Bouzaglo, directed by Ofira Henig, $20, 2:00
Sunday, March 2 Contemporary Israeli Art, lecture by Dr. Roy Brand, free, 3:30
Sunday, March 2 Israeli Jazz Café, lobby jam session with the Roy Assaf Trio, free, 4:00
Sunday, March 2 Found in Translation, tracing a century of Israeli literature, free, 4:00
Sunday, March 2 Screening of episodes from the documentary series PORTRAIT: A CENTURY OF ISRAELI ART, $7, 5:00
Sunday, March 2 THE ACTOR'S KITCHEN, one-man show by Moti Katz, in Hebrew only, $20, 5:00
Sunday, March 2 Israeli Wine Tasting, free, 6:00
Sunday, March 2 A HEBREW LESSON (HA'ULPAN) (David Ofek & Ron Rotem, 2006), followed by a Q&A with Ofek, $10, 7:30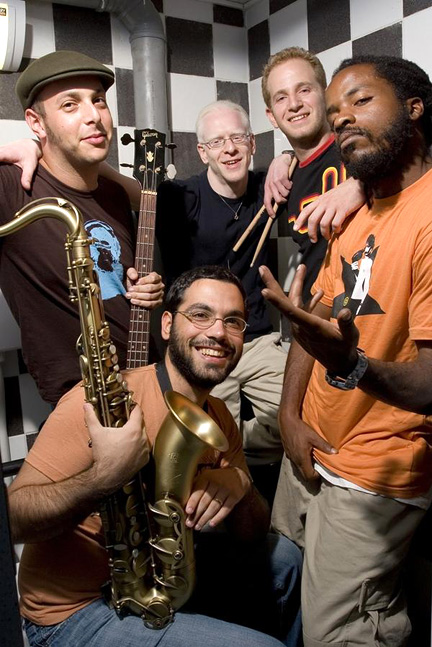 Coolooloosh closes Israeli fest with funky raps on March 6

Monday, March 3 New York premiere of DEAR MR. WALDMAN (MICHTAVIM L'AMERICA) (Hanan Peled, 2006), $10, 7:30
Tuesday, March 4 New Works: lecture/demonstration with the Batsheva Ensemble, $20, 8:00
Wednesday, March 5 Israeli Jazz Café, lobby jam session with the Uri Gurvich, followed by a wine reception, free, 9:30
Wednesday, March 5 AVIVA MY LOVE (AVIVA AHUVATI) (Shemi Zarhin, 2006), followed by Israeli Jazz Café and wine reception, $10, 7:30
Thursday, March 6 Coolooloosh, $20, 8:00
In the Neighborhood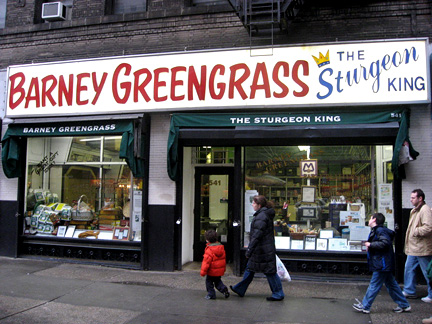 twi-ny/mdr
Barney Greengrass has been a city institution for a hundred years
BARNEY GREENGRASS THE STURGEON KING
541 Amsterdam Ave. between 86th & 87th Sts.
Tuesday — Sunday 8:00 am — 6:00 pm
Admission: free
212-724-4707
Before or after you check out the Israel Non-Stop festival at the JCC or Symphony Space, we highly recommend heading over to a New York City institution, Barney Greengrass the Sturgeon King. This Upper West Side staple is celebrating its centennial this year, and the main shop still feels like a blast from the past. Settle in for a whitefish salad sandwich on a bialy, a triple-decker sandwich of roast beef, chicken fat, chicken liver, turkey, cole slaw, and Russian dressing, or lox, eggs, and onions made with Nova Scotia salmon. Or bring home a smoked fish platter with sable, whitefish chubs, kippered salmon, house-cured gravlax, and, of course, the fish of the gods, sturgeon. There's also four kinds of herring, nearly two dozen different ways to have eggs, caviar presentations ranging from $14 to $698, and such standard-bearers as matzoh ball soup, borscht, cheese blintzes, and noodle pudding. It takes us back to those Sunday mornings when our father took us out to load up on Jewish food; and it was always that much more special when he splurged on a quarter-pound or more of sturgeon.
Queens Exhibit of the Week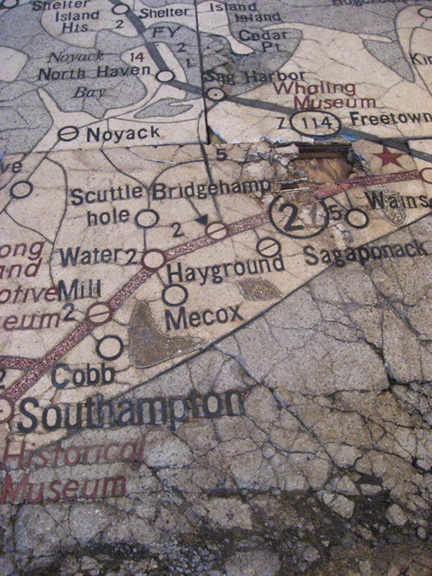 twi-ny/mdr
Detail of World's Fair terrazzo floor being reconstructed at Queens Museum
BACK ON THE MAP: REVISITING THE NEW YORK STATE PAVILION AT THE 1964-65 WORLD'S FAIR
Queens Museum of Art, New York City Building
Flushing Meadows Corona Park
Through March 23
Suggested donation: $5
Closed Monday & Tuesday
718-592-9700

One of our earliest memories is being pushed in a stroller under one of the rockets at the 1964-65 World's Fair in Flushing Meadows Corona Park. The Queens Museum of Art, which was the home of the New York Pavilion, is looking into its past with "Back on the Map," an ambitious project in which they are trying to re-assemble the 130-foot-by-166-foot Texaco Road Map of New York that served as the terrazzo floor under Philip Johnson's Tent of Tomorrow and has been in disrepair for decades. In fact, much of it is gone, since little effort at conservation has been previously made. The exhibit features a detailed history of the original project as well as the current preservation drive, which needs a heavy cash infusion. Newspaper articles tell such stories as the complaints from Harrison, which was not included on the map. The tiles that they have put together so far are a small marvel; residents of Long Island will have the most fun trying to find their town. Within the exhibit is the very cool "Anthony Auerbach: Empire State Pavilion," in which visitors can look through stereoscopes focused on aerial photographs of details of the eroding map, taken from a height of seven feet, giving the map the look of ancient ruins. And don't miss "The 1939 Watershed Relief Map" by the upstairs elevators. "Back on the Map" reveals yet another fascinating piece of New York history that might disappear.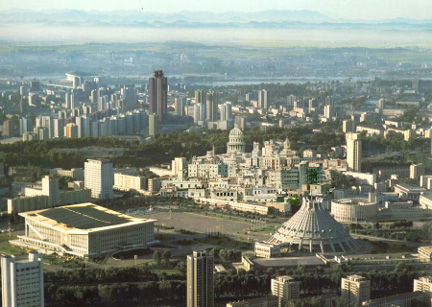 © Jaishri Abichandani
Jaishri Abichandani reconciles Havana with Pyongyang in manipulated photo
JAISHRI ABICHANDANI: RECONCILIATIONS
Queens Museum of Art
Through March 23

Born in Mumbai, India, and raised as a teenager in Queens, Brooklyn-based activist and artist Jaishri Abichandani melds together existing images she finds on the Internet, digitally manipulating them into composite cities consisting of economic, social, religious, and cultural rivals. These new urban meccas pair New York with Tokyo, Sydney with Capetown, La Paz Caracas with Havana, Ramallah with Jerusalem, and Mumbai with Queens. Founder of the South Asian Women's Creative Coalition in New York and the Asian Women's Creative Collective in London, Abichandani's art tries to reconcile volatile international situations, displaying how we are all part of the same world community.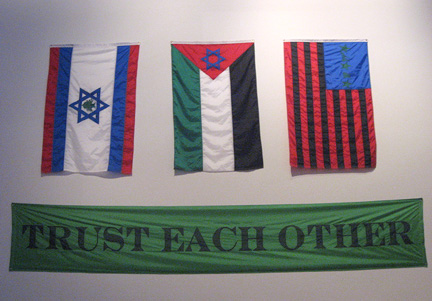 twi-ny/mdr
Carolina Caycedo seeks peace in Banner and Flag series
NEW YORK STATES OF MIND
Queens Museum of Art
Through March 23

"New York States of Mind," which Shaheen Merali curated for the House of World Cultures in Berlin, purports to be about New York, but we can't tell how. The wide-ranging collection of photographs, video, paintings, sculpture, and mixed-media installations are a disparate group of, for the most part, only so-so art, and share little in common, not forming any sort of dialogue except, perhaps, "What?" However, there is a handful of pieces worth checking out after visiting "Back on the Map," "Anthony Auerbach, Empire State Pavilion," and "Reconciliations." Carolina Caycedo mixes the Israel/Lebanese, Israel/Palestine, and U.S./Iraq flags in "Banner and Flag Series," placing them above a banner that reads, "Trust Each Other." Iona Rozeal Brown combines Asian and African influences in her colorful paintings. Jordan Wolfson has removed everything from an interview program except Michael Jackson's eyes, which dance across an otherwise pure white screen in "Neverland." Laura Carton takes porn actors out of digitally reconstructed scenes she's downloaded off the Internet. Ian Burn's live kinetic sculpture, "Colony Cam," plays with perception in a cool, if self-satisfying, way. Mary Ellen Mark's photos of a young pregnant woman and scenes in Coney Island are about as close as the exhibit comes to having a New York feel. Don't get too close to William Pope.L's installation, which includes some rather sticky stuff. There are also works by Marcel Duchamp, Patty Chang, Gordon Matta-Clark, Sarah Morris, Carolee Schneeman, Terence Koh, and others.
Sunday, March 2 First Sundays for Families at the QMA: Tiffany in Queens, with a tea party, live music, art and dance workshops, and more, 1:00 — 4:30
Sunday, March 2 New York States of Mind Film Program: NYC WEIGHTS AND MEASURES (Jem Cohen, 2006), THIS IS A HISTORY OF NEW YORK (Jem Cohen, 1986), LITTLE FLAGS (Jem Cohen, 2000), THERE THERE SQUARE (Jacqueline Goss, 2002), PATRIOTIC (Pascal Lievre & Benny Nemerofsky Ramsay, 2005), and THEY CALL ME…DON'T CALL ME… (John Sealey, 2005), 2:00
Sunday, March 2 New York States of Mind Film Program: THE TIME WE KILLED (Jennifer Reeves, 2004), 3:30
Sunday, March 9 New York States of Mind Film Program: MIDTOWN (Sarah Morris, 1998), AM/PM (Sarah Morris, 1999), CAPITAL (Sarah Morris, 2000), MIAMI (Sarah Morris, 2002), LOS ANGELES (Sarah Morris, 2004), and ROBERT TOWNE (Sarah Morris, 2006), 2:00
Sunday, March 16 Celebrating Spring: Holi, Indian Festival of Colors in Dance & Art, with the Kathak Ensemble & Friends, 12 noon
Sunday, March 16 New York States of Mind Film Program: NOT FOR SALE: FEMINISM IN THE USA DURING THE 1970's (Laura Cottingham, 1998) and THE ROAD TO GUANTANAMO (Michael Winterbottom, 2006), 2:00
Sunday, March 16 Cinemarosa: queers only queer film series presents MondoLesbo — Visions and stories for and about women in honor or Women's History Month, with screenings of INCLINATIONS (Jen Simmons & Shelley Barry, 2005) and THE FUTURE IS BEHIND Y OU (Abigail Child, 2004), followed by a Q&A with Child, 3:00
Saturday, March 22 Queens Artists Connection, with live performances, raffle, slide slam, portfolio reviews, and more, 2:00 — 6:00
Sunday, March 16 New York States of Mind Film Program: WORLD TRADE CENTER (André Korpys & Markus Löffler, 1997), UNITED NATIONS (André Korpys & Markus Löffler, 1997), PENTAGON (André Korpys & Markus Löffler, 1997), AMERIKA (André Korpys & Markus Löffler, 1997), and THE NUCLEAR FOOTBALL (André Korpys & Markus Löffler, 2004), 3:00
Saturday, March 29 Urdu Poet Raies Warsi Book Launch & Talk, with light refreshments, 5:00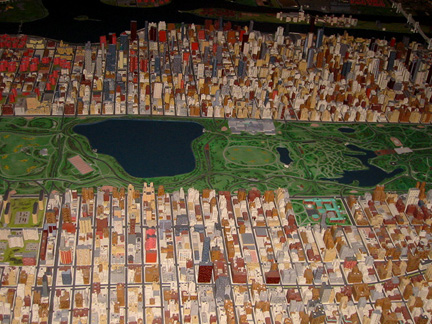 twi-ny/mdr
Amazing Panorama re-creates New York in miniature
THE PANORAMA OF NEW YORK CITY
Queens Museum of Art
718-592-9700

This permanent exhibit has to be seen to be believed, and even then you'll keep shaking your head in wonder. Made up of more than 850,000 buildings, including an astonishing 25,000 designed to match their skyscraper originals, this 1:1,200 scale model of the five boroughs of Manhattan includes bridges and beaches, parks and stadiums, airports and cemeteries, and planes and boats. It is so big that it can barely be contained in this large room; look down at certain points and the glass floor will reveal Van Cortlandt Park beneath you, or maybe the outskirts of Jersey. This remarkable achievement, designed by Robert Moses and Raymond L. Lester and put together by more than a hundred workers for the 1964-65 World's Fair, is just magnificent, especially when night falls over New York and the lights of the city come on. And be sure to check out some of the photos along the outside of the walkway, highlights from the Salute to Queens Parks Photography Contest.
UNISPHERE
Flushing Meadows Corona Park
Between Queens Museum of art and reflecting pools

Erected on April 22, 1964, for the New York World's Fair, the U.S. Steel Unisphere has been a symbol of New York -- and Queens specifically -- ever since. The huge globe is 140 feet high and 120 feet in diameter, checking in at an impressive 700,000 pounds. For conservation reasons, the water has been turned off, so you're able to walk under and around the globe and the three interlocking orbital circles, which is too cool for words. But watch out for the skateboarders who race around the platform.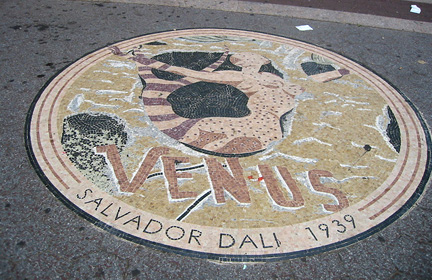 twi-ny/mdr
Salvador Dali's "Venus" was made for the 1964-65 World's Fair
PASSARELLE PLAZA MOSAICS
Base of walkway at entrance to tennis stadium
Gotham Plaza Entrance by LIRR stop
http://www.nycgovparks.org/sub_your_park/vt_flushing_meadows/vt_flushing_12.html

At the base of the walkway at the Gotham Plaza Entrance, where you can turn right to enter the tennis stadium or go straight into the park on your way to the Queens Museum, is a series of circular mosaics, installed in 1998, paying tribute to World's Fairs gone by. One of the circles pays tribute to the fifty-foot-deep 1939 time capsule, which includes microfilm, an alarm clock, an issue of Harper's, and a Miami fashion show for whoever opens it up in 6939. In 1964 they added a second capsule, this one including a checkered bikini, an electric toothbrush, and birth control pills. In 2001, as part of the "Crossing the Lines" exhibit, a video was created asking people what they'd like to add to a 2001 capsule; answers included a tennis ball, a Destiny's Child CD, a Sony PlayStation, and Fruit Roll-Ups (with instructions). If you continue around the circle, you'll also find mosaics — some of which are unfortunately breaking apart and are in dire need of repair — honoring Andy Warhol's depiction of Robert Moses, Salvador Dali's "Venus," and Robert Indiana's "Eat."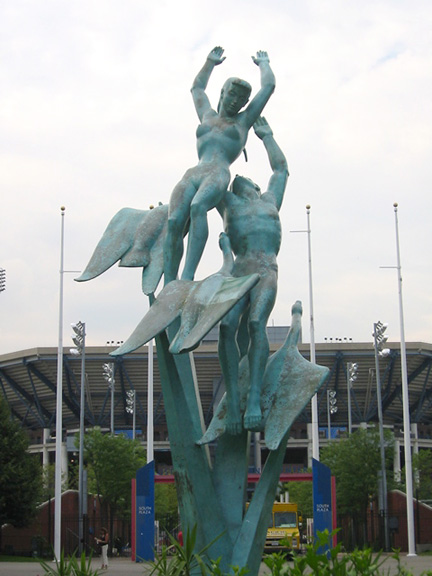 twi-ny/mdr
Marshall M. Fredericks's "Freedom of the Human Spirit" rises in front of tennis center
FLUSHING MEADOWS CORONA PARK STATUARY
"Freedom of the Human Spirit" by Marshall M. Fredericks
"Rocket Thrower" by Donald Harcourt Delue
"Form" by José de Rivera

As you walk around Flushing Meadows Corona Park, you'll come upon several unique and creative statues that were created for the 1964-65 World's Fair. By the entrance to the tennis stadium is the rising, light blue "Freedom of the Human Spirit," by Marshall M. Fredericks. The twenty-eight-foot high sculpture features a nude woman with her arms out to the heavens as she's being lifted by a pair of birds into the sky. If you face "Freedom," to your left you'll find "Form." Sculptor José de Rivera said, "What I make represents nothing but itself." Sitting atop a polished black granite pyramid is a curvilinear stainless-steel sculpture that used to rotate. The piece now stands proudly by itself at the end of a small park, pointing out as if to an unknown future that holds promise within its grasp. Off to the right of the other two sculptures and on the opposite side of the Unisphere from the Queens Museum, at the near end of the Fountain of the Fairs (at the other side is the Solar Sluice), is "Rocket Thrower," a vision of the future by Boston-born sculptor Donald Delue (1897-1988). A well-sculpted naked man kneels atop a narrow base as he casts a star-laden and halo'd object into the sky. Be sure to take a good look at the figure's right hand, which appears to be giving you the finger. Delue also has monumental sculptures at Valley Forge, Omaha Beach, and Gettysburg.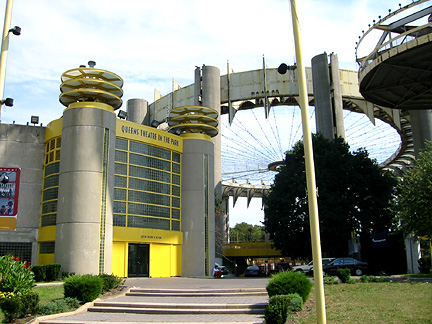 twi-ny/mdr
Queens Theatre was built for 1964-65 World's Fair
QUEEN THEATRE IN THE PARK
An Indoor Performing Arts Center
Flushing Meadows Corona Park
718-760-0064
Designed by Philip Johnson as part of the New York Pavilion for the 1965-65 World's Fair, this structure became a theater in 1972 and was renovated in 1993, featuring a 464-seat main stage, named after borough president Claire Shulman, and the 99-seat Studio Theatre. The theater hosts play readings, family friendly productions, live music and dance, and series focusing on Latino, black, and Asian cultural arts.
Saturday, February 23 SLEEPING BEAUTY, family musical, $12, 11:00 am & 1:00 pm
Saturday, February 23 Immigrant Voices Project Reading Series: THE CELLO PLAYS by Cary Wong, free but advance reservations required, 8:00
Saturday, February 23 Kenny Vance & the Planotones, $45, 8:00
Wednesday, February 27
through
Sunday, March 2 Judy Gold — 25 Questions for a Jewish Mother, $30-$35


Saturday, March 1 Immigrant Voices Project Reading Series: PENNY CANDY by Carmen Betancourt, free but advance reservations required, 8:00
Sunday, March 2 Play Reading: GROENLANDIA by Garbriel Peverondi, free but advance reservations required, 3:00
Friday, March 7 Aman Saki trio, $17, 8:00
Saturday, March 8 DR. DOLITTLE, family musical, $12, 11:00 am & 1:00 pm
Saturday, March 8 Life Is a Duet, with Jill Eikenberry & Michael Tucker, $35, 8:00
Friday, March 14
through
Sunday, March 23 Neil Berg's 100 Years of Hollywood, musical revue, $30-$35
Friday, March 21
through
Sunday, March 30 World premiere production of OUR DAD IS IN ATLANTIS by Javier Malpica, performed alternately in English and Spanish, $26
Also in Queens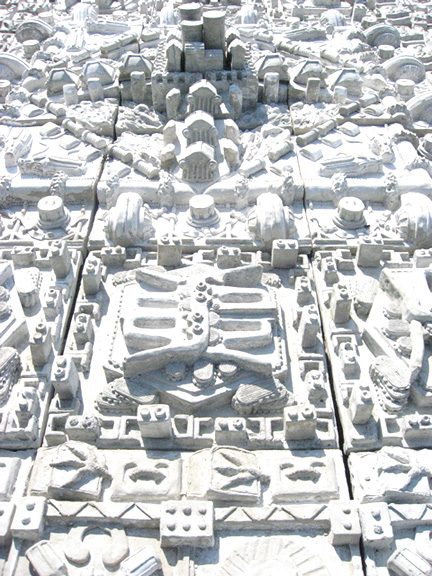 twi-ny/mdr
Linda Ganjian, "Bountiful LIC Memorial Carpet," detail, cement, sand, steel frame, 2007
EAF07: 2007 EMERGING ARTIST FELLOWSHIP EXHIBITION
Socrates Sculpture Park
Broadway at Vernon Blvd.
Through March 2
Admission: free
718-956-1819
http://www.socratessculpturepark.org

We've been waiting for the weather to warm up a bit before recommending the current outdoor exhibit at Socrates Sculpture Park, but since it's closing March 2, we've just about run out of time. So it's your last chance to head out to Long Island City and check out the latest collection of emerging artists to display their unique installations in Mark di Suvero's wonderful sculpture park that overlooks the East River, offering splendid views of Manhattan. Linda Ganjian's "Bountiful LIC Memorial Carpet," made of cement and sand in a steel frame, is a fantastical vision of an imaginary city. Vandana Jain takes the iconic John Deere logo and turns it into a fanciful walkway flanked by two silhouetted bright green deer that feel right at home in the park. If you get tired or cold, unfortunately there's no way to get into Ken Landauer's glass-enclosed comfy-looking bed. You'll have to closely into the trees to find Ohad Meromi's "Together," a large wooden guitar. Ricky Sears's "Waterfront" building has a great location but is not quite ready for anyone to move into yet. Basketball globes dangle in Changamire Semoakokiro's "Mama I wanna do the damn thang B fresh to def N let my balls hang," while firewood hang from chains in Brian Wondergem's "In Advance of a Woodpile." In addition, Michael Mercil's "shadows from a dream of the 20th century," part of the park's "Open Space" project, consists of three black-stone platforms, one with a hole in it, one with steps, and one with a spiral staircase, all going nowhere, will remain on view through April 6.
Riff's Rants & Raves: Food & Film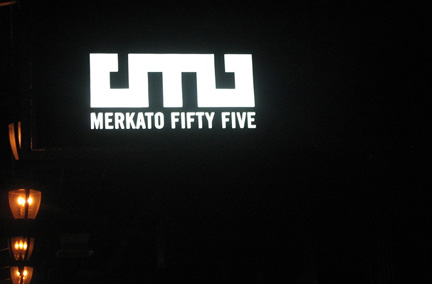 twi-ny/mdr
Marcus Samuelsson's Merkato Fifty Five has just opened in Meatpacking District
MERKATO FIFTY FIVE
55 Gansevoort St. between Greenwich & Washington Sts.
212-255-8555
Though open barely a week, Merkato 55 is already a special place. Marcus Samuelsson's third NYC restaurant — he also is the chef behind the Swedish delight Aquavit and the offbeat Japanese fusion spot Riingo— seeks to bring the tastes of his native continent to adventurous diners, incorporating his unique spin into traditional dishes from all across Africa. Raised in Sweden but born in Ethiopia, Samuelsson mixes in street food with more complex arrangements, resulting in a wide array of delicacies that is unusual even for New York City. The kitchen, run by executive chef Andrea Luz Bergquist, already has its mojo working; although some dishes arrived too quickly, before the previous course was done, that's only a slight hiccup that should be fixed shortly. The meal starts with kidogo, which means "small bites" in Swahili, consisting of four types of African bread with chutneys, sambals, dips, finger food, fried dishes, and tartar kitfo. Lamb tartar kitfo features succulent pieces of slightly cooked lamb in a savory sauce. Dullet spiced tripe is, as the gentleman training our server said, "out of this world." Apricot blatjang, a type of sweet chutney, lingers on the tongue after a surprise appearance beneath a wonderful mint sauce that later reappears under the venison. It all goes down easy with a bottle of Tusker Lager, brewed in Ethiopia.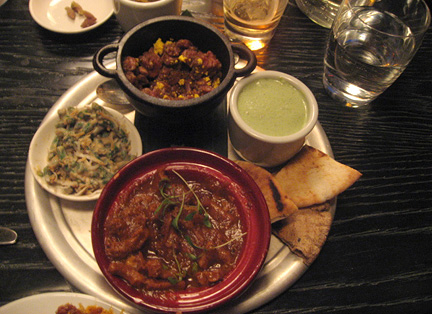 twi-ny/mdr
A plate of kidogo, or small bites, delights the palate

Next come the small plates, ranging from chicken soup with celery, avocado, and peanut butter to grilled shrimp piri piri to Merguez sausage with corn pap and chili mustard sauce. The frisee salad, accompanied by pickled baby eggplant, mint, and duqqa, was fine but not exceptional. However, the octopus with cured beef and a dadel salaai date salad was excellent, the large pieces of octopus tender enough to cut with a fork. For the main course, while our server strongly recommended the traditional chicken doro wat in a pot, we opted for three skewers of venison sosaties with apricots and red onions, the venison like small pieces of filet mignon. (We'll be back to try the chickpea dumplings and jerk pork belly.) A side dish of artichokes saffron was surprisingly bland; the diced carrots have got to go. We would have liked some African coffee with our dessert, but they don't have any yet. But that didn't stop us from digging into the molten-lava dark chocolate espresso cake alongside a rich, dense circle of pistachio kulfi. A citrus salad of blood oranges and lime sorbet was a delightful finale, although we were awfully tempted by sweet plantain fries, koeksisters, and malva pudding. The two-story restaurant, designed by Menno Schmitz to evoke the communal feel of the Addis Merkato in Addis Ababa, is still in its preview period, but it already has a warm, friendly charm. On this Friday night, even Samuelsson seemed relaxed, sitting comfortably in a booth and warmly greeting diners. We can't wait to go back.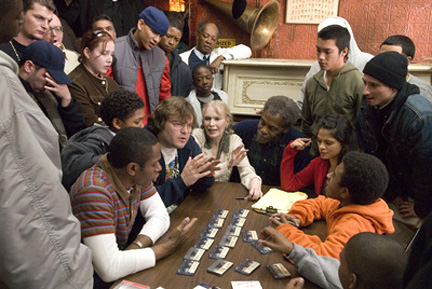 Gondry's latest is another strangely entertaining tale
BE KIND, REWIND (Michel Gondry, 2008)
Opens Friday, February 22

When old man Fletcher (Danny Glover) takes off for a week, leaving Mike (Mos Def) in charge of his soon-to-be-demolished video store called Be Kind Rewind (they don't have any DVDs or recent movies), his most important rule is to "Keep Jerry Out." Jerry (Jack Black) is a crazy conspiracy theorist who covers himself in metal to ward off alien rays. After a botched attack on the local power plant, Jerry becomes a walking magnet (a laugh-out-loud hysterical scene) and unknowingly erases all the videos in the store. Taking a page from the Little Rascals plots when Spanky and Alfalfa would suddenly put on a show for some local cause, Mike and Jerry recruit Alma (Melonie Diaz) as they proceed on their very strange attempts at Sweding — making their own versions of such films as GHOSTBUSTERS, RUSH HOUR 2, and ROBOCOP and renting them as if they were the real thing. Following the brilliant ETERNAL SUNSHINE OF THE SPOTLESS MIND and the extremely strange THE SCIENCE OF SLEEP, writer-director Michel Gondry has fashioned a really stupid movie that has an overabundance of heart and charm. Glover and Mos Def are soft and gentle in this Capra-esque comedy, offsetting Black's hyperactivity. Every time you're ready to write the film off as being just too silly and ridiculous, something comes along to make you double over in laughter.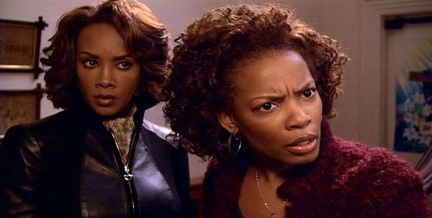 Vivica A. Fox and Aunjanue Ellis seek cover in the awful COVER
COVER (Bill Duke, 2006)
Opens Friday, February 22

For more than twenty years, the Lutherans produced a late-night television series called INSIGHT in which well-known actors participated in heavy-handed morality plays; Bill Duke's COVER is the cinematic Baptist version, with plenty of Lifetime movie-of-the-week soap opera thrown in for good measure. Or, actually, for bad measure. Actor and director Duke, who has made such films as A RAGE IN HARLEM and DEEP COVER, has now given us the jaw-droppingly bad COVER. From the acting and the script to the music and the locations to even the editing and the continuity, COVER is simply stultifying. The movie is told primarily in flashback as Valerie Maas (Aunjanue Ellis) is interrogated by Detective Hicks (Lou Gossett Jr., who has seen better days) on suspicion of cold-blooded murder. Valerie, a photographer, put her career on hold when her husband, Dutch (Raz Adoti), accepted a job in a hospital in Philadelphia, moving the family, including their young daughter, Nicole (Tomorrow Montgomery), and Dutch's father, Robert (Richard Gant), from their home in Atlanta. Valerie soon grows suspicious of Dutch, thinking he might be having an affair with his old college friend and new boss, Monica (a shamelessly overacting Paula Jai Parker). Meanwhile, another college buddy, superstar singer Ryan Chambers (Leon), has the hots for Valerie — and just about every other woman he meets. Afraid to confront her husband, Valerie confides in Zahara (Vivica A. Fox, who should have known better) and her ridiculously clichéd church group. Duke and screenwriter Aaron Rahsaan Thomas throw just about everything they can think of into this awful, amateurish mess that would have even given INSIGHT a bad name.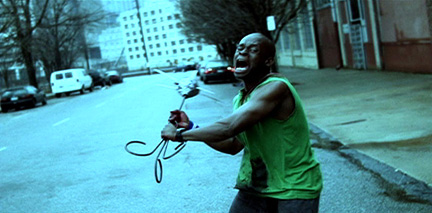 Watch out for people who got the crazy in horror throwback THE SIGNAL
THE SIGNAL
(David Bruckner, Dan Bush, and Jacob Gentry, 2008)
Opens Friday, February 22
http://www.doyouhavethecrazy.com

In the mid-'70s, there was little we enjoyed more than watching cheesy, low-budget horror movies on local television on rainy Saturday afternoons. David Bruckner, Dan Bush, and Jacob Gentry return to those days with THE SIGNAL, a cheesy, low-budget horror movie that would be great on a rainy Saturday afternoon. Told in three parts from three points of view, each written and directed by one of the three men in exquisite corpse fashion, THE SIGNAL tells the story of a community gone mad, driven to violence by an eerie transmission that has taken over television, radio, and telephones. Nearly all communication in the city called Terminus now turns deadly. After stepping out for the first time on her jealous husband, Lewis (A. J. Bowen), with the more gentle Ben (Justin Welborn), Mya (Anessa Ramsey) is caught in the middle of the mayhem, wanting to escape with Ben while Lewis tries to track her down. Intent on finding his wife, Lewis, an exterminator by trade, starts exterminating human beings with extreme prejudice. His actions at a would-be New Year's Eve party are particularly gruesome — and very funny, the tongue-in-cheek humor rising with the body count. (Don't miss the changing pattern of blood spatters on the hostesses' outfit.) Even the interstitials are goofy, reminiscent of 1970s Quinn Martin productions (BARNABY JONES, CANNON). THE SIGNAL, which screened at the 2007 Sundance Film Festival, is cheesy good fun.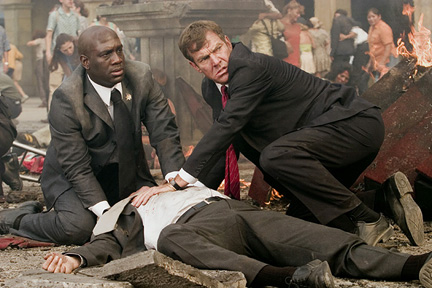 POTUS gets shot over and over again in VANTAGE POINT
VANTAGE POINT (Pete Travis, 2008)
Opens Friday, February 22
http://www.vantagepoint-movie.com

Director Pete Travis and screenwriter Barry L. Levy make their feature-film debuts with VANTAGE POINT, an overly ambitious yet somewhat entertaining story of a presidential assassination attempt told from multiple points of view. As the movie begins, Rex Brooks (Sigourney Weaver) is in a mobile television control room, directing her network's live coverage of President Ashton's (William Hurt) announcement of a major global anti-terrorism summit in Salamanca, Spain. As he takes the podium, he is struck by two bullets. In the ensuing madness, one bomb goes off in the distance, then the entire platform blows up in a massive, bloody explosion. The film then rewinds back to a few seconds before noon, and we see the same events, this time following a different character. Thus, the characters and the plot unfold as each segment adds a few more details, sort of like GROUNDHOG DAY meets RASHOMON meets JFK meets 24. The film follows Thomas Barnes (Dennis Quaid), a Secret Service agent who had a nervous breakdown after taking a bullet for the president the previous year; Howard Lewis (Forest Whitaker), a tourist obsessed with capturing everything he sees on video; POTUS (President of the United States); and even the terrorists. There are too many rewinds with too many teases of what is to come, and the final chase scene requires ridiculous suspensions of disbelief around every corner. But if you can get past the movie's primary gimmick, it still packs enough tension to make it a worthwhile popcorn muncher.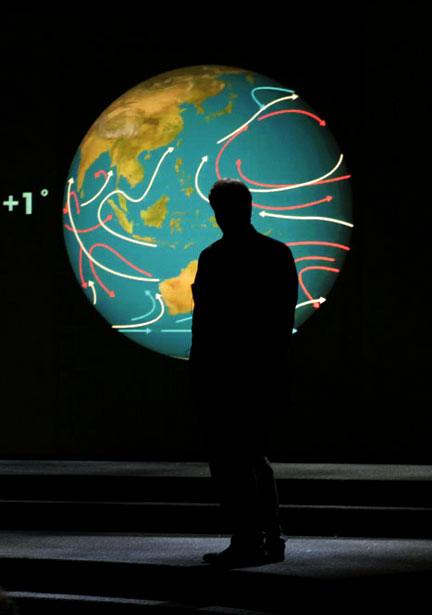 Al Gore looks rather presidential in bringing us the truth about global warming
DOCUMENTARY FORTNIGHT: AN INCONVENIENT TRUTH (Davis Guggenheim, 2006)
MoMA Film
Roy and Niuta Titus Theaters
11 West 53rd St. between Fifth & Sixth Aves.
Thursday, February 28, 8:00
Tickets: $10, in person only, may be applied to museum admission within thirty days, same-day screenings free with museum admission, available at Film and Media Desk
212-708-9400

The self-described onetime "next president of the United States of America" has been fighting to save the earth for nearly forty years. Since not winning the presidency in 2000, Gore has been on the road, giving an illustrated lecture to more than one thousand groups, including schools all over the country, about the hot-button topic of global warming — earning himself the Nobel Peace Prize as well as an Oscar for this stirring documentary. Using colorful charts and graphs, stunning video of disappearing landscapes, and gorgeous shots of the earth, the surprisingly engaging and entertaining Gore elegantly discusses the melting of the glaciers, the heating of the oceans, the onset of devastating hurricanes and tornadoes, science fact versus science fiction, and the current administration's refusal to acknowledge the seriousness of the problem. We also get an intimate look at Al Gore the person, seeing him at work on his iBook, sitting by his son's side after a terrible accident, and talking about his father's tobacco farm and his sister's death from lung cancer. Gore and his traveling slide show have been compared to Paul Revere's ride, warning the world of impending danger; we're sure others will paint him as Chicken Little, screaming crazily that the sky is falling. Well, in this case, both sides are right, because the sky is indeed falling, as evidenced by the continuing destruction of the polar ice cap. The screening will be followed by a discussion with director Davis Guggenheim.
CHOP SHOP (Ramin Bahrani, 2007)
Opens Wednesday, February 27
Film Forum
209 West Houston St. between Sixth & Seventh Aves.
212-727-8110

Set amid the junkyards and auto-body shops in the shadow of Shea Stadium, Ramin Bahrani's follow-up to the indie hit MAN PUSH CART is a gritty, realistic drama of family and community. Filmed in thirty days in the Iron Triangle neighborhood of Willets Point, Queens, CHOP SHOP stars Alejandro Polanco as Ale, a street-smart twelve-year-old boy who works for Rob (Rob Sowulski), calling cars into the repair shop, stealing spare parts, and learning virtually every aspect of the trade. Ale lives in a small upstairs room in the garage with his sister, sixteen-year-old Isamar (Isamar Gonzalez), who by day works in a food van and at night makes extra cash by getting into cars and trucks with strange men. Neither Ale nor Izzy goes to school; instead, they're working hard, saving up money to buy a food van and start their own business, but their life is fraught with danger and difficulty nearly every step of the way. Written by Bahrani and Bahareh Azimi, filmed primarily with a handheld camera by Michael Simmonds, and featuring a cast of non-actors encouraged to improvise, CHOP SHOP is an honest, frightening, yet sweet slice of life that takes place not far from a sign at Shea that announces, "Where Dreams Happen." Polanco gives a remarkable performance as Ale, a rough yet vulnerable kid who has been dealt a tough hand but just forges ahead, attempting to make the most out of his life, trying to find his own piece of the American dream. Whether hanging out with his best friend, Carlos (Carlos Zapata), looking after his sister, doing a special job for Ahmad (MAN PUSH CART's Ahmad Razvi), or counting his pay in front of his boss — Sowulski really does own the garage where most of the movie is filmed — Ale is an extraordinary character, played by an extraordinary young boy in his very first film. CHOP SHOP is a subtle, unforgettable experience.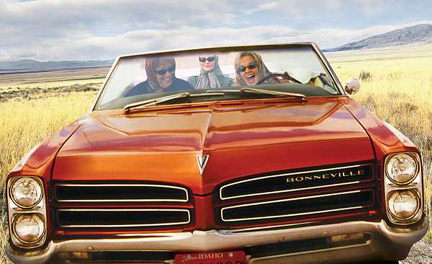 Road trip movie gets tired fast, despite fine Jessica Lange
BONNEVILLE (2008)
Opens Friday, February 29
http://www.bonnevillethemovie.com
After her husband of twenty years dies, Arvilla Holden (Jessica Lange) is faced with a critical decision: Bring his ashes back to Palm Springs, where his snooty daughter from his first marriage, Francine (Christine Baranksi), wants to bury his remains next to her mother, or scatter his ashes to the wind, as Arvilla promised him she would do. If she does the latter, however, Francine will take her father's house away from her, leaving Arvilla with nothing. Arvilla decides to drive the ashes from her home in Pocatello, Idaho, to the funeral service in Palm Springs, pulling out her husband's red Bonneville convertible and taking along her best friends, the lively Margene (Kathy Bates) and the prissy Carol (Joan Allen). On their road trip of rediscovery, they meet a young hitchhiker (Victor Rasuk) and a smooth-talking trucker (Tom Skerritt) while stopping by some of the most beautiful spots in America, including the Bonneville Salt Flats, Bryce Canyon National Park, and Las Vegas. Unfortunately, first-time director Christopher N Rowley and first-time screenwriter Daniel D. Davis take viewers on a sappy, melodramatic, and clichéd journey with few surprises, though Lange tries her best as the widowed Arvilla, her eyes filled with heartbreak, longing, and, eventually, renewed life. Rowley based the story on actual events that happened in his own family; alas, he might be the only one who is satisfied with the results.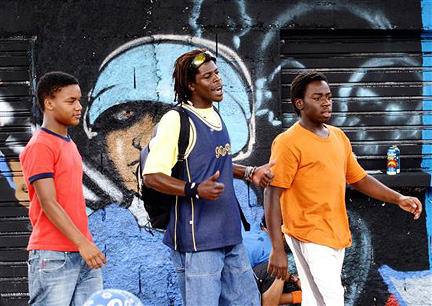 CITY OF MEN is a disappointing follow-up to CITY OF GOD
CITY OF MEN (Paulo Morelli, 2008)
Opens Friday, February 29
Angelika Film Center
18 West Houston St. at Mercer St.
212-995-2000
Lincoln Plaza Cinemas
1866 Broadway at 63rd St.
212-757-2280
http://www.lincolnplazacinema.com
http://www.city-cinemas.com/angelika.html
http://www.cidadedoshomens.com

Paulo Morelli's follow-up to Fernando Meirelles's remarkable fact-based CITY OF GOD is a pale imitation of its predecessor. (Meirelles serves as one of the new film's producers.) Set once again in the dangerous favelas of Rio de Janeiro, CITY OF MEN follows two friends, Acerola (Douglas Silva) and Laranjinha (Darlan Cunha), as they try to stay out of a war between two rival gangs that is about to explode. But when they find Laranjinha's long-missing father and discover a horrible secret, their lives are suddenly in the crossfire. CITY OF MEN, which is more reminiscent of the entertaining but ramshackle underground Jamaican gangster film SHOTTAS (Cess Silvera, 2002) than of CITY OF GOD, plays more like a television series than a feature film — which makes sense, since Morelli has been directing the CITY OF MEN TV series in Brazil for several years.

Icelandic thriller looks at controversial genetic cataloging
JAR CITY (MYRIN)
IFC Center
323 Sixth Ave. at West Third St.
Opens Friday, February 29
212-924-7771

Writer-director Baltasar Kormakur's adaptation of Arnaldur Indridason's award-winning novel, JAR CITY (MYRIN), is a bleak but compelling police procedural that focuses on a fact-based controversial government initiative that is cataloging genetic research on all Icelandic families. When an aging man named Holberg (Thorsteinn Gunnarsson) is murdered in his home, brooding inspector Erlendur (Ingvar E. Sigurdsson) heads the investigation into the death, leading him to a thirty-year-old rape, a dirty cop, a trio of criminals (one of whom has been missing for a quarter century), a woman who killed herself shortly after her four-year-old daughter died, and a doctor who collects body parts. The divorced Erlendur also has to deal with his troubled daughter (Augusta Eva Erlendsdottir), a pregnant drug addict who hangs out with some very sketchy company. Meanwhile, a mysterious man (Atli Rafn Sigurdarson) is up to something following the traumatic death of his young daughter. Kormakur weaves together the story line of the two fathers side by side — in the book, the unidentified man appears only near the conclusion, although who he is still remains a mystery for most of the film — centering on the complex relationship between parents and children and what gets passed down from generation to generation, both on the outside and the inside. Sigurdsson plays Erlendur with a cautious seriousness, the only humor coming from the way he treats his goofy partner, Sigurdur Oli (Bjorn Hlynur Haraldsson). Iceland's entry for the 2007 Foreign-Language Oscar and winner of the Crystal Globe at the Karlovy Vary International Film Festival, JAR CITY is a dark, tense intellectual thriller. Indridason has turned Erlendur into a continuing character in the follow-ups SILENCE OF THE GRAVE and VOICES; here's hoping Kormakur and Sigurdsson do the same.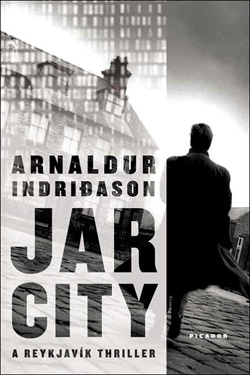 JAR CITY: A REYKJAVIK THRILLER by Arnaldur Inridason (Picador, September 2006, $14)

Award-winning Icelandic writer Arnaldur Indridason's first novel to be translated into English is a thrilling police procedural about rape, murder, drugs, but, mostly, the relationship between parents and children. Set in and around Reykjavik, JAR CITY follows Detective Inspector Erlendur as he investigates the murder of a sixty-nine-year-old man who, as it turns out, raped a woman nearly forty years before and got away with it. The woman became pregnant from the attack and had a daughter, who died at the age of four. The woman killed herself shortly thereafter. As the web surrounding the events get ever more complex, Erlendur tries to reconnect with his own daughter, who has serious drug and money problems and is pregnant herself. Indridason writes with a smooth, easygoing style that pulls the reader in and never lets go, no matter how bleak things get. JAR CITY, which is the first in a series of books featuring Erlendur, has also been turned into a film, directed by Baltasar Kormakur and opening at the IFC Center on February 29.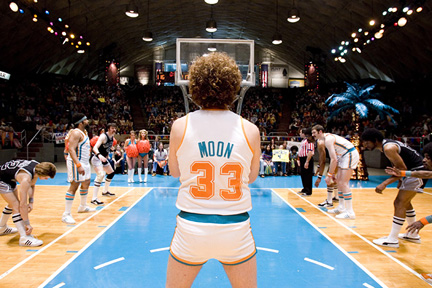 Will Ferrell should be sent straight to the showers in SEMI-PRO
SEMI-PRO (Kent Alterman, 2008)
Opens Friday, February 29
www.funnyordie.com/semipromovie

From 1967 to 1976, the American Basketball Association presented an alternative to the NBA, featuring flashy characters, crazy promotions, the three-point shot, great 'dos, and a red, white, and blue ball. Overrated screenwriter Scot Armstrong (OLD SCHOOL, ROAD TRIP) and first-time director Kent Alterman, a longtime studio executive who should have known better, go back to those days in SEMI-PRO, a silly vehicle for Will Ferrell that deserves a double technical even before the opening tip-off. Ferrell — whose child-like characters can be so effective in such films as OLD SCHOOL and ELF and way too over the top in such disappointing comedies as BLADES OF GLORY and TALLADEGA NIGHTS — stars as Jackie Moon, the owner and player-coach of the down-in-the-dumps Flint Tropics of beautiful Flint, Michigan. When the commissioner announces that the top four teams in the league will be merged into the NBA, with the rest of the teams disbanding (a plot line based on fact), Jackie makes it his mission to lead the pathetic Tropics — including Woody Harrelson as the aging Monix and OutKast's Andre Benjamin as supercool point guard Clarence "Coffee" Black — into the big time. Although there are a handful of deep belly laughs in the film, SEMI-PRO is a weak attempt at mining humor from what could have been a slam dunk. Alterman can't decide whether he's making SLAPSHOT, KINGPIN, or THE FISH THAT SAVED PITTSBURGH, but this stupid movie won't satisfy sports fans or Ferrell lovers. The supporting cast includes lots of familiar TV comedy faces in small roles, including Andy Richter, THE DAILY SHOW's Rob Corddry, Matt Walsh, and Ed Helms, and SNL's Tim Meadows, Jason Sudeikis, Will Arnett, and Kristen Wiig. SEMI-PRO should be sent straight to the showers.
THE UNFORESEEN (Laura Dunn, 2007)
Opens Friday, February 29
Cinema Village
22 East 12th St. between University Pl. & Fifth Ave.
212-924-3363

Despite its title, THE UNFORESEEN is not a horror flick, although it does contain some frightening images and scary tales. Laura Dunn's documentary tracks the three-decades-long fight between real estate developers and the progressive community of Austin, Texas, over Barton Springs, a lovely, "spiritual" respite on the outskirts of that exploding city. Dunn, a self-described environmentalist, follows local activism through the years, from the early 1990s, when Austinites staged an overnight vigil, demanding that the city council deny permits to developers, to the election of Governor George W. Bush, whose administration did all it could to reverse their somewhat successful efforts. Dunn interviews a number of figures extensively, including businessman Gary Bradley, cool and confident in his office, and lobbyist Dick Brown, shown carefully building a model warplane, his face rarely on-screen. Both argue their case, calmly defending capitalism and property rights. Also sharing their opinions are musician Willie Nelson, former Texas governor Ann Richards, political journalist William Greider, and Robert Redford, a regular summer visitor to Barton Springs in his childhood. (Redford is one of the film's executive producers, along with Terence Malick, who first approached Dunn with the story idea.) Dunn does a good job presenting the battle between suburban sprawl and the natural environment, between private property and public space, although the voice-overs of Wendell Berry reading his poem "Santa Clara Valley" are a bit heavy-handed. Understandably, THE UNFORESEEN was a hit at Sundance, SXSW, and the Human Rights Watch International Film Festival.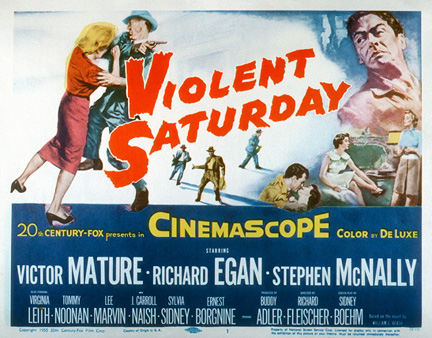 VIOLENT SATURDAY (Richard Fleischer, 1955)
Film Forum
209 West Houston St. between Sixth & Seventh Aves.
February 29 - March 6
212-727-8110

While the Film Society of Lincoln Center pays tribute to director Richard Fleischer with a Spotlight at the annual Film Comment Selects series (including screenings of 10 RILLINGTON PLACE and MANDINGO), Film Forum brings out a brand-new 35mm print of Fleischer's 1955 CinemaScope noir flick VIOLENT SATURDAY for a special one-week run. All is not as it seems in the small town of Bradenville, Arizona. The mousy librarian (Sylvia Sidney) is stealing to pay off her debts, the married bank manager (Tommy Noonan) walks his dog late at night so he can peep on a hot-to-trot single woman (Virginia Leth), the mine boss's son (Richard Egan) is a drunk who suspects his ritzy wife (Margaret Hayes) of cheating on him with a country-club playboy (Brad Dexter), an Amish family (led by Ernest Borgnine!) that lives nearby tries to keep to themselves, and a young boy (Billy Chapin) is embarrassed that his father (Victor Mature) worked in the copper mines instead of becoming a war hero like his best friend's dad. But when three bank robbers (Stephen McNally, J. Carrol Naish, and Lee Marvin, puffing on an inhaler like Frank Booth in BLUE VELVET) come to town to rid the safe of all its cash, all hell soon breaks loose and things do indeed get rather violent. Fleischer, whose varied career ranged from DOCTOR DOLITTLE and FANTASTIC VOYAGE to COMPULSION and SOYLENT GREEN (his father was Max Fleischer and uncle was Dave Fleischer, who made the early Popeye and Betty Boop movies), reveals the subtle underbelly of a postwar America undergoing radical change while still standing by its old values, at least on the surface. And it's great seeing Borgnine and Marvin together; twelve years later they would reunite for Robert Aldrich's classic WWII flick, THE DIRTY DOZEN.

In Theaters Now
ATONEMENT (Joe Wright, 2007)

Keira Knightley and James McAvoy star as potential lovers torn apart by a vengeful lie in Joe Wright's British melodrama ATONEMENT, based on the novel by Ian McEwan. Knightley gives a fine performance as Cecilia, a privileged young woman who lives with her family in their elegant mansion. She is attracted to the handyman's son, Robbie (McAvoy) — who is also much admired by Cecilia's thirteen-year-old sister, burgeoning writer Briony (Saoirse Ronan). Jealousy leads the precocious child to doom an innocent man, changing the fortunes of her family forever as WWII approaches. Despite Dario Marianelli's overly sentimental music, ATONEMENT is a compelling, sweeping epic recalling Merchant-Ivory films as well as MASTERPIECE THEATER and Anthony Minghella's THE ENGLISH PATIENT. (Minghella actually has a cameo near the end of the film.) Director Wright (THE END, 2005's PRIDE & PREJUDICE) also pulls off a fascinating twist that calls into question the very nature of truth, as well as forgiveness.
A mysterious monster menaces Manhattan in CLOVERFIELD
CLOVERFIELD (Matt Reeves, 2008)
http://www.cloverfieldmovie.com

A surprise going-away party turns into a nightmare in Matt Reeves's highly anticipated CLOVERFIELD. Michael Stahl-David stars as Rob, a young man who has accepted a promotion that will send him to Japan. Although he is in love with his best friend, Beth (Odette Yustman), he is unable to tell her. But everything changes when the ground starts to shake, buildings begin to collapse, and people are on the run, attempting to escape from an enormous monster on the loose in post 9/11 Manhattan. And when Rob discovers that Beth, who had left the party early, might still be alive, he decides to risk his life and head uptown to save her. He is joined on the dangerous journey by his brother, Jason (Mike Vogel); Jason's girlfriend, Lily (Jessica Lucas); Lily's friend Marlena (Lizzy Caplan); and Hud (T. J. Miller), who serves as the comic relief. The entire film is seen through the lens of a video camera that Hud was entrusted with at the party, giving the film the feel of THE BLAIR WITCH PROJECT, mixed with such Gotham horror stories as KING KONG, THE DAY AFTER TOMORROW, and the ridiculous 1998 GODZILLA remake. CLOVERFIELD, which has an ever-widening back story growing online (similar to that of LOST, which is also the creation of J.J. Abrams), doesn't try to be anything more than it is — a monster movie set in New York City. The creature is kept hidden for most of the film, which doesn't try to make any grand statements about science, humanity, or, really, anything except true love — and brutal death. And yes, there is a secret message hidden in the brief sound clip at the end of the credits.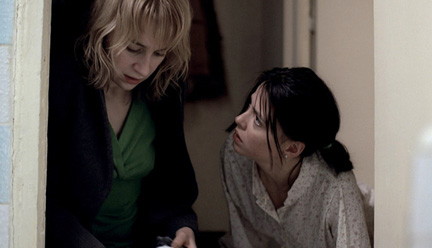 Otilia (Anamaria Marinca) and Gabita (Laura Vasiliu) face danger in 4 MONTHS
4 MONTHS, 3 WEEKS AND 2 DAYS (Cristian Mungiu, 2007)
IFC Center
323 Sixth Ave. at West Third St.
212-924-7771
Lincoln Plaza Cinemas
1886 Broadway between 62nd & 63rd Sts.
212-757-0359
http://lincolnplaza.moviefone.com

Winner of the Palme D'Or at the 2007 Cannes Film Festival, Cristian Mungiu's 4 MONTHS, 3 WEEKS AND 2 DAYS is a harrowing look at personal freedom at the end of the Ceausescu regime in late-'80s Romania. Anamaria Marinca gives a powerful performance as Otilia, a young woman risking her own safety to help her best friend, Gabita (Laura Vasiliu), out of a difficult, dangerous situation. Their lives get even more complicated when they turn to Bebe (Vlad Ivanov) to take care of things. Cinematographer Oleg Mutu, who shot Cristi Puiu's brilliant THE DEATH OF MR. LAZARESCU, keeps the camera relatively steady for long scenes, without cuts, pans, dollies, or zooms, as the actors walk in and out of view, giving the film a heightened level of believability without looking like a documentary. Set in a restrictive era with a burgeoning black market, 4 MONTHS goes from mystery to psychological drama to thriller with remarkable ease — and the less you know about the plot, the better.
I'M NOT THERE (Todd Haynes, 2007)
Film Forum
209 West Houston St. between Sixth & Seventh Aves.
212-727-8110

Todd Haynes's highly anticipated dramatization of the musical life of Bob Dylan is ambitious, innovative, and, ultimately, overblown and disappointing. Working with Dylan's permission (though not artistic input), Haynes crafts a nonlinear tale in which six actors play different parts of Dylan's psyche as the Great White Wonder develops from a humble folksinger to an internationally renowned and revered figure. Dylan is seen as an eleven-year-old black traveling hobo who goes by the name Woody Guthrie (Marcus Carl Franklin); Jack (Christian Bale), a Greenwich Village protest singer who later becomes a pastor; Robbie (Heath Ledger), an actor who has portrayed a Dylan entity and is having marital problems with his wife, Claire (Charlotte Gainsbourg); Arthur Rimbaud (Ben Whishaw), a staunch defender of poetry and revolution; an old Billy the Kid (Richard Gere), who has settled down peacefully in the small town of Riddle; and Jude Quinn (Cate Blanchett), who is attacked by her audience when she goes electric. Each story line is shot in a different style; for example, Jude's is influenced by Fellini and the Dylan documentary EAT THIS DOCUMENT!, Robbie's by Godard, and Billy's by Peckinpah. Excerpts from Dylan's own version of his songs are interwoven with interpretations by Tom Verlaine, Yo La Tengo, Ramblin' Jack Elliott, Stephen Malkmus, the Hold Steady, Sonic Youth (who do a killer version of the unreleased BASEMENT TAPES-era title track over the closing credits), and many more, with cameos by Kris Kristofferson (as the opening narrator), Richie Havens, Julianne Moore, Kim Gordon, Paul Van Dyck, Michelle Williams, and David Cross (looking ridiculous as Allen Ginsberg). The most successful section by far is Blanchett's; she takes over the role with relish, and cinematographer Edward Lachman and production designer Judy Becker nail the feel of the mid-'60s energy surrounding Dylan. But the rest of the film is all over the place, a great concept that bit off more than it could chew.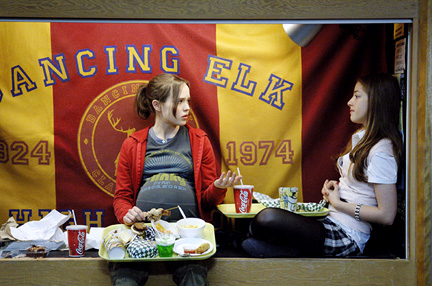 Juno (Ellen Page) and Leah (Olivia Thirlby) are a riot in JUNO
JUNO (Jason Reitman, 2007)
http://www.foxsearchlight.com/juno

When sixteen-year-old Juno MacGuff (Ellen Page) suddenly finds herself pregnant, she has to choose between having an abortion, keeping the baby, or putting it up for adoption. She ultimately decides to have the baby for a wealthy, childless couple, Mark and Vanessa Loring (Jason Bateman and Jennifer Garner), who live in a big, fancy house very different from Juno's. Juno thinks she'll be able to sail smoothly through her pregnancy and then just pop out the little brat, but she soon learns that everything is not quite as easy as it seems. First-time screenwriter Diablo Cody has created a marvelous character in Juno, a cynical, self-confident teenager who pretty much says whatever's on her mind. Her dialogue with best friend Leah (Olivia Thirlby) is an absolute riot of teenspeak. Director Jason Reitman (THANK YOU FOR SMOKING) keeps things moving at a brisk pace, letting Juno run the show. From the opening scene — which features a hysterical turn by Rainn Wilson (THE OFFICE) as a convenience store clerk giving Juno a hard time — to the last, JUNO is a pure joy, led by Page's brilliant performance as the unforgettable protagonist. With sweet, emotive songs by Kimya Dawson of the Moldy Peaches and a fine supporting cast that includes Michael Cera (SUPERBAD), J. K. Simmons (OZ), and Allison Janney (THE WEST WING), JUNO is one of the best films ever made about the topic of teen pregnancy, and about teen life in general, a moving, funny, and very real portrait of life in modern-day America.
THE KITE RUNNER (Marc Forster, 2007)
Landmark Sunshine Cinema
143 East Houston St. between First & Second Aves.
212-330-8182
http://www.landmarktheatres.com
http://www.kiterunnermovie.com

Khaled Hosseini's 2003 surprise bestseller, THE KITE RUNNER, is a modern-day historical epic that follows one man as he attempts to make things right after a ghastly childhood incident that has haunted his every moment. The debut novel is filled with pivotal scenes of brutal emotion and genuine danger as Hosseini stomps on readers' hearts. In trying to remain faithful to the book, screenwriter David Benioff (THE 25TH HOUR) and director Marc Forster (MONSTER'S BALL, FINDING NEVERLAND) have squeezed too much into their film, resulting in a jumpy narrative that is admirable yet rarely compelling. Hassan (Ahmad Khan Mahmoodzada) and his father, Ali (Nabo Tanha), work for Amir (Zekiria Ebrahimi) and his father, Baba (Homayoun Ershadi), a respected and successful businessman in Afghanistan. Amir and Hassan are also best friends, particularly bonding over their love of kites, a metaphor for freedom and escape. But after the horrific incident, Amir turns his back on Hassan, and it is only years later, well after the Soviet invasion and Amir's move to San Francisco, where he has made a new life for himself, that he (now played by Khalid Abdalla) gets the opportunity to redeem himself. Even at two hours, the film feels rushed, and it gets no help from Alberto Iglesias's mushy score. Perhaps there'll be a director's cut available on DVD that will fill in many of the holes and smooth out the story.
MICHAEL CLAYTON (Tony Gilroy, 2007)
http://michaelclayton.warnerbros.com

Nominated for seven Oscars including Best Picture, Best Director (Tony Gilroy), Best Actor (George Clooney), Best Supporting Actor (Tom Wilkinson), Best Supporting Actress (Tilda Swinton), Best Original Score (James Newton Howard), and Best Original Screenplay (Tony Gilroy), MICHAEL CLAYTON is an intense character study as well as a taut legal thriller. Clooney stars as the title character, a lawyer at a high-powered firm whose job is to fix problems. A divorced father with little or no personal life, Clayton is deep in debt to a loan shark as a result of a failed restaurant venture with one of his brothers. When his best friend, Arthur Edens (Wilkinson), goes off his meds and performs a striptease at a deposition, later declaring that he is Shiva the God of Death, Clayton tries to make things right — but when he discovers that critical information that Arthur has could impact the $6 billion case, his life, or what's left of it, is suddenly in danger. Swinton is outstanding as his adversary, corporate lawyer Karen Crowder, a nervous, career-driven woman who has to figure out just how far she will go to protect her job. Longtime screenwriter Gilroy (THE DEVIL'S ADVOCATE, the Bourne Trilogy) makes an outstanding directorial debut with MICHAEL CLAYTON, a brilliant look at a complicated man caught in an impossible situation.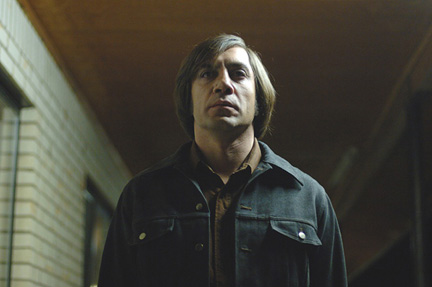 Javier Bardem gets an awesome new do for awesome new Coen brothers flick
NO COUNTRY FOR OLD MEN (Joel & Ethan Coen, 2007)
http://www.nocountryforoldmen-themovie.com

Based on the novel by Cormac McCarthy, the Coen brothers' NO COUNTRY FOR OLD MEN is a gripping thriller dominated by the mesmerizing performance of Javier Bardem as Anton Chigurh, a psychopathic killer who believes in chance. When Llewelyn Moss (an outstanding Josh Brolin) accidentally stumbles upon the site of a drug deal gone terribly wrong, he walks away with a satchel of cash and the dream of making a better life for him and his wife (Kelly MacDonald). He also knows that there will be a lot of people looking for him — and the two million bucks he has absconded with. On his trail are the Mexican dealers who were ripped off, bounty hunter Carson Wells (Woody Harrelson), and the cool, calm Chigurh, who leaves a bloody path of violence in his wake. Meanwhile, Sheriff Bell (Tommy Lee Jones) philosophizes on the sorry state of the modern world as he follows the proceedings with an almost Zen-like precision. Though it struggles to reach its conclusion, NO COUNTRY FOR OLD MEN is an intense noir Western, an epic meditation on chance in which the flip of a coin can be the difference between life and a horrible death.
THE ORPHANAGE (EL ORFANATO) (J. A. Bayona, 2007)
Landmark Sunshine Cinema
143 East Houston St. between First & Second Aves.
212-330-8182
http://www.landmarktheatres.com
http://www.theorphanagemovie.com

J. A. Bayona's directorial debut, THE ORPHANAGE, is a frightening horror flick in the tradition of Alejandro Amenabar's THE OTHERS and Tobe Hooper's POLTERGEIST (as well as Robert Wise's THE HAUNTING, Stanley Kubrick's THE SHINING, and even Richard Donner's THE OMEN), without feeling derivative. Belén Rueda (THE SEA INSIDE) stars as Laura, a woman who, with her husband, Carlos (Fernando Cayo), and their son, Simon (Roger Princep), moves into an abandoned mansion that previously was as an orphanage. Laura wants to take in some developmentally disabled orphans, but it seems that she and her family are not necessarily alone in the big house. At a party for the reopening of the orphanage, Simon mysteriously disappears, and Laura is determined to find him, no matter who — or what — might be responsible. THE ORPHANAGE, Spain's official selection for the 2007 Academy Awards, is a scary, edge-of-your-seat frightfest with just the right amount of heart-stopping shocks, courtesy of Bayona, first-time screenwriter Sergio G. Sanchez, cinematographer Oscar Faura, and composer Fernando Velazquez. The film also features Geraldine Chaplin as a psychic, Montserrat Carulla as — well, actually, the less you know about the film going in, the better. THE ORPHANAGE is the first film to be presented by Guillermo del Toro (PAN'S LABYRINTH, THE DEVIL'S BACKBONE), who also serves as executive producer.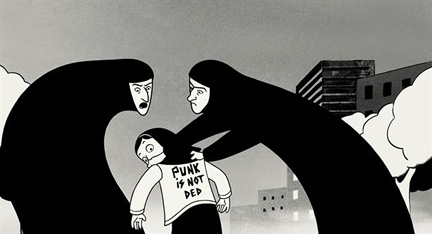 Marjane Satrapi animates her life for the big screen
PERSEPOLIS (Marjane Satrapi & Vincent Paronnaud, 2007)
Angelika Film Center
18 West Houston St. at Mercer St.
212-995-2000
http://www.city-cinemas.com/angelika.html

France's official selection for the 2007 Academy Awards, PERSEPOLIS brings to animated life Marjane Satrapi's stunning graphic novels. Codirected by Satrapi and comic-book artist Vincent Paronnaud, PERSEPOLIS tells Satrapi's harrowing life story as she comes of age during the Islamic Revolution in Iran in the late 1970s and early 1980s. Raised in a well-off activist family, she fights against many of the country's crippling mores and laws, particularly those that treat women as second-class citizens, trapping them in their veils, denying them any kind of individual freedom. But the progressive Satrapi (voiced first by Gabrielle Lopes, then Chiara Mastroianni) continually gets into trouble as she speaks her mind, experiments with sex, and refuses to play by her country's repressive rules. Satrapi and Paronnaud do an outstanding job of adapting the books' black-and-white panels for the big screen, maintaining her unique style and emotional breadth. The first part of the film is excellent as the precocious teenager who talks to God learns about life in some very harsh ways. Unfortunately, the second half gets bogged down in Satrapi's failures as an adult, focusing too much on her myriad personal problems and taking away the bigger picture that made the first part so entertaining as well as educational. Still, it's a story worth telling, and well worth seeing. (Interestingly, since the film, which is in French, is subtitled in English, the audience ends up reading it similarly to the way they read the graphic novel.) The closing-night selection of the 2007 New York Film Festival, PERSEPOLIS also features the voices of Catherine Deneuve as Marjane's mother, Danielle Darrieux as her grandmother, Simon Akbarian as her father, and François Jerosme as her radical uncle Anouche.
SWEENEY TODD: THE DEMON BARBER OF FLEET STREET (Tim Burton, 2007)
Clearview's Chelsea
260 West 23rd St. between Seventh & Eighth Aves.
http://www.sweeneytoddmovie.com

Oh yes, there will be blood. Tim Burton's adaptation of the hit Broadway musical SWEENEY TODD is bloody good fun. After being sent to prison for fifteen years by Judge Turpin (Alan Rickman), who had designs on his wife (Laura Michelle Kelly), innocent barber Benjamin Barker (Johnny Depp) returns to nineteenth-century London, reborn as Sweeney Todd, now a dark, ominous figure dead set on gaining his dastardly revenge. He gets back his coveted silver razors, which he considers an extension of his arm, and sets up shop in his old place, above the store where Mrs. Lovett (Helena Bonham Carter) sells meat pies crawling with cockroaches. When Todd begins slicing throats with expert precision, Lovett has a novel way of doing away with the bodies — while increasing business. Burton and screenwriter John Logan (THE AVIATOR, THE LAST SAMURAI) have done a terrific job translating the show onto the big screen, as Depp, Bonham Carter, and the rest of the cast — including Sacha Baron Cohen as a magical elixir salesman, Timothy Spall as the judge's wingman, and Jayne Wisener as Todd's daughter, who is doomed to marry the judge — do a wonderful job with such Stephen Sondheim songs as "No Place Like London," "Poor Thing," "My Friends," "Pretty Women," and "Not While I'm Around." Depp is marvelous as the demon barber of Fleet Street, wearing a fright wig with a shocking streak of white, singing most of his dialogue with a gentle devilishness, enhanced by his haunting, penetrating eyes. The goth opera not only sounds good but looks even better, courtesy of cinematographer Dariusz Wolski, production designer Dante Ferretti, and costume designer Colleen Atwood. Burton and Depp, who have previously collaborated on EDWARD SCISSORHANDS, ED WOOD, SLEEPY HOLLOW, CHARLIE AND THE CHOCOLATE FACTORY, and CORPSE BRIDE, have another winner on their hands.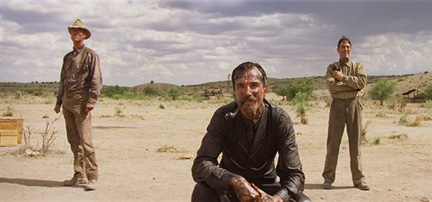 Daniel Day-Lewis searches for oil in THERE WILL BE BLOOD
THERE WILL BE BLOOD (Paul Thomas Anderson, 2007)
http://www.therewillbeblood.com

Daniel Day-Lewis gives a spectacular performance as an independent oil man in Paul Thomas Anderson's THERE WILL BE BLOOD. Day-Lewis, in remarkable voice, absolutely embodies Daniel Plainview, a determined, desperate man digging for black gold in turn-of-the-century California. His first strike comes at a heavy price as he loses one of his men in a tragic accident, so he adopts the worker's infant son, raising H.W. (Dillon Freasier) as his own. The growth of his company leads him to Little Boston, a small town that has oil just seeping out of its pores. But after not allowing Paul Sunday (Paul Dano), the charismatic preacher who runs the local Church of the Third Revelation, to say a prayer over the community's first derrick, Plainview begins his descent into hell. Using Upton Sinclair's 1927 novel OIL! as a starting point (and employing echoes of Orson Welles's CITIZEN KANE and THE MAGNIFICENT AMBERSONS in addition to the obvious reference, George Stevens's classic 1956 oil flick GIANT), writer-director Anderson (BOOGIE NIGHTS, MAGNOLIA) has created a thrilling epic about greed, power, and corruption as well as jealousy, murder, and, above all, family, where oil gushes out of the ground with fire and brimstone. Robert Elswit's beautiful cinematography is so gritty and realistic, audiences will be reaching for their faces to wipe the oil and blood off. The piercing, classically based score, composed by Radiohead guitarist Jonny Greenwood, builds to a mind-blowing crescendo by the end of the film — a finale that is likely to be much talked about and widely criticized. Filmed in the same location — Marfa, Texas — where GIANT was set, THERE WILL BE BLOOD is an unforgettable journey into the dark heart of one man's soul.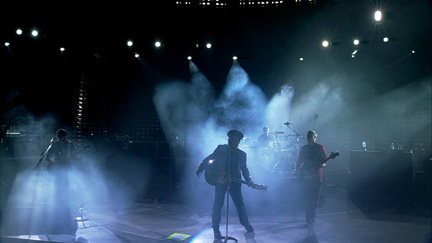 U2 explodes off the screen in 3-D concert flick
U2 3D (Catherine Owens & Mark Pellington, 2008)

When we caught U2's Vertigo Tour at the Garden in June 2006, we were up in the rafters, looking down at tiny dots that just happened to be drummer Larry Mullen Jr., bass player Adam Clayton, guitarist the Edge, and singer Bono. But now the World's Most Important Band is front and center for everyone to see in U2 3D, the first-ever full-length film shot in Digital 3-D, directed by Catherine Owens and Mark Pellington. Using as many as eighteen specially equipped digital cameras and recording decks, Owens, who has been U2's visual content director since ZooTV, captures the Irish band during stadium shows in South America and Mexico, focusing on the March 1-2 concerts at Estadio la Plata in Buenos Aires. The new technology, previously used for sporting events, has a fascinating layered effect that sucks in viewers — yes, who are wearing special glasses (not unlike the specs Bono used to wear as the Fly) — placing them right in the middle of the action as the band powers through an exultant setlist that, if not quite ideal, includes "Vertigo," "New Year's Day," and "Pride (In the Name of Love)." You can't help but reach out for Bono as he seemingly jumps out of the screen while singing "Touch me" during "Beautiful Day," and then you'll swear he's reaching out only to you when he stares into the camera during "Sunday Bloody Sunday" and promises to "wipe your tears away." And when tens of thousands of fans all bop up and down in unison to "Where the Streets Have No Name," forming a propulsive wave, you'll feel a rush beneath your seat that moves up into your gut. Owens and Pellington (ARLINGTON ROAD) incorporate the band's hypertextual stage show into the new format, as digitized figures, words, symbols, and letters from the large screens behind the band seem to float right in front of your face. The concert footage is supplemented with extreme close-ups shot onstage without an audience, and the energy level severely drops at these times, although Mullen's drum kit looks amazing in 3-D. As straight-ahead concert movies go, U2 3D is among the best ever made, a unique theatrical experience that will blow you away.
Riff's Rants & Raves: Live Music, Dance & Theater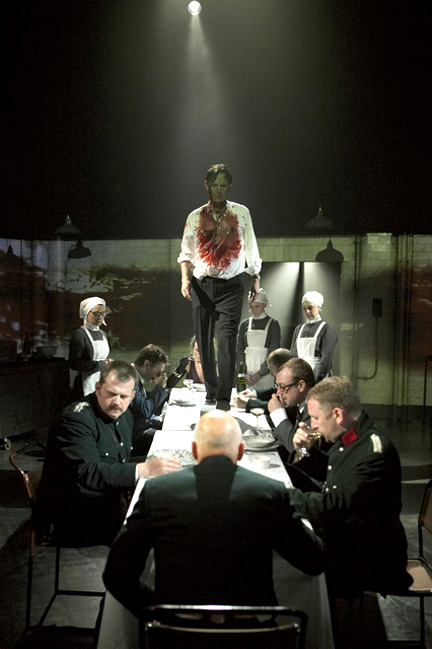 Manuel Harlan
Chichester Theatre Festival brings reimagined MACBETH to Brooklyn
MACBETH
BAM Harvey Theater
651 Fulton Street between Ashland Pl. & Rockwell Pl.
Through March 22; February 28 performance reviewed
Tickets: $30-$90
718-636-4100

Director Rupert Goold reimagines William Shakespeare's MACBETH, about a stalwart soldier who goes power crazy after receiving a telling prophecy from three witches, as a cold war nightmare in the current staging at BAM. The Chichester Theatre Festival's highly praised multimedia production of the infamously difficult play stars Patrick Stewart, who delivers a steady performance with intriguing nuances, alongside Kate Fleetwood as a much younger Lady Macbeth. The bleak stage is devoid of color, and the white wall along the back, upon which videos are projected, effectively fences the characters in. Anthony Ward's stage design also includes a working sink at the front and a sliding-gate elevator in the back, from which smoke drifts nonstop, as if it were ferrying its passengers in and out of hell and between realms. This bloody MACBETH is bold, boisterous, and very loud. The combination of Lorna Heavey's video projections (which depict Fascist rallies and frightening static), Howard Harrison's lighting, and Adam Cork's sound are most effective in scenes with the three wickedly delicious witches (Sophie Hunter, Polly Frame, and Niamh McGrady), who appear as wartime nurses, household servants, and morgue attendants. In the end, though, the acting is swallowed up by the fabulously inventive staging, rendering this MACBETH without the emotional power it so desperately needs. Stewart is a solid if unspectacular and unconventional Macbeth, giving noogies, poking playfully at ties, and pointing with pickles — and he seems to make one helluva killer ham sandwich. The cast also features Paul Shelley as Duncan, Martin Turner as Banquo, Michael Feast as Macduff, and Suzanne Burden as Lady Macduff. While this MACBETH might not be for purists, it's still an engaging night at the theater.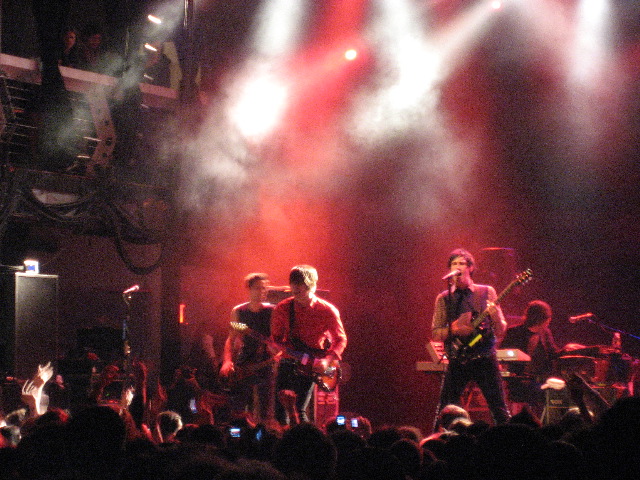 twi-ny/mdr
Local boys the Bravery had them dancing at Terminal 5
THE BRAVERY
Terminal 5
610 West 56th St. at Eleventh Ave.
Thursday, February 21, $25, 8:00
212-260-4700
Electro-synth alterna-pop faves the Bravery returned home on February 21, packing them in at the cavernous Terminal 5 way out on West 56th St. For more than an hour, the New York-based band — lead singer and rhythm guitarist Sam Endicott, lead guitarist Michael Zakarin, bassist Mike H., keyboardist John Conway, and drummer Anthony Burulcich — pounded out infectious eighties-tinged tunes anchored by solid dance beats. Calling out to "Stop, drop, and roll" on "Public Service Announcement," from their 2005 debut album, the Bravery had the crowd swaying, bopping, and shouting along. Endicott's voice, often sounding like the Cure's Robert Smith, coupled with Conway's soaring synth lines, sent us careening back to the Malibu nightclub on Long Island circa 1987, wigging out at a WLIR dance party. Except Endicott was not dressed very Smith-like, wearing a sweater vest and displaying no discernible eyeliner. Long Island also came into play when Endicott gave a shout-out to East Northport after congratulating Burulcich on his recent appearance on MTV's CRIBS, on which the drummer led a guided tour of his family home — where he still lives, yes, with his parents. It doesn't get much more rock-and-roll that that. But Michael Z. made sure it was the music that mattered, adopting rock-star poses while playing left-handed lead, even taking a so-so turn at the mic for the otherwise fun B-side "The Dandy (Rock)," followed shortly by Mike H. flying off the stage, right into the mosh pit. The uplifting set of pure angst-lite pop — which we mean in a good way — featured songs from their latest album, 2007's THE SUN AND THE MOON, along with reworked versions of the same numbers, which will be available March 18 on the two-disc set THE SUN AND THE MOON COMPLETE. The setlist also included such can't-miss hits as "Believe," "Time Won't Let Me Go," and a searing "Honest Mistake," on which they even turned on the disco ball. WLIR would have been proud.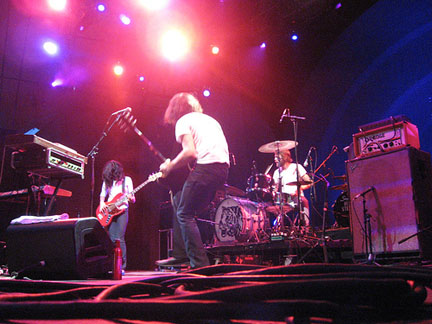 twi-ny/mdr
The Big Sleep headlines the Mercury on February 21
THE BIG SLEEP
Mercury Lounge
217 East Houston St. at Ave. A
Thursday, February 21, $10-$12, 7:30
212-260-4700
http://www.mercuryloungenyc.com
http://www.myspace.com/sonofthetiger
The Big Sleep in Prospect Park
Last August, we saw the Big Sleep put on a great show at the Prospect Park Bandshell as part of Celebrate Brooklyn!, opening up for the Hold Steady. With Sonya on bass and keyboards, Danny on guitar and keyboards, and Gabe on drums (found through an ad on Craig's List), the trio puts out a loud, thrilling sound, with guitar screeching over deep, darkly disguised melodies. Though primarily playing instrumentals, occasionally Sonya or Danny will sing, but their strength lies in their propulsive power; it's a shock that it's only three people making this beautiful noise. Live, Danny turns into a whirling dervish, twisting around and covering his face with his long hair as he tears apart his six-string. The Brooklyn-based band is just releasing its second record, SLEEP FOREVER (French Kiss, February 19, 2008), featuring a dozen gems. After teasing us with a slow intro, the band dives into its heavy sound on the instrumentals "Slow Race" and "The Big Guns." "Bad Blood" features the first lyrics on the album, as Sonya sings, "I feel afraid / Am I really afraid? / Or was I made to feel this way?" Danny takes over lead vocals on the massive "Pinkies." "Tigers in Our Hearts" simply explodes out of the gates, while "So Long" features perhaps their sweetest melody. On the last song, the title track, Danny sings, "We've got our work cut out for us / There's no place left for us to go." Actually, there are lots of places for them to go, including SXSW, while touring behind the excellent SLEEP FOREVER. They'll be keeping the crowd up late at the Mercury Lounge with a record release party on February 21; they go on at 10:30, following Sian Alice Group (9:30), Priestbird (8:30), and Heavy Creatures (7:30).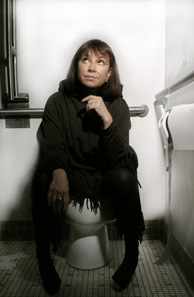 Jennie Franks spends a little too
much time in the bathroom in STUCK!
NEW YORK FRIGID FESTIVAL 2008
Kraine Theater (KT) and the Red Room (RR)
85 East Fourth St. between Second & Third Aves.
Under St. Marks (USM)
94 St. Marks Pl. between First Ave. & Ave. A
February 27 — March 9
Tickets: $10-$15
The second annual New York Frigid Festival comprises thirty shows in three downtown venues, with each production having five or six performances over the course of twelve days. Among the intriguing one-person plays are Chris Harcum's AMERICAN BADASS, OR 12 CHARACTER IN SEARCH OF A NATIONAL IDENTITY, specially timed for this election year; Prickly Pear's AMERICAN CAKE, with Jonathan Pereira and free cake; and Jennie Franks's STUCK!, which takes place in a bathroom. Other highlights include Roi "Bubi" Escudero's ANTONIN…MON ARTAUD, which takes on Artaud's creative madness; TELEGRAMS, featuring Canadian filmmakers projecting their work; DIARY OF A MAD FASHIONISTA, in which the Internet blog comes to life; REBEL WITHOUT A NICHE, with Kurt Fitzpatrick looking at some pretty bad jobs; and the improv piece SUBWAY SERIES.
Monday, February 25 Frigid Snapshot Show, with five-minute performances from a dozen participating productions, USM, suggested donation, 7:00
Friday, February 29 Opening party, USM, 11:00
Sunday, March 9 Closing party / awards ceremony, KT, 10:00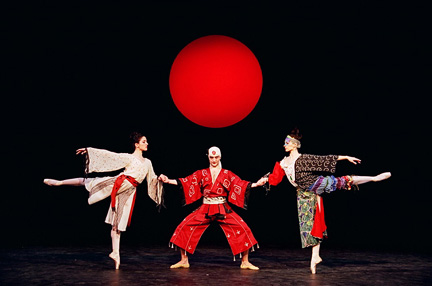 Lado Vachnadze
Nina Ananiashvili and State Ballet of Georgia performed two programs at BAM
NINA ANANIASHVILI AND THE STATE BALLET OF GEORGIA
BAM Howard Gilman Opera House
651 Fulton Street between Ashland Pl. & Rockwell Pl.
February 27 - March 2
Tickets: $20-$70
718-636-4100

In 2004, Georgian ballerina Nina Ananiashvili was called upon by her country's president to take the helm and revitalize the nearly two-centuries-old State Ballet of Georgia, and the ballet superstar has done just that. The company's international tour stopped off at BAM to present two overlapping programs, both showcasing talented young Georgian dancers performing with grace and verve, providing a lovely constellation for the Ananiashvili's shining star. On Friday night, the program displayed the company's range in pieces choreographed by native Georgian George Balanchine, hot young Bolshoi Ballet director and choreographer Alexei Ratmansky, and Yuri Possokhov. Ballanchine's "Chaconne," set to the intricate patterns of Gluck's music, was perhaps the most classical in structure and presentation, featuring exquisite nineteenth-century-style costuming and excellent work by the troupe. But the carefully arranged, glittering number felt like just that — a pavé-diamond setting for the blazing-star solitaire of Ananiashvili. Complemented by the almost uniformly young, very slender, graceful female corps and the somewhat less skilled male corps, Ananiashvili and partner Vasil Akmeteli performed pas de deux that brought forth spontaneous, thunderous ovations as her seemingly effortless execution and spectacular precision electrified the crowd.
Balanchine's charming "Duo Concertant" featured sensitive, expressive work by Nino Gogua and Lasha Kozashvili, accompanied onstage by Miranda Cuckson's violin and Eric Huebner's piano. Huebner also played during the New York premiere of Ratmansky's "Bizet Variations," with a wonderful opening of serried ranks of dancers proceeding to the back of the stage; as they moved away from the audience, one head, then another would turn to directly engage the audience. The women's soft, multilayered costumes in delicately modulated hues of blue helped set the scene, as Ananiashvili and two female dancers evoked powerful feminine charms and wiles while Ratmansky's inventive groupings alluded to the virility — with the suggestion of a bullfight among a trio of male dancers. Perhaps the most successful piece was the last, set to traditional — and evidently much-loved — Georgian folk music. Before the curtain even rose, enthusiastic Georgians in the audience cheered loudly as the traditionally garbed native Georgian Sagalobeli Ensemble began to play. The energy continued throughout the performance, an exuberant, multifaceted, and joyous exploration of traditional Georgian themes, a fitting conclusion for a young company reborn and reclaiming their birthright, led by a generous and spectacular superstar.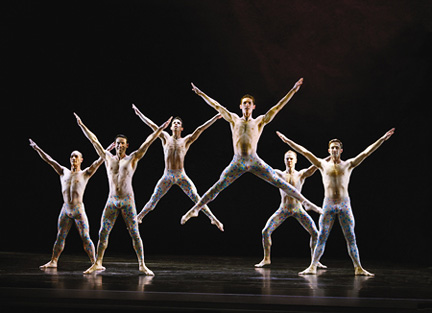 Paul Taylor brings "Dream Season" to NY City Center
THE DREAM SEASON
NY City Center
West 55th St. between Sixth & Seventh Sts.
February 28 - March 16
Tickets: $15-$75
212-581-1212
The Paul Taylor Dance Company returns to City Center for nineteen performances, featuring the new work DE SUENOS (OF DREAMS) and DE SUENOS QUE SE REPITEN (OF RECURRING DREAMS) as well as seventeen pieces from throughout their five-decade career. Among them is ANTIQUE VALENTINE, with music by Bach, Weber, Haydn, Beethoven, Chopin, and Mendelssohn; LE GRAND PUPPETIER, with music by Stravinksy; BLACK TUESDAY, with songs from the Great Depression; and BYZANTIUM, with music by Varese. Sunday matinees at 3:00 will include pre-show Speaking of Taylor lectures at 1:30, free for ticket holders, by Clive Barnes and Dr. Angela Kane (March 2), Anna Kisselgoff and Suzanne Carbonneau (March 9), and Peter Schickele (March 16).
BRYAN SCARY & THE SHREDDING TEARS
Luna Lounge
361 Metropolitan Ave., Williamsburg
Friday, February 29, $8
http://www.flightoftheknife.com
Hot live act Bryan Scary & the Shredding Tears will be part of a cool show at Luna Lounge on February 29, with Men's Tennis at 7:30, Hollis Browne at 9:30, Scary & the Tears at 10:30, and the London Souls at 11:30. The band's new album, FLIGHT OF THE KNIFE (Black and Greene), won't be available until April 1, but they'll be releasing one free download per week until then, so check out their unique brand of psychedelic indie pop before everyone else finds out about it.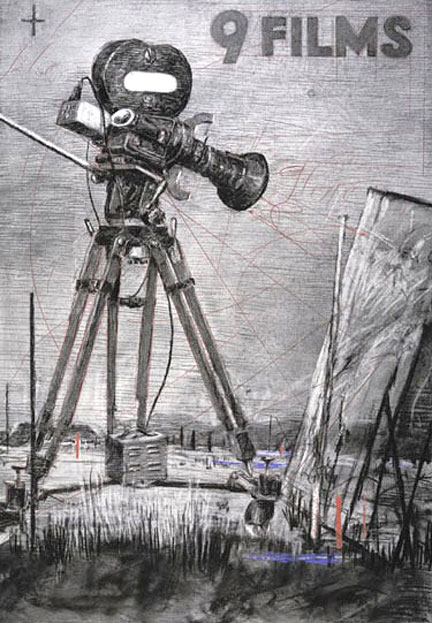 Two of Kentridge's shorts will screen at peace fest
THE REST IS SILENCE
The Great Hall at the Cooper Union
7 East Seventh St. at Third Ave.
Saturday, March 1, 8:00
Suggested admission: $10
212-353-4195
The Cooper Union will be hosting the Rest Is Silence, a peace concert put together by Ensemble Pi, an organization that focuses on the works of living composers. Part of the In March We Remember series, the program will include speaker Naomi Wolf, the U.S. premiere of Frederic Rzewski's "Johnny Has Gone for a Soldier" (for piano), the New York premiere of John Harbison's "Abu Ghraib" (for cello and piano), Kristin Norderval's "Far from Home" (for two voices and live processing), and Dimitri Shostakovich's Piano Trio No. 2 in E. minor. But the highlight could very well be the screening of "Stereoscope" and "Monument," two animated shorts from William Kentridge's remarkable "9 Drawings for Projection," which follow the exploits of South African businessman Soho Eckstein. The screening will be accompanied by a live performance of Philip Miller's original score. We saw all nine pieces in Prospect Park a few years back, complete with live musicians, and it was quite a treat.
BORN RUFFIANS
Union Hall, 702 Union St. at Fifth Ave., 212-220-1460
Saturday, March 1, $12, 8:00
Mercury Lounge, 217 East Houston St. at Ave. A, 212-260-4700
Sunday, March 2, $10, 9:00
http://www.mercuryloungenyc.com
Toronto's Born Ruffians is currently touring behind their new album, RED, YELLOW & BLUE (Warp), which drops on March 4, featuring such songs as "Barnacle Goose," "Badonkadonkey," "Hedonistic Me," and "Kurt Vonnegut." Singer-guitarist Luke LaLonde, bassist Mitch DeRosier, and drummer Steve Hamelin will be bringing their fun live show to Union Hall in Brooklyn on March 1 with Cadence Weapon and to Mercury Lounge on March 2 with Cadence Weapon again as well as We Are Marching On and Arbor Day.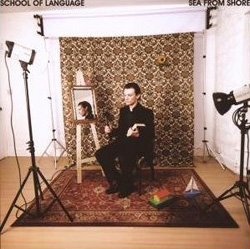 SCHOOL OF LANGUAGE / THE POISON ARROWS
Cake Shop
152 Ludlow St. between Stanton & Rivington Sts.
Saturday, March 8, $8, 8:00
212-253-0036
www.myspace.com/schooloflanguage
http://www.myspace.com/thepoisonarrows
Taking a break from Field Music to expand his horizons, David Brewis has just released SEA FROM SHORE (Thrill Jockey, February 2008) under the name School of Language, an experimental pop album on which he plays nearly all the instruments. Employing a Burroughs-like cut-and-paste philosophy, Brewis has crafted a fascinating sound that includes a guttural electronic alphabet of sounds and noises along with falsetto vocals that evoke vintage Thunderclap Newman and even early Pink Floyd. Bookended by the four-part "Rockist," SEA FROM SHORE is an appealing concept album that gets a little funky with "Disappointment," downright melodic with "Poor Boy," theatrical with "This Is No Fun" and "Marine Life," and touchingly romantic in the finale, in which Brewis repeats over and over, "There's only you." Brewis has recruited Tortoise bassist Doug McCombs and Euphone drummer Ryan Rapsys to join him as School of Language at Cake Shop on March 8.
Also on the bill is Chicago's the Poison Arrows, on the road in support of their latest release, the four-song EP STRAIGHT INTO THE DRIFT (File Thirteen, March 2007). The experimental indie band — featuring Pat Morris on bass, Adam Reach on drums, and Justin Sinkovich on lead vocals and guitar — plays dark, pulsating tunes like the intense "Clear Cut," the languid "Lockaway," and the groovy title track. Indie Brooklyn group Teletextile, who channel fellow borough residents the Fiery Furnaces, open the show at 8:00.
Riff's Rants & Raves: Art & Literature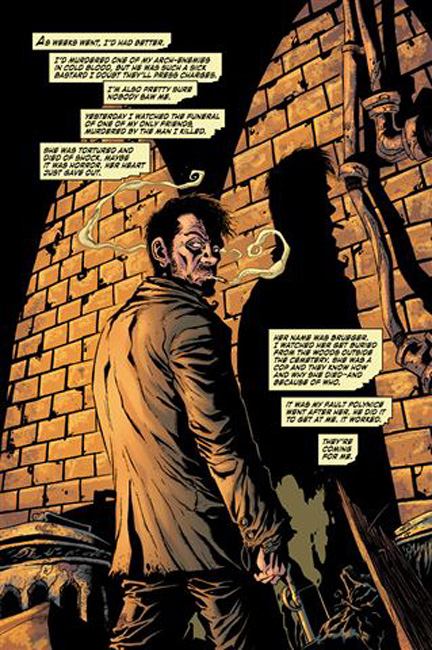 CRIMINAL MACABRE: TWO RED EYES
(Dark Horse, October 2007, $12.95)

Things aren't getting better for monster hunter Cal McDonald in TWO RED EYES, the latest trade paperback collection of Steve Niles's Criminal Macabre comic-book series. After McDonald, a former cop with personal problems up the ying-yang, gets the crap kicked out of him by the well-connected politician who was married to the late, lamented Detective Lieutenant Brueger, ghouls from all over gather around the hospital to pay their respects. But even they're not enough to keep him from an ancient evil that has washed up on the Santa Monica Pier — while he also battles the newfound sobriety that has been forced upon him. Following in the footsteps of Ben Templesmith and Kelley Jones, Kyle Hotz creates a dark but colorful world bursting with blood and gore, courtesy of colorist Michelle Madsen. Their spread depicting the ghouls surrounding the hospital is a gem, as is a grizzly dream Cal has of Sabrina, although the main villain is a bit too cheesy. Hotz and Madsen have also brought an endearing charm to Cal's right-hand ghoul, Mo'lock. Tim Bradstreet is responsible for the ultra-realistic cover image. The next trade paperback, MY DEMON BABY, is scheduled for this June, with art by Nick Stakal.


All contents copyright 2008 by Mark Rifkin and twi-ny. All rights reserved. Contents may not be reprinted without written permission. Please note that events, dates, and prices are subject to change.
Send all comments, suggestions, reviews, and questions to mark.rifkin@twi-ny.com.
Please note that some e-mail clients may wrap links, so be sure to enter them fully into your browser.
To subscribe to this list, please e-mail the administrator at admin@twi-ny.com with the word Subscribe in the Subject line; be sure to ask for back issues, which are free as well. To unsubscribe from this list, please think it over twice before e-mailing the same address. Please let us know what you didn't like about this forum and we'll do our best to correct it in the future -- if we agree with you. If you would like to see something covered in a future issue, please let us know. Without you, there is no need for us to exist.


twi-ny top two dozen (or so)
weekly reminders & special events
CLARK TERRY BIG BAND
Blue Note
131 West Third St.
Tickets: table $35, bar $20
212-475-8592
Tuesday, February 19
through
Sunday, February 24 Eighty-seven-year-old trumpet master Clark Terry brings his big band to the Blue Note, 8:00 & 10:30

ED BEGLEY JR.
Strand Bookstore
828 Broadway at 12th St.
Admission: free
212-660-6643
Wednesday, February 20 Ed Begley Jr., LIVING LIKE ED: A GUIDE TO THE ECO-FRIENDLY LIFE, book reading and signing, 7:00
BE YOUR OWN PET
Mercury Lounge, 217 East Houston St. at Ave. A
Tickets: $25
212-260-4700
Maxwell's, 1039 Washington St., Hoboken
Tickets: $10
201-653-1703
http://www.beyourownpetmusic.com
http://www.mercuryloungenyc.com
Wednesday, February 20, Mercury Lounge
and
Thursday, February 21, Maxwell's Nashville's Be Your Own Pet headlines two area gigs
ON THE ROAD TO HOLLYWOOD
Carnegie Hall
Weill Recital Hall
881 Seventh Ave. at 57th St.
Tickets: $20-$35
212-247-7800
http://www.musicofthespheres.org
Thursday, February 21 Music of the Spheres Society presents works by Miklos Rozsa, Rudolf Friml, Igor Stravinsky, Mario Castelnuovo-Tedesco, Hanns Eisler, Erich Korngold, and Arnold Schoenberg/Anton Webern made after leaving their homeland and coming to Hollywood, featuring Stephanie Chase and Erin Keefe on violin, Bion Tsang on cello, Jon Manasse on clarinet, Elizabeth Mann on flute, and John Novacek on piano, 8:00
WELCOME TO NOWHERE (bullet hole road)
Performance Space 122
150 First Ave. at East Ninth St.
Tickets: $15
Wednesday, February 20
through
Saturday, February 23 Multimedia theatrical presentation by Temporary Distortion staged in a box-like installation, 8:00
MILOS FORMAN: A RETROSPECTIVE
MoMA Film
Roy and Niuta Titus Theaters
11 West 53rd St. between Fifth & Sixth Aves.
February 14-28
Tickets: $10, in person only, may be applied to museum admission within thirty days, same-day screenings free with museum admission, available at Film and Media Desk
212-708-9400
Wednesday, February 20 TAKING OFF (Milos Forman, 1971), 6:00
Wednesday, February 20 THE PEOPLE VS LARRY FLYNT (Milos Forman, 1996), 8:00
Thursday, February 21 NEDOSTAJE MI SONJA HENIE (I MISS SONIA HENIE) (Milos Forman, 1971) and CHYTILOVÁ VS FORMAN (Vera Chytilová, 1981), 5:30
Thursday, February 21 RAGTIME (Milos Forman, 1981), 8:00
Friday, February 22 MAN ON THE MOON (Milos Forman, 1999), 6:00
Friday, February 22 VALMONT (Milos Forman, 1989), 8:30
Saturday, February 23 CERNY PETR (BLACK PETER) (Milos Forman, 1964), 2:00
Saturday, February 23 ONE FLEW OVER THE CUCKOO'S NEST (Milos Forman, 1975), 4:00
Saturday, February 23 NEDOSTAJE MI SONJA HENIE (I MISS SONIA HENIE) (Milos Forman, 1971) and CHYTILOVÁ VS FORMAN (Vera Chytilová, 1981), 7:00
Sunday, February 24 HAIR (Milos Forman, 1979), 1:30
Sunday, February 24 THE PEOPLE VS LARRY FLYNT (Milos Forman, 1996), 4:00
Sunday, February 24 DOBRE PLACENÁ PROCHÁZKA (A WELL-PAID WALK/A WALK WORTHWHILE) (Milos Forman, 1966), 6:30
Monday, February 25 LÁSKY JEDNÉ PLAVOVLÁSKY (LOVES OF A BLONDE) (Milos Forman, 1965), 6:00
Monday, February 25 HORÍ, MÁ PANENKO (THE FIREMEN'S BALL) (Milos Forman, 1967), 8:00
Wednesday, February 27 MAN ON THE MOON (Milos Forman, 1999), 6:00
Wednesday, February 27 THE DECATHLON (Milos Forman, 1973) and KONKURS (AUDITION) (Milos Forman, 1963), 8:30
Thursday, February 28 GOYA'S GHOSTS (Milos Forman, 2007), 5:30
Thursday, February 28 AMADEUS (Milos Forman, 1984), 8:00
HARKNESS DANCE FESTIVAL
Through March 16
Ailey Citigroup Theater at the Joan Weill Center for Dance
405 West 55th St. at Ninth Ave.
Wednesday — Saturday 8:00, Sunday 2:00
Tickets: $20
212-415-5500
http://www.92Y.org/HarknessFestival
Wednesday, February 20
through
Sunday, February 24 [Zøgma]: RAPAILLÉ
Wednesday, February 27
through
Sunday, March 2 Nathantrice/RITUALS Dance Theater
LUMET
Film Forum
209 West Houston St. between Sixth & Seventh Aves.
February 8-28
212-727-8110
Wednesday, February 20 THE ANDERSON TAPES (Sidney Lumet, 1971), 3:40, 7:40, and THE DEADLY AFFAIR (Sidney Lumet, 1967), 1:30, 5:30, 9:30
Thursday, February 21 THE SEA GULL (Sidney Lumet, 1968), 1:00, 3:40, 6:20, 9:00
Friday, February 22
and
Saturday, February 23 SERPICO (Sidney Lumet, 1973), 2:00, 4:30, 7:00, 9:30
Sunday, February 24 DOG DAY AFTERNOON (Sidney Lumet, 1975), 2:00, 4:30, 7:00, 9:30
Monday, February 25 BYE BYE BRAVERMAN (Sidney Lumet, 1968), 3:30, 7:00 (with actress Phyllis Newman), and ONE THIRD OF A NATION (1939, Dudley Murphy), 1:55, 5:20
Monday, February 25 NIGHT FALLS ON MANHATTAN (Sidney Lumet, 1997), 8:50
Tuesday, February 26 THE FUGITIVE KIND (Sidney Lumet, 1959), 3:05, 7:30, and A VIEW FROM THE BRIDGE (Sidney Lumet, 1962), 1:00, 5:20, 9:45
Wednesday, February 27 LONG DAY'S JOURNEY INTO NIGHT (Sidney Lumet, 1962), 1:00, 4:15, 7:30
Thursday, February 28 DANIEL (Sidney Lumet, 1983), 1:00, 3:30, 6:00
Thursday, February 28 PRINCE OF THE CITY (Sidney Lumet, 1981), 8:30
CLASSIC MOVIE NIGHT: A TRADITION OF CRITICAL REALISM
Korea Society Gallery
950 Third Ave. at 57th St., eighth floor
Third Thursday of every month
Admission: $10
212-759-7525
Thursday, February 21 TO THE STARRY ISLAND (Park Kwang-soo, 1993), 6:30
NO BORDERS, NO LIMITS: 1960s NIKKATSU ACTION CINEMA
Japan Society
333 East 47th St. at First Ave.
Monthly Fridays through May 2008
Tickets: $12
212-715-1258
Friday February 22 GANGSTER VIP (BURAI YORI DAIKANBU) (Toshio Masuda, 1968), 7:30
AN EVENING WITH CINEMA ZERO
The Kitchen
512 West 19th St. between Tenth & Eleventh Aves.
Tickets: $10
212-255-5793
Friday, February 22
and
Saturday, February 23 Multimedia collaborative performance with Amy Granat, Felicia Ballos, Flora Wiegmann, and others, 8:00
MIDNIGHTS: CLASS OF THE '80s
IFC Center
323 Sixth Ave. at West Third St.
Friday - Sundays at 12 midnight through March 22
212-924-7771
Friday, February 22
and
Saturday, February 23 RISKY BUSINESS (Paul Brickman, 1983)
Friday, February 29
and
Saturday, March 1 SIXTEEN CANDLES (John Hughes, 1984)
WEEKEND CLASSICS: THE FILMS OF LOUIS MALLE
IFC Center
323 Sixth Ave. at West Third St.
Friday - Sundays at 11:00 am through March 30
212-924-7771
Friday, February 22
through
Sunday, February 24 HUMAIN TROP HUMAIN (Louis Malle, 1974) and VIVE LE TOUR (Louis Malle, 1962)
Friday, February 29
through
Sunday, March 2 MURMUR OF THE HEART (Louis Malle, 1971)
WHITNEY LIVE
Whitney Museum of American Art
945 Madison Avenue at 75th St.
Pay-what-you-wish
212-570-7715
Friday, February 22 So Percussion and Kneebody, 7:00
Friday, February 29 Composers' Showcase: Tristan Perich, 7:00
CABARETCINEMA: WHERE MOVIES AND MARTINIS MIX
K2 Lounge
Rubin Museum of Art
150 West 17th St. at Seventh Ave.
Admission: free with $7 bar minimum
212-620-5000 ext 344
Friday, February 22 Mind Over Matter: SLAUGHTERHOUSE FIVE (George Roy Hill, 1972), introduced by David Velleman, 9:30
Friday, February 29 Mind Over Matter: THE DEAD ZONE (David Cronenberg, 1983), 9:30
GLOBAL WEEKENDS: PASSING THE TORCH -- BLUES, TAP, SWING
American Museum of Natural History
Central Park West & 81st St. entrance
Kaufmann Theater (KT)
Linder Theater (LT)
Free with museum admission
212-769-5315
Saturday, February 23 Performance: Ruth Williams and the Ruth Williams Dance Studio, KT, 1:00
Saturday, February 23 Performance: Jazz History through Time, with Clyde Wilder, KT, 1:45
Saturday, February 23 Poetic Address: A Torch Bearer's Presentation, with Dr, Glory Van Scott, LT, 2:20
Saturday, February 23 Performance: Journey from Africa to Broadway, with Mickey Davidson and Friends, KT, 2:40
Saturday, February 23 Performance: Above Ground Project, with Maurice Chestnut, LT, 3:15
Saturday, February 23 Film Screening: PAPA'S BRANCH (Gregory Singer, 2006), KT, 3:35
Saturday, February 23 Performance: Workin' on a Building: A Jazz Journey by Marlon Saunders, KT, 4:00
Saturday, February 23 Dance Workshops: registration between 12 noon and 3:00 for Tap Dance (1:20), Jazz Dance to the Blues (2:30), and Swing Dance (3:15)
HEIMA
Scandinavia House
58 Park Ave. at 38th St.
Tickets: $10
212-847-9746
http://www.scandinaviahouse.org
Saturday, February 23 Screening of HEIMA (Denni Karlsson, 2007), documenting the music and live performances by Icelandic band Sigur Rós, followed by a reception, 6:30
DONNA JEAN AND THE TRICKSTERS
The Knitting Factory
74 Leonard St. between Broadway & Church St.
Tickets: $18
212-219-3132
http://www.knittingfactory.com
Saturday, February 23 CD release party and benefit for Rex, 7:00
MUSIC FROM JAPAN FESTIVAL 2008
Merkin Concert Hall at Kaufman Center
129 West 67th St.
Tickets: $20 ($35 for both)
212-501-3330
Saturday, February 23 Preconcert lecture by Donald Keene at 7:00, followed by Exploring MA: Ancient Winds and Percussion, featuring traditional gagaku (Ichikotsucho no choshi; Konju no jo, ha; and Ranryo-o) and contemporary works by Hiroya Miura, Toru Takemitsu, and John Cage, 8:00
Sunday, February 24 Current Sounds: Japan, featuring works by Tetsuji Emura, Toshio Nakagawa, Masakazu Natsuda, and Yumi Saki, conducted by Donald Palma, followed by a Q&A with the commissioned composers, 4:00
JOHN FORD AT FOX
Museum of the Moving Image
35th Ave. at 36th St., Astoria
Through February 24
Tickets: $10 (includes museum admission)
718-784-4520
Saturday, February 23 HOW GREEN WAS MY VALLEY (John Ford, 1941), 2:00
Saturday, February 23 THE WORLD MOVES ON (John Ford, 1934), 4:30
Sunday, February 24 War Documentaries: THE BATTLE OF MIDWAY (John Ford, 1942), TORPEDO SQUADRON (John Ford, 1942), and DECEMBER 7th (John Ford, 1943), 2:00
Sunday, February 24 WHAT PRICE GLORY (John Ford, 1952), 3:30
Sunday, February 24 HOW GREEN WAS MY VALLEY (John Ford, 1941), 6:30
THE ORCHID SHOW
The New York Botanical Garden
Enid A. Haupt Conservatory
Bronx River Parkway (exit 7W) & Fordham Rd.
Closed Monday
Combination Ticket: $20 adults, $7 children two to twelve
718-817-8700
Saturday, February 23
through
Sunday, April 6 Sixth annual Orchid Show will focus on Singapore, with special programs such as "Orchid Growing for Wimps," "Orchid Morphology," The Right Orchid for Your Home," and many others
SUNDAYS AT 5:00
The Frick Collection
1 East 70th St. at Fifth Ave.
Tickets: $25
212-547-0700
Sunday, February 24 Markus Groh, piano: Schulhoff, Five Études de Jazz; Kurtag; Ligeti; Ginastera, Sonata No. 1, Opus 22; Liszt, Sonata in B Minor, 5:00
TUESDAY NIGHT @ THE MOVIES
Italian Cultural Institute of New York
686 Park Ave. at 68th St.
Admission: free
212-879-4242
Tuesday, February 26 CRIMINI: IL COVO DI TERESA (Stefano Sollima), 6:00
JAZZ SCENES THROUGH THE CINEMA LENS
Tribeca Performing Arts Center
Borough of Manhattan Community College
199 Chambers St.
Admission: free
212-220-1460
Tuesday, February 26 The Mingus Connection, featuring film clips and an informal Q&A moderated by Krin Gabbard, 8:00
A TRIBUTE TO CHINUA ACHEBE
The Town Hall
123 West 43rd St. between Sixth Ave. & Broadway
Tickets: $15
212-608-0555
http://www.the-townhall-nyc.org
Tuesday, February 26 The PEN American Center honors Nigerian writer Chinua Achebe on the occasion of the fiftieth anniversary of his novel THINGS FALL APART, with Toni Morrison, Chris Abani, Chimamanda Ngozi Adichie, Edwidge Danticat, Suheir Hammad, Ha Jin, Colum McCann, and a special performance by the Francesca Harper Dance Project, 8:00
CINEKINK
Anthology Film Archives, 32 Second Ave. at Second St., February 26 ¬ March 1
Pioneer Theater, 155 East Third St. at Ave. A, March 2
Tickets: $6-$10
The fifth annual CineKink returns to New York City for a series of sexy programs at Anthology Film Archives, Taj, and the Two Boots Pioneer Theater. This year's fest includes such titles as THE BI APPLE, BONDAGE BOOB-TUBE, THE GAY LEATHERMAN, NEUROTIC, SEXUAL SUSHI, TRANNYMAL, and a whole bunch of others we can't mention here without being blocked by various firewalls.
Tuesday, February 26 Kick-Off Gala & Opening Night Screening: SCHWARZWALD, TEAM QUEEN, and A DOG'S TALE (Steven Speliotis, 2007), with live performances by Dizzy Swank, JZ Bich, Ignacio Rivera, Cherry Bomb, and Jessica Delfino, Taj, 48 West 21st St., $15-$20, , 8:00
Wednesday, February 27 CineKink Tribute Screening: SHORTBUS(John Cameron Mitchell, 2006), 7:00
Wednesday, February 27 New York Stories, 9:30
Thursday, February 28 Triple X Selects: The Best of Lezsploitation, featuring DIRTY WORDS: THE LETTER C (T. Arthur Cottam, 2007), PILLOW GIRL (Ronnie Cramer, 2006), and HIGHWAY AMAZON (Ronnie Cramer, 2002), 7:00
Thursday, February 28 VIVA (Anna Biller, 2006) , 9:00
Friday, February 29 CALL ME TROY (Scott Bloom, 2007), 7:00
Friday, February 29 SUSAN FOR NOW (Robin Franzi, 2007), THE GAY LEATHERMAN (Lars Joakin Ringom, 2006), and F/F (Charles Lum, 2007), 9:15
Friday, February 29 SEX MANNEQUIN (Maria Beatty, 2007) and SUPERFREAK (Shine L. Houston, 2006), 11:15
Saturday, March 1 Lust, Animation! , 1:00
Saturday, March 1 Chick Flicks, 3:00
Saturday, March 1 Women Behind The Lens, 5:00
Saturday, March 1 Mix, Match & Mingle, 7:00
Saturday, March 1 Give & Take, 9:00
Saturday, March 1 The Three Trials, 11:00
Sunday, March 2 ANNIE SPRINKLE'S HERSTORY OF PORN (Annie Sprinkle & Scarlot Harlot, 1999) and ART OF THE LOOP (Annie Sprinkle & Jeff Fletcher, 1999), 1:00
Sunday, March 2 Sunday How-To Sex-O-Rama, 3:00
Sunday, March 2 SILKEN SLEEVES (Maria Beatty, 2006), 5:00
Sunday, March 2 Awards Celebration, location to be announced, 7:00
Sunday, March 2 AfterGlow Party, location to be announced, 9:00
KAREN SWENSON & SARAH M. WHITE
Cornelia Street Cafe
29 Cornelia St. between Bleecker & West Fourth Sts.
Admission: $7 (includes one drink)
212-989-9319
Wednesday, February 27 Performances@corneliastreetcafe features poetry readings by Karen Swenson and Sarah M. White, hosted by Angelo Verga, 6:00
ORGAN AND FILM
St. Bartholomew's Church
109 East 50th St. at Park Ave.
Tickets: $10
212-378-0200
Wednesday, February 27 APPARITION OF THE ETERNAL CHURCH (Paul Festa), with organists William K. Trafka and Paolo M. Bordignon playing works by Olivier Messiaen, 7:30
THE PERSUASIONS
B.B. King Blues Club
237 West 42nd St. between Seventh & Eighth Aves.
Tickets: $25
212-997-4144
Wednesday, February 27 Brooklyn's own a cappella group, 8:00
YANIRA CASTRO + COMPANY
Dance Theater Workshop
219 West 19th St. between Seventh & Eighth Aves.
Tickets: $20
212-924-0077
http://www.dancetheaterworkshop.org
Wednesday, February 27
through
Saturday, March 1 World premiere of CENTER OF SLEEP, directed and choreographed by Yanira Castro, danced by Peggy Cheng, Luke Miller, Heather Olson, and Joseph Poulson, original score composed by Stephan Moore performed live by Michael Haleta and Scott Smallwood, and lighting design by Roderick Murray, 7:30 & 9:30
INNOVATION IN NEW YORK'S STREETS
Museum of the City of New York
1220 Fifth Avenue at 103rd St.
Tickets: $9
Reservations required: 212-534-1672 ext3395
Thursday, February 28 Spotlight on Design: panel discussion exploring the intersection of design, innovation, sustainability, and accessibility in New York's public realm, with Andrew Salkin, Davin Stowell, Susan Chin, Mary Ceruti, and Ryan Russo, moderated by Deborah Marton, 6:30
CHUNGMURO EXPRESS: CLASSIC KOREAN CINEMA
ImaginAsian Theatre
239 East 59th St. at Second Ave.
Admission: free but RSVP required: 212-759-9550
Thursday, February 28 WHITE BADGE (HA-YANJEONJAENG) (Jeong Ji-young), followed by a discussion with film curator Hyun-Ock Im, 6:30
FILM COMMENT SELECTS
Walter Reade Theater unless otherwise noted
165 West 65th St. between Broadway & Amsterdam Ave., Plaza Level
212-496-3809
Thursday February 28 Closing Night: WALKER (Alex Cox, 1987), 6:30
Thursday February 28 SEARCHERS 2.0 (Alex Cox, US, 2007), 8:30
DOCUMENTARY PRACTICE: FROM PRINTED PAGE TO GALLERY WALL
French Institute Alliance Française
Tinker Auditorium
55 East 59th St. between Park & Madison Aves.
Tickets: $12
212-307-4100
Thursday, February 28 Panel discussion with photographers and gallerists, moderated by Alison Morley of ICP, 7:00
MARTHA ROSLER:
ART & SOCIAL LIFE; THE CASE OF VIDEO ART
New Museum of Contemporary Art
235 Bowery at Prince St.
Free with museum admission but tickets required
212-219-1222
Thursday, February 28
through
Saturday, March 1 Part of the Night School series commissioned by Anton Vidokle
NEW YORK INTERNATIONAL INDEPENDENT
FILM AND VIDEO FESTIVAL
ImaginAsian Theatre
239 East 59th St. at Second Ave.
Village East Cinemas
181 Second Avenue at 12th St.
Tickets: $12
702-361-1430
http://www.myspace.com/nyfilmvideo
Thursday, February 28
through
Thursday, March 6 Dozens of films in all genres, including shorts, documentaries, and feature-length works, will be screened at the ImaginAsian Theatre and Village East Cinemas; highlights include Willie Nelson in Sam Um's FIGHTING WITH ANGER, Kristanna Loken in Danielle Agnello & Joe Halli's LIME SALTED LOVE, Stephen Rea in THE FLIGHT OF THE EARLS/IMEACHT NA NIARLAI, the documentary BYRD, THE LIFE & TRAGIC DEATH OF JAMES BYRD JR., Steven Lawrence's surfing documentary, DOWN THE BARREL, with Kelly Slater, Susheel Bibbs's Ruby Dee-narrated documentary MEET MARY PLEASANT, and the jug-band doc CHASIN' GUS' GHOST, featuring John Sebastian, Bob Weir, David Grisman, Maria Muldaur, and Jim Kweskin
ART IN THE FIRST PERSON
School of Visual Arts, third-floor amphitheater
209 East 23rd St. between Second & Third Aves.
Admission: free
212-592-2010
Thursday, February 29 Ryan the Conjurer updating Sir Ernst Gombrich's ART AS ILLUSION, 7:00
SEEKING
Kumble Theater, LIU Brooklyn Campus
Flatbush & DeKalb Aves.
Tickets: $20
718-488-1624
Friday, February 29
through
Sunday, March 2 Above and Beyond Dance melds different forms of dance and circus acts into SEEKING, led by artistic director Chriselle Tidrick
WORKS ON PAPER
The Park Avenue Armory (Seventh Regiment Armory)
643 Park Ave. between 66th & 67th Sts.
Admission: $20 (includes catalog)
Friday, February 29
through
Monday, March 3 Twentieth anniversary show featuring watercolors, fine prints, posters, drawings, and photography from old master to contemporary
TRIBUTE TO IFC FILMS
BAMcinematek / BAM Rose Cinemas
30 Lafayette Ave. between Ashland Pl. & St. Felix St.
February 29 — March 6
718-636-4100
Friday, February 29
through
Wednesday, March 5 IT'S A FREE WORLD... (Ken Loach, 2007)
Friday, February 29 PARANOID PARK (Gus Van Sant 2007), 9:15
Saturday, March 1 FLIGHT OF THE RED BALLOON (Hou Hsiao Hsien 2007), 6:30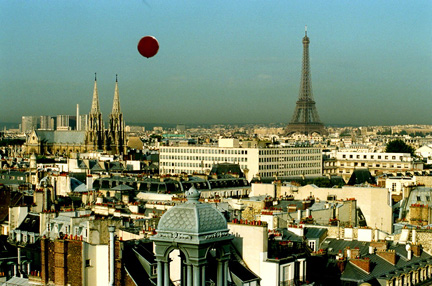 Hou Hsiao Hsien pays tribute to Lamorisse classic RED BALLOON
FLIGHT OF THE RED BALLOON (Hou Hsiao Hsien, 2007)

Commissioned by the Musee d'Orsay and inspired by Adam Gopnik's book PARIS TO THE MOON and Albert Lamorisse's children's classic THE RED BALLOON, director Hou Hsiao Hsien creates a wonderfully gentle, beautifully peaceful work in FLIGHT OF THE RED BALLOON. Mimicking the Taiwanese Hou making a film in Paris, Song Fang stars as Song, a Taiwanese film student who arrives in Paris to be a nanny to Simon (Simon Iteanu), whose mother, Suzanne (a blonde Juliette Binoche), runs a local puppet theater — which is currently putting on a version of the Chinese story of Zhang Yu, in French. Song goes everywhere with her video camera, recording whatever she sees. Meanwhile, a mysterious red balloon follows Simon through the city. (In THE RED BALLOON, it's reversed, as a young boy runs after the balloon.) There is no real plot but merely daily life, sort of Truffaut meets Ozu as Song makes pancakes, Suzanne gets involved in a rent dispute, and Simon practices the piano. The film is all about place and character, not narrative; in fact, much of the dialogue is improvised. Lovingly shot by Mark Lee Ping Bing, FLIGHT OF THE RED BALLOON is a sweet, tender film from one of the world's most underrecognized directors.
Saturday, March 1 THREE TIMES (Hou Hsiao Hsien 2005), 3:45
© 2005 Tsai cheng-tai
Shu Qi and Chang Chen enjoy a different kind of three-way in THREE TIMES
THREE TIMES (Hou Hsiao-hsien, 2005)
http://www.threetimes-film.com

Hou Hsiao Hsien's gorgeous THREE TIMES is an evocative, poetic trilogy of tales about life and love in Taiwan, all starring the mesmerizing Shu Qi (Hou's MILLENNIUM MAMBO) and the stalwart Chang Chen (Wong Kar-wai's 2046 and HAPPY TOGETHER). In A TIME FOR LOVE, set in 1966 and featuring a repeated soft-rock soundtrack, Chen, about to leave for military service, meets May, a pool-hall girl, and promises to write to her even though they have only just met and barely said a word to each other. When he gets a furlough, he goes to the pool hall only to find that she's on the move, so with Zen-like cool he tries to track her down. A TIME FOR FREEDOM, a silent film with interstitial dialogue and period music, takes place in an elegant brothel in 1911, where Mr. Chang regularly visits a beautiful courtesan. But while she dreams of him buying out her contract and marrying her, he seems intent on helping out another couple instead. Hou concludes the trilogy with A TIME FOR YOUTH, set in fast-paced modern-day Taipei, as Jing, an epileptic singer, and Zhen, a motorcycle-riding photographer, embark on a passionate, nearly wordless affair that has serious consequences for their significant others. THREE TIMES is a rare treat for cineastes, an intelligent though overly long study of relationships between men and women in a changing Taiwan over the last hundred years, focusing on character, time and place, and the art of filmmaking itself.
Sunday, March 2 DANS PARIS (Christophe Honoré 2006), 2:00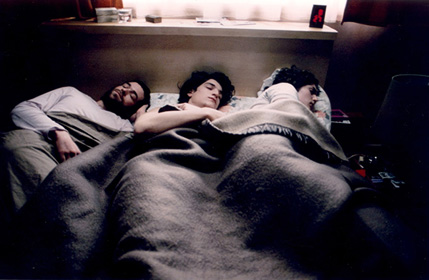 Honoré's DANS PARIS is more Nouvelle Vague retread than worthwhile homage
DANS PARIS (INSIDE PARIS) (Christophe Honoré, 2006)
http://www.dansparis-lefilm.com

Christophe Honoré's homage to the French New Wave comes off more like Truffaut/Godard/Sautet hero worship than a worthwhile film of its own. The talky drama revolves around the hopeless Paul (Romain Duris), a wholly unlikable character suffering from an extremely annoying case of depression over the end of his relationship with Anna (Joana Preiss). He leaves the countryside and returns to Paris, moving back in with his lonely, divorced father, Mirko (Guy Marchand), and oversexed brother, Jonathan (an utterly charming Louis Garrel, who saves the movie from complete failure). Most of the action takes place in one day as Jonathan bets Paul that he can make it to Bon Marche in a certain amount of time — but as he is waylaid by woman after woman, Paul gets to wallow in self-pity with his wacky mother (Marie-France Pisier) and others. Despite a promising beginning in which Jonathan directly addresses the camera, DAN PARIS quickly falls apart.
Sunday, March 2 A GIRL CUT IN TWO (Claude Chabrol 2007), 4:00
Sunday, March 2 LOVE SONGS (Christophe Honoré 2007), followed by a Q&A with Christophe Honoré, 7:00
FIRST SATURDAYS
Brooklyn Museum of Art
200 Eastern Parkway
Admission: free after 5:00 pm (some events require free tickets available that night)
718-638-5000
Saturday, March 1 Music: Lucía Pulido, 6:00 — 8:00
Saturday, March 1 Multimedia Performance: Chilean feminist poet and artist Cecilia Vicuña, followed by a Q&A, 6:00
Saturday, March 1 Dance: Ballet Folklorico Perú, followed by a Q&A, 6:30
Saturday, March 1 Hands-On Art: Sculpt an animal-inspired clay pot, 6:30-8:30
Saturday, March 1 Young Voices Gallery Talk, 7:00
Saturday, March 1 Young Voices Gallery Talk: Student Guide Grace Opper gives a gallery talk on the exhibition "Ghada Amer: Love Has No End," 7:30
Saturday, March 1 Curator Talk: Nancy Rosoff on the museum's collection of Andean textiles, 8:00
Saturday, March 1 Film: FAVELA RISING (Matt Mochary & Jeff Zimbalist, 2005), followed by a Q&A with the directors, 8:30
Saturday, March 1 Music: Los Chantas, 9:00
Saturday, March 1 Dance Party: DJ Sean Marquand spins a mix of Brazilian dance music and Mardi Gras rhythms, 9:00 — 11:00
OPEN HOUSE
Bronx Museum of the Arts
1040 Grand Concourse at 165th St.
Admission: $5
RSVP: 718-681-6000 ext102
Sunday, March 2 Opening of three exhibitions, "Making It Together: Women's Collaborative Art and Community," "Highlights of the Permanent Collection: Women Artists," and "Teen Council Presents: Jamel Shabazz," 2:00-6:00, with the panel discussion "Collaboration and Feminist Practice" at 3:00
FICTION: RACHEL CLINE & HILLARY JORDAN
KGB Bar
85 East Fourth St. between Second & Third Aves.
Admission: free
212-505-6630
Sunday, March 2 Hillary Jordan reads from and discusses her debut novel, MUDBOUND, and Rachel Cline reads from her second book, MY LIAR, 7:00
OUR ZEYDAS AND BUBBAS AS CHILDREN
Deutsches Haus at Columbia University
420 West 116 St.at Amsterdam Ave.
Admission: free
212-854-1858
Sunday, March 2 Musical revue in Yiddish, starring the Shekhter-Tekhter (the Schaechter Daughters, thirteen-year-old Reyna and eight-year-old Temma-Leeba) and father Binyumen Shaechter, 7:30
STATE OF THE MTA
The Great Hall at the Cooper Union
7 East Seventh St. at Third Ave.
Admission: free
212-353-4195
Monday, March 3 Lecture by Elliot G. Sander, executive director and CEO of the MTA, 6:00
WOMEN'S JAZZ FESTIVAL
The Schomburg Center for Research in Black Culture
515 Malcolm X Blvd.
Mondays in March through March 24
Tickets: $22.50
212-491-2206
Monday, March 3 Toshi Reagon and BIGLovely, with Mayra Casales, 7:00
READINGS FOR THE 4th FLOOR
The powerHouse Arena
37 Main St. at Water St., DUMBO
Tickets: $15 (tax-deductible)
http://www.powerhousearena.com
Tuesday, March 4 Annual fundraising series for the PS 107 library in Park Slope kicks off with Phoebe Damrosch, SERVICE INCLUDED; David Wondrich, IMBIBE! and Kara Zuaro, I LIKE FOOD, FOOD TASTES GOOD, reading, signing, cocktail mixing performance, and discussion moderated by Gabrielle Langholtz, editor of Edible Brooklyn, 7:00
CARMEN: EL BAILE
Joyce Theater
175 Eighth Ave. at 19th St.
Tickets: $25-$40
212-645-2904
Tuesday, March 4
through
Sunday, March 9 New York premiere of evening-length dance piece by Flamenco Vivo Carlota Santana, with Estilos Flamencos