Twi-ny, This Week In New York
THE JEWEL IN THE CROWN: OLD CITY HALL STATION
New York Transit Museum
Sunday, February 4, 12 noon & 2:00
Admission: $20 adults, $10 children, reservations and advance payment required, members only
718-694-1867
http://mta.info/mta/museum/programs

On October 27, 1904, the resplendent City Hall subway station on the IRT line opened to much fanfare. The four-hundred-foot-long curved platform transported passengers until December 31, 1945, when it was closed because of lack of use, as straphangers preferred the nearby Brooklyn Bridge station; also, its shape could not handle the new subway cars. The elegant station has been closed to the public ever since, save for a special ceremony honoring the subway's centennial in 2004. But the Transit Museum now holds guided tours of the space— but you must be a member, so we advise you to sign up now, because more tours are scheduled for later this year. A national landmark, the flagship station was designed by Rafael Guastavino with consulting architects George Lewis Heins and Christopher Grant LaFarge. (The work of the three men, both together and separately, can also be found at the Cathedral Church of St. John the Divine, the Bronx Zoo, the 59th St. Bridge, Ellis Island, Grand Central Terminal, and other city sites.) The stunning architecture features fifteen vaulted arches, flowery glass skylights, four-pronged chandeliers, and intricate, colorful brick and tile work.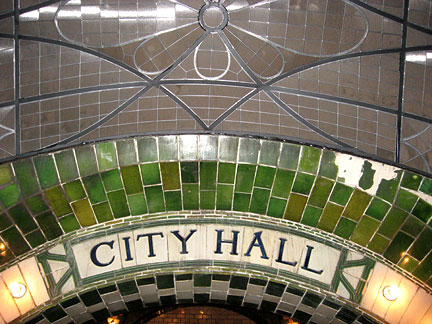 twi-ny/mdr
City Hall flagship station went out of service in 1945

Located below City Hall Park, the station is actually still in use — but only as the end point of the 6 line, where trains turn around to go back uptown. (You can actually stay on the train after the last stop and get a glimpse of the otherwise abandoned station as it makes the turn.) Three plaques honor the architects, engineers (William Barclay Parsons), politicians (Mayors Robert A. Van Wyck and George B. McLellan), and financiers (August Belmont) behind the project; even the plaques are ornate, designed by Guzon Borglum, the chief sculptor of the Mount Rushmore monument. There are also cool faience plaques with the words "City Hall" on them; take a close look at the unusual serif on the "A." In the center of the station, steps lead up to the old ticket room in the mezzanine, which is still in pretty decent shape. The wooden ticket booth is gone and one of the two old subway entrances is boarded up, but the room, composed of four arched sides and a gorgeous skylight, still holds that old magic. In fact, there's something both welcoming and mysterious about the whole station, as if the ghosts of straphangers past are waiting for the next train right alongside you. The Jewel in the Crown is only one of several special aboveground and belowground events and tours sponsored by the Transit Museum each year; check out the above Web site to see what's happening through April.
Exhibit of the Week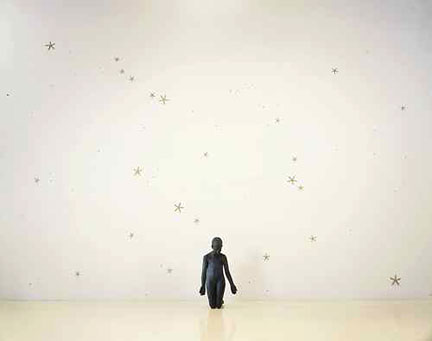 Ellen Page Wilson
Kiki Smith, "Blue Girl," silicon bronze, 1998
KIKI SMITH: A GATHERING, 1980-2005
Whitney Museum of American Art
945 Madison Ave. at 75th St.
Through February 11
Closed Monday and Tuesday
Admission: $15 (Fridays from 6:00 to 9:00 pay what you wish)
1-877-whitney

For more than a quarter of a century, Kiki Smith has been creating a menagerie of body parts and fluids, full human forms, animals, and more using an amalgam of unique materials, connecting myth, folklore, humanity, religion, the environment, and motherhood. The daughter of sculptor / professor Tony Smith and opera singer Jane Lawrence, Smith grew up in New Jersey surrounded by art and artists. "Kiki Smith, a Gathering," installed chronologically with Smith's participation, is a majestic overview of her intriguing, involving, often controversial work. The earliest piece on display is a painted plaster cast of her own hand, made the year her father died (1980), announcing her understanding of the artist's role in the work. The fragile "Ribs," a terra-cotta piece hanging perilously on a wall, looks about to fall apart, while the nearby "Shield," a painted plaster breast, appears firm, solid, and protected — but not quite as strong as the ductile iron "Digestive System" next to it. In the second gallery, 230 handmade Schott crystal and rubber sperm cells are neatly arranged on a base; each one contains Smith's fingerprints, again placing the artist within the work. Close by, life-size wax casts of a man and a woman hang limply on metal stands, milk dripping from the woman's breasts, sperm dripping from the man's penis, the wax deteriorating, aging the sculpture itself. In another untitled piece, a fetus dangles from between a woman's legs, the umbilical cord still there, all made of fragile gampi paper and methyl cellulose. Perhaps the most striking image in the large room is the bronze statue of "Lilith," impossibly set in the middle of a wall, her glass eyes blazing out of her face; the strong female figure is thought by some to be Adam's first wife (who stood up to him), while others believe her to be the mother of all demons. Either way, it is an empowering, provocative piece.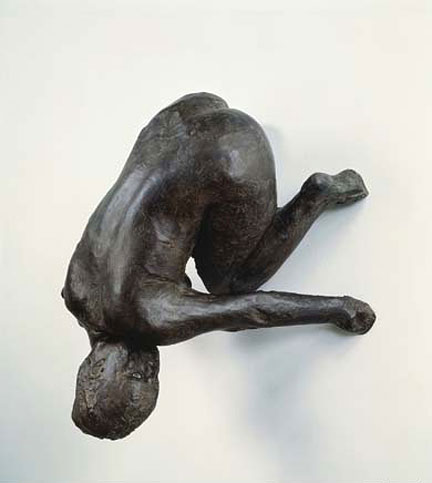 Ellen Page Wilson
Kiki Smith, "Lilith," silicon bronze and glass, 1994

In gallery four, a flayed Virgin Mary made out of beeswax stands near a sturdy, bronze Mary Magdalene, a chain still around her ankle. In "Pietà," an ink and graphite drawing on Nepalese paper, Smith shows herself cradling her dead cat. (Smith has no children of her own.) Smith's fascination with fairy tales comes to life in "Daughter," a four-foot wolf girl, most likely the offspring of Little Red Riding Hood and the Big Bad Wolf, who makes sounds as visitors pass by (the audio portion was done by Margaret De Wys). In gallery six, "Ice Man" hangs high on the wall, a polyester resin and fiberglass representation of a Neolithic man discovered in ice in 1991, in the same position; it is as if he is finally being released and lifted to the heavens. In gallery seven, the bronze "Blue Girl" kneels in front of a star-strewn wall, looking down pensively, her arms outstretched, as if trying to seek her place in the vast cosmos. Meanwhile, in "Rapture," a woman steps from out of the inside of a dead wolf, encompassing all the themes of the exhibit, from birth, death, and rebirth to nature, mythology, and religion, a fitting conclusion to an awe-inspiring, complex, and unnerving exhibit.
Also at the Whitney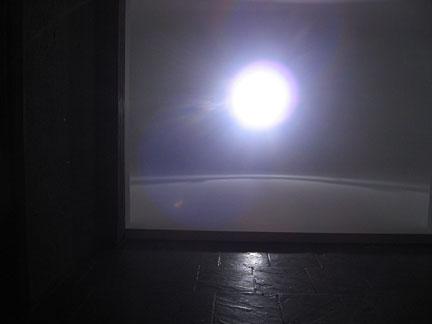 twi-ny/mdr
Terence Koh blinds visitors at Whitney entrance
TERENCE KOH
Anne & Joel Ehrenkrantz Gallery, first floor
Through May 27
http://www.whitney.org/www/exhibition/index
As you walk toward the Whitney elevators on the first floor, prepare to be absolutely blinded. In the Whitney's lobby gallery, Terence Koh has installed a searing white light emanating from a pure white room that is overwhelming and powerful, as if it has a physical presence. (Not that you'd want to get too close to it, but there is a marking on the floor keeping you at a distance — as well as a security guard in sunglasses to usher you back.) People go to museums to see and experience; Koh subverts that by temporarily taking away visitors' ability to see right at the entrance to the museum. To prevent the light from getting outside and distracting pedestrians and motorists, the Whitney has put up an opaque board, resulting in cool shadows you can see from Madison Ave. Force your way past the shocking white light and head upstairs to the mezzanine, where "Photography and the Self: The Legacy of F. Holland Day" continues through March 11. Creative self-portraits by Cindy Sherman, Robert Mapplethorpe, and others are organized around F. Holland Day's extraordinary series "The Seven Words," seven depictions of himself as Jesus on the cross, taken in 1898.

In the Neighborhood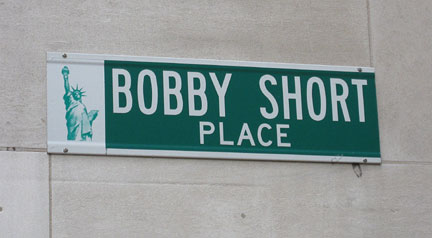 twi-ny/mdr
Master of Melody is honored on Carlyle corner
BOBBY SHORT PLACE
Madison Ave. at 75th St.
Street signs available for $35
718-894-2542
http://www.thecarlyle.com/entertainment
Cabaret singer Bobby Short was among the best New York City has ever seen. Playing the standards behind his piano at the Café Carlyle for nearly four decades, the Master of Melody was part of the fabric of the city; he even made an appearance in Woody Allen's 1986 classic HANNAH AND HER SISTERS. Named a Library of Congress Living Legend in 2000, Short featured the work of such composers as Irving Berlin, Duke Ellington, Eubie Blake, Cole Porter, Fats Waller, and Harold Arlen, tickling the ivories for a wide audience that included four presidents. We also remember him as the elegant nightclub singer in the 1970s commercial for Charlie perfume with Shelley Hack, who would later become one of Charlie's Angels ("There's a fragrance that's here to stay and they call it . . . "Charlie!"). Short died of leukemia on March 21, 2005, but he is memorialized on this corner, now named Bobby Short Place in his honor, right next to his beloved Café Carlyle; if you listen closely, you just might still be able to hear his sweet voice.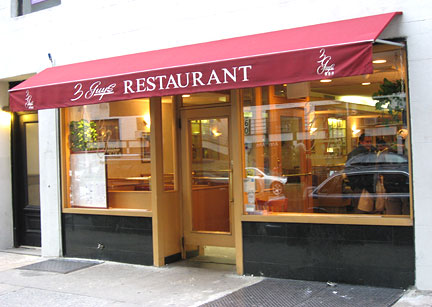 twi-ny/mdr
3 Guys serves up a solid bacon cheeseburger deluxe
3 GUYS RESTAURANT: BACON CHEESEBURGER DELUXE
960 Madison Ave. between 75th & 76th Sts.
212-628-8108

On our never-ending quest for the city's best bacon cheeseburger deluxe, we recently stopped in at 3 Guys Restaurant, a local diner with two other Upper East Side Madison Ave. locations. At $12.75, it is one of the more expensive diner deluxes around, but heck, this is Madison Ave., and all of the art at the Whitney had us really hungry. The eight-ounce burger came cooked to order, on a light bun that didn't overpower the meat. The tomato slices were fresh, as was the half-pickle. The burger itself was solid, but what made it a cut above average were the three thick-cut pieces of very tasty bacon. Accompanied by a healthy portion of crispy shoestring fries, this 3 Guys bacon cheeseburger deluxe is one we'll probably return to after our next exhausting yet illuminating day at the Whitney.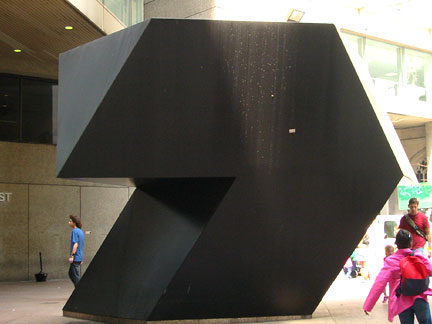 twi-ny/mdr
Kiki Smith's father's work at Hunter College
TONY SMITH: TAU
Southwest corner of 68th St. & Lexington Ave.
Admission: free
http://www.geocities.com/theunofficaltonysmithproject
After checking out the fabulous Kiki Smith show at the Whitney, walk a few blocks southeast to see a piece by her famous sculptor father. At the subway entrance to the 6 train at 68th St. at Hunter College stands Tony Smith's black-cube sculpture known as "Tau," so-called because it sort of looks like a twisted letter "T." Be sure to wander all around the sharply angled, zigzagging piece, as it is different on each side. Smith taught at Hunter as well as NYU and Bennington. In the summer of 2006, a debate raged in South Orange, NJ, the Smith family's hometown, over the installation of a cast of "Tau" on Sloan St. The fight regarded the lack of public discussion over the funding of the project.
Chocolate Bar of the Week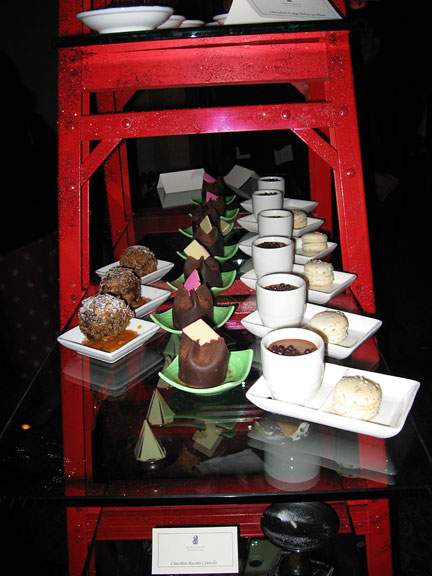 twi-ny/mdr
Fine chocolate lines up at Ritz-Carlton
THE ART OF CHOCOLATE
Chocolate Bar in Rise, fourteenth floor
Ritz-Carlton New York, Battery Park
2 West St. at Battery Pl.
Friday and Saturday nights in February, 5:00, 7:00, 9:00, and 11:00
Special seatings at 6:00, 8:00 & 10:00 on Wednesday, February 14
Fee: $75, includes tax, tip, and bottomless Champagne
Reservations recommended: 917-790-2600

For the fourth consecutive year, pastry chef extraordinaire Laurent Richard has turned the Rise bar on the fourteenth floor of the Ritz Carlton into a chocolate lover's dream. Amid fabulous views of New York harbor, the Statue of Liberty, and Downtown Manhattan, Richard, formerly of La Caravelle, is celebrating "The Art of Chocolate" with an outstanding collection of brand-new chocolate delights, both for eating and admiring. This year's menu, which comes with endless champagne, includes wonderful Chocolate and Raspberry Caramel Domes, delightful Milk Chocolate Purses (how does he get the chocolate to bend like that?), excellent Chocolate Bananas Foster Martinis (the bananas are ridiculously good), playful Chocolate Cheesecake Balls with apricot sauce, fab Chocolate Crunchy Pots des Cremes (which get their crunch from Rice Krispies), and multilayered Peanut Crunch Bars, among other main courses, spread out on glass sheets on a pair of red painters' ladders. Under the ladders are painting tools and paint, all made out of chocolate. And just to prove that there is always time for chocolate, Richard, who rides into work each day from Brooklyn on his motorcycle, has even made a large broken clock out of chocolate, with various boxes of gears around the room, as if time itself has stopped while you partake of his treats.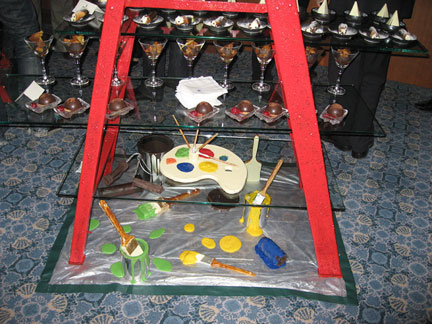 twi-ny/mdr
Pastry chef Laurent Richard displays his art at Chocolate Bar
There are also ten petits fours to choose from — Coconut Chocolate Urchin, delicious chocolate-covered macaroons; light and airy Elephant Ears dipped in dark chocolate; Chocolate-Covered Strawberries sticking out of a chocolate tree; pretzel rods covered in M&Ms; and wonderfully textured Chocolate Passion Fruit Pates des Fruits, among others. And don't miss out on the splendid s'mores being made fresh at the far table; Richard's favorites are the banana marshmallows versions, but you can also go for chocolate or coconut. Because of the popularity of Richard's cacao-fest, this year there will be four seatings every Friday and Saturday night in February, as well as three seatings on Valentine's Day; make your reservations now, as it books up fast. And yes, it might be expensive, but it's worth every bite.

In the Thematic Neighborhood
JOSEPH SCHMIDT
Macy's Herald Square
151 West 34th St. between Broadway & Seventh Aves.
http://www.josephschmidtconfections.com

Enough with the Godiva already. When Godiva took off in the states a few decades ago, there was nothing to compare it to. Now, in the midst of a chocolate revolution, it's time to graduate from the dependable but standard Godiva and start trying some exceptional chocolate that'll blow you and your partner away. Our absolute favorite is San Franciso-based confectioner Joseph Schmidt, who makes huge, glorious truffles that come in unique handmade keepsake boxes. The egg-shaped truffles, which you can't fit in your mouth whole (and why would you want to?), have a solid bottom and a luscious inside that you'll want to savor. We especially love the All Dark and the Chocolate Decadence; you will too. Valentine's Day treats include either the hand-painted or satin Sweet Hearts Box of mini-truffles, heart truffles inside a dark-chocolate heart box, and the Sealed with a Kiss Lips Box of Slicks.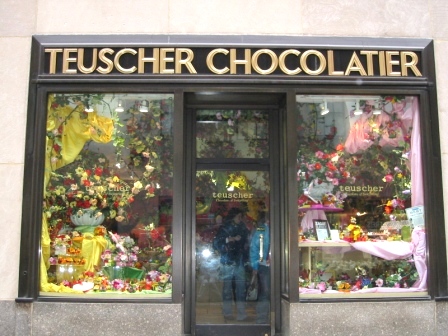 twi-ny/mdr
Decorative Teuscher serves fine chocolates in Rockefeller Center
TEUSCHER CHOCOLATES OF SWITZERLAND
620 Fifth Ave. at 50th St.
212-246-4416
673 Madison Ave. at 61st St.
212-751-8482

Dolf Teuscher began making chocolate back in the 1930s in Switzerland, and we are the proud beneficiaries of his legacy, able to walk into this charmingly decorated tiny shop in the midst of Rockefeller Center to enjoy outstanding, though expensive, world-class delights. (There's also a branch at 61st & Madison.) Teuscher is renowned for their champagne truffes; we also go ga-ga over their almond, cocoa, mocha, dark dusted, jasmine, orange, lemon, butter, and even the basic three: milk, dark, and white. A box of twelve will cost you nearly thirty bucks, but it's worth it for a special treat. For Valentine's Day, they have Fantasy Figures (including a love bug and a heart clown?!), Red Velvet Heart boxes of truffles (a box of sixty-nine is $185), a Puppy Love Box, and a red-foiled valentine heart flower.
RICHART DESIGN ET CHOCOLAT
7 East 55th St. between Madison & Fifth Aves.
Closed Sunday
212-371-9369
http://www.richart-chocolates.com

The Ritz-Carlton's Laurent Richard isn't the only one who knows that chocolate and art go so well together. If you're rarely happy with the candy you get — or don't get — for Valentine's Day, drop the hint that you're ready for something really special. We've never had anything quite like Richart, which has been making chocolate for more than seventy-five years; every piece is a work of art, both in taste and design. Richart's fineries are divided into seven categories — balsamic, fruity, herbal, spiced, roasted, citrus, and floral — and feature such flavors as Venezuela Cocoa Ganache, Hazelnut Praline, Mango/Passion Fruit, Orange Zest Coulis, and even curry, ginger, jasmine tea, rose, basil, lavender, coffee, and vanilla as well as their new Eternelle Mediterranee collection (saffron, fig, pistachio, and more, organized by geographic location). For Valentine's Day this year they have introduced heart-shaped Zenitudes infused with plants and natural herbs to provide a calming, stress-free experience. Richart chocolates are so luscious, so delicate, so magnifique that each box comes with a small pamphlet to describe how best to eat each piece — how to put it in your mouth, how long to let it settle before biting into it, how best to enjoy it with what kind of wine. And each piece is topped with a cool design that identifies what is inside. In addition, Richart always has an art display on the walls, complementing the dazzling chocolate; currently, Chinyee's abstract paintings add a little romance to the proceedings.

FAUCHON PARIS
442 Park Ave. at 56th St.
Closed Sunday
212-308-5919

Although the eclectic items available in this marvelous store are rather expensive, you'll still have a hard time leaving without a heavy bag of goodies. First and foremost, there is Fauchon's amazing chocolate, from bon-bons and biscuits to truffles, chocolate-covered almonds, and outrageous cakes and tarts. Valentine's Day specials include Coeur Detelle Tout Chocolat, orange-praline-filled small hearts, Biscuits Coeurs Framboise et Fleur de Sel, and la Passion de St. Valentin Thé des Célébrations. You can also bring home loose teas from Asia, glazed fruit and candy, spices and foie gras, extra virgin olive oil and fancy vinegar, macaroon cookies, and exquisite juices and preserves, but those items aren't quite as romantic, although getting a table in Fauchon's Salon de Thé can be.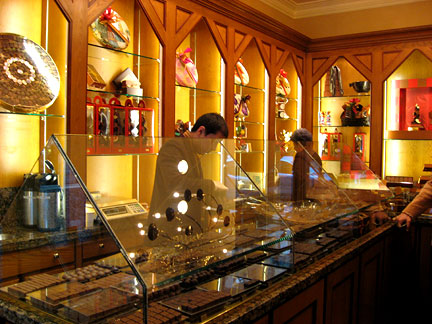 twi-ny/mdr
La Maison du Chocolat is a fancy favorite on the Upper East Side
CHOCOLATE, CHOCOLATE, CHOCOLATE
Other options that will score more points than the standard Godiva ballotin are the Lindt Swiss Tradition de Luxe Assortment (692 Fifth Ave., http://www.lindtusa.com), the Leonidas Dark Chocolate Assortment (485 Madison Ave., http://www.leonidas-chocolate.com), MarieBelle's Valentine's Day Love Boxes (484 Broome St., http://www.mariebelle.com), Boxed Bon Bons from the Chocolate Bar (48 Eighth Ave., http://www.chocolatebarnyc.com), Dark Champagne Hearts from Charbonnel et Walker at the chocolate cafe counter on the eighth floor of Saks (611 Fifth Ave., http://www.charbonnel.co.uk); and La Maison du Chocolat's Valentine Day's Trunks (1018 Madison Ave., http://www.lamaisonduchocolat.com).
Free Film of the Week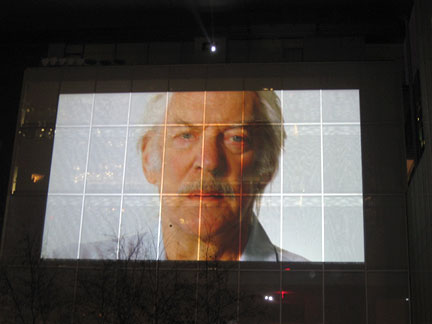 twi-ny/mdr
Donald Sutherland stars in one of five nocturnal films
SLEEPWALKERS
Museum of Modern Art
Abby Aldrich Rockefeller Sculpture Garden
West 54th St. between Fifth & Sixth Aves.
Admission: free nightly from 5:00 to 10:00
212-708-9400
http://moma.org/exhibitions/2007/Aitken.html
http://www.creativetime.org/itunes/audio/seujorge.mp3

California-based multimedia installation artist Doug Aitken has transformed the relatively new facade of the Museum of Modern Art into a canvas itself, projecting a five-part film, sleepwalkers, onto the building itself, almost as if the art inside is breathing through its pores. Filming in all five boroughs, Aitken follows the similar stories of five nocturnal workers: an electrician (Brazilian musician and actor Seu Jorge) who repairs the neon billboards in Times Square; a well-dressed businessman (Donald Sutherland); a postal worker (Chan Marshall, better known as Cat Power); a general office worker (Tilda Swinton); and a bike messenger (street musician Ryan Bonowho). Each segment follows the same pattern, choreographed to occur at the same time in each projection: as the sun sets (both on-screen and over New York City, as the films start nightly at 5:00), the characters stir in their beds, shower, head to work (by subway, commuter railroad, taxi, subway, and bike), perform their duties, and then let their inner artistic inclinations burst through the drudgery.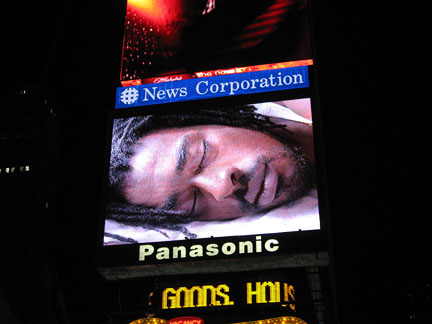 twi-ny/mdr
Seu Jorge rests his head in Times Square at the 59th minute

In the Abby Aldrich Rockefeller Sculpture Garden, five films are broadcast at the same time, three featuring a rotating grouping of the five protagonists, while two others are generic, allowing viewers to imagine their own days as part of the installation. Brave the cold and try to stay for several iterations; for one thirteen-minute section, you might see Sutherland, Swinton, and Jorge up there, while the next time it might be Marshall, Bonowho, and Swinton (this time on a different part of MoMA). Remarkably, it will feel like a new day, not a simple repeat, as the characters appear to interact in different ways in each new conglomeration. After all, for so many New Yorkers, every day feels exactly the same as we all go through our regular routines, barely changing them week after week, year after year. Aitken's exquisite work is really a celebration of the New York spirit, of the new MoMA, and of art itself. And even with the freezing cold weather, it's hard to complain too much about the outside venue, watching these films amid such classic sculptures as Pablo Picasso's "She-Goat," the four splendid versions of Henri Matisse's "The Back,"" Aristide Maillol's "The Mediterranean," Henry Moore's "Large Torso: Arch," and others. In addition to the sculpture garden, two films are projected on the walls in the open area between 53rd and 54th Sts. near Sixth Ave., with one more being shown above the museum's main entrance on 53rd St. The sleepwalkers project is a joint venture commissioned by MoMA and the nonprofit public art foundation Creative Time. (Click on the second link above to hear Seu Jorge's special performance at the exhibit's opening. You can also see a fast-paced trailer for the films on the Astrovision screen in Times Square.)

In the Neighborhood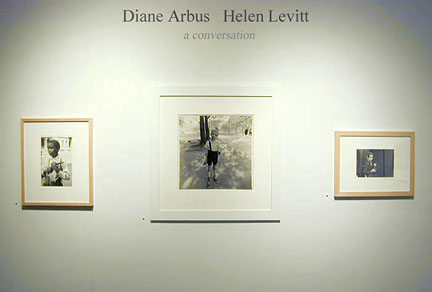 Diane Arbus and Helel Levitt have a fascinating chat in Midtown
DIANE ARBUS — HELEN LEVITT: A CONVERSATION
Laurence Miller Gallery
20 West 57th St. between Fifth & Sixth Aves., third floor
Through March 10
Closed Sunday and Monday
Admission: free
212-397-3930
http://www.laurencemillergallery.com/currentexhibition.htm

Two of the most important and influential photographers of the twentieth century, Diane Arbus and Helen Levitt, are brought together in this small but exciting show at Midtown's Laurence Miller Gallery. Arbus was a photojournalist who captured people surviving on the fringes of society. Levitt is a documentarian who chronicles the lives of men, women, and children primarily on the Lower East Side (as well as in Mexico). The work of the two women, who knew each other but were not necessarily close friends, is paired together on the walls of the gallery, forming a visual conversation between them, in style, form, and content. Levitt's photo of a young boy with a gun hangs next to Arbus's shot of a young boy with a hand grenade; even their suspenders are similar, though it is unlikely that one picture directly influenced the other. Levitt's mustached boy in a New York City window oddly resembles Arbus's Mexican dwarf in a New York City hotel room. Arbus's photo of well-dressed Junior Interstate Ballroom Dance Champions, trophy at their feet, is joined by Levitt's shot of two kids dancing wildly in the street. While Levitt finds a man pausing to gaze at a naked mannequin outside, Arbus shoots a pair of elderly nudists relaxing inside. In general, Arbus's shots are more posed than Levitt's; however, neither photographed their subjects in the usual direct manner; Arbus used a waist-level viewfinder, while Levitt used a right-angle viewfinder. Make sure to watch the rarely shown 1948 documentary IN THE STREET that Levitt made with James Agee. Sadly, Arbus committed suicide in 1971 at the age of forty-eight; Levitt is still alive today at ninety-three, still snapping away.
© Ahmet Ogut
Ahmet Ogut, "Somebody Else's Car"
THE NIGHTLY NEWS
LUXE Gallery
24 West 57th St. between Madison & Fifth Ave.
Through February 10
Admission: free
212-582-4425

The LUXE Gallery, which squeezes compelling multimedia installations into its small Midtown space, is currently showing "The Nightly News," a collection of video, paintings, drawings, and even fashion with a strong political bent. Over the front door, Christodoulous Panayiotou's "Alkadaslar" video depicts military jets skywriting a heart in the sky. On the opposite wall, Robert Boyd's "Heaven's Little Helper" from the Xanadu series sets images of religious fanaticism to a thumping disco beat. Hanging from the ceiling is Lieven De Boeck's "White Flag," which includes the flags of all 192 UN members, but cut out in white paper, showing little difference among them. Liselot van der Heijen's "See Evil, Hear Evil, Speak Evil" combines only those parts of George W. Bush's State of the Union addresses that include such words as "evil." In "Somebody Else's Car," Ahmet Ogut transforms an automobile in a parking lot into a police car. A helicopter soars ominously above Rockefeller Center ice skaters in Dominik Lejman's paranoiac projection "Chopper Skating New York." Pia Lindman's line drawings are based on images of grieving people from the front page of the New York Times. And don't forget to go into the back room, which features Jackie Salloum's cleverly remade "Caterrorpillar" toy.
Saturday, February 3 Reading by Charles Doria and performance by Pia Lindman, 6:00
Film Festivals of the Week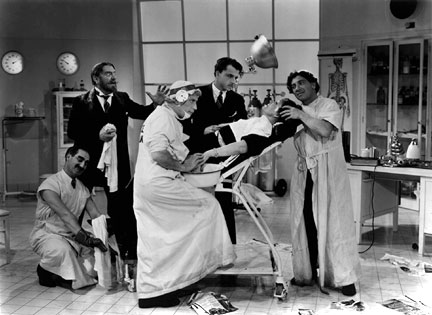 The Brothers Marx show laughter is the best medicine at Symphony Space
THE MARX BROTHERS!
Symphony Space, Leonard Nimoy Thalia
2537 Broadway at 95th St.
Tickets: $10
212-864-5400
When we were kids, our father took us to a double feature of A NIGHT AT THE OPERA and A DAY AT THE RACES; we were never the same again. Symphony Space ups the laugh quotient with a trio of great Marx Brothers double features, including the one we saw way back then. If you've never seen DUCK SOUP, then you've missed one of the funniest — and still politically relevant — movies ever made. And the other five ain't so bad either.
Sunday, February 4 ANIMAL CRACKERS (Victor Heerman, 1930) and MONKEY BUSINESS (Norman Z. McLeod, 1931), 5:15
Tuesday, February 6 ANIMAL CRACKERS (Victor Heerman, 1930) and MONKEY BUSINESS (Norman Z. McLeod, 1931), 6:15
Sunday, February 11 DUCK SOUP (Leo McCarey, 1933) and HORSE FEATHERS (Norman Z. McLeod, 1932), 5:45
Tuesday, February 13 DUCK SOUP (Leo McCarey, 1933) and HORSE FEATHERS (Norman Z. McLeod, 1932), 6:45
Sunday, February 18 A DAY AT THE RACES (Sam Wood, 1937) and A NIGHT AT THE OPERA (Sam Wood, 1935), 1:00
Tuesday, February 20 A DAY AT THE RACES (Sam Wood, 1937) and A NIGHT AT THE OPERA (Sam Wood, 1935), 6:00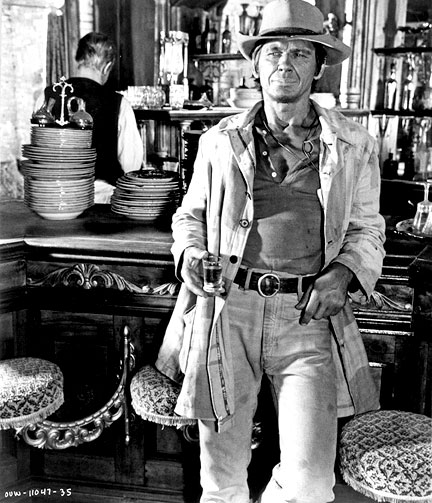 Charles Bronson doesn't want anyone messing with Ennio Morricone's score
MORRICONE
Film Forum
209 West Houston St. between Sixth & Seventh Aves.
February 2-22
Tickets: $10
212-727-8110

Although most well known for his work with Italian spaghetti Western director Sergio Leone, Ennio Morricone has actually scored more than a hundred films ­ and some five-hundred-plus ventures if you include television and video. In addition to Leone, he's composed scores for Samuel Fuller, Brian DePalma, Pier Paolo Pasolini, Dario Argento, Bernardo Bertolucci, Gilles Pontecorvo, Mario Bava, Terrence Malick, and others, in a host of genres. Now seventy-eight, Morricone is still going strong — he'll be conducting a career overview at Radio City Music Hall on Saturday, February 3; CUNY-TV will be presenting MORRICONE CONDUCTS MORRICONE on Sunday, February 11, at 1:00 and 3:00, a live performance of Morricone conducting his music with the Munich Radio Orchestra and Choir from 2004; Film Forum is paying tribute to him with this exciting three-week retrospective; on February 20, Sony will release WE ALL LOVE MORRICONE, a collection of Morricone songs performed by Metallica, Bruce Springsteen, Roger Waters, Celine Dion, Renée Fleming, Herbie Hancock, Quincy Jones, Yo-Yo Ma, and others; and he'll be receiving an honorary Oscar at this year's Academy Awards on February 25.
Friday, February 2
and
Saturday, February 3 INVESTIGATION OF A CITIZEN ABOVE SUSPICION (Elio Petri, 1970)
Sunday, February 4 ONCE UPON A TIME IN THE WEST (Sergio Leone, 1968)
ONCE UPON A TIME IN THE WEST (Sergio Leone, 1968)

One of the grandest Westerns ever made, this masterpiece features an all-star cast that includes Henry Fonda, Charles Bronson, Jason Robards, Woody Strode, Keenan Wynn, Lionel Stander, and Jack Elam, all enhanced by Ennio Morricone's epic score and Tonino delli Colli's never-ending extreme close-ups. (The opening shot of a fly crawling over Elam's grimy face is unforgettable.) Fonda was never more evil, and Bronson was perhaps never more likable. The film is a huge step above most of Leone's spaghetti Westerns, partially because of the cast, but also because of the script help he got from Italian horrormeister Dario Argento and iconic filmmaker Bernardo Bertolucci.
Monday, February 5 ARABIAN NIGHTS (Pier Paolo Pasolini, 1974)
Tuesday, February 6 THE BURGLARS (Henri Verneuil, 1971) and DANGER! DIABOLIK (Mario Bava, 1967)
Wednesday, February 7 A FISTFUL OF DOLLARS (Sergio Leone, 1964) and NAVAJO JOE (Sergio Corbucci, 1966)
Thursday, February 8 FOUR FLIES ON GREY VELVET (Dario Argento, 1972) and A QUIET PLACE IN THE COUNTRY (Elio Petri, 1969)
Friday, February 9
and
Saturday, February 10 THE BATTLE OF ALGIERS (Gillo Pontecorvo, 1965)
Sunday, February 11 BURN! (Gillo Pontecorvo, 1969)
Monday, February 12 REVOLVER (1973, Sergio Sollima) and THE WITCHES (Mauro Bolignini, Vittorio De Sica, Pier Paolo Pasolini, Franco Rossi, Luchino Visconti, 1967)
LE STREGHE (THE WITCHES) (Mauro Bolognini, Vittorio De Sica, Franco Rossi, Pier Paolo Pasolini, and Luchino Visconti, 1966)

This series of five shorts, all starring Silvana Mangano, is hit or miss, but this is a rare opportunity to see little-known work by major actors and filmmakers. Comedian / clown Toto is a riot in Pasolini's "La Terra Vista Dalla Luna." Mauro Bolognini's "Senso Civico" is a fun one-joke story. Other famous names making appearances include Annie Girardot, Albert Sordi and Clint Eastwood. The music is supplied by Ennio Morricone and Piero Piccioni, and the entire production was overseen by Dino De Laurentiis.
Tuesday, February 13 THE BIG GUNDOWN (Sergio Sollima, 1966) and DEATH RIDES A HORSE (Giulio Petroni, 1967)
Wednesday, February 14 DAYS OF HEAVEN (Terrence Malick, 1978) and END OF THE GAME (Maximilian Schell, 1976)
Thursday, February 15 FOR A FEW DOLLARS MORE (Sergio Leone, 1966)
Friday, February 16
and
Saturday, February 17 THE GOOD, THE BAD, AND THE UGLY (Sergio Leone, 1966)
THE GOOD, THE BAD AND THE UGLY

You can't spell Clint Eastwood without TNT, but if you get tired of watching all those commercial-laden small-screen Clint movies on the cable channel, head to Film Forum for an explosive treat: the restored version of the best spaghetti Western of them all. The dusty three-hour operatic tale stars Clint as the Good (Blondie), Lee Van Cleef as the Bad (Angel Eyes), and Eli Wallach as the Ugly (Tuco Benedicto Pacifico Juan Maria Ramirez, whose list of criminal offenses is a riot). The trio is after $200,000 in Confederate gold buried in a cemetery in the middle of nowhere. Nearly 20 minutes of never-before-seen footage were added to the film a few years ago, with Wallach and Eastwood overdubbing brand-new dialogue. Ennio Morricone's unforgettable score and Tonino delli Colli's gorgeous widescreen cinematography have been marvelously enhanced; their work in the scene when Tuco first comes upon the graveyard will make you dizzy with delight. And then comes one of the greatest finales in cinema history.
Sunday, February 18
and
Monday, February 19 THE UNTOUCHABLES (Brian DePalma, 1987) and MACHINE GUN McCAIN (Giuliano Montaldo, 1968)
Monday, February 19 BEFORE THE REVOLUTION (Bernardo Bertolucci, 1964), 8:00
Tuesday, February 20 WHITE DOG (Samuel Fuller, 1981) and LUNA (Bernardo Bertolucci, 1979)
Wednesday, February 21 DUCK, YOU SUCKER (Sergio Leone, 1972)
DUCK, YOU SUCKER (Sergio Leone, 1972)

Rod Steiger and James Coburn star in Sergio Leone's final spaghetti Western, set during the Mexican Revolution in the 1910s. Steiger is Juan Miranda, the leader of a group of bandits who have stolen a stagecoach. Coburn is Sean Mallory, an IRA man on the run who likes blowing things up. The sweaty Juan wants to rob the Mesa Verde bank, while the cool Sean just wants to be left alone, but the two of them soon find themselves fighting together in the revolution. The film is way too long, and Ennio Morricone's music is way too goofy, but Leone fans shouldn't miss this rare chance to see the restored version of this film.
Thursday, February 22 ONCE UPON A TIME IN AMERICA (Sergio Leone, 1984)
Riff's Rants & Raves

Radical Cuban hip-hop is featured in new doc
EAST OF HAVANA
(Jauretsi Saizarbitoria & Emilia Menocal, 2006)
IFC Center
323 Sixth Ave. at Third St.
Opens Friday, February 2
Tickets: $10.75
212-924-7771

First-time directors Jauretsi Saizarbitoria and Emilia Menocal tell the story of the emerging Cuban hip-hop scene in the poignant EAST OF HAVANA. Both daughters of Cuban immigrants, Saizarbitoria and Menocal follow Soandres "Soandry" Del Rio Ferrer, Magyori Martinez Veitia, and Michel "Mikki Flow" Hermida as they prepare for the annual state-sponsored hip-hop festival in Havana in 2004. The festival gives the Cuban hip-hop community the rare opportunity to speak their mind in public, free to rap about whatever they want. The three are members of El Cartel, a growing movement of Cuban artists who are not part of the state-controlled music industry. With Hurricane Charley threatening the island, the contemplative Soandry, the street-tough Magyori, and the usually shirtless Mikki Flow talk and rap about politics, poverty, and their own troubled lives in Castro's Cuba. "Hip-hop is struggle," Soandry says at one point. "For me it means freedom." Their hip-hop hearkens back to the early days of rap in America, when it was more a social rebellion than a battle for bling. With the help of producer Charlize Theron, the filmmakers were able to film in Havana, Alamar and Cojimar, Cuba, for one month, capturing the Cuban landscape, the small towns, and the hearts of the determined people.
X: THE UNHEARD MUSIC (W. T. Morgan, 1986)
Museum of the Moving Image
35th Ave. at 36th St., Astoria
Friday, February 3, 6:30
Admission: $10
718-784-4520
Part of the "Critics Choice: Great Documentaries" series, X: THE UNHEARD MUSIC follows the influential punk band, made up of John Doe, Exene Cervenka, DJ Bonebrake, and Billy Zoom, as they pave the way for the burgeoning L.A. sound. It's worth it just to see Billy Zoom hanging out on his couch at home, dressed in gold lamé as he rambles on with an odd smile on his face, but it's also cool to watch all the extended clips of early X shows and videos. Shown in a new 35mm print, the film will be introduced by film critic Armond White and followed by a discussion with director W.T. Morgan.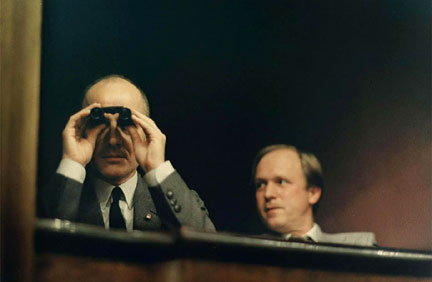 Hagen Keller
Ulriche Mühe keeps his eyes open in German thriller
THE LIVES OF OTHERS (DAS LEBEN DER ANDEREN)
(Florian Henckel von Donnersmarck, 2006)
Angelika Film Center
18 West Houston St. at Mercer St.
Opens Friday, February 9
212-995-2000
http://www.city-cinemas.com/angelika
http://www.sonyclassics.com/thelivesofothers

Nominated for an Oscar this year for Best Foreign Language Film, THE LIVES OF OTHERS is a tense political thriller set in 1980s East Berlin. Ulriche Mühe gives a mesmerizing performance as Capt. Gerd Wiesler, an expert interrogator for the Stasi, the German Democratic Republic's secret police, who keep a close watch on all suspicious activity — and to them, everything is suspicious. When powerful culture minister Bruno Hempf (Thomas Thieme) tells Wiesler's nervous yes-man boss, Lt. Col. Anton Grubitz (Ulrich Tukur), to spy on noted playwright Georg Dreyman (Sebastian Koch), Wiesler takes the case, setting up audio surveillance on Dreyman and his actress girlfriend, Christa-Maria Sieland (Martina Gedeck). But when the ever-loyal, humorless, always stalwart Wiesler discovers that Hempf ordered the surveillance primarily because he has a thing for Sieland, Wiesler begins to reconsider the case — and the ultimate responsibility of the Stasi itself. And the more he learns, the more he understands. THE LIVES OF OTHERS was written and directed by Florian Henckel von Donnersmarck, making an extremely impressive feature-film debut, capturing a precarious, paranoid part of recent German history in which the vast majority of the nation was either being spied on or were informers themselves.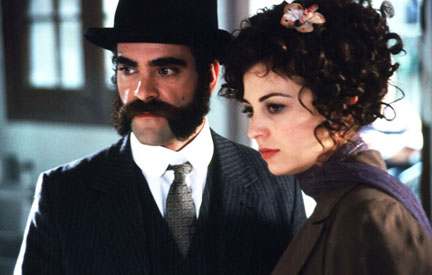 Luis Tosar and Leonor Watling excel in Spanish psychiatric farce
UNCONSCIOUS (INCONSCIENTES) (Joaquín Oristrell, 2004)
Opens Friday, February 9
http://www.unconscious-themovie.com

Set amid the psychiatric world of Barcelona in 1913, Joaquín Oristrell's UNCONSCIOUS is a strangely subdued madcap farce. Pedro Almodóvar veteran Leonor Watling stars as Alma, a pregnant woman whose psychiatrist husband, León (Alex Brendemühl), mysteriously disappears one day. Determined to find out why he left — and worried for his safety — Alma recruits her very formal, extremely rigid psychiatrist brother-in-law, Salvador (a fabulously mustached Luis Tosar), to help her find him. The two become a sort of Nick and Nora Charles, using their society and psychiatric connections to get to the bottom of what is quickly becoming a rather outrageous and very dangerous case. As Salvador spends more time with Alma, his wife, Olivia (Núria Prims), who is Alma's sister, grows more distant, while the women's father (Juanjo Puigcorbé), a well-respected psychiatrist preparing for the arrival of Sigmund Freud, acts more and more bizarre. The ending is filled with unexpected secrets galore, but Oristrell's uneven pacing slows things down at key intervals. Interestingly, Oristrell wrote the script with Dominic Harari and Teresa De Pelegrí, whose 2006 slapstick comedy ONLY HUMAN (SERES QUERIDOS) went too crazy, needing a calming influence. Still, UNCONSCIOUS is an entertaining little farce.
SERAPHIM FALLS (David Von Ancken, 2007)
In theaters now
http://www.sonypictures.com/movies/seraphimfalls

In the snow-covered Ruby Mountains in 1868, Morsman Carver (Liam Neeson) is leading a small, paid posse to track down Gideon (Pierce Brosnan), a man who knows how to stay alive — even if it means killing to do so. But for much of this Western, first-time feature-film director David Von Ancken keeps the audience in the dark about why Carver is so hell-bent on capturing Gideon, leaving a fabulous ambiguity about just who is the good guy and who the bad guy, calling to mind the work of Sergio Leone and Clint Eastwood and even John Ford (THE SEARCHERS). However, as the final showdown approaches, Van Ancken and co-screenwriter Abby Everett Jacques lose their focus, introducing bizarre, confusing elements that detract from what could have been one hell of an ending. (Just what is Anjelica Huston doing in this movie anyway?) Still, there's a lot to admire here, especially Brosnan's gritty, unrelenting, tough-as-nails performance.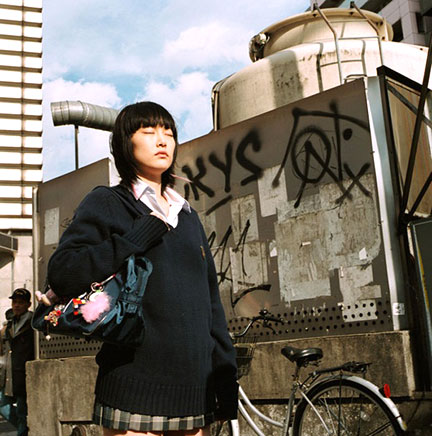 Rinko Kikuchi desperately wants to communicate in BABEL
BABEL (Alejandro González Iñárritu, 2006)
In theaters now
http://www.paramountvantage.com/babel

Fearing that the people of the world, who all spoke the same language, were capable of anything after building a tower that reached to the heavens, the Old Testament God confused their languages and scattered them all over the earth. The inability of people to communicate with one another is at the center of Alejandro González Iñárritu's fascinating, compelling BABEL. The plot follows three stories that slowly intertwine. On vacation in Morocco, Susan (Cate Blanchett) is the victim of random gunfire by a small boy (Boubker Ait El Caid), sending her husband, Richard (Brad Pitt), into a frenzy to try to save her life. Meanwhile, their housekeeper, Amelia (Adriana Barraza), who is looking after their children, has to decide what to do with them on the day of her son's wedding in Mexico, turning to her crazy nephew Santiago (Gael García Bernal) for help. And in Tokyo, Chieko (Rinko Kikuchi) is a deaf-mute teenager who desperately wants to fall in love, but all the boys she meets — and her father (the great Kôji Yakusho, from THE EEL, CURE, and SHALL WE DANCE?) — don't take the time to listen to and understand her. Despite a couple of wrong turns, Iñárritu recovers to make BABEL a whirlwind of a movie, laying bear the tragic consequences that can occur when people refuse to simply communicate, even in the most basic of ways.
The film received seven Oscar nominations, including Best Picture, Best Director, Best Original Screenplay (Guillermo Arriaga), and Best Supporting Actress (both Barraza and Kikuchi). It also is part of the triple play of fabulous films by Mexican directors in 2006, along with Guillermo del Toro's PAN'S LABYRINTH (nominated for six Oscars, including Best Foreign Language Film) and Alfonso Cuarón's CHILDREN OF MEN (three Oscar nominations, including Best Adapted Screenplay).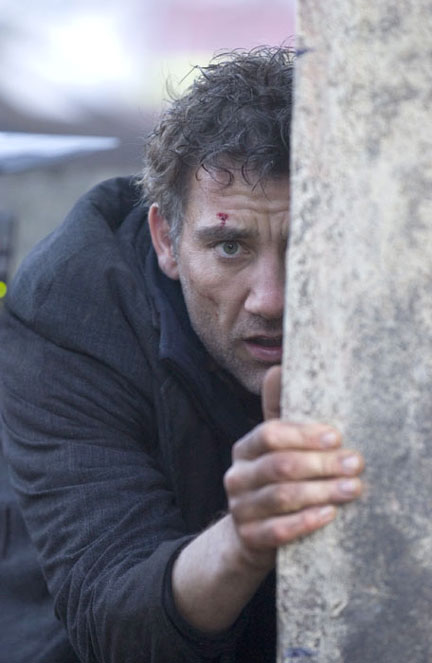 Clive Owen doesn't like what he sees in CHILDREN OF MEN
CHILDREN OF MEN (Alfonso Cuarón, 2006)
In theaters now
http://www.thehumanprojectlives.org

It's 2027, and there hasn't been a baby born in the world in eighteen years. For some unknown reason, women have become infertile, leading to chaos around the globe. Only England perseveres, but it is on the brink of destruction as warring factions prepare for doomsday. Onetime revolutionary Theo (an even-keeled-as-ever Clive Owen) has settled down into a mundane life, but he's thrust back into the middle of things when he is kidnapped by a radical organization run by his ex-wife, Julian (Julianne Moore), and her right-hand man, the hard-edged Luke (Chiwetel Ejiofor). Theo is forced to escort Kee (Claire-Hope Ashitey), a young fugee (refugee), through the danger zone and to the Human Project, a supposed safe haven that might not actually exist. Also staring extinction in the face are Theo's brother, Nigel (Danny Huston); Theo's hippie friend, Jasper (a longhaired Michael Caine); and homeland security officer Syd (Peter Mullan). Based on the novel by P. D. James, the chilling CHILDREN OF MEN is a violent, prescient, nonstop thrill ride, moviemaking of the highest order, cowritten and directed by Alfonso Cuarón (Y TU MAMÁ TAMBIÉN, HARRY POTTER AND THE PRISONER OF AZKABAN) and photographed in vibrant filth and muddiness by Emmanuel Lubezki. Stay through the credits for a tiny but critical coda.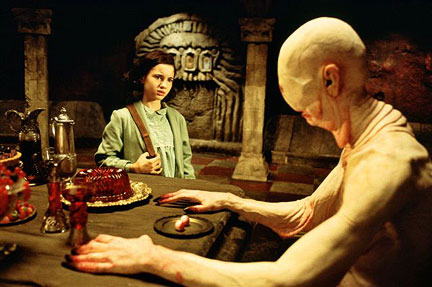 Ofelia meets the Pale Man in Del Toro fairy tale
PAN'S LABYRINTH (EL LABERINTO DEL FAUNO)
(Guillermo Del Toro, 2006)
In theaters now

The closing night film of the 2006 New York Film Festival and now nominated for an Oscar for Best Foreign Language Film, PAN'S LABYRINTH is a breathtaking fairy tale set in 1944 Spain, shortly after the Spanish Civil War. When her mother, Carmen (Ariadna Gil), marries Captain Vidal (Sergi Lopez), young Ofelia (Ivana Baquero) must move to the middle of the woods, where Vidal and his small group of soldiers are defending the last vestiges of Franco's Fascist regime against a group of resistance fighters seeking peace and freedom for all. Led by a mysterious flying creature, the adventurous Ofelia makes her way through an ancient underground labyrinth, where she meets the Faun (HELLBOY's Doug Jones), who tells her that she just might be the reborn, long-missing princess they've been waiting centuries for — but first she'll have to perform three tasks to prove that she has returned to claim her throne. As Vidal shows more concern for the baby that Carmen is carrying than for Carmen herself — and also brutally tortures and kills anyone who gets in his way, whether it is one of the revolutionaries or one of his own people — Ofelia meets a dangerous yet engaging series of beings as she hopes for her fairy-tale dreams to come true and erase the nightmares of the real world. Del Toro (THE DEVIL'S BACKBONE) has cleverly balanced fantasy and reality, alternating between scenes of horror and graphic violence aboveground and below as seen through the eyes of a brave young girl trapped in both.
NOTES ON A SCANDAL (Richard Eyre, 2006)
In theaters now
http://www2.foxsearchlight.com/notesonascandal

Oscar-nominated Cate Blanchett delivers the best female performance of the year in the tantalizing NOTES ON A SCANDAL, based on the novel by Zoe Heller. Blanchett plays Sheba Hart, a beautiful, married art teacher who gets into a bit of trouble with one of her students (Andrew Simpson). When history teacher Barbara Covett (Oscar-nominated Judi Dench) discovers her secret, the frumpy, lonely battle-ax decides to use the knowledge to get closer to the young teacher. But we've already told you too much. Blanchett imbues the damaged Sheba with a heartbreaking complexity, while Dench infuses the very formal Barbara with graceful mischief and a surprisingly wicked sense of humor. The film virtually explodes every time they're on screen together, which thankfully is much of the time. Richard Eyre (STAGE BEAUTY, IRIS, THE PLOUGHMAN'S LUNCH) directs NOTES ON A SCANDAL with a careful hand, not letting the acting get too out of control while also avoiding campy sentimentality.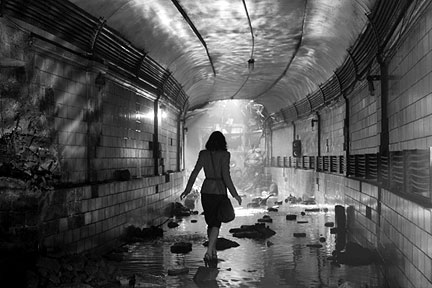 Cate Blanchett walks softly in Soderbergh's noir thriller
THE GOOD GERMAN (Steven Soderbergh, 2006)
In theaters now
http://thegoodgerman.warnerbros.com

They'll always have Berlin. Well, not exactly. Director Steven Soderbergh tells this WWII noir, based on the novel by Joseph Kanon, in period black and white, even daring to mix in elements of such untouchable classics as CASABLANCA (Michael Curtiz, 1942), NOTORIOUS (Alfred Hitchcock, 1946), and THE THIRD MAN (Carol Reed, 1949), and he pulls it off with flying colors. Soderbergh pal George Clooney stars as Jake Geismer, a war correspondent who returns to Berlin to cover the Potsdam Conference for the New Republic. As Harry S Truman, Winston Churchill, and Joseph Stalin gather to decide the fate of Germany and the free world, Jake gets mixed up in a murder mystery involving motorpool corporal Tully (Tobey Maguire), who exploits Berlin and the black market for all their worth; Colonel Muller (Beau Bridges), who is out to protect America's interests in Germany; a prosecutor named Bernie (Leland Orser), who is seeking to bring Nazi war criminals to justice; general Sikorsky (Ravil Isyanov), who cares only about Russia's interests; and femme fatale Lena Brandt (Cate Blanchett), who is at the center of it all. Soderbergh (TRAFFIC, ERIN BROCKOVICH, sex, lies, and videotape) shot THE GOOD GERMAN with one camera, in old-fashioned black and white, mixing in archival footage taken by Billy Wilder and John Huston, giving it the feel of a 1940s flick. Clooney is stalwart in the lead role, his Rick-like character lost in love for the Ilsa-like Blanchett.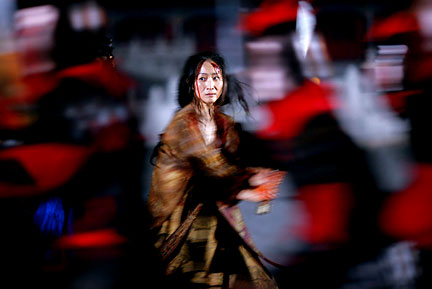 Zhang Yimou epic is bathed in beautiful colors
CURSE OF THE GOLDEN FLOWER (Zhang Yimou, 2006)
In theaters now
http://www.sonyclassics.com/curseofthegoldenflower

Zhang Yimou's CURSE OF THE GOLDEN FLOWER is a breathtakingly beautiful Shakespearean martial-arts epic set in the tenth-century Later Tang Dynasty. Chow Yun Fat stars as the Emperor, the proud patriarch of a seriously dysfunctional Imperial Family. His second wife, the Empress (the luminous Gong Li, reunited with her former lover and director for the first time in more than a decade), has been having a three-year affair with his oldest son, Crown Prince Wan (Liu Ye), who has fallen in love with the Imperial Doctor's daughter, Chan (Li Man), who regularly serves the Empress poisoned medicine with the help of her father (Ni Dahong). Right before the annual Chrysanthemum Festival, the middle son, Prince Jai (Asian pop star Jay Chou), returns successfully from battle, seeking to know his future, while the third son, the lost and childlike Prince Yu (Qin Junjie), tries to find his place in the crumbling family. Soapy melodrama and surprising plot twists mix with fabulously choreographed fight scenes, marvelous costumes bathed in gold, and stunningly gorgeous production design to create a rousing, bloody tale of treachery, forbidden love, deception, and loyalty, set amid the glowing yellow of the chrysanthemums and a magnificent, glittering palace that is one of the best sets you'll ever see. The closing song, a sappy piece of tripe written and sung by Chou, is an awful way to end this otherwise captivating film. Zhang, the master of the Chinese period piece (RAISE THE RED LANTERN, JU DOU, TO LIVE, HOUSE OF FLYING DAGGERS), will also be directing the world premiere of Tan Dun's opera THE FIRST EMPEROR at the Metropolitan Opera House beginning December 21.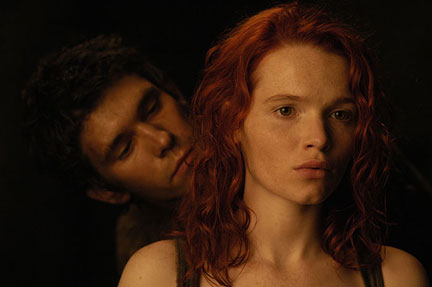 Scentsational Süskind novel is at last brought to the big screen
PERFUME: THE STORY OF A MURDERER (Tom Tykwer, 2006)
In theaters now
https://www.thierrymuglerusa.com

We o-dored Patrick Süskind's scentsational novel when we first read it nearly twenty years ago, and we're glad to report that cowriter-director Tom Tykwer (RUN, LOLA, RUN) has done justice to the creepy, complex story in bringing it at last to the big screen. (Süskind is a notorious recluse who shuns interviews and movie producers.) Relative newcomer Ben Whishaw stars as Jean-Baptiste Grenouille, a peasant born with an extraordinary olfactory system. Slaving away for a brutal tanner, Jean-Baptiste sneaks away and lands himself a job working for fading perfumer Giuseppe Baldini (Dustin Hoffman, with an accent we're still trying to figure out), where he's able to create the most amazing scents — except the one he most longs for, the smell of a beautiful woman. So he keeps experimenting, and the body count keeps rising. The ending goes a bit haywire, but overall Tykwer does a solid job of transferring Süskind's intense psychological narrative and inner monologue into a compelling cinematic thriller, with excellent narration supplied by John Hurt. Add half a star if you have a nostril fetish.
For those of you who can't get enough of PERFUME, Thierry Mugler has collaborated on an elegant coffret that includes fifteen of Süskind's lovingly described scents, including Baby, Paris 1738, Virgin No. 1, Amor & Psyché, Ermite, Existence, and Orgie. We've actually sampled them, and they are quite realistic. Although we're not sure anyone really wants to smell like 1738 Paris, the set is available, online only, for a mere $700.
THE DEPARTED (Martin Scorsese, 2006)
In theaters now
http://thedeparted.warnerbros.com

Based on Andrew Lau and Alan Mak's awesome INFERNAL AFFAIRS (2002), Martin Scorsese's relatively faithful remake, THE DEPARTED, has been moved from Hong Kong to the mean streets of Boston, where it is hard to tell cop from criminal. Just out of the academy, Colin Sullivan (Matt Damon) rises quickly to detective in the Special Investigations Unit, but he's actually in cahoots with master crime lord Frank Costello (Jack Nicholson). Meanwhile, Billy Costigan (an excellent Leonardo DiCaprio), training to become a cop, is sent deep undercover (including a prison stint) to infiltrate Costello's gang, with only Captain Queenan (Martin Sheen) and Sergeant Dignam (a very funny and foul-mouthed Mark Wahlberg) aware of the secret mission. Sullivan and Costigan are like opposite sides of the same persona; in between them stands Costello — and Madolyn (Vera Farmiga), a psychiatrist who is in a relationship with one and is doctor to the other. As both the cops and the criminals search desperately for their respective rats, no one can trust each other, leading to lots of blood and a spectacular finale. Nicholson has a field day as the aging gangster, chewing up mounds of scenery in his first film with Scorsese, who has returned to peak form with his best film since 1990s GOODFELLAS, earning an Oscar nomination for Best Director. The film is also up for Best Picture.
THE LAST KING OF SCOTLAND (Kevin MacDonald, 2006)
In theaters now
http://www2.foxsearchlight.com/thelastkingofscotland

Forest Whitaker is absolutely mesmerizing in his Oscar-nominated role as General Idi Amin in Kevin MacDonald's THE LAST KING OF SCOTLAND, demanding viewers' attention every time he appears on-screen, a dominating, bigger-than-life presence. Unfortunately, the rest of the film lets him down, failing to come close to his overpowering performance. The movie is based on Giles Foden's award-winning novel, in which the author created a composite character, Nicholas Garrigan, a Scottish doctor who becomes a close confidant of Amin's. What might have worked in the book falls apart on camera in a series of hard-to-believe scenes that actually never happened. As played by James McAvoy, Garrigan is goofy and lightweight from the very beginning, unable to compete with the massive Whitaker as Amin. He makes a play for his boss's wife (Gillian Anderson), thinks he doesn't have to play the political game with a British operative (Simon McBurney), and takes a liking to one of Amin's mistreated wives (Kerry Washington). While it is fascinating to watch the rise and fall of the President for Life, his relationship with Garrigan is hard to swallow — mostly because it's not true. And even those bits and pieces that are factual have been twisted and changed to increase emotional impact, ending up with manipulated melodrama instead of what really happened — which is a shame, since MacDonald's first two films, the well-regarded ONE DAY IN SEPTEMBER and TOUCHING THE VOID, were both documentaries.
THE PURSUIT OF HAPPYNESS (Gabriele Muccino, 2006)
In theaters now
http://www.sonypictures.com/movies/thepursuitofhappyness

Will Smith takes the serious route in THE PURSUIT OF HAPPYNESS, a well-meaning, poignant, but eventually overwrought drama of class, race, and society, inspired by a true story. Smith stars as Chris Gardner, a determined husband and father who gambles his life savings on a bone-density machine. He makes sales calls on doctors, pushing the machine, but they're not biting, leaving him in desperate straits. With his wife (Thandie Newton) threatening to leave and his son, Christopher (Jaden Christopher Syre Smith, Will's real-life son with Jada Pinkett), caught in the middle, Gardner suddenly believes that his life can change for the better if he first gets an internship at Dean Witter, then wins the single job that is available. (This is, after all, the wild and woolly Reagan '80s.) Rapper-comedian-action-hero Smith turns in a good performance as Gardner, as he keeps hitting wall after wall trying to feed, clothe, and shelter his family, but his struggles become repetitive and ponderous. As ridiculous as he looks carrying around and protecting what looks to be a typewriter (the bone-density machine), he looks even more silly chasing around homeless people on the streets of San Francisco to recover missing ones. Newton is wasted in a one-note role, although Jaden makes a fine feature-film debut playing alongside his dad, in the first English-language movie from Italian director Gabriele Muccino.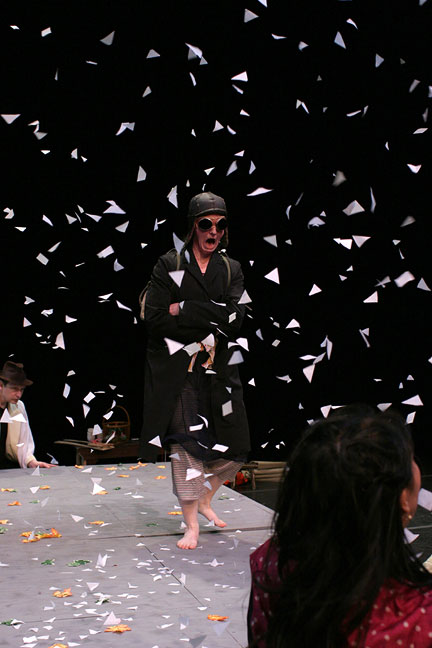 © Paula Court
Molly Hickok in the world premiere production of THE OTHER HERE
BIG DANCE THEATER: THE OTHER HERE
Japan Society
333 E. 47th St. at First Ave.
February 7-10
Tickets: $30-$35
212-715-1258
The Japan Society kicks off its centennial celebration with the world premiere of this specially commissioned multimedia piece by the Big Dance Theater, choreographed by Annie-B Parson and directed by Paul Lazar. The company brings to life the stories of Japanese novelist Masjui Ibuse. Opening night is already sold out, so act fast to get tickets for one of the other four performances. You should also consider getting a head start on Takeshi Kawamura's AOI/KOMACHI avant-garde theater presentation of two fifteenth-century noh plays by Ze'ami, coming to the Japan Society March 22-24. As the hundredth anniversary of this city treasure continues.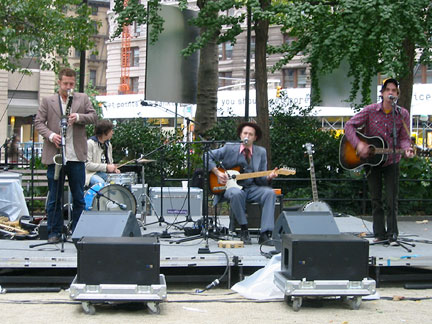 twi-ny/mdr
Jeremiah Lockwood is joined by friends at Madison Square Park this past summer
STUART BOGIE PRESENTS: THE VOLNEY LITMUS
Zebulon
258 Wythe Ave. between North Third St. & Metropolitan Ave., Williamsburg
Tuesday nights in February at 9:00
Admission: free
718-218-6934
http://www.myspace.com/volneylitmus
The Volney Litmus will be celebrating the release of its new record by playing a Tuesday-night residency at Zebulon during February. They will take the stage at nine, followed by special guests at ten. On February 13 they're joined by Pronto, on February 20 by Fire of Space, and on February 27 by Beyondo. But you'll find us there on February 6, when they team up with Jeremiah Lockwood, who will first play with them before doing a solo set. The New York City native, who cut his teeth playing on the street with Carolina Slim, is also part of the Sway Machinery and Balkan Beat Box and occasionally sits in with Antibalas; Stuart Bogie, of both Antibalas and the Volney Litmus, produced Lockwood's fine solo debut, AMERICAN PRIMITIVE (Vee-Ron Records). The record features the swampy "Baby What You Want Me to Do"; "Jellyroll," a cool alterna-blues with guitar lines shooting off in unusual directions and Lockwood in deep, desperate voice; "No More in This Life," a train love song that echoes Brecht-Weill and Tom Waits; the juke-joint stomper "Jitterbug Swing"; the raunchy "Love in the Dungeon," with sweet background vocals from Elizabeth Harper; "Going to Brooklyn," with its barrage of wonderfully messy horns; "Stolen Moments," which has a killer hook; the mournful, solo "Mama Your Son's Dead and Gone"; and the tender love song "Now and Ever."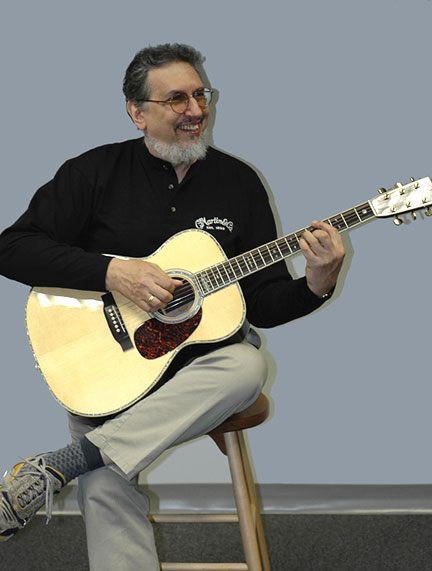 Folk legend David Bromberg tours behind first new album in seventeen years
DAVID BROMBERG: SOLO
Joe's Pub
425 Lafayette St. between East Fourth St. & Astor Pl.
Tuesday, February 13, 7:30
Friday, February 23, 7:00
Tickets: $30
212-539-8778

The incomparable David Bromberg returns to New York City for a pair of intimate shows at Joe's Pub, which promise to be very different from his recent performances at such venues as B.B. King's and even, back in the day, the Bottom Line. Bromberg is about to release his first new album in seventeen years, the outstanding TRY ME ONE MORE TIME (Appleseed Recordings, February 27, 2007), a collection of sixteen old and new favorites that combine folk, blues, ragtime, and bluegrass like nobody's business. He's mixing things up for his current three-month tour, playing gigs with the David Bromberg Quartet, the Bromberg Big Band, and the Angel Band, but he's doing only four solo shows, the two at Joe's Pub on February 13 and 23 as well as February 15 in Philly and February 24 in Princeton (with Natalie MacMaster). The guitar virtuoso and fine violin maker opens the record with the title track, a rewrite of a 1931 Marshall Owens song, and follows that with traditional tunes as well as covers of Robert Johnson, Bob Dylan, Blind Willie McTell, and the Reverend Gary Davis, whom Bromberg studied with while helping the blues legend get around in the mid-'60s.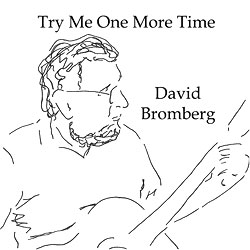 Bromberg gets things going on the album with "Try Me One More Time," playing an oh-so-sweet slide guitar as a woman begs him to take her back. Johnson's "Kind Hearted Woman" features a great surprise ending. Bromberg gets down and dirty with Tommy Johnson's "Big Road," feeling those weary blues. He turns Dylan's "It Takes a Lot to Laugh, It Takes a Train to Cry" into a slow, mournful lament. Bromberg puts the guitar down for the a cappella "Moonshiner," then picks it up again for the beautifully sad "Shake Sugaree." Although Bromberg calls the album "a folk music record" in the liner notes, it's really more of a blues affair, although "When First Unto This Country" is classic folk in both the story and the way Bromberg tells it, as is "East Virginia" and "Lonesome Roving Wolves." "Trying to Get Home" is so personal to Bromberg, he can barely get all the words out. (Make sure to read his emotional passage in the accompanying booklet, in which he briefly discusses each song — where it came from, how he's changed it, who the original artist was, and what it means to him.) As always, Bromberg's sense of humor and clear love of what he is doing is infectious; we only wish the record were longer than its not-quite-fifty-minutes length. Thankfully, the shows will not be as brief.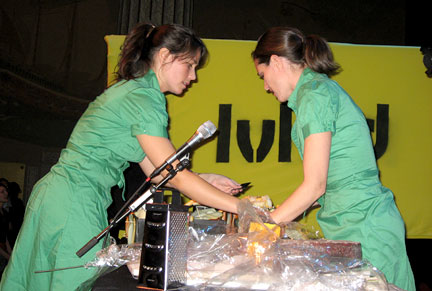 twi-ny/mdr
Balmori Associates show their cheesy stuff at inventive architect duel
MASTER-DISASTER ARCHITECT DUEL III
Location text-messaged to ticket holders day of event
Tuesday, January 23
LVHRD (Live Hard) is a special-event-driven flash mob that organizes unique meetings all over the city. In the past they've gathered at Water Taxi Beach in Queens dressed as tourists; descended on MoMA for a concert that involved the audience's cell phones; watched as J. Walter Thompson employees battled New York City Ballet dancers in a vending machine eat-off; and other offbeat, creative mash-ups. On January 23, they held ArcDuel III, which featured two architectural firms, Balmori Associates (Killian O'Brien and Sarah Wayland-Smith) and Field Operations (Sierra Bainbridge and Maura Rockcastle), doing battle in a timed model-building competition focusing on ecological and sustainable approaches to urban planning — in order to save the world from impending disaster, they had to reconstruct the roofs of Stuyvesant Town using twenty-five pounds of cheese from DiPalo's and a supposedly environmentally sound cement substitute of the future called Reduraflex 768. It was all grrl pwer, all young, all cute, all with quite excellent outfits (which Field Operations worked into their design, tearing off pieces of polystyrene netting from under their dresses as necessary). Some of the packed crowd at the Broad Street Ballroom in the Financial District watched everything from up close, while others partook of the cheese and crackers that attendees were ordered to bring while thumping beats rocked the house, courtesy of Turntable Lab DJs Snack and C'Mish. Oh, by the way, Field Operations won the competition; you can find their cheesy model on display at DiPalo's at 200 Grand St. through February 24.

All contents copyright 2007 by Mark Rifkin and twi-ny. All rights reserved. Contents may not be reprinted without written permission. Please note that events, dates, and prices are subject to change.
Send all comments, suggestions, reviews, and questions to mark.rifkin@twi-ny.com.
Please note that some e-mail clients may wrap links, so be sure to enter them fully into your browser.
To subscribe to this list, please e-mail the administrator at admin@twi-ny.com with the word Subscribe in the Subject line; be sure to ask for back issues, which are free as well. To unsubscribe from this list, please think it over twice before e-mailing the same address. Please let us know what you didn't like about this forum and we'll do our best to correct it in the future — if we agree with you. If you would like to see something covered in a future issue, please let us know. Without you, there is no need for us to exist.

twi-ny top two dozen (or so) weekly reminders & special events
WINTER RESTAURANT WEEK 2007
Lunch: $24.07; dinner: $35
Reservations being accepted now
Through Saturday, February 3 More than one hundred eateries will be offering prix-fixe lunches and/or dinners, including Aquavit, Artisanal, Asia de Cuba, Asiate, Aureole, Barbetta, Beacon, Blue Smoke, Butter, Cafe Boulud, Chanterelle, Compass, Craftbar, davidburke & donatella, db Bistro Moderne, Devi, Dominic, Estiatorio Milos, Fleur de Sel, Frankie & Johnny's, Gotham Bar & Grill, Gramercy Tavern, I Trulli, Inagiku, JoJo, Megu, Nice Matin, Patroon, Payard, Riingo, the River Cafe, San Domenico, Smith & Wollensky, Spice Market, Steak Frites, SushiSamba, Tabla, the Modern, Union Square Cafe, Vong, and the '21' Club, among dozens of others — but you better book your reservations fast; Restaurant Week continues Monday, January 29, through Friday, February 2
THE JONATHAN SHOW
Mo Pitkin's House of Satisfaction
34 Ave. A
Tickets: $15
212-777-5660
Tuesday, January 30
and
Wednesday, January 31 A night of comedy, music, burlesque, and other high jinks, including pillow fights, audience confessions and paddling, Zero Boy, the Alien Comic, Jessica Delfino, Ula the Painproof Rubber Girl, Miss Saturn, and the Mangina wrestling the Blind Woman, hosted by Jonathan Ames, author of I LOVE YOU MORE THAN YOU KNOW, THE EXTRA MAN (one of our favorite books of recent years), WAKE UP, SIR!, and WHAT'S NOT TO LOVE? THE ADVENTURES OF A MILDLY PERVERTED YOUNG WRITER, 11:00
FOCUS! 2007: THE MAGYAR LEGACY
The Juilliard School of Music
Peter Jay Sharpe Theater
155 West 65th St.
212-769-7407
Tuesday, January 30
Wednesday, January 31
and
Thursday, February 1 Hungarian Music After Bartók: A tribute to the late György Ligeti and a birthday greeting to György Kurtág, free but no tickets required, 8:00
Friday, February 2 Hungarian Music After Bartók: A tribute to the late György Ligeti and a birthday greeting to György Kurtág, featuring violinist Francesca Anderegg, free but tickets must be picked up in advance, 8:00
THE FILMS OF KAZUO HARA
Anthology Film Archives
32 Second Ave. at Second St.
January 31 — February 4
Tickets: $8
718-399-6359
http://www.anthologyfilmarchives.org
Wednesday, January 31 THE EMPEROR'S NAKED ARMY MARCHES ON (Kazuo Hara, 1987), 6:30
Thursday, February 1 GOODBYE CP (Kazuo Hara, 1972), 6:30
Thursday, February 1 A DEDICATED LIFE (Kazuo Hara, 1994), 8:30
Friday, February 2 EXTREME PRIVATE EROS: LOVE SONG (Kazuo Hara, 1974), 7:30
Friday, February 2 THE EMPEROR'S NAKED ARMY MARCHES ON (Kazuo Hara, 1987), 9:30
Saturday, February 3 GOODBYE CP (Kazuo Hara, 1972), 5:30
Saturday, February 3 EXTREME PRIVATE EROS: LOVE SONG (Kazuo Hara, 1974), 7:30
Saturday, February 3 THE EMPEROR'S NAKED ARMY MARCHES ON (Kazuo Hara, 1987), 9:30
Sunday, February 4 A DEDICATED LIFE (Kazuo Hara, 1994), 3:15
Sunday, February 4 THE EMPEROR'S NAKED ARMY MARCHES ON (Kazuo Hara, 1987), 6:30
Sunday, February 4 EXTREME PRIVATE EROS: LOVE SONG (Kazuo Hara, 1974), 9:00
GALWAY KINNELL 80th BIRTHDAY GALA
The Great Hall at the Cooper Union
7 East Seventh St. at Third Ave.
212-219-1222
Thursday, February 1 Gala and reading with E. L. Doctorow, Mark Doty, Cornelius Eady, Marie Howe, Yusef Komunyakaa, Anne Marie Macari, Sharon Olds, Grace Paley, Gerald Stern, and C. K. Williams, 7:00
FIRST THURSDAYS
Dahesh Museum of Art
580 Madison Ave. at 57th St.
Admission: free
212-759-0606
Thursday, February 1 Ross King, author of THE JUDGMENT OF PARIS: THE REVOLUTIONARY DECADE THAT GAVE THE WORLD IMPRESSIONISM at 6:30, with free admission to galleries, 6:00 — 9:00
CRITICAL REGARD: A TANGLE, A TANGO
School of Visual Arts, third-floor amphitheater
209 East 23rd St. between Second & Third Aves.
Admission: free
212-592-2010
Thursday, February 1 Carolee Schneemann talks about how critical response has affected her work, 7:00
H.L. MILLER CANTORIAL SCHOOL TZEDEKAH CONCERT
The Jewish Theological Seminary
3080 Broadway at 122nd St.
Tickets: $15, reservations and photo ID required
212-678-8839
Thursday, February 1 Second annual benefit for the people of Darfur, featuring performances by cantorial students, opera singers, singer-songwriters, and more, 7:00
THE NATIONAL BLACK FINE ART SHOW
The Puck Building
295 Houston St. at Lafayette St.
Admission: $15 (includes catalog), three-day pass $35, children under sixteen free with adult
212-925-5257
http://www.blackfineartshow.com
Thursday, February 1
through
Sunday, February 4 More than three dozen exhibitors will be displaying and selling paintings, photographs, sculptures, drawings, and more from contemporary black artists at this eleventh annual event; visit the above Web site to learn about the Panel & Lecture Series being held at NYU Law School on West Third St.
NY SEPHARDIC JEWISH FILM FESTIVAL
Center for Jewish History (CJH)
Forchheimer Auditorium
15 West 16th St. between Fifth & Sixth Aves.
917-606-8200
JCC in Manhattan (JCC)
334 Amsterdam Ave. at 76th St.
646-505-5708
Tickets: $10, Festival Subscription Pass $40
http://www.americansephardifederation.org
Thursday, February 1 Opening Night: THREE MOTHERS (SHALOSH IMAHOT) (Dina Zvi-Riklis, 2006), CJH, 7:00
Saturday, February 3 SALONIKA, CITY OF SILENCE (SALONIQUE, VILLE DU SILENCE) (Maurice Amaraggi, 2006), CJH, 7:30
Saturday, February 3 GORGEOUS (COMME T'Y ES BELLE!) (Liza Azuelos), CJH, 9:30
Sunday, February 4 THREE MOTHERS (SHALOSH IMAHOT) (Dina Zvi-Riklis, 2006), CJH, 7:00
Sunday, February 4 A VOICE WITHOUT A FACE (MAKTUB ALEIKH) (Assaf Basson, 2005), CJH, 12 noon
Sunday, February 4 KULULUSH (Nati Adler, 2006), CJH, 2:00
Monday, February 5 KULULUSH (Nati Adler, 2006), CJH, 6:30
Monday, February 5 UNTIL TOMORROW COMES (David Deri, 2004), JCC, 7:30
Monday, February 5 SOMETHING SWEET (MASHEHU MATOK) (Dan Turgeman, 2004), CJH, 8:30
Tuesday, February 6 GORGEOUS (COMME T'Y ES BELLE!) (Liza Azuelos), CJH, 9:00
Tuesday, February 6 JEWS OF IRAN (JODEN UIT IRAN) (Ramin Farahani, 2005), CJH, 6:30
Tuesday, February 6 SHALOM ASMARA (Marco Cavallarin and Marco Mensa, 2004), CJH, 6:30
Wednesday, February 7 A VOICE WITHOUT A FACE (MAKTUB ALEIKH) (Assaf Basson, 2005), CJH, 6:30
Wednesday, February 7 SOMETHING SWEET (MASHEHU MATOK) (Dan Turgeman, 2004), CJH, 8:30
Thursday, February 8 JEWS OF IRAN (JODEN UIT IRAN) (Ramin Farahani, 2005), JCC, 7:30
BLACK HISTORY MONTH
Donnell Library Center
New York Public Library
20 West 53rd St. between Fifth & Sixth Aves.
Admission: free
212-621-0619
Thursday, February 1 Viewpoint…Apartheid Musicals of South Africa Film: AFRICAN JIM (Doanld Swanson, 1949), 2:30
Saturday, February 3 OTHELLO (Liz White, 1968-80), 2:30
Thursday, February 8 Viewpoint…Apartheid Musicals of South Africa Film: ZONK (Hyman Kiersten, 1950) and DOLLY AND THE INKSPOTS (Jurgen Schadeberg, 1997), 2:30
Sunday, February 11 In concert with West Harlem Winds featuring Liz Player, clarinet, 2:30
Tuesday, February 13 Bound for Freedom: Inventing the Underground Railroad in Nineteenth-Century New York, illustrated lecture by Fergus M. Bordewich, 6:00
BLACK HISTORY MONTH
The New School for General Studies
66 West 12th St. between Fifth & Sixth Aves.
212-229-5353
Thursday, February 1 World premiere screening of RACE TO EXECUTION (Rachel Lyon, 2007), preceded by a reception and followed by a panel discussion with Rachel Lyon, Jim Lopes, Bryan Stevenson, and Christina Swarns, introduced by Jacquie Jones and moderated by Michelle Materre, Tishman Auditorium, 6:00
Monday, February 5 Fiction Forum: Bayo Ojikutu, FREE BURNING, Mohammad Naseehu Ali, THE PROPHET OF ZONGO STREET, and Doreen Baingana, TROPICAL FISH: TALES FROM ENTEBBE, readings and discussion, moderated by Jeffery Renard Allen, Room 510, $5, 6:30
Thursday, February 8 Fiction Forum: Yvette Christianse, UNCONFESSED, reading and discussion moderated by Robert Polito, Room 510, $5, 6:30
Monday, February 12 The Barbara Jordan Lecture Series — Mayor Cory Booker: The State of American Democracy, Tishman Auditorium, $5, 6:00
Monday, February 12 Fiction Forum: Chimamanda Ngozi Adichie, HALF OF A YELLOW SUN, reading and discussion, moderated by Jeffery Renard Allen, Room 510, $5, 6:30
MILLROSE GAMES
Madison Square Garden
Seventh Avenue to Eighth Avenue between 31st & 33rd Sts.
Friday, February 2
Tickets: $15-$125
The Millrose Games celebrates its hundredth anniversary this year, once again featuring a lineup of the best and the brightest in track and field from all over the world. Things kick off at noon with the men's weight throw and don't stop until the women's college 4x400 at 10:26. Among the dozens of other competitions are the Susan M. Rudin USA Championship 1-Mile Walk, the John Thomas High Jump, the NYRR 3000 Meters, the Fred Schmertz Pole Vault, hurdles, shot put, and the Fastest Kid in New York 50 Meters. Keep a look out for such international stars as Gail Devers, Maurice Greene, Yelena Isinbayeva, Bernard Lagat, Reese Hoffa, Alan Webb, Steve Hooker, and Tirunesh Dibaba.
NIGHT MUSIC
Weill Recital at Carnegie Hall
154 West 57th St. at Seventh Ave.
Tickets: $15-$30
http://www.musicofthespheres.org
Friday, February 2 Concert II from theMusic of the Spheres Society, featuring Serenade for String Trio by Erno Dohnanyi, Clarinet Trio by Johannes Brahms, The Mydnyte Sun by David Jaedyn Conley, and La Creation du Monde -- Suite de Concert by Darius Milhaud, performed by Stephanie Chase and Michi Wiancko, violin; Hsin-Yun Huang, viola; Julie Albers and Darrett Adkins, cello; Jon Manasse, clarinet; and Frank Levy, piano, 7:30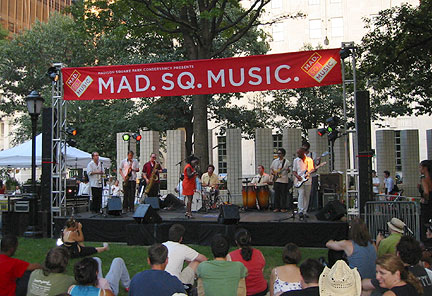 twi-ny/mdr
Sharon Jones & the Dap Kings bring their hot show to Jersey
SHARON JONES & THE DAP-KINGS
Maxwell's
1039 Washington St., Hoboken
201-653-1703
Friday, February 2
and
Saturday, February 3 Sharon Jones & the Dap-Kings, with Naomi Davis & the Gospel Queens, $15, 10:00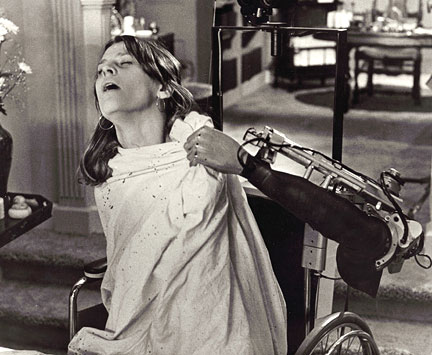 Metro-Goldwyn-Mayer (MGM)
Julie Christie has it bad in Donald Cammell's DEMON SEED
THE CINEMA OF DONALD CAMMELL
Walter Reade Theater
165 West 65th St. between Eighth Ave. & Broadway
February 2-11
Tickets: $10
212-875-5600
http://filmlinc.com/wrt/onsale/donaldcammell
Friday, February 2 WILD SIDE (director's cut) (Donald Cammell as Franklin Brauner, 1995), 6:15
Friday, February 2 PERFORMANCE (Donald Cammell and Nicolas Roeg, 1970) preceded by LUCIFER RISING (Kenneth Anger, 1972), 8:30
PERFORMANCE (Donald Cammell and Nicolas Roeg, 1970)

A British gangster on the run hides out with a psychedelic rock star in this strangely enticing film from Donald THE DEMON SEED Cammell and Nicolas Roeg (making his big-screen directorial debut). James Fox didn't know what he was getting into when he signed on to play Chas, a mobster who finds sanctuary with mushroom-popping rock-diva has-been Turner, played with panache by Mick Jagger. Throw in Anita Pallenberg, a fab drug trip, and the great "Memo to Turner" scene and you have a film that some consider the real precursor to MTV, some think a work of pure demented genius, and others find to be one of the most pretentious and awful pieces of claptrap ever committed to celluloid.
Saturday, February 3 DUFFY (Robert Parrish, 1968), 3:30
Saturday, February 3 PERFORMANCE (Donald Cammell and Nicolas Roeg, 1970) preceded by LUCIFER RISING (Kenneth Anger, 1972), 5:30
Saturday, February 3 WHITE OF THE EYE (Donald Cammell, 1987), 8:15
Sunday, February 4 WILD SIDE (director's cut) (Donald Cammell as Franklin Brauner, 1995), 7:30
Sunday, February 4 DONALD CAMMELL: THE ULTIMATE PERFORMANCE (Kevin Macdonald and Chris Rodley, 1998) preceded by THE ARGUMENT (Donald Cammell, 1999), 5:30
Monday, February 5 DUFFY (Robert Parrish, 1968), 4:30 & 8:30
Monday, February 5 DONALD CAMMELL: THE ULTIMATE PERFORMANCE (Kevin Macdonald and Chris Rodley, 1998) preceded by THE ARGUMENT (Donald Cammell, 1999), 6:30
Tuesday, February 6 WHITE OF THE EYE (Donald Cammell, 1987), 8:30
Thursday, February 8 PERFORMANCE (Donald Cammell and Nicolas Roeg, 1970) preceded by LUCIFER RISING (Kenneth Anger, 1972), 3:30
Friday, February 9 WILD SIDE (director's cut) (Donald Cammell as Franklin Brauner, 1995), 4:00
Friday, February 9 PERFORMANCE (Donald Cammell and Nicolas Roeg, 1970) preceded by LUCIFER RISING (Kenneth Anger, 1972), 6:15
Friday, February 9 DEMON SEED (Donald Cammell, 1977), 9:00
Saturday, February 10 DEMON SEED (Donald Cammell, 1977), 1:15
Saturday, February 10 PERFORMANCE (Donald Cammell and Nicolas Roeg, 1970) preceded by LUCIFER RISING (Kenneth Anger, 1972), 3:15 & 8:15
Saturday, February 10 WILD SIDE (director's cut) (Donald Cammell as Franklin Brauner, 1995), 6:00
Sunday, February 11 DUFFY (Robert Parrish, 1968), 1:00
Sunday, February 11 WHITE OF THE EYE (Donald Cammell, 1987), 3:00
Sunday, February 11 PERFORMANCE (Donald Cammell and Nicolas Roeg, 1970) preceded by LUCIFER RISING (Kenneth Anger, 1972), 5:15
Sunday, February 11 WILD SIDE (director's cut) (Donald Cammell as Franklin Brauner, 1995), 8:00
BAMcafe live
Brooklyn Academy of Music Opera House Café
30 Lafayette Ave. between Ashland Pl. & St. Felix St.
No cover, no minimum
718-636-4100
http://bam.org/events/bamcafelive

Friday, February 2 Life in a Blender, 9:00
Saturday, February 3 Apollo Heights, with Juneteenth, 10:30
Friday, February 9 Bonga & the Vodou Drums of Haiti, 10:00
Saturday, February 10 Shrine for the Black Madonna, with Jungli, 10:00
BRUZ on a Brooklyn roof in 2001, photo by NATO, from GRAFFITI NYC
ROAD SHOW / GRAFFITI NYC (Prestel, 2006, $19.95)
Multiple locations
Fridays & Saturdays 12 noon — 6:00 pm
Through February 24
Admission: free
http://www.martinezgallery.com
According to the introduction by Antonio Zaya (in collaboration with Ken Bensinger), the idea behind GRAFFITI NYC is "based on a fundamental conviction that graffiti is not an anthropological phenomenon to be dissected, not a social malady to be cured, but a legitimate aesthetic and cultural movement, born of a revolutionary spirit and a will to resistance." The trade paperback, assembled by longtime graffiti champion Hugo Martinez, is not about corporate-sponsored, city-sanctioned street art of the kind recently found at the Brooklyn Museum, in Chelsea galleries, and inside and outside 11 Spring St. GRAFFITI NYC documents the real deal, the writers, bombers, and taggers who lurk in the shadows of the five boroughs bearing cans of spray paint and the need to be heard. Street art involves putting pretty pictures in public places, which is its own kind of message; graffiti, which was born and raised in New York, is rebellion, a social and political act from the underrepresented, the tossed aside, the forgotten.

"The act of writing is an obsessive act," RATE explains in the book. "If they make graf legal, I'll stop," adds NOXER. GRAFFITI NYC also includes quotes from such legends as MICO, KEZ 5, CASE 2, and NATO on such subjects as graffiti as art, living on the edge, fighting the status quo, the inherent dangers, and institutional stereotyping and racism. In addition, the book features the words of such anti-graf crusaders as Peter F. Vallone Jr., Rudy Giuliani, Mayor Bloomberg, and Officer Eddie Segui of the NYPD Graffiti Habitual Offender Suppression Team (GHOST). NATO, who took most of the photos in the book, captures the work of the writers mentioned above as well as REVS, DARKS, TECK, FADE, SI, SKUF, and many others. The throw-ups might not be as aesthetically pleasing to the general public as the expansive murals found at the legal spot known as 5 Pointz in Queens, but that's not what graf is about. "Writers will tell you that art doesn't have to be beautiful," Martinez told us one afternoon in the "Road Show" U-Hauls, which will be stopping at various bookstores on weekends through February. Draped over the trucks is a yellow vinyl sheet being tagged by SNAKE 1, RATE, VFR, MOSCO, and others; inside is a slide show of all the photos in the book and more. Somewhere close by is the Vandal Squad, which is following the U-Hauls in the hopes of arresting a writer or two.
Saturday, February 2
and
Sunday, February 3 Outside Columbia University Barnes & Noble, 2922 Broadway at 115th Sts.
Saturday, February 9
and
Sunday, February 10 Outside the High School of Art and Design, 1075 Second Ave. between 56th & 57th Sts.
FAMILY DAY: MOON OVER MANHATTAN
Asia Society
725 Park Ave.
Free with museum admission
212-327-9352
Saturday, February 3 Lunar New Year Festival, with a Lion Dance, paper lantern workshop, and mooncakes; participants are encouraged to wear red for good luck, 12 noon — 3:00
FIRST SATURDAYS AT THE BROOKLYN MUSEUM
Brooklyn Museum of Art
200 Eastern Parkway
Admission: free after 5:00 pm (some events require free tickets available that night)
718-638-5000
Saturday, February 3 A night of free entertainment and admission to all galleries includes spoken word by Urban Word NYC, live music by jazz ensemble Lapis Luna, screenings of MISSISSIPPI MASALA (Mira Nair, 1991) and IN THE MOOD FOR LOVE (Wong Kar-wai, 2000), gallery talks, an art workshop, and a dance party featuring the Tito Castro Quartet
LANGSTON HUGHES IN HARLEM: A SONG CYCLE
Bowery Poetry Club
308 Bowery between Houston & Bleecker Sts.
Tickets: $10
212-614-0505
http://www.russelljordan.com/langston
Saturday, February 3
and
Sunday, February 4 A reading with Valerie Donaldson, Nyree Fleming, Russell Jordan, Jarrel Newsome, Ashley Omadevuae, and Anthony D. Stevenson, and music by Harry Mann & Neal Kirkwood, 2:00
LUNAR NEW YEAR WALKING TOUR
Museum of Chinese in the Americas
70 Mulberry St. at Bayard St., second floor
Tickets: $15 adults, children five and under free, advance registration required
212-619-4785
Saturday, February 3, 10
and
Sunday, February 4, 11 Walking tour through Chinatown focusing on New Year holiday traditions and customs
NAVARRA GASTRONOMIC WEEK
Various restaurants
212-860-5566
http://www.navarragastronomy.com
Through Sunday, February 4 The Kingdom of Navarra, Spain, Visits New York, featuring culinary presentations, exhibitions, product tastings, wine seminars, and other special events at the International Culinary Center, the Hispanic Society of America, the W Union Square, Bubble Lounge, Despaña Brandfoods, and Astor Wine & Spirits
AMADOU DIALLO MEMORIAL SCREENING
Riverside Church Assembly Hall and Room 9T
490 Riverside Dr. between 120th St & 122nd Sts.
Admission: free but RSVP required
212-870-6802
http://www.theriversidechurchny.org/events
Friday, February 4 DEATH OF TWO SONS: THE STORY OF AMADOU DIALLO & JESSE THYNE (Micah Schaffer, 2006), 7:00
INSPIRED BY…
Gibson Entertainment Showroom
431 West 54th St.
Tickets: $45-$85
917-375-0601
http://www.projectexplorer.org/inspiredby
Monday, February 5 Benefit concert for ProjectExplorer, which "provides an interactive global learning experience to the kindergarten through twelfth grade community" from their own computers, featuring Aaron Lazar, Angel Desai, Erin Leigh Peck, Jamison Stern, Michael Winther, and others, raising money for the nonprofit organization's upcoming South Africa Project, 7:00-10:00 pm
ANGEL ON A LEASH
W New York
541 Lexington Ave.
Donations accepted at the door
Program info: 212-213-3212
RSVP by February 2 to 404-842-0040 / amanda@leesburgpr.com
http://www.westminsterkennelclub.org
http://www.twodogsandagoat.com
Monday, February 5 A Cocktail Soiree to Benefit the Westminster Kennel Club Therapy Dog Program, with therapy dogs Hudson and Thames, pet expert Charlotte Reed, hors d'oeuvres, sample breed biscuits, specialty cocktails including the Dog-a-Tini, show catalogs, posters, a luxury-pet-item silent auction, and more, 7:00 – 9:00
THE CRITIC'S VOICE II: SUSAN SONTAG TRIBUTE
92nd St. Y
1395 Lexington Ave. at 92nd St.
Kaufmann Concert Hall
Tickets: $18 ($10 thirty-five and under)
212-415-5500
Monday, February 5 With James Fenton, Richard Howard, Leon Wieseltier, Marina Abramovic, Darryl Pinckney, and Judith Thurman, 8:00
AN EARLY MUSIC TOUR OF EUROPE:
ENGLAND, GERMANY, ITALY, AUSTRIA, AND FRANCE
Trinity Church Wall Street
Broadway at Wall Street
Tickets: $20-$40
212-602-0873
http://www.trinitywallstreet.org
Tuesday, February 6 The Trinity Choir performs Jephte by Giacomo Carissimi and Lætaniæ della Beata Vergine and Messa à Voci da Cappella by Claudio Monteverdi, with the Rebel Baroque Orchestra, 6:00
BO DIDDLEY
B.B. King Blues Club & Grill
237 West 42nd St. between Seventh & Eighth Aves.
Tickets: $35
212-997-4144
Wednesday, February 7 The Rock 'n' Roll Originator, with special guests NYC Blues Devils, 8:00
VINCE GIORDANO & THE NIGHTHAWKS
Winter Gigs
Tickets: $30
http://www.iridiumjazzclub.com
http://www.tribecapac.org/music.htm
Wednesday, February 7 Iridium Jazz Club, 1650 Broadway at 51st St., 212-582-2121, $30, 7:30 & 9:30
Thursday, February 8 Jack Kleinsinger's "Highlights in Jazz": thirty-fourth anniversary, with Vince Giordano & the Nighthaws featuring Sol Yaged and Marion Cowings, Lew Soloff, and Trio Da Paz, Tribeca Performing Arts Center, 199 Chambers St. between Greenwich & West Sts., 212-220-1460, 8:00
SYNESTHESIA…ARTISTIC TELEPHONE ACROSS THE GENRES
Harris Lieberman Gallery
89 Vandam St. between Hudson & Greenwich Sts.
Tickets: $15
Wednesday, February 7
through
Saturday, February 10 Live performance and video resulting from artistic game of telephone among eleven writers, musicians, photographers, dancers, comedians, filmmakers, and poets, 8:00
FROM ZOU ZOU TO BRIAN'S SONG:
AFRICAN AMERICANS ON FILM
St. Agnes Branch
New York Public Library
444 Amsterdam Ave. near 81st St.
Wednesdays at 2:00 pm
Admission: free
212-877-4380
Wednesday, February 7 BRIAN'S SONG (Buzz Kulik, 1971)
Wednesday, February 14 ZOU ZOU (Marc Allégret, 1934)
Wednesday, February 21 LANGSTON HUGHES: THE DREAM KEEPER (St. Clair Bourne, 1988)
Wednesday, February 28 JUKE JOINT (Spencer Williams, 1947)
WOMEN AND LEADERSHIP: OBSTACLES & OPPORTUNITIES
Barnard College
West 117th St. & Broadway
The James Room, fourth floor, Barnard Hall
Admission: free
212-854-2037
Thursday, February 8 An evening with Pennsylvania state senator Connie Williams in conversation with Barnard College president Judith Shapiro, discussing the challenges and opportunities of being a woman in a position of leadership, 7:00
ORATORIO TEREZIN
Carnegie Hall
Stern Auditorium, Perlman Stage
57th St. & Seventh Ave.
Tickets: $25-$50
212-496-9418
Thursday, February 8 U.S. premier of full-length work for symphony orchestra, children's choir, adult choir, and soloists, based on experiences inside the Terezin concentration camp during the Holocaust, 8:00
NEW YORK CITY BAND DANCE
The Hungarian House Dance Hall
213 East 82nd St. between Second and Third Aves.
Admission: $12-$15
603-496-9567
Thursday, February 8 Old-time dance party with live music from the Wahoo String Band, bar, and café, no partner or experience necessary, eighteen and over, 8:00
THE NEW YORK DESIGN FAIR
The Seventh Regiment Armory
Park Avenue at 67th St.
Admission: $20
914-437-5983 / 212-472-7382
http://www.newyorkdesignfair.com
Thursday, February 8
through
Sunday, February 11 Third annual event, featuring more than fifty exhibitors, including decorative arts, furniture, jewelry, architectural items, lighting, antiques, carpets, paintings, and more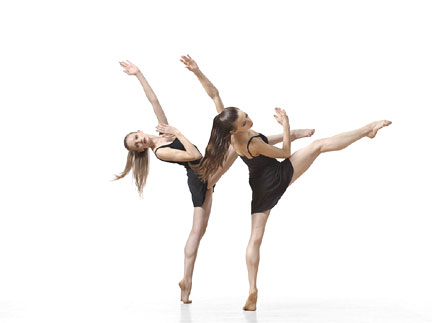 © Lois Greenfield
Jillian St. Germaine and Francoise Voranger
REBECCA RICE DANCE
Merce Cunningham Studio Theatre
55 Bethune St.
Tickets: $15-$35
978-852-3863
http://www.rebeccaricedance.com
Friday, February 9
and
Saturday, February 10 Innovative dance troupe performs BACH DANCES (2004), STRATAS (2005), ECHOES (2005), BUSY BLUES (2005-7), EN CLOSURES (2007), and INDIGO (2003), SHORTSTORIES (2006), TERRA MYSTIQUE (2005), and INSIDE (2005), with Emmanuel Feldman and Pascale Delache Feldman (Cello E Basso) and pianist Constantine Finehouse
COUTURE FASHION WEEK
Waldorf=Astoria
301 Park Ave. at 50th St.
Tickets: $100-$1,200
917-749-8421
http://www.couturefashionweek.com
Friday, February 9
through
Sunday, February 11 A Gathering of International Fashion Designers, Buyers, and the Press, featuring luxury design shows of couture, bridal, and evening wear, 6:00, 7:30, and 9:00
LUNAR NEW YEAR CELEBRATION AND FLOWER MARKET
Brooklyn Botanic Garden
1000 Washington Ave.
Free with regular admission of $5 (children under sixteen free)
212-623-7200
Saturday, February 10 Featuring flower market, Korean Traditional Drum and Dance, Huaxia Edison Dance Troupe, Qi Shu Fang Peking Opera, Fun with Paper Flowers, Lucky Citrus workshop, the Art of Chinese Brush Painting, tours of Asian plants, slide presentation and book signing of VIETNAM: A NATURAL HISTORY, and more, 10:00 am — 4:30 pm
CENTRAL PARK WINTER JAM
Naumburg Bandshell and Mall Concert Ground
Midpark from 66th to 72nd Sts.
Admission: free
212-360-1319
Saturday, February 10 Second annual snowboarders Rail Jam, live performances by Matt White and DJ Mark Ronson, free hot chocolate, a Winter Greenmarket, cross-country skiing and snowshoeing, trampoline shows by the Flying Ace All-Stars, ice-sculpting demonstrations, and more, 12 noon — 4:00
LILY ALLEN
Webster Hall
125 East Eleventh St. between Third & Fourth Aves.
Tickets: $30
Saturday, February 10 MTV Discover & Download Tour, doors open at 6:30
AN EVENING WITH UNCLE FLOYD
Dix Hills Center for the Performing Arts
Five Towns College
305 North Service Rd.
Tickets: $10
631-656-2148
Saturday, February 10 New Jersey's King of Vaudeville, 7:30
ECOADVENTURES: SOARING RAPTORS
NYC Audubon
Tickets: $45
212-691-7483
Sunday, February 11 Hudson River EagleFest at Croton Point, including coach tour to see the American bald eagle over the Hudson River, with guide Joe Giunta, 10:00 am — 6:00 pm
TONY TRISCHKA'S DOUBLE BANJO
BLUEGRASS SPECTACULAR
Makor Café, Steinhardt Building
35 West 67th St. between Amsterdam & Columbus Aves.
Tickets: $15-$18
212-601-1000
Sunday, February 11 Tony Trischka tours in support of his latest album, with Noam Pikelny, Michael Daves, Skip Ward, and Brittany Haas, 8:00
THE 131st WESTMINSTER KENNEL CLUB DOG SHOW
Madison Square Garden
Seventh Avenue to Eighth Avenue between 31st & 33rd Sts.
February 12-13
Tickets: $30-$145
http://www.westminsterkennelclub.org
This annual event in which people run around in funny ways as they lead crazily groomed dogs takes over the Garden for a few days, featuring 165 breeds and varieties of pups. Below are some of the highlights of the judging schedule in case you want to check out a specific breed.
Monday, February 12 Bernese Mountain Dogs, 8:30 am
Monday, February 12 Chinese Shar-Peis, 8:30 am
Monday, February 12 Japanese Chins, 10:00 am
Monday, February 12 Dalmatians, 10:45 am
Monday, February 12 Komondoroks, 11:00 am
Monday, February 12 Portuguese Water Dogs, 12:30 pm
Monday, February 12 Yorkshire Terriers, 12:45 pm
Monday, February 12 Schipperkes, 1:45 pm
Monday, February 12 Tibetan Spaniels, 2:45 pm
Tuesday, February 13 Greyhounds, 8:30 am
Tuesday, February 13 Basset Hounds, 9:30 am
Tuesday, February 13 Borzois, 10:30 am
Tuesday, February 13 Old English Sheepdogs, 11:00 am
Tuesday, February 13 Welsh Corgis, 11:45 am
Tuesday, February 13 Bouviers des Flandres, 12:15 pm
Tuesday, February 13 Pulik, 1:00 pm
Tuesday, February 13 Rhodesian Ridgebacks, 1:30 pm
Tuesday, February 13 Spinone Italianos, 2:30 pm
MID-NINETEENTH CENTURY LOVE
GONE SPECTACULARLY AWRY
Merchant's House Museum
29 East Fourth Street between Lafayette St. and Bowery
Tickets: $25
212-777-1089
Tuesday, February 13 THE HEIRESS (William Wyler, 1949), introduced by Anthony Bellov, presented by Miss Gertrude Tredwell & the Lafayette Place Lonely Hearts Club, reception with wine and hors d'oeuvres at 6:00, screening at 6:30
UNDOING JEWS:
THE JEW OF MALTA AND THE MERCHANT OF VENICE
CUNY Graduate Center
365 Fifth Ave. at 34th St.
Admission: free
212-817-8215
Tuesday, February 13 Panel discussion with F. Murray Abraham, Tony Kushner (unconfirmed), and James Shapiro, moderated by Richard McCoy, 6:30
THE MORRISON MOTEL
Cornelia Street Cafe
29 Cornelia St. between Bleecker & West Fourth St.
Admission: $10
http://www.corneliastreetcafe.com
http://www.myspace.com/morrisongod
Tuesday, February 13 Political humor and more, featuring Emily Epstein and Elon James White, hosted monthly by John Morrison, 8:30
ROCKY'S READINGS
Rocky Sullivan's Pub
129 Lexington Ave. between 28th & 29th Sts.
Admission: free
212-725-3871
Wednesday, February 14 Evan Mandery, DREAMING OF GWEN STEFANI, 8:00
VALENTINE'S DAY MASSACRE
The Knitting Factory
74 Leonard St.
Tickets: $20
212-219-3132
http://www.knittingfactory.com
Wednesday, February 14 Diamanda Galás shreds thirteen favorite love songs made famous by Ralph Stanley, Marlene Dietrich, Edith Piaf, Shirley Horn, Peggy Lee, Chet Baker, Ronnie Earl, and others, 7:30 & 10:30
VALOWEEN PARTY
Obivia
201 Lafayette St.
Admission: free, including open champagne bar 8:00-9:00
Wednesday, February 14 Sexy + scary costume party (costumes encouraged but not required), sponsored by LetsMeetOut.com, hosted by Julia Allison, who will offer dating advice and strategies, 8:00-12 midnight
CHINESE NEW YEAR SPECTACULAR
New Tang Dynasty Television
Radio City Music Hall
Tickets: $42.50-$184.50
888-260-6221
Wednesday, February 14
through
Saturday, February 17 New Year celebration featuring Eastern and Western music, dance, and other special acts
NOW THAT YOU'VE SEEN ME NAKED
Sage Theater
711 Seventh Ave. between 47th & 48th Sts.
Wednesdays, Fridays, and Saturdays at 8:00
Tickets: $50
212-302-6665
http://www.nowthatyouveseenmenaked.com
Wednesday, February 14
through
Saturday, April 7 Musical sketch comedy celebrating the more ridiculous aspects of dating and relationships