Twi-ny, This Week In New York
Visitors can go for a crazy spin in Shu Lea Cheang's interactive exhibit
BABYLOVE: DRIVE ME DRIVE ME CRAZY
Chelsea Art Museum, first floor
556 West 22nd St. at Eleventh Ave.
Through January 13
Closed Sunday & Monday
Admission: $6
212-255-0719
http://chelseaartmuseum.org/exhibits/2006/babylove

Korean-born Taiwanese multimedia Internet installation artist Shu Lea Cheang takes us back to our childhood with "Baby Love," the second part of her Locker Baby Project, following 2001's "Baby Play." On the first floor of the Chelsea Art Museum, you get a ticket that gives you five minutes inside a brightly colored spinning teacup similar to the ones found at amusement parks. You get to steer around the room's pillars and walls with a very special passenger: a clone baby that plays snippets of music as you speed past the other five teacups, bump into things, and pass sensors, all of which instantly change the soundtrack — which consists of random songs and sounds that can be uploaded by anyone at http://babylove.biz. You can also stop by an informational drive-in movie that shows how the vehicles and babies are made. The "wifi mobile installation" mixes memory and emotion for both visitors and babies, who learn as they experience life, much as we did when we were young. Although you can't drive there, make sure to go downstairs to see short video works from other representatives of the "New Wave of Taiwan Digital Art," including pieces by Yu-Ching Tseng and Ya-Hui Wang.
Also at the Chelsea Art Museum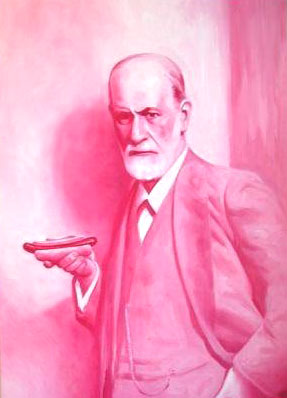 Andre Von Morisse, "Pink Freud," oil on canvas, 2006
THE FOOD SHOW: THE HUNGRY EYE
Chelsea Art Museum, third floor
Through February 24
http://www.chelseaartmuseum.org/exhibits/2006/foodshow

"The Food Show" is a tasty exhibit that collects contemporary installations, drawings, and performances that show food as part of consumer culture, as political statement, as international symbol, as racist imagery, as weapon, and as hedonistic delight. What, why, and how we eat is depicted by dozens of artists who don't necessarily believe that a hot dog is just a hot dog. In Emily Eveleth's "Conjecture," jelly donuts ooze sexuality. Jonathan Seliger's "Slice" turns three different-sized pizza boxes into a three-dimensional star. Sharon Core offers a militaristic lineup of "Salads, Sandwiches and Desserts." Adam Stennett films a couple enjoying dinner with lots of white mice in "Everything Tastes Better When You Are Blind." Donald Baechler paints a giant ice-cream cone in "29 Burton Street (Version)." Anthony Goicolea plays all the roles in his composite photograph "Feastlings," featuring a boys school food fight. In the superb, inventive "Genealogy of the Supermarket," Nina Katchadourian traces the family history of such food-related icons as the Gerber Baby, Aunt Jemima, Chef Boyardee, the Jolly Green Giant, Wolfgang Puck, the Sunmaid Raisins girl, and even Mr. Clean. There are also works by Andy Warhol, Philip Guston, Wayne Thiebaud, Laurie Simmons, and Roy Lichtenstein, among others.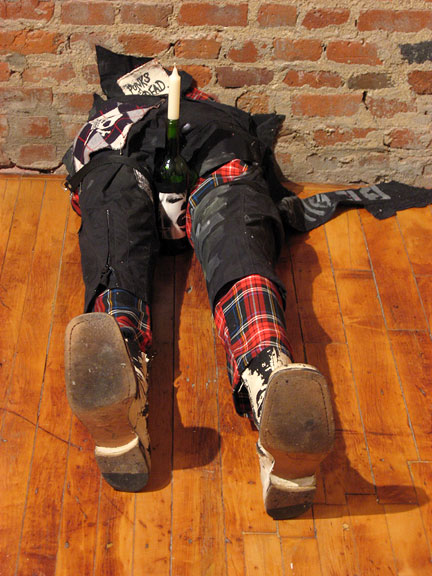 twi-ny/mdr
Michael Bevilacqua, "The Poison Apple Café," detail
DRAWING UNDER THE INFLUENCE:
FABLES OF THE RECONSTRUCTION
Chelsea Art Museum, second floor
Through February 24
http://chelseaartmuseum.org/exhibits/2006/bevilacqua

Most painters use sketches and drawings as preparation for their final works; in "Drawing Under the Influence," Michael Bevilacqua uses scraps, random images, and leftover effluvia from his paintings (and his memory) to create very personal drawings, combining his iconography in unusual ways. His surreal collages contain bottles of wine, punk rockers, cartoon characters, planes, cans of spray paint, fruit, raindrops, and lots of skulls. Among his pop-culture references are Matthew Barney's CREMASTER, Radiohead's PABLO HONEY, the Ramones, the Cramps, Emily Strange, Dr. Seuss, Jack Skellington from THE NIGHTMARE BEFORE CHRISTMAS, SOUTH PARK (don't miss how he combines Kenny with Starvin' Marvin in "Ol Bottled Up"), and Sisters of Mercy; the exhibition's subtitle, "Fables of the Reconstruction," is taken from the 1986 album by REM. At the end of the exhibit is the Poison Apple Café, a room with a bizarre wine case, punk sculptures, and a three-dimensional large-size painting; it'll feel like you've just entered one of Bevilacqua's dreams — or nightmares.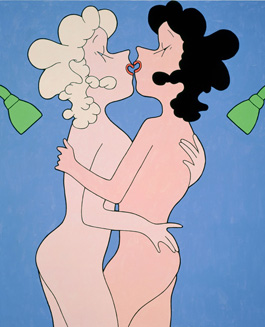 Frdericks & Freiser
John Wesley, "First Kiss: Blondie Bumstead and
Inez Sanchez," acrylic on canvas, 1991
ALSO IN CHELSEA
Various venues
Closed Sunday & Monday
Admission: free
While it does cost (a mere) six bucks to visit the Chelsea Art Museum, the rest of the dozens and dozens of Chelsea galleries are all free. There's some great stuff right on West 22nd St., by the museum, through January 27 (and beyond where noted). Robert Irwin's "Who's Afraid of Red, Yellow & Blue," consisting of huge honeycomb aluminum sheets in those three colors, will line the galleries of PaceWildenstein (545 West 22nd St., (http://www.pacewildenstein.com). Saint Clair Cemin's dazzling large-scale polyester resin "Supercuia" sculptures will be part of a group exhibition with James Hyde and Jac Leirner at Sikkmema Jenkins & Co. (530 West 22nd St., http://www.sikkemajenkinsco.com). At 303 Gallery (525 West 22nd St., http://www.303gallery.com), "Brave New Year" features works by Doug Aitken, Thomas Demand, Rodney Graham, and others. Andrew Moore's international landscape photographs will be at Yancey Richardson (535 West 22nd St., http://www.yanceyrichardson.com). "The Bong Show, or This Is Not a Pipe" features such artists as Maria Elena Gonzalez, Liz Larner, Beverly Semmes, Ursula von Rydingsvard, Kara Walker, and Betty Woodman at Leslie Tonkonow Artworks & Projects (535 West 22nd St., http://www.tonkonow.com) through January 20. New Yorker cartoonist Roz Chast's "Theories of Everything" will be on view at the Julie Saul Gallery (525 West 22nd St., http://www.saulgallery.com) through February 10, along with Brian Ulrich's "Copia." And John Wesley takes a different approach to "The Bumpsteads" at Fredericks & Freiser (504 West 22nd St., www.fredericksfreisergallery.com), also through February 10.

In the Neighborhood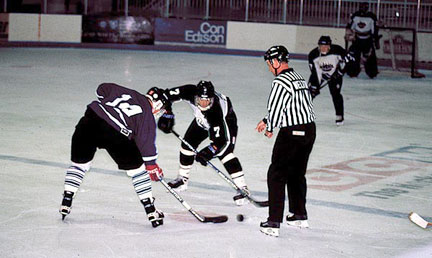 Hockey is only one of the activities available on Chelsea Piers ice
SKY RINK AT CHELSEA PIERS
Admission: $11.50 adults, $9 children
Skate rental: $6.50
Helmet rental: $3.50
212-336-6100
In case it starts getting too cold to skate at such outdoor spots as Bryant Park, Central Park, and Rockefeller Center, Chelsea Piers has indoor skating, including winter classes that begin this week. There's also youth and adult hockey, figure skating, and more.
Brooklyn Exhibit of the Week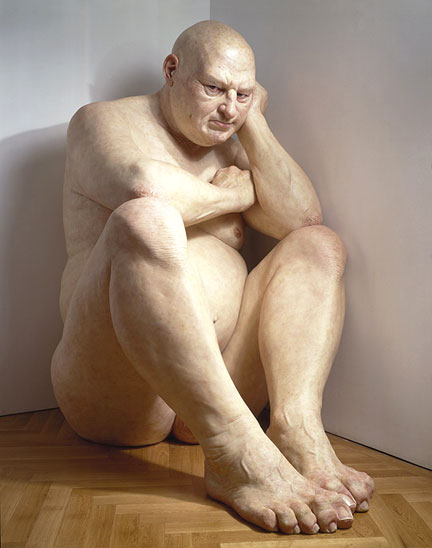 Hirshhorn Museum and Sculpture Garden
Ron Mueck, "Big Man," 2000
RON MUECK
Brooklyn Museum of Art
Morris A. and Meyer Schapiro Wing, Cantor Gallery, fifth floor
200 Eastern Parkway
Through February 4
Closed Monday & Tuesday
Suggested donation: $8
718-638-5000
http://www.brooklynmuseum.org/exhibitions/ron_mueck

Australian-born artist Ron Mueck creates remarkably realistic sculptures despite their being much larger or smaller than life. Using a complex process involving polyester resin and silicone and employing meticulous detail — every hair, for example, is attached individually — Mueck, who worked for Jim Henson's Creature Shop, brings to life people both big and small, and they will amaze, confound, entertain, and disturb you. Downstairs, in its own room, lies "A Girl," a giant cringing baby, sixteen feet long, umbilical cord still attached. On the fifth floor reside eleven more of Mueck's unusual works, forming a bizarre rogues' gallery in and around the space usually occupied by Rodin's sculptures (which can currently be seen on the first floor by the entrance). In "Spooning Couple," a miniature man and woman cuddle together uneasily. In "Wild Man," an enormous, hairy, naked man is about to leap off his chair right at you. "Baby" is a fascinating counterpoint to "A Girl," as a tiny ten-inch baby is hanging on the wall, as if it is being crucified. On first look, you might think "Crouching Boy in Mirror" is actually a real boy crouching down by a mirror. Under the covers in "In Bed" is the most pregnant woman you've ever seen. And huddled in a corner, clearly not happy about being stared at, is "Big Man," a giant bald man resting his left arm on his knee and head, his right arm about to clock someone if they get too close. The exhibit also features a worthwhile video showing Mueck at work building his unusual creations, which sometimes take the better part of a year.

Also at the Brooklyn Museum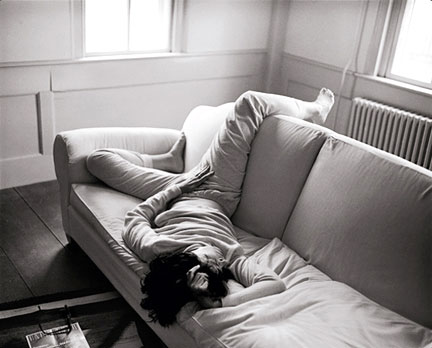 © Annie Leibovitz
Annie Leibovitz, "Susan at the House on Hedges Lane," 1988
ANNIE LIEBOVITZ: A PHOTOGRAPHER'S LIFE, 1990-2005
Brooklyn Museum of Art
Morris A. and Meyer Schapiro Wing, fifth floor
Through January 21
http://www.brooklynmuseum.org/exhibitions/annie_leibovitz

In conjunction with the publication of A PHOTOGRAPHER'S LIFE, 1990-2005, the Brooklyn Museum has mounted an impressive collection of more than two hundred photographs from Annie Liebovitz's work and personal life over the last fifteen years. Getting her start at Rolling Stone in the early 1970s and later at Vogue and Vanity Fair, Liebovitz turned her lens on celebrity culture, taking pictures of such superstars as Brad Pitt, Cindy Crawford, Jamie Foxx, Nicole Kidman, Bruce Springsteen, a naked and pregnant Demi Moore, Mikhail Baryshnikov, and Mick Jagger as well as such artists and writers as Brice Marden, Tony Kushner, Matthew Barney, Tony Oursler, Karen Finley, Chuck Close, Julian Schnabel, William S. Burroughs, and Eudora Welty. But they are more than just portraits of famous people; Liebovitz creates a unique, carefully orchestrated tableau for each subject. She has also photographed such political leaders as Colin Powell, Bill Clinton, John Ashcroft, and President George W. Bush and his cabinet in 2001. These highly stylized, flashy, often glamorous images are interwoven with shots of Liebovitz and her family, gelatin silver prints of the birth of her daughter Sarah in 2001 (when Liebovitz was fifty-two); of her parents at their cottage; of her twins, Susan and Samuelle, born in 2005 to a surrogate mother; and of various other family members and vacations. But the centerpiece of the exhibit are the dozens of photographs of her longtime friend and lover, Susan Sontag, documenting the influential writer's losing battle with cancer; these pictures are both exuberant and dark, filled with joy and sadness. Known primarily for her portraits, Liebovitz has also tried her hand at landscape photography; the last gallery contains eight large-size black-and-white works.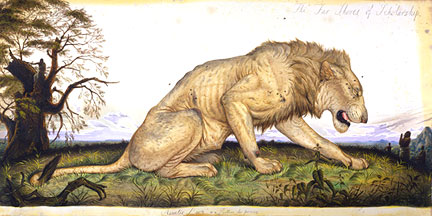 Paul Kasmin Gallery
Walton Ford, "Prodigy," 2004, watercolor, gouache, pencil, and ink on paper
TIGERS OF WRATH: WATERCOLORS BY WALTON FORD
Brooklyn Museum of Art
Morris A. and Meyer Schapiro Wing, fourth floor
Through January 28
http://www.brooklynmuseum.org/exhibitions/tigers_of_wrath

American artist Walton Ford paints large-scale scenes of the natural world that are more than they first appear. Influenced by John James Audubon, Sir John Tenniel, Edward Lear, George Catlin, taxidermist Carl Akeley, and the American Museum of Natural History, among others, Ford depicts the animal kingdom in academic-like watercolors, but behind each work is a much deeper story, so you should read the text that accompanies each piece — as well as the words on the canvases themselves, which often name each animal. Tigers, alligators, monkeys, panthers, elephants, snakes, and lots of birds march through the jungle, eat heartily, fight, slither, hunt, and gather as Ford layers in aspects of colonialism, exploration, and extinction. In "Boca Grande," a group of birds are gorging themselves on frogs. A peacock's tail is on fire in "Eothen." A panther creeps across the snow as villagers start coming after him with torches in "Der Panterausbruch." A monkey picks fruit on a marble tomb in a graveyard, outliving humanity in "His Chaplain," which comments on the explorer Sir Richard Burton. Burton is also parodied in "The Sensorium," in which monkeys are eating and grooming at an outdoor table, with one representing the knighted adventurer at the head of the table, taking notes. An ostrich is cruelly tied up by an unseen visitor in "Madagascar." And a very well endowed elephant is surrounded by birds in "Nila."

FIRST SATURDAYS
Brooklyn Museum of Art
200 Eastern Parkway
Admission: free after 5:00 pm
718-638-5000
http://www.brooklynmuseum.org/visit/first_saturdays
Saturday, January 6 Film: THE MUPPETS TAKE MANHATTAN (Frank Oz, 1984), Iris and B. Gerald Cantor Auditorium, third floor 5:00
Saturday, January 6 Performance: Stephane Wremble, Gypsy jazz, Hall of the Americas, 6:00
Saturday, January 6 Gallery Talk: "Tigers of Wrath: Watercolors by Walton Ford," first floor (free tickets available at the Visitor Center in the lobby at 6:00), 7:00
Saturday, January 6 Hands-On Art: celebrate the Lunar New Year by making paper lanterns (free timed tickets available at the Visitor Center in the lobby beginning at 5:30), workshop from 6:30 to 8:30
Saturday, January 6 Film: MOULIN ROUGE (Baz Luhrmann, 2001), Iris and B. Gerald Cantor Auditorium, third floor, 6:45
Saturday, January 6 Curator Talk: Terry Carbone, New York images from the permanent collection (free tickets available at the Visitor Center in the lobby at 7:00), 8:00
Saturday, January 6 Film: THE NAKED CITY (Jules Dassin, 1948), Iris and B. Gerald Cantor Auditorium, third floor, 9:00
Saturday, January 6 Dance Party: Winter Ball with the Vienna Festival Orchestra, featuring waltzes and polkas, 9:00 — 11:00
Queens Film Festival of the Week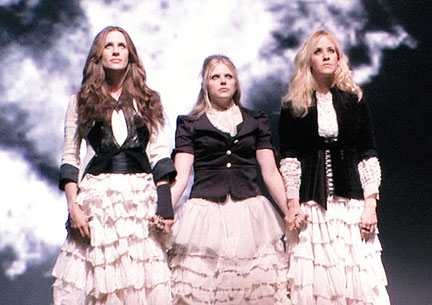 The Dixie Chicks speak their mind in Queens
CRITICS CHOICE: GREAT DOCUMENTARIES
Museum of the Moving Image
35th Ave. at 36th St., Astoria
Free with museum admission of $10 unless otherwise noted
718-784-4520
http://www.ammi.org/site/screenings

This eighth annual event, held in conjunction with the New York Film Critics Circle, pairs city film reviewers with outstanding documentaries; in addition to each film being introduced by critics from such publications as the Village Voice, Time Out New York, the Christian Science Monitor, Newsday, Esquire, the Nation, and People, several screenings will be followed by discussions with the filmmakers. We can't recommend the January 20 screening of SALESMAN enough; the fab doc is introduced by the New York Press's Matt Zoller Seitz and is followed by a talk with the great Albert Maysles. Among the other great documentaries in this series are Frederick Wiseman's HOSPITAL, Terry Zwigoff's CRUMB, Martin Scorsese's THE LAST WALTZ, Dziga Vertov's THE MAN WITH A MOVIE CAMERA, Bert Stern's JAZZ ON A SUMMER'S DAY, and Errol Morris's THIN BLUE LINE.
Saturday, January 6 IN THE YEAR OF THE PIG (Emile de Antonio, 1968-69), introduced by David Fear, 2:00
Saturday, January 6 WINTER SOLDIER (1972), introduced by Michael Atkinson, 4:30
Sunday, January 7 HOSPITAL (Frederick Wiseman, 1970), introduced by Peter Rainer, 2:00
Sunday, January 7 CRUMB (Terry Zwigoff, 1994), introduced by John Anderson, 4:00
Saturday, January 13 THE THIN BLUE LINE (Errol Morris, 1988), introduced by Mike D'Angelo, 2:00
Saturday, January 13 PARADISE LOST (Joe Berlinger and Bruce Sinofsky, 1996), introduced by Stephen Whitty and followed by a discussion with Joe Berlinger and Bruce Sinofsky, 4:30
Sunday, January 14 THE MAN WITH A MOVIE CAMERA (Dziga Vertov, 1929), introduced by J. Hoberman, with a new score performed live by Donald Sosin and John Davis, 5:00
Saturday, January 20 SALESMAN (Albert Maysles, David Maysles, and Charlotte Zwerin, 1968), introduced by Matt Zoller Seitz and followed by a discussion with Albert Maysles, 3:00

SALESMAN
(Albert Maysles, David Maysles, and Charlotte Zwerin, 1969)
Also available on DVD

This is a rare opportunity to see the Maysles brothers' (GIMME SHELTER) real-life story of traveling door-to-door Bible salesmen on the big screen. This outstanding documentary was deservedly added to the National Film Registry of the Library of Congress in 1992, as it is a fascinating piece of Americana. The shots of Paul Brennan singing "If I Were a Rich Man" in the snow are priceless, but the end will haunt you. Without SALESMAN, there never would have been a GLENGARRY GLEN ROSS (James Foley, 1992).
Sunday, January 21 DELIVERED VACANT (Nora Jacobson, 1992), introduced by Stuart Klawans, 3:00
Sunday, January 28 BRIGHT LEAVES (Ross McElwee, 2003), introduced by Lisa Schwarzbaum, 2:00
Sunday, January 28 GRIZZLY MAN (Werner Herzog, 2005), introduced by Kyle Smith, 4:30
GRIZZLY MAN (Werner Herzog, 2005)
http://www.grizzlymanmovie.com
http://dsc.discovery.com/convergence/grizzlyman/grizzlyman.html

For thirteen straight summers, Timothy Treadwell ventured into the wilds of Katmai National Park in Alaska, where he lived among grizzly bears. For the last five of those years, he brought along a video camera and detailed his life with them and his battle to protect the bears (all of which he named) from poachers. "I have no idea if there's a God, but if there's a God, God would be very, very pleased with me," Treadwell says into his camera in Werner Herzog's brilliant documentary GRIZZLY MAN, "because he can just watch me, how much I love them, how much I adore them, how respectful I am of them, how I am one of them…. Be warned: I will die for these animals, I will die for these animals, I will die for these animals. Thank you so much for letting me do this. Thank you so much to these animals for giving me a life. I had no life. Now I have a life." In October 2003, Treadwell and his girlfriend, Amie Huguenard, were brutally killed and eaten by one of the bears. Herzog, who knows a little something about filming in treacherous locations (FITZCARRALDO, LITTLE DIETER NEEDS TO FLY, AGUIRRE, THE WRATH OF GOD), made GRIZZLY MAN from more than one hundred hours of tape, supplementing that with interviews with Treadwell's friends and family. They all talk about a much-loved but troubled man who was desperate to be famous. His life with the bears got him onto television with Rosie O'Donnell and David Letterman, but it also got him killed, which some people think was what he deserved for crossing the line and thinking he could survive living with grizzlies. But Herzog shows him to be a thoughtful, compassionate man who just might have found his true purpose in life.
Saturday, February 3 JAZZ ON A SUMMER'S DAY (Bert Stern, 1959), introduced by Gene Seymour, 2:00
Saturday, February 3 THE LAST WALTZ (Martin Scorsese, 1978), introduced by Thelma Adams, 4:00
Sunday, February 4 THE LAST WALTZ (Martin Scorsese, 1978), 6:30 p.m.
Saturday, February 3 X: THE UNHEARD MUSIC (W. T. Morgan, 1986), introduced by Armond White and followed by a discussion with W. T. Morgan, 6:30
Sunday, February 4 ORIGINAL CAST ALBUM: COMPANY (D A Pennebaker, 1970), Jan Stuart, followed by a discussion with D A Pennebaker, 2:00
Sunday, February 4 EAST SIDE STORY (Dana Ranga, 1997), introduced by Leah Rozen, 4:30
Friday, February 9 GENERAL IDI AMIN DADA (Barbet Schroeder, 1974), 7:30
Saturday, February 10 GENERAL IDI AMIN DADA (Barbet Schroeder, 1974), introduced by Andrew Sarris, 2:00
Saturday, February 10 AMERICAN DREAM (Cathy Caplan, Thomas Haneke, Barbara Kopple, and Lawrence Silk, 1991), introduced by Marshall Fine and followed by a discussion with Barbara Kopple, 4:30
Saturday, February 10 SHUT UP AND SING (Barbara Kopple & Cecilia Peck, 2006), introduced by Barbara Kopple, 7:00
Sunday, February 11 THE CENTURY OF THE SELF (Adam Curtis, 2002), introduced by Owen Gleiberman, 1:00
Sunday, February 11 OUR BRAND IS CRISIS (Rachel Boynton, 2005), introduced by David Edelstein and followed by a discussion with Rachel Boynton, 6:00
Saturday, February 17 THE POWER OF NIGHTMARES: THE RISE OF THE POLITICS OF FEAR (Adam Curtis, 2004), introduced by Dennis Lim, 2:00
Sunday, February 18 Special preview screening: LAKE OF FIRE (Tony Kaye, 2006), introduced by Joshua Rothkopf, 5:00
Saturday, February 24 MONDO CANE (Gualtiero Jacopetti, 1963), introduced by Lou Lumenick, 2:00
Sunday, February 25 MONDO CANE (Gualtiero Jacopetti, 1963), 2:00
Also at the Museum of the Moving Image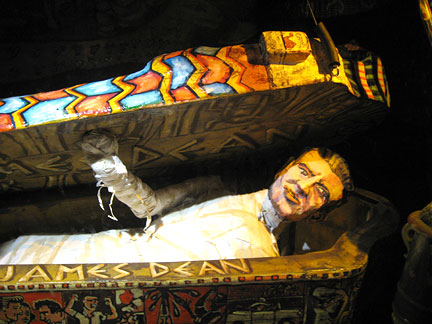 twi-ny/mdr
James Dean pops up from Egyptian tomb in Grooms theaters
BEHIND THE SCREEN
Museum of the Moving Image

The Museum of the Moving Image's main exhibition is a thrilling collection of more than a thousand artifacts that take you behind the scenes of moviemaking, from equipment and machinery to editing and projection, from makeup and special effects to head shots and movie premieres, from sound editing to classic theaters. See a menagerie of head sculptures that helped morph into Jeff Bridges in STARMAN. Create your own chroma key images. Play "Combat," "Breakout," and "Asteroids." Listen to Bertrand Tavernier discuss the first films shown to a paying audience as you watch works by the Lumiere brothers, as well as Edwin S. Porter's THE GREAT TRAIN ROBBERY. Experiment between letterboxing and panning and scanning. Follow a crew as it edits a live football game. Get a huge kick out of all the old television sets, movie cameras, cathode ray tubes, microphones, and projectors. Bump into models of Yoda from THE EMPIRE STRIKES BACK, Linda Blair from THE EXORCIST, the razor glove from A NIGHTMARE ON ELM STREET, and the Tyrell Skyscraper from BLADE RUNNER.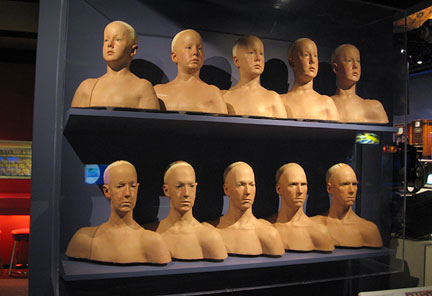 twi-ny/mdr
Jeff Bridges turns into Starman at AMMI

There are display cases dedicated to hair (including Robert de Niro's India "Roach" from TAXI DRIVER), LITTLE BIG MAN (including several of Dustin Hoffman's masks), lifemasks (including those of Dorothy McGuire, Christopher Walken, and Anthony Quinn), costumes (including Robin Williams's Mork outfit and Eddie Murphy as Gumby), and artifacts from ALTERED STATES, THE ELEPHANT MAN, and 2001: A SPACE ODYSSEY. Orson Welles tries to get his nose right in a correspondence between him and Maurice Seiderman about COMPULSION, which includes original sketches and telegrams from the Boy Genius. Nearly a gross of publicity shots line the walls; try to identify as many as you can before reading the tags. And then there's the coup de grace, the actual dental plumper used by Marlon Brando in THE GODFATHER to get those jowls. Take a seat in Jim Isermann's funky "TV Lounge." Make sure to pull the chain on the sarcophagus for a fun surprise in Red Grooms and Lysiane Luong's walk-in "Tut's Fever Movie Palace," where serials play daily at 1:00 and 3:00. See the history of film palaces in "Loews, a History: The Evolution of Movie Theaters." And don't miss one of our favorite installations ever, Gregory Barsamian's "Feral Fount," a spinning strobe-light presentation that will blow your mind.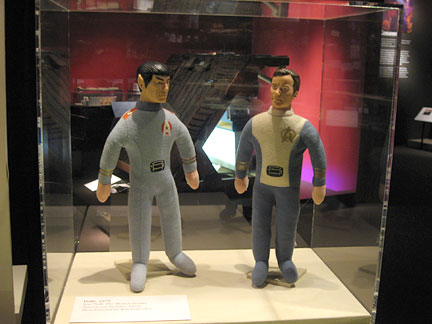 twi-ny/mdr
Kirk and Spock are celebrated in Queens

In October, the museum added "STAR TREK: 40 Years of Fandom," running through April 15. On display are more than six hundred items relating to all four of the television series (STAR TREK, THE NEXT GENERATION, DEEP SPACE NINE, and VOYAGER) as well as the feature films; in glass cases you'll find lots of dolls, trading cards ("Deflector Shield" gets its own!), action figures, books and magazines, masks, lunchboxes, board games, stickers, watches, belt buckles, starship models, jewelry, toy phasers and tricorders, and so much more. Be on the lookout for 1975 Freezicles, a 1980 View-Master with 3-D glasses, 1992 Photon candies, a 1975 Colorforms set, and a 1970 Enterprise patch. And settle in for some crazy fan films, including the twentieth anniversary edition of STAR DREK, the trailer for BROKEBACK TREK (in which Kirk and Spock can't quite quit each other), and an inventive video set to Queen's "Bohemian Rhapsody."
SCREENINGS + EVENTS
Museum of the Moving Image
35th Ave. at 36th St., Astoria
Tickets: $10
718-784-4520
http://movingimage.us/site/screenings
Friday, January 5 Independent World Cinema Showcase: THE HOUSE OF SAND (Andrucha Waddington, 2005), 7:30
THE HOUSE OF SAND
(CASA DE AREIA) (Andrucha Waddington, 2005)
http://www.sonyclassics.com/houseofsand

A sort of macro version of WOMAN IN THE DUNES (Hiroshi Teshigahara, 1964), THE HOUSE OF SAND is the extraordinary tale of a family trapped in the treacherous sand labyrinths of Maranhão in northern Brazil. The movie begins in 1910, as a pregnant Áurea (Fernanda Torres) arrives in the desolate area with her mother, Dona Maria (Fernanda Montenegro), having been dragged there by Áurea's mad husband, Vasco de Sá (Ruy Guerra). Shortly after being abandoned by his workers, Vasco collapses, leaving the frightened women all alone, with no money and no provisions. For help they turn to the stoic Massu (Brazilian singer Seu Jorge), who is unhappy that they have infringed on their community. As time marches on, Dona Maria, Áurea, and Maria (Áurea's daughter) find themselves in a Sisyphean nightmare as the world passes them by. Montenegro and Torres, who are mother and daughter in real life, act up a (sand)storm in multiple matriarchal roles, but the sudden switching of times and actors gets confusing, and it is hard to believe that there really is no way out decade after decade. Still, if you take the film more as a parable of human existence, it is a compelling story about the search for home.
Saturday, January 6
and
Sunday, January 7 Repertory Nights: THE FALLEN IDOL (Carol Reed, 1948), 6:30
Friday, January 12 Animation + Graphics: The Best of Stash, followed by reception, 8:00
Saturday, January 13 Fist and Sword: SEVEN SWORDS (Tsui Hark, 2005), 6:30
Sunday, January 14 Fist and Sword: SEVEN SWORDS (Tsui Hark, 2005), 2:00
SEVEN SWORDS (QI JIAN) (Tsui Hark, 2005)
http://www.sevenswordsthefilm.com

It's the early seventeenth century, and the Ching dynasty has outlawed all forms of martial arts. Fire-Wind (Sun Hong-Lei) is charged with enforcing the law, but he's interested only in the per-head bounty, so he and his troops kill indiscriminately. Their ultimate test will be tiny Martial Village, where former executioner Fu (Lau Kar-Leung) is trying to do penance by convincing the town leaders to go to Mount Heaven and enlist a team of mythical master swordsmen from the Heaven and Earth Society led by the hermit Master Shadow-glow. As the battle between good and evil awaits, it is discovered that there is a spy among the heroes, setting in motion a series of red herrings and betrayals. SEVEN SWORDS is beautiful to look at, but Hong Kong master Tsui Hark's adaptation of Liang Yu Sheng's novel is essentially a big, boring epic. The romantic subplot — involving Wu Yuanyin (Charlie Young), who has a thing for Yang Yunchong (Leon Lai); Liu Yufang (Zhang Jingchu), who has a surprise in store for Lu Yi (Han Zhiban); and Green Pearl (Kim So Yuen), who belongs to Fire-Wind but is growing ever-so-close to Chu (Donnie Yen) — gets tired and confusing fast. SEVEN SWORDS was nominated for seven Golden Horse Awards, taking home Best Action Choreography.
Friday, January 19 Independent World Cinema Showcase: CRONOS (Guillermo del Toro, 1993), 7:30
Saturday, January 20
and
Sunday, January 21 Repertory Nights: THE LEOPARD (Luchino Visconti, 1963), 6:00
Downtown Film Festival of the Week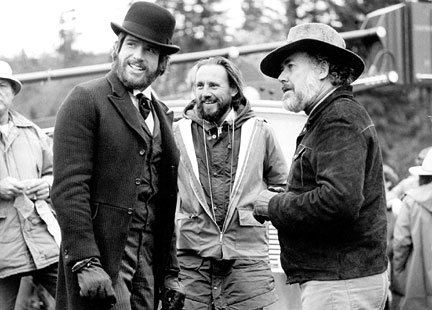 Photofest
Robert Altman and Warren Beatty on the set of McCABE & MRS. MILLER
AN ARTIST AND A GAMBLER:
ROBERT ALTMAN, REMEMBERED
IFC Center
323 Sixth Ave. at Third St.
January 5-23
Tickets: $10.75
212-924-7771

The IFC Center pays tribute to iconoclastic auteur Robert Altman, who died in November at the age of eighty-one, with this twenty-seven-film retrospective in addition to the complete TANNER television series. Altman was a master of the multiple-character, multiple-story-line film, using creative casting and a unique visual style resulting in many fabulous movies — as well as some dreadful ones. The IFC Center will be screening his best and his worst, in addition to numerous seldom-shown, little-seen works.
Friday, January 5
and
Saturday, January 6 M*A*S*H (Robert Altman, 1970)
M*A*S*H (Robert Altman, 1970)

Don't let the melodramatic M*A*S*H TV series stop you from seeing the awesome original, a riotous antiwar film that holds up remarkably well. As usual, Altman brings together a diverse cast — Elliott Gould, Donald Sutherland, Tom Skeritt, Sally Kellerman, Jo Ann Pflug, Gary Burghoff, Michael Murphy, Fred Williamson, Rene Auberjonois, and Robert Duvall as Frank Burns — and skewers the military during the Korean conflict. M*A*S*H is pure, unadulterated fun every step of the way.
Sunday, January 7 SHORT CUTS (Robert Altman, 1993)
Monday, January 8 KANSAS CITY (Robert Altman, 1996) and JAZZ '34 (Robert Altman, 1996)
Tuesday, January 9 THIEVES LIKE US (Robert Altman, 1974) and THE DELINQUENTS (Robert Altman, 1957)
Wednesday, January 10 VINCENT AND THEO (Robert Altman, 1990) and CALIFORNIA SPLIT (Robert Altman, 1974)
Thursday, January 11 A PRAIRIE HOME COMPANION (Robert Altman, 2006)
A PRAIRIE HOME COMPANION (Robert Altman, 2006)
http://www.aprairiehomecompanionmovie.com

Friday, January 12 IMAGES (Robert Altman, 1972) and THAT COLD DAY IN THE PARK (Robert Altman, 1969)
Saturday, January 13 THE PLAYER (Robert Altman, 1992) and GOSFORD PARK (Robert Altman, 2001)
Sunday, January 14
and
Monday, January 15 NASHVILLE (Robert Altman, 1975)
Tuesday, January 16 PRÊT-À-PORTER (Robert Altman, 1994) and COOKIE'S FORTUNE (Robert Altman, 1999)
Wednesday, January 17 FOOL FOR LOVE (Robert Altman, 1985) and A PERFECT COUPLE (Robert Altman, 1979)
Thursday, January 18 BREWSTER McCLOUD (Robert Altman, 1970) and COUNTDOWN (Robert Altman, 1968)
Friday, January 19 3 WOMEN (Robert Altman, 1977)
Saturday, January 20
and
Sunday, January 21 McCABE AND MRS. MILLER (Robert Altman, 1971) and BUFFALO BILL AND THE INDIANS (Robert Altman, 1976)
McCABE & MRS. MILLER (Robert Altman, 1971)
http://www.sensesofcinema.com/mccabe

An obvious influence on Clint Eastwood (check out HIGH PLAINS DRIFTER after watching McCABE and you'll see what we mean), this Robert Altman anti-Western stars the electric combination of Julie Christie and Warren Beatty as two businesspeople building a new town in the Old West. When a mining company wants to buy the town, McCabe's playful negotiating style has tragic consequences. The film is visually spectacular, as Altman cuts from the dreamlike red velvet interiors of Mrs. Miller's brothel to the expansive land outside, bathed in the beautiful yet ominous falling snow. This marvelous picture ranks right up there with the best Westerns ever made. The soundtrack by Leonard Cohen is also first-rate.
Sunday, January 21 TANNER '88 (Robert Altman, 1988), 11:00 (episodes 1-3), 1:10 (episodes 4-7), 3:20 (episodes 8-11) and TANNER ON TANNER (Robert Altman, 2004), $10.75 per screening, $20 for all three
Monday, January 22 A WEDDING (Robert Altman, 1978) and HEALTH (Robert Altman, 1980)
Tuesday, January 23 SECRET HONOR (Robert Altman, 1984) and COME BACK TO THE FIVE AND DIME, JIMMY DEAN, JIMMY DEAN (Robert Altman, 1982)
Ticket Alert of the Week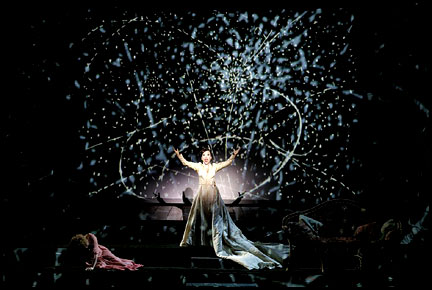 La Monnaie, Brussels © Johan Jacobs
William Kentridge's THE MAGIC FLUTE highlights spring season at BAM
BAM SPRING SEASON
Brooklyn Academy of Music
BAM Howard Gilman Opera House (HG)
30 Lafayette Ave. between Ashland Pl. & St. Felix St.
BAM Harvey Theater (HT)
651 Fulton Street between Ashland Pl. & Rockwell Pl.
February 7 - May 27
Tickets: $20-$85
718-636-4100
http://bam.org/events/springseason
Subscription tickets are now on sale for the 2007 spring season at the Brooklyn Academy of Music, one of our favorite venues in the city. (Actually, BAM consists of two venues — the elegant Howard Gilman Opera House and the fabulously ramshackle Harvey Theater.) Ordering tickets to four or more events will save you twenty percent; tickets to individual shows go on sale to the public January 16. Prices for most events start at only twenty bucks or so, so don't waste any time. We particularly recommend the long-awaited MAGIC FLUTE from South African multimedia artist William Kentridge, Matthew Bourne's adaptation of Tim Burton's EDWARD SCISSORHANDS, and 30 YEARS OF DANCEAFRICA; we attended last year's DANCEAFRICA and were blown away by the music, dance, and whole community that turns the BAM neighborhood into one awesome celebration.
Wednesday, February 7
through
Saturday, February 10 DEATH IN VENICE A DANCE OF DEATH by John Neumeier, a free adaptation of the novella by Thomas Mann, the Hamburg Ballet, (BAMdialogue with John Neumeier on February 8), HG, $20-$70
Friday, February 16
and
Saturday, February 17 Brooklyn Next: Mos Def, HG, $25-$40
Friday, February 23 Brooklyn Next: Gordon Chambers, HT, $15-$25
Wednesday, February 28
through
Saturday, March 3 THREE ATMOSPHERIC STUDIES: A work by the Forsythe Company (BAMdialogue with William Forsythe on March 1), HG, $20-$70
Wednesday, March 14
through
Saturday, March 31 EDWARD SCISSORHANDS, devised, directed, and choreographed by Matthew Bourne, with new music and arrangements by Terry Davies (BAMdialogue with Matthew Bourne on March 15), HG, $30-$80
Saturday, March 17
through
Sunday, April 1 THE TAMING OF THE SHREW / TWELFTH NIGHT by William Shakespeare, performed by the Watermill Theatre (UK) and Old Vic productions by Propeller, directed by Edward Hall (BAMdialogue with Edward Hall on March 17), HT, $25-$65
Monday, April 9
through
Saturday, April 14 THE MAGIC FLUTE by Wolfgang Amadeus Mozart, conducted by Piers Maxim, directed by William Kentridge (BAMdialogue with William Kentridge on April 11), HG, $30-$125
Wednesday, May 2
through
Saturday, May 12 CYMBELINE by William Shakespeare, performed by Cheek by Jowl, directed by Declan Donnellan, designed by Nick Ormerod, HT, $25-$65
Wednesday, May 16
through
Sunday, May 20 DENSE TERRAIN, performed by Doug Varone and Dancers, conceived, directed, and choreographed by Doug Varone (BAMdialogue with Doug Varone on May 18), HT, $20-$45
Friday, May 25
through
Sunday, May 27 30 YEARS OF DANCEAFRICA: REMEMBER! HONOR! RESPECT! AN AFRICAN DANCE ODYSSEY, with artistic director Chuck Davis, HG, $20-$45
Also at BAM
BP PRESENTS: THE SOUND OF BROOKLYN
Brooklyn Philharmonic 2006-2007 Season
BAM Howard Gilman Opera House (BAM)
30 Lafayette Ave. between Ashland Pl. & St. Felix St.
718-636-4100 / 718-488-5700
http://www.brooklynphilharmonic.org
The Brooklyn Philharmonic will be presenting its 2006-2007 season at BAM's Howard Gilman Opera House with an eclectic series of unique programs. Buying ticket packages to multiple performances will result in a ten percent savings for two shows, fifteen for three, and twenty for four.
Thursday, February 1 Four-Scored, featuring Laurie Anderson, Nellie McKay, Joan Osborne, and Suzanne Vega, with Michael Chistie and members of the Brooklyn Philharmonic, $25-$105, 8:00
Saturday, February 3 EARTH AWAKENED, choreographed by Nicholas Leichter, with music by Peter Sculthorpe, $20-$60, 8:00
Friday, March 9 Antony and the Johnsons, with Michael Chistie and members of the Brooklyn Philharmonic, $25-$105, 8:00
Saturday, March 10 BRIDGE TO THE BEYOND, featuring old and new orchestrations by Osvaldo Golijov and a performance of Mahler's Symphony No. 1 in D Major (Titan), $20-$60, 8:00
Saturday, April 21 KRONOS + COSMOS, featuring the Kronos Quartet performing works by Vaughan Williams, Julia Wolfe, and Gustav Holst, with exclusive film footage from NASA and JPL, $20-$60, 8:00
Saturday, May 12 THE RIDE TO REDEMPTION, multimedia performance featuring works by Mozart, Hindemith, and Gorecki, with Nathalie Paulin and the Ridge Theater, $20-$60, 8:00
Riff's Rants & Raves
FORGOTTEN NEW YORK: VIEWS OF A LOST METROPOLIS
by Kevin Walsh (Collins, October 2006, hardcover $29.95, paperback $19.95)

We've been faithful followers of Kevin Walsh and his "Forgotten New York" Web site since our very first issue, back in 2001. Heck, in another life we even published some pieces of his in a local newspaper. So we are very proud that he has recently come out with this indispensable book, which takes readers behind the scenes of more than 650 of the strangest, most mysterious parts of old New York, supplemented with hundreds of black-and-white photographs. Divided geographically by borough, then by neighborhoods within that borough, the book creates mini-walking tours that include "Quiet Places," "Truly Forgotten," "History Happened Here," "What Is This Thing?" and "Forgotten People." Walsh, who leads special, highly regarded walking tours a handful of times a year, leaves no stone unturned, finding those little nooks and crannies that most people just pass by, or adding interesting historical details to more well known parts of the city. Among his many fascinating stops are the Lorillard Snuff Mill in the Bronx, Workingmen's Cottages in Brooklyn, Jarmulowsky's Bank in Manhattan, Houses on Stilts in Queens, and the William T. Davis Wildlife Refuge on Staten Island. Along the way he adds cool tidbits about statues, street art, old advertising signs, hidden streets and alleys, former theaters, gnomes, lunettes, gates, lampposts, cemeteries, dormant railroad tracks, churches and synagogues, clocks, and plenty of unidentified objects. Walsh is also a preservationist; he's currently leading a fight to save St. Savior's in Maspeth. FORGOTTEN NEW YORK is a small treasure itself, just like all the small treasures Walsh reveals inside its pages. And don't forget to log on to his Web site, which is updated regularly.
Sunday, January 14 Kevin Walsh, FORGOTTEN NEW YORK: VIEWS OF A LOST METROPOLIS, Bayside Historical Society, 208 Totten Ave., Ft. Totten, 718-32-1548, 3:00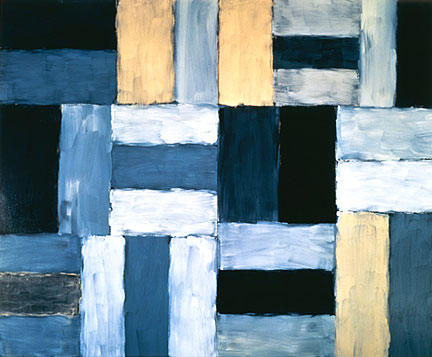 Modern Art Museum of Fort Worth
Sean Scully, "Wall of Light Desert Night," 1999, oil on canvas
SEAN SCULLY: WALL OF LIGHT
Metropolitan Museum of Art
1000 Fifth Ave. at 82nd St.
Modern and Contemporary Art, Lila Acheson Wallace Wing, mezzanine galleries
Through January 15
Closed Mondays
Recommended admission: $20
212-535-7710

Inspired by trips to the Yucatan in the early 1980s, Irish-born American artist Sean Scully has been paintings variations of the form, energy, and light of ancient Maya stone walls for more than twenty years. In watercolors, prints, pastels, and oil paintings of varying sizes, Scully creates canvases composed of rectangular, bricklike shapes that recall the work of Mark Rothko and Piet Mondrian, as well as Willem de Kooning and Henri Matisse. Each piece evokes light, time, and memory, as each individual shape consists of layers of different colors, bits of which peek out from the horizontal and vertical edges. Scully also reveals his broad brushstrokes, laying bare his process — which differs ever so slightly depending on whether he's working in his New York, London, Barcelona, or German studio. The pieces are often titled after the date and/or place they were made, although some offer more information on their inspiration; for example, "Night" has the last vestiges of sunset poking through the gaps, "Wall of Light Beach" features sandy, brighter colors, and "Green Pale Light" has patches of green — not usually part of his palette but added most likely because it was made in Germany on a farm. Stand in the middle of the gallery of paintings and turn around quickly, letting the Wall of Light series sweep over you, trying to feel the thrill and magic Scully first felt when he came upon the Maya ruins in Mexico.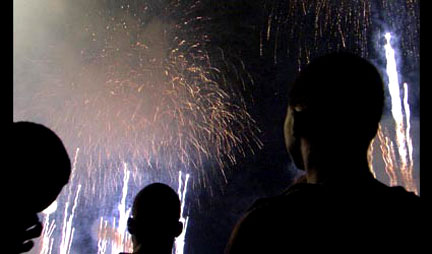 The Lost Boys are sent to a hopeully bright new life in GOD GREW TIRED OF US
GOD GREW TIRED OF US: THE STORY OF THE LOST BOYS OF SUDAN (Christopher Quinn, 2006)
Landmark Sunshine Cinema
143 East Houston St. between First & Second Aves.
Opens Friday, January 12
Tickets: $10.75
212-330-8182
http://www.landmarktheatres.com/Market/NewYork/NewYork_frameset.htm
http://www.godgrewtiredofus.com

In 1987, tens of thousands of children, nicknamed the "Lost Boys" from PETER PAN, fled from their homes in Sudan, which was in the midst of a brutal civil war. Five torturous years later, the survivors made it to a UN refugee camp in Kakuma, Kenya. In 2001, thirty-eight hundred of the boys were selected by the United States to relocate here, receiving housing and food for three months before having to make it on their own in the land of plenty. GOD GREW TIRED OF US follows the struggles of three of the boys — now men — as they fly in an airplane for the first time, shop at supermarkets, and look for work. John Bul Dau is sent to Syracuse, where the tall, proud man is determined to preserve his cultural heritage, not wanting to get completely sucked into the American way of life. Daniel Abol Pach and Panther Blor are moved to Pittsburgh, where they attempt to make new starts while never forgetting the friends and family left behind in their "mother homeland." Director Christopher Quinn, who built up more than $50,000 of credit-card debt in making the film before receiving fundraising support from such actors as Brad Pitt, Catherine Keener, and Dermot Mulroney, is able to get into the hearts and souls of the Lost Boys, creating a powerful, emotional documentary. For historical perspective, he includes graphic archival footage of life in Sudan, a country that still is desperate for the world's help. Narrated by Nicole Kidman, GOD GREW TIRED OF US, which won the Grand Jury Prize and the Audience Award at the 2006 Sundance Film Festival, is an unforgettable story that needs to be seen.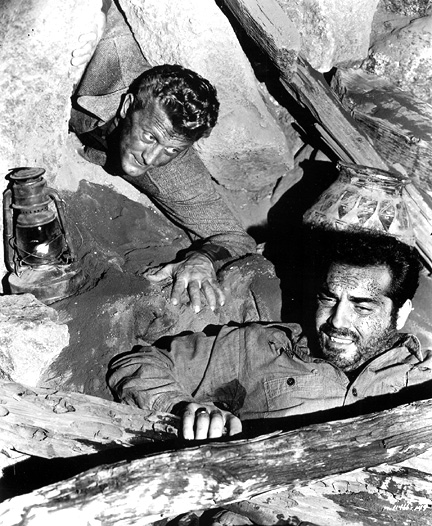 Kirk Douglas is looking for a way out in Wilder masterpiece ACE IN THE HOLE
ACE IN THE HOLE (Billy Wilder, 1951)
Film Forum
209 West Houston St. between Sixth & Seventh Aves.
January 12-18
Tickets: $10
212-727-8110
http://www.filmforum.org/films/ace

Sandwiched between such hits as THE LOST WEEKEND, SUNSET BLVD., STALAG 17, and SABRINA, Billy Wilder's ACE IN THE HOLE might just be his lost masterpiece. A major flop upon its release in 1951, ACE IN THE HOLE is a cynical look at Americans and their values. Chuck Tatum (a classic Kirk Douglas) is a ruthless reporter who has been fired in every major city in the nation because of his love of the bottle, his success with the ladies, and his penchant for playing hard and loose with the facts. He demands a job at a small-town paper in Albuquerque, hoping to land a story that will restore his luster and put him back in the big time. He finds his patsy in the person of Leo Minosa (Richard Benedict), a low-rent Indian artifacts hunter who gets trapped in a cave-in at the base of the Mountain of the Seven Vultures. Sharpening his fangs, Tatum makes a deal with the sheriff (Ray Teal), choosing to take the long way to rescue Minosa in order to keep the sheriff's name in the news and the reporter's name on the front page for a longer amount of time. Meanwhile, Minosa's wife, Lorraine (Jan Sterling, with fabulously uneven eyebrows), who was ready to leave her husband, sees a way for her to cash in as well. The whole thing turns into a huge media circus; in fact, the studio changed the name of the film to THE BIG CARNIVAL upon its release, trying for a more upbeat title. We last saw the film on the "Million Dollar Movie" in the early 1970s, complete with commercials and a lousy negative; it knocked us out even then, but it looks so much better in this newly restored 35mm print.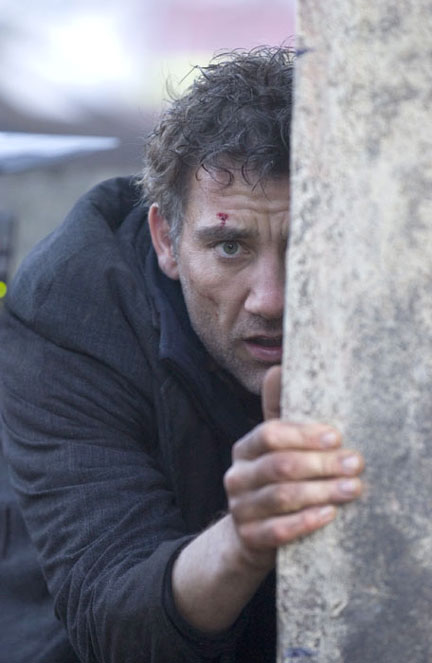 Clive Owen doesn't like what he sees in CHILDREN OF MEN
CHILDREN OF MEN (Alfonso Cuarón, 2006)
In theaters now
http://www.thehumanprojectlives.org

It's 2027, and there hasn't been a baby born in the world in eighteen years. For some unknown reason, women have become infertile, leading to chaos around the globe. Only England perseveres, but it is on the brink of destruction as warring factions prepare for doomsday. Onetime revolutionary Theo (an even-keeled-as-ever Clive Owen) has settled down into a mundane life, but he's thrust back into the middle of things when he is kidnapped by a radical organization run by his ex-wife, Julian (Julianne Moore), and her right-hand man, the hard-edged Luke (Chiwetel Ejiofor). Theo is forced to escort Kee (Claire-Hope Ashitey), a young fugee (refugee), through the danger zone and to the Human Project, a supposed safe haven that might not actually exist. Also staring extinction in the face are Theo's brother, Nigel (Danny Huston); Theo's hippie friend, Jasper (a longhaired Michael Caine); and homeland security officer Syd (Peter Mullan). Based on the novel by P. D. James, the chilling CHILDREN OF MEN is a violent, prescient, nonstop thrill ride, moviemaking of the highest order, cowritten and directed by Alfonso Cuarón (Y TU MAMÁ TAMBIÉN, HARRY POTTER AND THE PRISONER OF AZKABAN) and photographed in vibrant filth and muddiness by Emmanuel Lubezki. Stay through the credits for a tiny but critical coda.
THE PURSUIT OF HAPPYNESS (Gabriele Muccino, 2006)
In theaters now
http://www.sonypictures.com/movies/thepursuitofhappyness

Will Smith takes the serious route in THE PURSUIT OF HAPPYNESS, a well-meaning, poignant, but eventually overwrought drama of class, race, and society, inspired by a true story. Smith stars as Chris Gardner, a determined husband and father who gambles his life savings on a bone-density machine. He makes sales calls on doctors, pushing the machine, but they're not biting, leaving him in desperate straits. With his wife (Thandie Newton) threatening to leave and his son, Christopher (Jaden Christopher Syre Smith, Will's real-life son with Jada Pinkett), caught in the middle, Gardner suddenly believes that his life can change for the better if he first gets an internship at Dean Witter, then wins the single job that is available. (This is, after all, the wild and woolly Reagan '80s.) Rapper-comedian-action-hero Smith turns in a good performance as Gardner, as he keeps hitting wall after wall trying to feed, clothe, and shelter his family, but his struggles become repetitive and ponderous. As ridiculous as he looks carrying around and protecting what looks to be a typewriter (the bone-density machine), he looks even more silly chasing around homeless people on the streets of San Francisco to recover missing ones. Newton is wasted in a one-note role, although Jaden makes a fine feature-film debut playing alongside his dad, in the first English-language movie from Italian director Gabriele Muccino.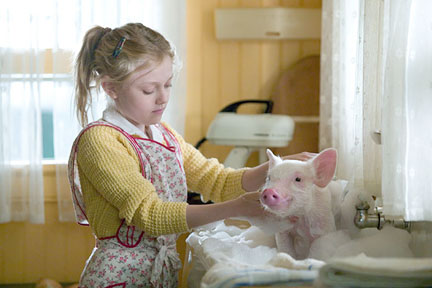 Fern is out to save Wilbur's bacon in White classic
CHARLOTTE'S WEB (Gary Winick, 2006)
In theaters now
http://www.charlotteswebmovie.com

Gary Winick, the eclectic director of such offbeat fare as THE TIC CODE (1999) and TADPOLE (2002), does a fine job turning E.B. White's eternal story of friendship into a sweet little film. The only previous attempt to make the book into a film was the animated 1973 hit, which featured the voices of Debbie Reynolds, Paul Lynde, Henry Gibson, Danny Bonaduce, Charles Nelson Reilly, and Agnes Moorehead. This time around the all-star cast — voicing digitally manipulated live-action animals, not animated characters — includes Oprah Winfrey (Gussy), Cedric the Entertainer (Golly), Robert Redford (Ike), André Benjamin (Elwyn), Thomas Haden Church (Brooks), John Cleese (Samuel), Steve Buscemi (Templeton), and Julia Roberts (Charlotte), with youngster Dominic Scott Kay handling Wilbur. Narrated in a warm, down-home style by Sam Shepard, the film follows the adventures of Wilbur as he tries to become the first spring pig on the farm to avoid the smokehouse and make it through to winter. The runt of the litter is taken in by Fern (Dakota Fanning), who will do whatever she can to keep her best friend from becoming bacon. This mostly faithful adaptation is a charming tale that will entertain both children and adults alike.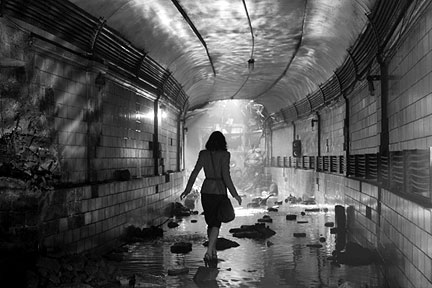 Cate Blanchett walks softly in Soderbergh's noir thriller
THE GOOD GERMAN (Steven Soderbergh, 2006)
In theaters now
http://thegoodgerman.warnerbros.com

They'll always have Berlin. Well, not exactly. Director Steven Soderbergh tells this WWII noir, based on the novel by Joseph Kanon, in period black and white, even daring to mix in elements of such untouchable classics as CASABLANCA (Michael Curtiz, 1942), NOTORIOUS (Alfred Hitchcock, 1946), and THE THIRD MAN (Carol Reed, 1949), and he pulls it off with flying colors. Soderbergh pal George Clooney stars as Jake Geismer, a war correspondent who returns to Berlin to cover the Potsdam Conference for the New Republic. As Harry S Truman, Winston Churchill, and Joseph Stalin gather to decide the fate of Germany and the free world, Jake gets mixed up in a murder mystery involving motorpool corporal Tully (Tobey Maguire), who exploits Berlin and the black market for all their worth; Colonel Muller (Beau Bridges), who is out to protect America's interests in Germany; a prosecutor named Bernie (Leland Orser), who is seeking to bring Nazi war criminals to justice; general Sikorsky (Ravil Isyanov), who cares only about Russia's interests; and femme fatale Lena Brandt (Cate Blanchett), who is at the center of it all. Soderbergh (TRAFFIC, ERIN BROCKOVICH, sex, lies, and videotape) shot THE GOOD GERMAN with one camera, in old-fashioned black and white, mixing in archival footage taken by Billy Wilder and John Huston, giving it the feel of a 1940s flick. Clooney is stalwart in the lead role, his Rick-like character lost in love for the Ilsa-like Blanchett.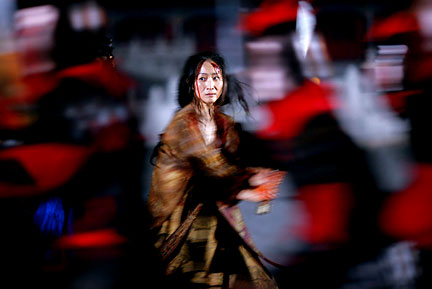 Zhang Yimou epic is bathed in beautiful colors
CURSE OF THE GOLDEN FLOWER (Zhang Yimou, 2006)
In theaters now
http://www.sonyclassics.com/curseofthegoldenflower

Zhang Yimou's CURSE OF THE GOLDEN FLOWER is a breathtakingly beautiful Shakespearean martial-arts epic set in the tenth-century Later Tang Dynasty. Chow Yun Fat stars as the Emperor, the proud patriarch of a seriously dysfunctional Imperial Family. His second wife, the Empress (the luminous Gong Li, reunited with her former lover and director for the first time in more than a decade), has been having a three-year affair with his oldest son, Crown Prince Wan (Liu Ye), who has fallen in love with the Imperial Doctor's daughter, Chan (Li Man), who regularly serves the Empress poisoned medicine with the help of her father (Ni Dahong). Right before the annual Chrysanthemum Festival, the middle son, Prince Jai (Asian pop star Jay Chou), returns successfully from battle, seeking to know his future, while the third son, the lost and childlike Prince Yu (Qin Junjie), tries to find his place in the crumbling family. Soapy melodrama and surprising plot twists mix with fabulously choreographed fight scenes, marvelous costumes bathed in gold, and stunningly gorgeous production design to create a rousing, bloody tale of treachery, forbidden love, deception, and loyalty, set amid the glowing yellow of the chrysanthemums and a magnificent, glittering palace that is one of the best sets you'll ever see. The closing song, a sappy piece of tripe written and sung by Chou, is an awful way to end this otherwise captivating film. Zhang, the master of the Chinese period piece (RAISE THE RED LANTERN, JU DOU, TO LIVE, HOUSE OF FLYING DAGGERS), will also be directing the world premiere of Tan Dun's opera THE FIRST EMPEROR at the Metropolitan Opera House beginning December 21.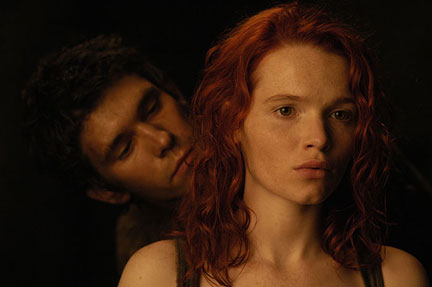 Scentsational Süskind novel is at last brought to the big screen
PERFUME: THE STORY OF A MURDERER (Tom Tykwer, 2006)
Angelika Film Center
18 West Houston St. at Mercer St.
212-995-2000
Lincoln Plaza Cinemas
1886 Broadway between 62nd & 63rd Sts.
212-757-0359
https://www.thierrymuglerusa.com
http://lincolnplaza.moviefone.com
http://www.city-cinemas.com/angelika

We o-dored Patrick Süskind's scentsational novel when we first read it nearly twenty years ago, and we're glad to report that cowriter-director Tom Tykwer (RUN, LOLA, RUN) has done justice to the creepy, complex story in bringing it at last to the big screen. (Süskind is a notorious recluse who shuns interviews and movie producers.) Relative newcomer Ben Whishaw stars as Jean-Baptiste Grenouille, a peasant born with an extraordinary olfactory system. Slaving away for a brutal tanner, Jean-Baptiste sneaks away and lands himself a job working for fading perfumer Giuseppe Baldini (Dustin Hoffman, with an accent we're still trying to figure out), where he's able to create the most amazing scents — except the one he most longs for, the smell of a beautiful woman. So he keeps experimenting, and the body count keeps rising. The ending goes a bit haywire, but overall Tykwer does a solid job of transferring Süskind's intense psychological narrative and inner monologue into a compelling cinematic thriller, with excellent narration supplied by John Hurt. Add half a star if you have a nostril fetish.
For those of you who can't get enough of PERFUME, Thierry Mugler has collaborated on an elegant coffret that includes fifteen of Süskind's lovingly described scents, including Baby, Paris 1738, Virgin No. 1, Amor & Psyché, Ermite, Existence, and Orgie. We've actually sampled them, and they are quite realistic. Although we're not sure anyone really wants to smell like 1738 Paris, the set is available, online only, for a mere $700.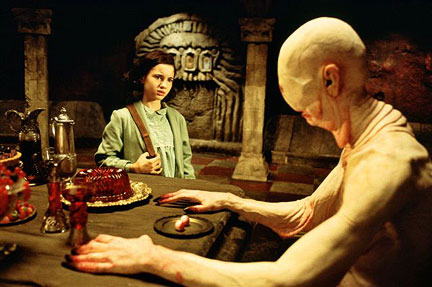 Ofelia meets the Pale Man in Del Toro fairy tale
PAN'S LABYRINTH (EL LABERINTO DEL FAUNO)
(Guillermo Del Toro, 2006)
In theaters now

The closing night film of the 2006 New York Film Festival, PAN'S LABYRINTH is a breathtaking fairy tale set in 1944 Spain, shortly after the Spanish Civil War. When her mother, Carmen (Ariadna Gil), marries Captain Vidal (Sergi Lopez), young Ofelia (Ivana Baquero) must move to the middle of the woods, where Vidal and his small group of soldiers are defending the last vestiges of Franco's Fascist regime against a group of resistance fighters seeking peace and freedom for all. Led by a mysterious flying creature, the adventurous Ofelia makes her way through an ancient underground labyrinth, where she meets the Faun (HELLBOY's Doug Jones), who tells her that she just might be the reborn, long-missing princess they've been waiting centuries for — but first she'll have to perform three tasks to prove that she has returned to claim her throne. As Vidal shows more concern for the baby that Carmen is carrying than for Carmen herself — and also brutally tortures and kills anyone who gets in his way, whether it is one of the revolutionaries or one of his own people — Ofelia meets a dangerous yet engaging series of beings as she hopes for her fairy-tale dreams to come true and erase the nightmares of the real world. Del Toro (THE DEVIL'S BACKBONE) has cleverly balanced fantasy and reality, alternating between scenes of horror and graphic violence aboveground and below as seen through the eyes of a brave young girl trapped in both.
THE DEPARTED (Martin Scorsese, 2006)
Quad Cinema
34 West 13th St. between Fifth & Sixth Aves.
Tickets: $10
212-255-8800
http://thedeparted.warnerbros.com

Based on Andrew Lau and Alan Mak's awesome INFERNAL AFFAIRS (2002), Martin Scorsese's relatively faithful remake, THE DEPARTED, has been moved from Hong Kong to the mean streets of Boston, where it is hard to tell cop from criminal. Just out of the academy, Colin Sullivan (Matt Damon) rises quickly to detective in the Special Investigations Unit, but he's actually in cahoots with master crime lord Frank Costello (Jack Nicholson). Meanwhile, Billy Costigan (an excellent Leonardo DiCaprio), training to become a cop, is sent deep undercover (including a prison stint) to infiltrate Costello's gang, with only Captain Queenan (Martin Sheen) and Sergeant Dignam (a very funny and foul-mouthed Mark Wahlberg) aware of the secret mission. Sullivan and Costigan are like opposite sides of the same persona; in between them stands Costello — and Madolyn (Vera Farmiga), a psychiatrist who is in a relationship with one and is doctor to the other. As both the cops and the criminals search desperately for their respective rats, no one can trust each other, leading to lots of blood and a spectacular finale. Nicholson has a field day as the aging gangster, chewing up mounds of scenery in his first film with Scorsese, who has returned to peak form with his best film since 1990s GOODFELLAS.
THE LAST KING OF SCOTLAND (Kevin MacDonald, 2006)
Quad Cinema
34 West 13th St. between Fifth & Sixth Aves.
Tickets: $10
212-255-8800
http://www2.foxsearchlight.com/thelastkingofscotland

Forest Whitaker is absolutely mesmerizing as General Idi Amin in Kevin MacDonald's THE LAST KING OF SCOTLAND, demanding viewers' attention every time he appears on-screen, a dominating, bigger-than-life presence. Unfortunately, the rest of the film lets him down, failing to come close to his overpowering performance. The movie is based on Giles Foden's award-winning novel, in which the author created a composite character, Nicholas Garrigan, a Scottish doctor who becomes a close confidant of Amin's. What might have worked in the book falls apart on camera in a series of hard-to-believe scenes that actually never happened. As played by James McAvoy, Garrigan is goofy and lightweight from the very beginning, unable to compete with the massive Whitaker as Amin. He makes a play for his boss's wife (Gillian Anderson), thinks he doesn't have to play the political game with a British operative (Simon McBurney), and takes a liking to one of Amin's mistreated wives (Kerry Washington). While it is fascinating to watch the rise and fall of the President for Life, his relationship with Garrigan is hard to swallow — mostly because it's not true. And even those bits and pieces that are factual have been twisted and changed to increase emotional impact, ending up with manipulated melodrama instead of what really happened — which is a shame, since MacDonald's first two films, the well-regarded ONE DAY IN SEPTEMBER and TOUCHING THE VOID, were both documentaries.
THE SCIENCE OF SLEEP (Michel Gondry, 2006)
Cinema Village
22 East 12th St. between University Pl. & Fifth Ave.
Tickets: $10
212-924-3363
http://thescienceofsleep.imeem.com

Eclectic auteur Michel Gondry's feature-length debut as both writer and director is a complex, confusing, kaleidoscopic stew that is as charming as it is frustrating. Gael García Bernal (THE MOTORCYCLE DIARIES) stars as the juvenile but endearing Stephane, a young man in a silly hat who has trouble differentiating dreams from reality. The childlike Stephane becomes friends with his new neighbor, Stephanie (Charlotte Gainsbourg, daughter of Serge Gainsbourg and Jane Birkin), who still has plenty of the child left inside her as well. Stephane has a job his mother (Miou-Miou) got him, toiling for a small company that makes calendars, alongside the hysterical Guy (Alain Chabat), who can't help constantly poking fun at coworkers Serge (Sacha Bourdo) and Martine (Aurélia Petit). Gondry, who gave us the brilliant ETERNAL SUNSHINE OF THE SPOTLESS MIND as well as the highly entertaining DAVE CHAPPELLE'S BLOCK PARTY and the bizarre HUMAN NATURE, uses low-tech green-screening and stop-motion animation to reveal Stephane's fantasy world, bringing to mind such masters as Jan Svankmajer and the Brothers Quay. Unfortunately, just as Stephane can't tell what's real from what he's dreaming, you'll often have difficulty as well; some of the plot turns are downright infuriating, and Stephane's TV show teeters on the edge of embarrassing. But you'll also be hard-pressed not to leave the theater feeling like a kid in a candy store.
THE QUEEN (Stephen Frears, 2006)
In theaters now

It's tradition versus modernization in Stephen Frears's re-creation of the Royal Family's reaction to the death of Princess Diana on August 31, 1997. While the world mourns, Queen Elizabeth II (a stoic Helen Mirren), Prince Philip (an acerbic James Cromwell), and the Queen Mum (Sylvia Syms) just continue their daily routine as if nothing has happened. They take Diana and Prince Charles's (Alex Jennings) children up to Balmoral to hunt stag, refusing to publicly acknowledge the tragedy. Meanwhile, Tony Blair (Michael Sheen, reprising the role from Frears's 2003 British television movie THE DEAL) has been swept into the office of prime minister in a landslide victory for forward-thinking change. Noting the public response to Diana's death, Blair implores the queen to respond, but protocol, pride, and dignity get in the way. Frears cleverly, if obviously, displays the differences between the old and the new in depicting the simple home life of the Blairs against the opulence of the Royal Family, each way of life representing the ever-growing gap in British society. Through exhaustive research, screenwriter Peter Morgan imagines the relationship between Blair and the queen, including numerous private conversations held over the phone and in person, and as intriguing as they are, there's just no way to know how much of it really happened. (A similar fate befell THE LAST KING OF SCOTLAND, in which cowriter Morgan imagined conversations Idi Amin had with a made-up character.) THE QUEEN is a compelling film, with solid acting (Cromwell is a screaming riot) and appropriately calm direction, but it never quite reaches the heights it aspires to.
BORAT: CULTURAL LEARNINGS OF AMERICA
FOR MAKE BENEFIT GLORIOUS NATION OF KAZAKHSTAN (Larry Charles, 2006)
In theaters now

Believe the hype. Sacha Baron Cohen holds a mirror up to America, and you might not like what you see — although you'll laugh your head off while watching it. Cohen stars as bushy haired Kazakhstan journalist Borat Sagdiyev, a role he created for DA ALI G SHOW, the 2001 series in which he interviewed such luminaries as Newt Gingrich, Boutros Boutros-Ghali, Andy Rooney, and Norman Mailer while pretending to be a British hip-hop wigger (Ali G); he also disguised himself as a German fashionista (Bruno) and Borat, a reporter who likes to talk about sex, especially with his sister. In CULTURAL LEARNINGS OF AMERICA FOR MAKE BENEFIT GLORIOUS NATION OF KAZAKHSTAN, Borat leaves his little village in Kazakhstan and travels across the United States with his producer, the rotund Azamat (Ken Davitian), in search of his true love, BAYWATCH's Pamela Anderson. Along the way, he is making a documentary about the American way of life, turning a revealing lens on racism, anti-Semitism, sexism, misogyny, homophobia, blind patriotism, fundamentalism, and southern hospitality, with a healthy dose of toilet humor (literally). The people he speaks with — a feminist group, gun and car dealers, rodeo cowboys, conservative politicians Bob Barr and Alan Keyes, etiquette and humor experts, Christian evangelicals at a revivalist tent meeting, drunk frat boys in an RV — believe he is really a Kazakh journalist, and Cohen holds nothing back, unafraid to ask any question or kiss any man, often risking his personal safety in hysterical ways. He's got the biggest cojones we've ever seen — and you nearly get to see them when he and Azamat chase each other naked through a hotel, ending up fighting onstage at a mortgage bankers convention. BORAT is more EASY RIDER than JACKASS and BEAVIS AND BUTT-HEAD DO AMERICA, a road trip movie that captures the state of the nation in frightening yet very funny ways.

All contents copyright 2007 by Mark Rifkin and twi-ny. All rights reserved. Contents may not be reprinted without written permission. Please note that events, dates, and prices are subject to change.
Send all comments, suggestions, reviews, and questions to mark.rifkin@twi-ny.com.
Please note that some e-mail clients may wrap links, so be sure to enter them fully into your browser.
To subscribe to this list, please e-mail the administrator at admin@twi-ny.com with the word Subscribe in the Subject line; be sure to ask for back issues, which are free as well. To unsubscribe from this list, please think it over twice before e-mailing the same address. Please let us know what you didn't like about this forum and we'll do our best to correct it in the future -- if we agree with you. If you would like to see something covered in a future issue, please let us know. Without you, there is no need for us to exist.

twi-ny top two dozen (or so) weekly reminders & special events
NEW YORK NATIONAL BOAT SHOW
Jacob Javits Convention Center
35th St. & 11th Ave.
Admission: adults $15, children thirteen through fifteen $8, two-day tickets $25
212-984-7000
Through Sunday, January 7 The 102nd year of the world's first boat show features the IGX Adrenaline Jam, the Power Boat Docking Challenge, the Fetch-n-Fish Tank, the Coconut Climb, new products, seminars, boat giveaways, book signings, and more
DANCE ON CAMERA
Film Society of Lincoln Center, Walter Reade Theater
165 West 65th St. between Eighth Ave. & Broadway
January 3-7, 12-13
Tickets: $10
212-875-5050
http://www.dancefilms.org/DanceOnCamera
The eleventh annual celebration of dance on film at Lincoln Center (and thirty-fifth overall) includes shorts and full-length films from all over the world, featuring such subjects as Josephine Baker, William Forsythe, African dance, and Merce Cunningham, with new works as well as such classics as THE COLOR OF POMEGRANATES (Sergei Paradjanov, 1969) and INVITATION TO THE DANCE (Gene Kelly, 1956); we strongly recommend the January 7, 4:00 program, "Moving Bodies After Maya Deren," comprising thirteen remarkable short works by such innovators as Jonas Mekas, Bruce Conner, Kenneth Anger, and Amy Greenfield.
FIRST THURSDAYS
Dahesh Museum of Art
580 Madison Ave. at 57th St.
Admission: free from 6:00 to 9:00
212-759-0606
http://daheshmuseum.org/publicprograms_events/firstthursdays
Thursday, January 4 NATIONAL GEOGRAPHIC'S EGYPT: SECRETS OF THE PHARAOHS, 6:30
JACK KLEINSINGER'S HIGHLIGHTS IN JAZZ
Tribeca Performing Arts Center
Borough of Manhattan Community College
199 Chambers St.
212-220-1460
Thursday, January 4 Salute to Lou Donaldson, featuring Cyrus Chestnut Trio, Eric Alexander, Peter Bernstein, Mike LeDonne, Joe Farnsworth, Grant Stewart, and the Lou Donaldson Quartet, $30, 8:00
DIA DE LOS TRES REYES/THREE KINGS' DAY
El Museo del Barrio
1230 Fifth Ave. at 104th St.
Admission: free (parade)
Galleries open 1:30 — 8:00 ($6)
212-831-7272
Friday, January 5 Thirtieth annual Three Kings' Day Parade and workshops, with special performances in El Teatro Heckscher, 10:00 am
Saturday, January 6 Three Kings' Day Community Celebration
THREE KINGS! CELEBRATING THE EPIPHANY
The Cathedral Church of St. John the Divine
1047 Amsterdam Ave. at 112th St.
212-316-7540
http://www.stjohndivine.org/news_workshops
Saturday, January 6 Family workshop, making gift boxes, crowns, and royal costumes, for ages four and up, $5 per child with adult, 10:00 am — 12 noon, followed by performance at 1:00
ASIA MOVES
Asia Society and Museum
725 Park Ave. at 70th St.
Free with museum admission (children under sixteen free)
212-517-ASIA
http://www.asiasociety.org/events
Saturday, January 6 Family Day, featuring yoga, tai chi, and chakras workshops, 12 non — 3:00 pm
MULCHFEST 2007
Various locations
Admission: one Christmas tree, with no lights or ornaments
http://www.nycgovparks.org/services/mulchfest/mulchfest
Saturday, January 6
and
Sunday, January 7 Bring your Christmas tree to any of several designated areas in parks citywide to be recycled, including Van Cortlandt Park, Prospect Park, Central Park, Rockaway Beach, and Wolfe's Pond Park, 10:00 am — 2:00 pm
MOCCA MONDAYS
Museum of Comic and Cartoon Art
594 Broadway between Houston & Prince Sts., Suite 401
Admission: free, but seating is limited
212-254-3511
http://www.moccany.org/e-mondays
Monday, January 8 Friends of Lulu presents Women in Comics, 7:00
FROM CUTTING A RUG TO THE CUTTING OOM
Donnell Library Center
New York Public Library
20 West 53rd St. between Fifth & Sixth Aves.
212-727-0764
Tuesday, January 9 An Evening at the Thirty-fifth Annual Dance on Camera Festival, panel discussion with Maryann Brandon, Monica Gillette, Robbie Shaw, and Karen Pearlman, moderated by Kelly Hargraves, free, 6:00
COAT-THE-RINK-SKATE-A-THON
The Pond at Bryant Park
Sixth Ave. between 40th & 42nd Sts.
Admission: free
866-221-5157
http://bryantpark.org/calendar
Tuesday, January 9 Last coat collection of the season, hosted by Tom Cavanagh (11:00 am — 12 noon) and Sasha Cohen and Sandra Lee (11:00 am — 2:00 pm), with Weatherproof matching each donation; everyone donating a coat gets a signed Sandra Lee cookbook, 7:30 am — 8:00 pm
2006 NORDIC OSCAR CONTENDERS
Scandinavia House
58 Park Ave. at 38th St.
Admission: $8
212-847-9740
http://www.scandinaviahouse.org/programs
Tuesday, January 9 FARVÄL FALKENBERG (FALKENBERG FAREWELL) (Jesper Ganslandt, 2006), 6:30
Wednesday, January 10 BÖRN (CHILDREN) (Ragnar Bragason, 2006), 6:30
Friday, January 12 EFTER BRYLLUPET (AFTER THE WEDDING) (Susanne Bier, 2006), 6:30
WINTER JAZZFEST 2007
The Knitting Factory between Broadway & Church St.
74 Leonard St.
212-219-3132
http://www.knittingfactory.com
Wednesday, January 10 Full-club jazz, including Antoine Hervé with Francois and Louis Moutin, Geraldine Laurent Time Out Trio, Gutbucket, Liberty Ellman Quintet, Lucien Dubuis Trio, Maurice Brown Quintet, Rudresh Mahanthappa Quartet, Slavic Soul Party, Steve Lehman's Blueprint Trio, Wonderful World with Guillaume de Chassy & Daniel Yvinec, and surprise guests, $25, 6:00
NEW YORK FILM CRITICS ON THE BEST AND WORST OF 2006
Makor
Steinhardt Building
35 West 67th St. between Amsterdam & Columbus Aves.
212-601-1000
Wednesday, January 10 With David Edelstein, Owen Gleiberman, Stephanie Zacharek, and others, moderated by Stu Van Airsdale, $10, 7:30
LOCATION, LOCATION, LOCATION! IS PROVINCIAL A BAD WORD?
The Great Hall at the Cooper Union
7 East Seventh St. at Third Ave.
212-219-1222
Wednesday, January 10 A Hot Button Panel from the New Museum, with Nicolai Ouroussoff, Roger Buergel, Saskia Bos, Teddy Cruz, and Julie Mehretu, moderated by Richard Flood, $6, 6:30
SVEN NYKVIST REMEMBERED
MoMA Film
Museum of Modern Art
11 West 53rd St. between Fifth & Sixth Aves.
January 12-14
Tickets: $10, in person only, may be applied to museum admission within thirty days, same-day screenings free with museum admission, available at Film and Media Desk
212-708-9400
http://www.moma.org/Sven_Nykvist
The great Swedish cinematographer Sven Nykvist passed away this past September at the age of eighty-three, and MoMA honors his outstanding career with this all-too-brief weekend tribute. We actually wrote a paper on TYSTNADEN (THE SILENCE) (Ingmar Bergman, 1963) in undergraduate film class. We saw the U.S. premiere of AN-MAGRITT (Arne Skouen, 1969) at Scandinavia House in April 2002, which featured a postscreening discussion with Skouen and star Liv Ullmann. And CRIMES AND MISDEMEANORS (Woody Allen, 1989) is one of the Woodman's best. But this trio barely touches Nykvist's remarkable output, which includes such international fare as THE TENANT, PRETTY BABY, STAR 80, AGNES OF GOD, THE UNBEARABLE LIGHTNESS OF BEING, WHAT'S EATING GILBERT GRAPE, KING OF THE GYPSIES, THE SACRIFICE, and tons of Bergman films (PERSONA, FANNY AND ALEXANDER, SHAME, AUTUMN SONATA, CRIES AND WHISPERS, WINTER LIGHT, THE VIRGIN SPRING, SAWDUST AND TINSEL, THE SERPENT'S EGG, etc.).
Friday, January 12 TYSTNADEN (THE SILENCE) (Ingmar Bergman, 1963), 6:00
Friday, January 12 AN-MAGRITT (Arne Skouen, 1969), 8:00
Saturday, January 13 CRIMES AND MISDEMEANORS (Woody Allen, 1989), 2:00
Sunday, January 14 AN-MAGRITT (Arne Skouen, 1969), 2:00
Sunday, January 14 TYSTNADEN (THE SILENCE) (Ingmar Bergman, 1963), 4:00
Sunday, January 14 CRIMES AND MISDEMEANORS (Woody Allen, 1989), 6:00
TRANCE & BERBER MUSIC OF MOROCCO
Symphony Space Peter Jay Sharpe Theatre
2537 Broadway at 95th St.
212-864-5400
http://www.worldmusicinstitute.org
Saturday, January 13 Hassan Hakmoun, accompanied by Brahim Fribgane and Mohamed Bechar, $27, 8:00
THE COLLECTIVE "WE"
The Delancey
168 Delancey St. between Clinton and Attorney Sts.
Admission: $7
212-254-9920
Saturday, January 13 Featuring the Baby Shakers at 8:00, the Lazy Lions at 9:00, Sky Eats Man at 10:00, the Actual Facts at 11:00, and Acid Canyon at 12 midnight
THE dB's
Bowery Ballroom
6 Delancey St. at Bowery
212-533-2111
Saturday, January 13 The return of the dB's, with Mitch Easter and Sneakers, $16, 8:00
SNOWED IN: THE GREAT BLIZZARD OF 1888
New York Transit Museum
Corner of Boerum Pl. & Schermerhorn St.
Free with museum admission: Adults $5, children three to seventeen $3, under three free
718-694-1600
Saturday, January 13
and
Sunday, January 14 Readings, storytelling, and snow globe workshop, for ages five and up, 1:00
ADVENTURES IN TRAVEL EXPO
Pier 94 — the Un-Convention Center
755 Twelfth Ave. at 55th St.
Admission: $15 (children under seventeen free with adult)
212-216-2000
Saturday, January 13
and
Sunday, January 14 Featuring seminars, scuba diving, an aerial zip line, a culinary pavilion, rock climbing, dude ranching, special travel offers, cultural performances, children's activities, and more
THE VILLA-LOBOS EXPERIENCE
Music at Our Saviour's Atonement
178 Bennett Ave. at 189th St.
212-923-5757
Sunday, January 14 MOSA Concert Series, featuring compositions by Heitor Villa-Lobos and David Noon, performed by Jim Noyes, Liam Wood, Adan Vasquez, and others, followed by a reception, $5-$15, 3:00
COME SHARE THE DREAM
Brooklyn Academy of Music
30 Lafayette Ave. between Ashland Pl. & St. Felix St.
718-636-4100
Monday, January 15 Twenty-first annual Brooklyn Tribute to Dr. Martin Luther King, Jr.: A Celebration of the Music of the Civil Rights Movement, featuring Rutha Harris, Black Rock Coalition Orchestra, the Full Effect Gospel Ministries Mass Choir, and Will Power, with remarks from Marty Markowitz, Christine C. Quinn, William C. Thompson, and master of ceremonies Yvonne J. Graham, Howard Gilman Opera House, free, 10:30 am
Monday, January 15 AMERICAN BLACKOUT (Ian Inaba, 2006), BAM Rose Cinemas, free, 1:00
Monday, January 8
through
Friday, January 19 Picture the Dream: Brooklyn Arts Honor Dr. Martin Luther King, Jr., Natman Room, free
LEAVING LEGACIES
New-York Historical Society
2 West 77th St. at Central Park West
212-485-9264
Monday, January 15 Family programs in celebration of Martin Luther King Day, including civil rights songs and paper quilt workshop, free with museum admission, 12 noon
COMMUNAL CELEBRATION IN HONOR OF DR. MARTIN LUTHER KING, JR.
JCC in Manhattan at Symphony Space
237 Broadway at 95th St.
646-505-5708
Monday, January 15 Annual celebration featuring a special tribute to the late Coretta Scott King, with Miri Ben-Ari, Lisa Kron, Urban Bush Women, Reverend Dr. Suzan Johnson Cook, and emcee Ruth Messenger, free, 6:00
A CELEBRATION OF MARTIN LUTHER KING, JR.
Paul Hall, the Juilliard School
60 Lincoln Center Plaza
65th St. & Broadway
212-799-5000
Monday, January 15 Nineteenth annual celebration, with live dance, music, and drama created, adapted, and performed by current Juilliard students and alumni, free, 7:00
MARTIN LUTHER KING DAY SHOW
B.B. King Blues Club & Grill
237 West 42nd St. between Seventh & Eighth Aves.
212-997-4144
http://www.bbkingblues.com/schedule
Monday, January 15 Little Richard, $60, 8:00
A 50TH ANNIVERSARY CELEBRATION OF THE BEATS
92nd St. Y
1395 Lexington Ave. at 92nd St.
Kaufmann Concert Hall
212-415-5500
Monday, January 15 With Laurie Anderson, Ann Charters, Joyce Johnson, Hettie Jones, and Bill Morgan, $18 ($10 for adults thirty-five and younger), 8:00
ADVENTURES IN THE GLOBAL KITCHEN: GOLDEN SAKE
American Museum of Natural History
Central Park West & 79th St.
Wallach Orientation Center, fourth floor
212-769-5315
Tuesday, January 16 In conjunction with the "Gold" exhibition, golden sake tasting and talk, with hors d'oeuvres, featuring Bon Yagi and Ken Kusakabe of Sakagura and speaker Michael John Simkin, $50, 7:00
JAPANESE CONTEMPORARY DANCE SHOWCASE
Joyce Theater
175 Eighth Ave. at 19th St.
212-242-0800
Tuesday, January 16
through
Sunday, January 21 Tenth-anniversary celebration, with performances by Noism 07, Kim Itoh and the Glorious Future, Leni Basso, and Pappa Tarahumara, $30
JUDGMENT DAYS: LYNDON BAINES JOHNSON, MARTIN LUTHER KING, JR., AND THE LAWS THAT CHANGED AMERICA
Museum of Jewish Heritage — A Living Memorial to the Holocaust
36 Battery Pl.
646-437-4200
http://www.mjhnyc.org/safrahall
Wednesday, January 17 Author discussion with Nick Kotz, moderated by Sam Freedman, $5, 7:00
SONGS OF PEACE AND WAR
Peter Jay Sharp Theatre at Juilliard
Free tickets available at the Juilliard box office
155 West 65th St.
212-799-5000
Wednesday, January 17 Works by Poulenc, Samuel Barber, Kurt Weill, Cole Porter, and others, with pianists Steven Blier and Michael Barrett and Juilliard singers, 8:00