Volume 4, Number 48-49 May 11-25, 2005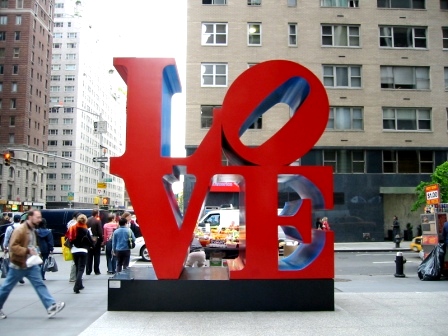 Cuban Arts Event of the Week
CUBAN ARTS FESTIVAL: HIGHLIGHTS
Multiple venues
Through May 31
http://www.cubanartsfestivalny.org
Cuban arts are celebrated all over town all month, including exhibits,
films, lectures, readings, panel discussions, and theatrical performances;
below are only some of the highlights.
Thursday, May 12 IMAGININGS: A Dialogue in Poetry and Dance, Swayduck
Auditorium at the New School, 65 Fifth Ave., free, 7:00
Friday, May 13 Afro-Cuban Tendencies in Contemporary Art and Culture,
panel discussion, King Juan Carlos Center, NYU, 53 Washington Sq. South,
8:30
Saturday, May 14 Cuban Elegance, lecture by Michael Connors, Connors
Rosato Gallery, 39 Great Jones St., free, 3:00
Saturday, May 14 Cuban Film Celebration: LA VIDA ES SILBAR (Fernando
Perez, 1998), El Museo del Barrio, Teatro Hechscher, 1230 Fifth Ave. at
104th St., free, 5:00
Saturday, May 14 Cuban Film Celebration: CANDIDO (HANDS OF FIRE), El Museo del Barrio, Teatro Heckscher, 1230 Fifth Ave. at 104th St., free, 7:00
Sunday, May 15 Staged Reading: LORCA CON UN VESTIDO VERDE (LORCA IN A
GREEN DRESS), Repertorio Espanol, 138 East 27th St., $15, 6:30
Monday, May 16 Staged Reading: BIRD IN THE HAND, New York Theatre
Workshop, 83 East Fourth St., free, 3:00
Tuesday, May 17 American Hunger: The Avant Garde in Cuba, the Conference
Room at Americas Society, 680 Park Ave., free, 7:00
Tuesday, May 17
through
Tuesday, May 31 Carmen Herrera: Five Decades of Painting, Latin
Collector, 153 Hudson St. between Hubert & Laight Sts., closed Sunday, free
Thursday, May 19 Book Presentation: UNA MUJER Y OTRAS CUATRO, Libreria Lectorum, 137 West 14th St., free, 6:00
Friday, May 20 Cuban Art's Coming of Age: Masters of the Third
Generation, lecture by Ricardo Pau-Llosa, Dactyl Foundation, 64 Grand St.
between Wooster St. and West Broadway, free, 6:30
Friday, May 20 Celebrating el 20 de Mayo: Juan-Carlos Formell in Concert,
with special guest poet Ricardo Pau-Llosa, the Living Room, 154 Ludlow St.
between Stanton & Rivington Sts., $7, 9:00
Saturday, May 21
through
Tuesday, May 31 Eduardo Hernandez: Corpus-Fragile (THE FRAGILE BODY, 2002), Exit Art, 475 Tenth Ave. between 36th & 37th Sts., free, closed
Sunday
Monday, May 23 Film Series: LEJANIA (Jesus Diaz, 1985), Instituto
Cervantes, 211 East 49th St. between Second & Third Aves., free, 6:00
Monday, May 23 Film Series: AZUCAR AMARGA (Leon Ichaso, 1996), Instituto Cervantes, 211 East 49th St. between Second & Third Aves., free, 8:00
Monday, May 23
through
Tuesday, May 31 En la Noche del Mundo: Gay Culture in Cuba by Christine
Blackburn, the Lesbian, Gay, Bisexual & Transgender Community Center, 280
West 13th St. between Seventh & Eighth Aves., third floor, free, 10:00 am ­
8:00 pm
Tuesday, May 24 Writers Panel -- Writing from Afar: Absence in
Contemporary Cuban Literature, Instituto Cervantes, 211 East 49th St.
between Second & Third Aves., free, 7:00
Wednesday, May 25 Film Series: RANCHEADOR (Sergio Giral, 1975), Instituto Cervantes, 211 East 49th St. between Second & Third Aves., free, 8:00
TWENTIETH ANNUAL AIDS WALK NEW YORK
Central Park
Starting line at north end of Sheep Meadow
Walkers should enter at 59th St. & Fifth Ave. entrance
Spectator admission: free, but donations strongly suggested
212-807-9255
http://aidswalknewyork2005.kintera.org
http://www.aidswalk.net/newyork
Sunday, May 15 Change the Course of the Epidemic -- twentieth
anniversary of the AIDS Walk, the world's largest AIDS fundraiser: sign-in,
8:30; opening ceremony, 9:15; ten-kilometer walk begins at 10:00; live
entertainment and celebrity appearances throughout the day by Maureen
McGovern, Rita Moreno, Bruce Vilanch, Ted Allen, Jai Rodriguez, John
Spencer, Bill Brochtrup, and Leon & the Peoples, benefiting the Gay Men's
Health Crisis and other AIDS-related organizations
SAVE CBGBs: EAT MORE CHOCOLATE!
315 Bowery (and 313 Gallery at 313 Bowery) between First & Second Sts. at
base of Bleecker St.
Donation: $5
212-982-4052
http://www.cbgb.com
http://www.chocolatebarnyc.com
Monday, May 16 When Joey Ramone died on April 15, 2001, people flocked to CBGB and began a shrine to the leather-jacketed punk legend, leaving
messages, candles, record albums, and bottles of Carbona in front of the
club. Now the place itself is in danger of being closed down for good. So
CB's founder, Hilary Kristal, has teamed up with the Chocolate Bar to create
a limited-edition Punk Rock Box truffle collection and individual CBGB Retro
Bars to raise money for the embattled institution, which has played host to
the likes of Patti Smith, Talking Heads, Television, Blondie, the Dictators,
the Dead Boys, Giant Sand, Pere Ubu, Pavement, Social Distortion, Yo La
Tengo, and so many other influential and up-and-coming bands. The unveiling
of the chocolate will be accompanied by the music of Chocolate Genius. Oh,
and by the way, the name of the club stands for "Country Bluegrass Blues"
and "Other Music for Uplifting Gormandizers."
EIGHTH ANNUAL DINE AROUND DOWNTOWN
Chase Manhattan Plaza between Liberty & Pine and Nassau & William Sts.
Admission: free
Tasting plates: $3-$5
212-835-2789
http://www.downtownny.com
Tuesday, May 17 Sample signature dishes from such neighborhood favorites
as Bouley, Capsouto Freres, City Hall, Danube, Delmonico's, Dominic,
Fraunces Tavern, Les Halles Downtown, Moran's, Roy's New York, Steamers
Landing, Ulysses, and dozens of others while listening to live music, 11:00
am ­ 3:00 pm
FLEET WEEK 2005
Intrepid Sea-Air-Space Museum
West 46th St. & 12th Ave.
Pier 86
May 25 - June 1
212-245-0072
Admission to museum: $16.50 for adults; children free to $11.50 depending on age
Everything else: free
http://www.intrepidmuseum.org/pages/fleetweek
http://www.fleetweek.navy.mil
Fleet Week takes place at the Intrepid Sea-Air-Space Museum as well as such
other sites as New York harbor, the Hudson River, Staten Island Stapleton
Pier, Riverbank Park at 679 Riverside Dr., Orchard Beach in Pelham Bay Park
in the Bronx, the Central Park Bandshell, Fort Totten and Cunningham Park in
Queens, with daily tours of ships from all over the world. In addition to
the below listings, every day features such special events as the Navy
Recruiting District Simulator, environmental exhibits, and displays and
demonstrations by the Navy, the Marines, and the Coast Guard.
Wednesday, May 25 Parade of Ships, New York harbor and Hudson River,
11:00 am ­ 5:00 pm
Thursday, May 26 Blessing of the Fleet, 455 Front St., Staten Island,
11:00 am
Friday, May 27 Stem to Stern Relay Race, 1:00
Saturday, May 28 Tug of War Competition, Pier 86, 1:00
Sunday, May 29 Best Chow Competition, 2:00
Monday, May 30 Memorial Day Ceremony, Flight Deck/MAF Hall, 11:00 am
Monday, May 30 National Moment of Remembrance, Flight Deck, 3:00
SIXTH AVE. ART WALK **** (out of four)
Sixth Ave. from 42 to 57th Sts.
Admission to most galleries: free
It's not exactly Chelsea, SoHo, or Museum Mile, but Sixth Ave. offers more
than its fair share of lobby galleries and art exhibits, most of which are
free, and most of which go relatively unnoticed by the Stepford workers and
slow-moving tourists more interested in seeing Rockefeller Center or trying
to find Times Square. We suggest beginning your walk actually at Grand
Central on a lazy Friday afternoon, making your way up 42nd St. to the
library and Bryant Park, turning right on Sixth, and then stopping by
several exhibits, lobby galleries, and outdoor sculptures and mosaics until
you reach MoMA, which is free on Fridays from 4:00 to 8:00. Along the way
you'll be passing through the heart of New York City's publishing empire,
including the corporate homes of McGraw-Hill, Time-Life, Simon & Schuster,
HarperCollins, and other biggies. And if you still haven't had enough art by
then, continue on to 57th St., where there are several vertical art-gallery
buildings that house some of the city's best collections.

ON LOCATION: NEW YORK TRANSPORTATION IN FILM ***1/2 (out of four)
New York Transit Museum Gallery Annex
Grand Central Terminal
Shuttle Passage next to the Station Masters' Office
Through October 30
Monday through Friday, 8:00 am ­ 8:00 pm
Saturday and Sunday, 10:00 am ­ 6:00 pm
Admission: free
212-878-0106
http://www.fleetweek.navy.mil
The history of New York City transportation on film is celebrated in this
exciting and fun exhibit of film stills and movie clips involving subway and
train stations. "The First Films" features early works from the 1890s,
including the Lumiere brothers' ARRIVAL ON A TRAIN (1895) and the Edison Company's 104TH STREET CURVE, NEW YORK, ELEVATED RAILWAY AND NEW BROOKLYN TO NEW YORK VIA BROOKLYN BRIDGE NO. 2 (1899). The accompanying documentary looks at SPEEDY, APPLAUSE, THE CLOCK, KING KONG, ON THE TOWN, NORTH BY
NORTHWEST, DAYBREAK EXPRESS, and other classic pictures featuring scenes in Grand Central and Penn Station and on elevated rail lines and subways. One wall of film stills discusses the difference between movies that were merely set in the city but filmed on sound stages elsewhere and those that were actually shot in New York, including THE WRONG MAN, NAKED CITY, NO TIME FOR LOVE, and PICKUP ON SOUTH STREET. "A City's Decline and an Industry's Revival" focuses primarily on films from the 1970s and 1980s that depict the city as a dirty, dangerous, crazy place, with clips from SERPICO, BANANAS, THE WARRIORS, THE TAKING OF PELHAM ONE TWO THREE, THE WIZ, AFTER HOURS, SATURDAY NIGHT FEVER, and THE BROTHER FROM ANOTHER PLANET, among others. The third screen shows cartoonish live-action films and actual cartoons, such as
MEN IN BLACK II, SPIDER-MAN 2, and the soon-to-be-released MADAGASCAR. There are also photos from NIGHTHAWKS, DEATH WISH, BENEATH THE PLANET OF THE APES, GLORIA, THE FRENCH CONNECTION, QUICK CHANGE, and WHO IS HARRY KELLERMAN AND WHY IS HE SAYING THOSE TERRIBLE THINGS ABOUT ME? Be sure to find the one spot in the gallery where you can watch all three screens at the same time.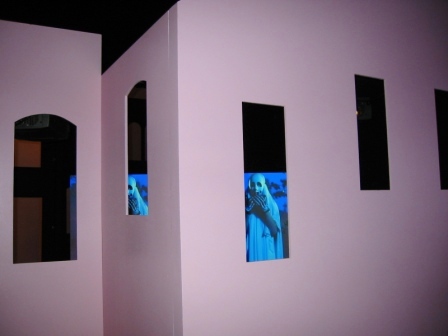 Ghost in the Machine: Sue de Beer welcomes viewers into her psyche.
SUE de BEER: BLACK SUN ***1/3 (out of four)
The Whitney Museum of American Art at Altria
120 Park Ave. at 42nd St.
Through June 24
Admission: free
917-663-2453
http://www.whitney.org/information/altria.shtml
We enjoyed Sue de Beer's nonlinear avant-garde short film the first time we
saw it in the Whitney's small annex next to Grand Central (and not just
because we happened to be, completely coincidentally, sitting next to de
Beer and her parents at the time), but since then its dreamlike imagery has
kept us coming back for more. De Beer, whose work has been featured in the
Venice Biennale and who splits her time between New York and Germany, has
constructed a homey screening room, with two comfy beanbag chairs and
pictures and cutouts of cats, trees, and horses both inside and outside the
space. The psychological drama unveils on two side-by-side screens that
sometimes show the same thing, sometimes different angles of the same scene,
and sometimes the same shot spread across its width. The Gothic room itself,
which mimics the one seen in the film, is like a house of the psyche, with
empty windows looking into its soul and several points of entry and escape.
The first section, "Black Sun," is a nightmare in which a woman makes her
way up a creepy staircase. "From Deadness to Aliveness" follows, with ghosts
partying in a graveyard and one performing a striptease. And in "The Problem
of Time," the dreams of a woman on a pseudo-airplane lead back to those
stairs. Along the way (through scenes entitled "Not Fade Away," "Tomorrow's
Yesterday," "A Fortified Castle," "The Night of the World," and "The End"),
de Beer's examination of time and memory includes a horse dancing to Phil
Collins music, voice-over narration taken from the writings of Dennis
Cooper, and a ghost in a Sonic Youth T-shirt. Be sure to pick up a copy of
"My Daily Journal," which details e-mail correspondences between de Beer and
curator Shamim Momin about the development of the project. And check out the sign-in book, where you can share your own thoughts about the installation;
some people are confused by it, some think it's a waste of time, and others
adore it; our favorite comment is: "If I didn't get fired today, I never
would have seen this," followed by a smiley face.

ARTISTS ON ART
The Whitney Museum of American Art at Altria
120 Park Ave. at 42nd St.
Admission: free
917-663-2453
http://www.whitney.org/information/altria.shtml
Tuesday, May 17 Sue de Beer discusses "Black Sun," 6:30

COLISEUM BOOKS EVENTS
11 West 42nd St. between Fifth & Sixth Aves. unless otherwise noted
Admission: free
212-803-5890
http://www.coliseumbooks.com/events.shtml
Wednesday, May 18 Word for Word: Elmore Leonard, THE HOT KID, reading talk, and signing, the Bryant Park Reading Room, 42nd St. between Fifth & Sixth Aves., 12:30
Wednesday, May 18 Jim Leff, THE CHOWHOUND'S GUIDE TO THE NEW YORK TRISTATE AREA, talk and signing, 6:00
Tuesday, May 24 Meditation workshop with Kadam Morten Clausen, featuring
Geshe Kelsang Gyatso, INTRODUCTION TO BUDDHISM, 6:30
Wednesday, May 25 Word for Word: Karen Joy Fowler, THE JANE AUSTEN BOOK CLUB, reading talk, and signing, the Bryant Park Reading Room, 42nd St. between Fifth & Sixth Aves., 12:30
Tuesday, May 31 Jodie Evans and Medea Benjamin, STOP THE NEXT WAR NO: EFFECTIVE RESPONSES TO VIOLENCE AND TERRORISM, with Diane Wilson, Kathryn Blume, and Adrienne Maree Brown, reading, talk, and signing, 6:30

MILTON AVERY: THE FLYING PIG AND OTHER WINGED CREATURES ***1/2 (out of four)
Humanities and Social Sciences Library
Stokes Gallery, third floor
Fifth Ave. at 42nd St.
Through May 27
Closed Monday
Admission: free
212-869-8089
http://www.nypl.org/research/calendar/exhib/hssl/hsslexhibdesc.cfm?id=381
One side of the hallway leading to the men's room on the third floor of the
library is lined with paintings, etchings, and drawings by influential
American artist Milton Avery. This "Exhibition of the Artist's Illustrations
and Prints" focuses on ten pieces he created for a children's book, PAUL,
written by Karla Kuskin, and soon to be reissued as THE FLYING PIG AND OTHER WINGED CREATURES. These gouache and pencil works ­ which have never before been on public display -- feature fabulous, colorful creatures, including a flying pig, a singing cat, a buttoned deer, a huge caterpillar, a flying
fish, and the faceless protagonist. These bright, fanciful creations, which
Avery made at the suggestion of his friend Mark Rothko, are reminiscent of
the dreamlike imagery and palette of Marc Chagall. Also on view are rare
Avery drypoints, etchings, and prints, such as the sweet "Riders in the
Park," the lovely, spare "Reclining Nude," the delightful "Three Birds," and
more personal works: "My Wife Sally," "March at Table" (March is his
daughter), and a rather elongated self-portrait.

BEFORE VICTORIA: EXTRAORDINARY WOMEN OF THE BRITISH ROMANTIC ERA ***1/2 (out of four)
Humanities and Social Sciences Library
D. Samuel and Jeane H. Gottesman Exhibition Hall, first floor
Fifth Ave. at 42nd St.
Through July 30
Closed Monday
Admission: free
http://www.nypl.org/research/calendar/exhib/hssl/hsslexhibdesc.cfm?id=352
Beginning with Mary Wollstonecraft and her 1792 book A VINDICATION OF THE RIGHTS OF WOMAN, the changing roles of women in Victorian society is detailed in this highly literate, large exhibition comprising books,
letters, paintings, portraits, cartoons, and photographs. To fully enjoy it,
you need to devote a lot of time to reading all the fascinating pages that
are unveiled in such sections as "Fables for the Female Sex," "The Modern
Venus: Politicians, Gamblers, Lovers, and Other Improper Ladies," "Female
Patriots," "Stronger Passions of the Mind," "Rational Dames and Intrepid
Travelers," and "The Youngest Romantics." Along the way you'll meet Mary
Robinson, Ada Byron, Lady Hester Stanhope, Mary Lamb, and Ann Radcliffe;
delve into George Eliot's fascination with Hebrew; marvel at original
manuscripts by Jane Austen and get teary reading a suicide note from Harriet
Westbrook Shelley; and be utterly amazed by Anna Atkins's PHOTOGRAPHS OF BRITISH ALGAE. There are also plenty of satirical cartoons by James Gillray, Thomas Rowlandson, and George Cruikshank, a drawing by Queen Victoria herself, and a remarkable amount of fascinating material about the life and work of Mary Wollstonecraft Shelley, who accomplished a lot more than just writing FRANKENSTEIN.

I AM THE ROSE: PASSOVER IMAGINED IN THE COLLECTIONS OF THE NEW YORK PUBLIC
LIBRARY **** (out of four)
Humanities and Social Sciences Library
Sue and Edgar Wachenheim III Gallery, first floor
Fifth Ave. at 42nd St.
Through June 4
Closed Monday
Admission: free
http://www.nypl.org/research/calendar/exhib/hssl/hsslexhibdesc.cfm?id=382
This illuminating exhibit centers on the Rose Haggadah, for which the New
York-based Rose family commissioned a different artist every year to add an
illustration relating to the story of Passover for their private use. The
gorgeous book features the work of such artists as Al Hirschfeld, Will
Barnet, Gennady Spirin, Milton Glaser, Larry Rivers, Leonard Baskin, Mimi
Gross, Seymour Chwast, Federico Castellon, and others; some of the pages are
on display in the gallery, while others are projected digitally around the
corner in the South Court. Supplementing the exhibit are dozens of
Passover-related writings going back centuries, including various versions
of the haggadah and depictions of the Song of Songs, anti-Semitic texts and
drawings of the Blood Libel, Sigmund Freud's hand-corrected pages for the
essays "Moses an Egyptian" and "Moses and Monotheism," and Felix
Mendelssohn's handwritten arrangement of Handel's "The Lord Is My Strength
and Song." Passover might be over, but there's still time to catch this
outstanding collection of artifacts.

DRAWINGS BY CHARLES ADDAMS *** (out of four)
Charles Addams Gallery
Humanities and Social Sciences Library, Third Floor
Closed Monday
Admission: free
212-869-8089
http://www.nypl.org/research/calendar/exhib/hssl/hsslexhibdesc.cfm?id=202
This rotating collection of original works by Charles Addams, many of which
first appeared in the New Yorker, lines the hallway leading to the men's
room on the third floor of the library, although women are welcome here too.
The current batch focuses on automobiles and boats, including a car waiting
at a drawbridge for a pirate ship to pass by, and a woman announcing to her
husband, "Now that we're in the country, let's let him drive," motioning to
the monkey in the backseat. We also dig the fortune-tellers playing chess
through their crystal ball and Gomez playing "This Little Piggy" with
Wednesday as Morticia looks on.

LIVE FROM THE NYPL
Humanities and Social Sciences Library
Celeste Bartos Forum (CB)
South Court Auditorium (SC)
Fifth Ave. at 42nd St.
All programs at 7:00 pm unless otherwise noted
Tickets: $10 unless otherwise noted
212-930-0855
http://www.nypl.org/research/chss/pep/peplist.cfm
Wednesday, May 11 A Conversation About the Art of Conversation, with
Benedetta Cravrei, Paul LeClerc, and Anka Muhlstein, Trustees Room
Tuesday, May 17 In the Shadow of Liberty: John Hollander and Esther Schor
revisit Emma Lazarus, SC
Wednesday, May 25 Isabel Allende, FOREST OF THE PYGMIES, CB
Thursday, May 26 A Conversation with Richard Dreyfuss and Frederic
Morton, SC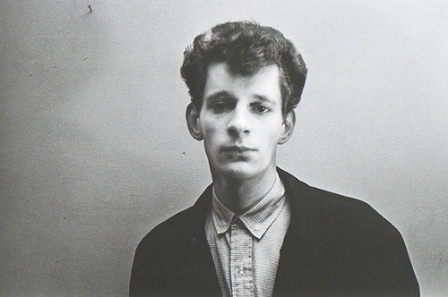 Larry Clark, Self Portrait, 1962, courtesy of the artist and Luhring Augustine, NY

LARRY CLARK ***1/2 (out of four)
International Center of Photography
1133 Sixth Ave. at 43rd St.
Closed Mondays
Through June 5
Admission: $10
212-857-0000
http://www.icp.org/exhibitions/larry_clark/index.html
The fascinating photography of Larry Clark is spread out on both floors of
ICP, offering a telling window into the soul of underground teen culture in
America over the last four decades. The main floor is dedicated to the
Tulsa-born artist's Oklahoma photos that were collected in his 1971 book
TULSA, as well as additional shots never before seen by the public. From
1963 to 1971, Clark turned his camera on his group of friends, capturing the
despair and desolation of their life in the Midwest; these profoundly sad
pictures show one kid shooting up, a baby in a coffin, and other dark
moments. As Clark writes, "once the needle goes in it never comes out." The
exhibit continues downstairs with "Teenage Lust," from Clark's 1983 book.
These series of photos follow Clark from his early family life in Tulsa
through moves to New York City and New Mexico, featuring a lot of (mostly
male) nudity, accompanied by sheets of Clark's written memories. "Skaters"
includes colorful photographs of teenagers skateboarding in Washington
Square Park, which would lead to Clark's film KIDS; don't miss the casting
information on Chloe Sevigny and Rosario Dawson. Clark's work is inherently
about teenage sex, drug use, and violence, and one room examines how these
things are glorified by the media. Collages of such teen idols as Matt
Dillon and River Phoenix are joined by television monitors showing lurid
episodes of talk shows and news programs talking to teen killers and
rapists. Finally, a small collection of Clark's work for his most recent
book, the limited-edition PUNK PICASSO, shows off personal photographs along with favorite records of his, pictures of his young girlfriend, Tiffany, and
a video of Tiffany and their dog at home. In addition, ICP will be screening
videos of Clark's films, including ANOTHER DAY IN PARADISE (1998) through May 22 and BULLY (2001) from May 24 through June 5.

LARRY CLARK
The Two Boots Pioneer Theater
155 East Third St. at Ave. A
Tickets: $9
212-254-3300
http://www.twoboots.com/pioneer
In addition to the films screening at ICP, Two Boots downtown will be
showing three of Clark's works in 35mm this weekend.
Friday, May 13 KIDS (Larry Clark, 1995), with actor Leo Fitzpatrick in
person, 7:00
Saturday, May 14 ANOTHER DAY IN PARADISE (Larry Clark, 1998), 6:30
Sunday, May 15 BULLY (Larry Clark, 2001), 6:30

THE SUN TRIANGLE **** (out of four)
McGraw-Hill Plaza
1221 Sixth Ave. between 48th & 49th Sts.
Glittering in the sun, this shining stainless-steel structure, a sharp
triangle shooting out of an angled base, points out the sun's solar-noon
position at the spring and fall equinoxes and summer and winter solstices.
The sculpture was designed by futurist Athelstan Spilhaus, the former dean
of the University of Minnesota Institute of Technology as well as an
oceanographer, meteorologist, UNESCO ambassador, and toy collector who
invented the bathythermograph. The triangle is a work of abstract beauty
even without knowing its scientific details; it's as if its sharp corners
arepointing to what lies ahead; "I'm impatient with the past and irritable
with the present," Spilhaus once said. "The future is where my concern lies,
and I'm very optimistic about it."

INTELLIGENCE AWAKENS MANKIND by Barry Faulkner **** (out of four)
GE Building (formerly the RCA Building)
1250 Sixth Ave. between 49th & 50th Sts.
http://www.slu.edu/libraries/pius/archives/ravenna/process1.htm
Barry Faulkner's gorgeous 1933 mural, made by the Ravenna Mosaic Company
with more than one million hand-cut pieces in 250 colors, sits above the
entrance to the Sixth Ave. entrance to the GE Building, offering guidance to
people who pass by it every day without noticing its intricate detail and
beauty. Faulkner uses nondenominational yet clearly biblical imagery to
exalt rational thought in the form of muses and virtues. On the far left-
and right-hand sides, mythical figures dangle from above, immersed in fire
and rain, reaching for the words "Ignorance" and "Cruelty" and "Poverty" and
"Fear," as if they are satan's angels being cast out of heaven. To the left
of the centerpiece is an earthly couple; she is blindfolded, while he looks
up to the heavens in search of help, seemingly unaware of the group of
angels coming their way. At the center of the mural, directly over the
entrance to this mammoth corporate monolith, a barefooted Christ-like deity
is flanked by angelic figures floating over the word "Thought" and
surrounded by such smaller words (muses) as "Drama," "Music," "Politics,"
and "Poetry" on one side and "Physics," "Biology," "Philosophy," and
"Publicity" on the other. Next comes a couple holding hands, awaiting the
coming of the angels expectantly, followed by another pair of satan's
minions. The sparkling mural is representative of the dream of a rationalist
utopia in the 1930s as America battled the Depression and sought out the New
Deal; unfortunately, what came next was fascism and WWII. New Hampshire's
Faulkner was a cousin of Abbott Thayer's and studied with Augustus St.
Gaudens; his work also appears in such diverse places as the House of
Commons in Ottawa, the Florence American Cemetery and Memorial, and the
American Academy in Rome.

CUBED CURVE by William Crovello *** (out of four)
Time-Life Building
1271 Sixth Ave. between 50th & 51st Sts.
No, this blue steel sculpture is not Time-Life's corporate logo; it is
National Academician William Crovello's "Cubed Curve." Sitting atop a pair
of bases that announce "Time & Life" and "Americas Plaza," it looks like a
twisted magnet as it curves into two pieces with flat ends, reaching up
toward the sky. The blue color stands out in an otherwise gray landscape of
relatively boring skyscrapers.

OUT OF PLACE ***1/3 (out of four)
The UBS Art Gallery
1285 Sixth Ave. between 51st & 52nd Sts.
Monday through Friday, 8:00 am ­ 6:00 pm
Through June 17
Admission: free
http://www.ubs.com/1/e/about/sponsor/culture/ubs_art_gallery.html
http://www.momentaart.org
The changing nature of urban reality is examined in this well-designed
collection of photographs, paintings, and sculpture. The interweaving of
public and private space is what this lobby gallery itself is all about, a
public space in a private, corporate building. Taken out of their expected
context, these works are both curious and captivating, charming as well as
disarming. Heidi Schlatter's nearly life-size photo of a garage door is
something you don't usually see in New York City ­ and certainly not inside
a building on Sixth Ave. Jude Tallichet's "All Star" grouping of sandblasted
acrylic versions of the Seattle Space Needle, the Leaning Tower of Pisa, the
Eiffel Tower, and other tourist attractions is certainly out of place seen
together in Midtown Manhattan. You can't take a book from James Mills's
"Community Library," a tall bookshelf of paperbacks with the spines facing
in instead of out. In a sly twist of the more familiar, expected subject of
paintings of people painting scenes of nature, Jon Naiman photographs people
painting urban landscapes. Louise Lawler, whose pictures delve into the
nature of art itself, contributes "Arranged by Donald Marron, Susan
Brundage, Cheryl Bishop at Paine WebberŠ," a photograph taken in 1982 in a
part of 1285 Sixth Ave. the public cannot go to; it shows two men in white
shirts at work, not looking at the carefully chosen artwork (by Roy
Lichtenstein) that lines the wall in front of them. Don't be fooled by
Beaumont's "Camouflaged Cells, Azusa, CA"; the palm tree is a fake ­ it's
actually a disguised cell-phone tower. And you're sure to get a kick out of
Jennifer Bolande's miniature re-creations of the Seagram Building, Lever
House, and the UN, made of lightboxes in a steel frame.

AMERICA TODAY by Thomas Hart Benton
**** (out of four)
AXA Financial Center (originally the Sperry-Rand Building)
1290 Sixth Ave. between 51st & 52nd Sts.
Thomas Hart Benton's 1930-31 mural, using distemper, egg tempera, and oil
glaze on linen, was made for the New School for Social Research, examining
America on the eve of the Great Depression; it was moved to the Equitable
Building (now the AXA Financial Center) in February 1984. The north side of
the lobby features dockworkers in the big city slaving away over blast
furnaces, with mighty ships in the background; a small, narrow panel shows
hands reaching for a drink (with a man in a top hat the only one with
money). On the south side, men struggle on farms, picking cotton, while
trains pass through. On the back wall behind the security desk, America's
nightlife culture takes shape, with dancing, music, circus characters,
burlesque, boxing, and more, a harsh counter to the hard work going on
around it. Also on the back wall is a panel dedicated to progress in travel,
as airships and planes loom on the horizon.

STREET FOOD * to **** (out of four)
Sixth Ave. from 46th to 55th Sts.
Sixth Ave. in Midtown is street-food central, with cart after cart selling
halal food, hot dogs, pretzels, and the latest craze, all kinds of fresh
juices and protein shakes. Just as you'd be careful choosing a restaurant,
take time in picking which cart to go to. Daisy May's BBQ USA on the
southwest corner of 50th & Sixth is a major disappointment; not only do they
not have ribs, but you have to make the sandwiches yourself. When you order
the Texas-style chopped brisket sandwich, for example, you get a sliced role
in plastic wrap, a container of beef, and small containers of onions and
pickles. When we pay eight bucks for a lunch-cart sandwich, we don't want to
make it ourselves. And there's a tip jar to boot ­ shouldn't the guy inside
be tipping us? Fortunately, you can never go wrong with the old standby,
Moshe's Falafel. Don't be afraid of the long line winding down the southeast
corner of 46th & Sixth; at the end is a large, luscious overstuffed falafel,
with lettuce and tomato, doused in sesame sauce, sprinkled with an intense
hot sauce, and topped by two small gherkins. The giant falafel balls are
lightly fried and tender, not oily in the least, and they fill the bottom of
the pita like a buried treasure. And all this for only $3.75, although it's
too messy and big to eat on the run. But it's a work of art just like any of
the paintings, photographs, or sculptures you've been stopping to check out.
We're also fans of the souvlaki pita sandwiches made by the cart on the
southwest corner of 55th & Sixth, which are small but simple and only three
bucks.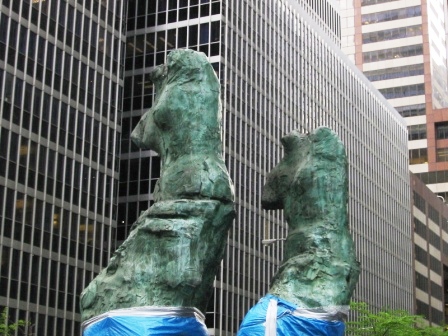 Jim Dine's Venus de Milos: Wearing skirts
JIM DINE'S VENUS DE MILOS ***1/2 (out of four)
Credit Lyonnais Building
1301 Sixth Ave. between 52nd & 53rd Sts.
http://www.pacewildenstein.com/jsp/artists/JimDine.jsp
Standing in front of this nondescript office building (formerly the JCPenney Building), on the left, close to the corner of WC Handys Place, you can see
two green headless figures (partially wrapped in blue while the plaza
undergoes renovation) standing on a base that is shimmering with water; on
the right, closer to 53rd, you can see a third green headless figure, alone.
Is this the result of some love triangle gone awry? No, it's actually a
controversial work, based on the Venus de Milo, by modern master Jim Dine.
When the pieces were first installed, they were met with criticism because
of their depiction of headless, armless women smack in the middle of a
business district, as if the females had no power and deserved no respect.

JESUS BAUTISTA MOROLES: LAPSTRAKE
***1/2 (out of four)
In between 31 West 52nd & 40 West 53rd Sts. and Fifth & Sixth Aves.
http://www.moroles.com
Take a short detour off Sixth Ave. on your way to MoMA to see Jesus Bautista
Moroles's sixty-four-ton 1987 granite statue that consists of alternating
slabs of precariously balanced smooth slabs (with rough edges), each
separated by three levels of smaller, circular, rougher slabs in between,
all resting on a rectangular base. Take a break from all your walking and
grab a seat by this wonderful sculpture that has intrigued us for years.

GREEN TO GREEN AND BEYOND PART I
**1/4 (out of four)
Gallery W 52
The Lobby Gallery at 31 West 52nd St. between Fifth & Sixth Aves.
Through June 17
Open Monday through Friday, 9:00 am ­ 6:00 pm
Admission: free
212-807-0832
The color green is celebrated in this small exhibit in the Deutsche Bank
Lobby Gallery whose centerpiece is two versions of the same piece by Oliver
Boberg, neither of which has any green in it. (We guess that's why they
added the word "Beyond" to the title; the ridiculously written pamphlet that
accompanies the display doesn't really get into that, although it does talk
about nature and the environment.) Still, a few works stand out and are
worth checking out as you head toward MoMA, which is just across the street:
Bob Knox's sunset swamp "Cypress Gardens" is creepy yet inviting. Roe
Ethridge's "Orange Grove #6" is nearly 3-D; try not to reach for one of
those oranges. Get up close and personal with Liz Deschenes's "Green Screen
#8," which will play tricks with your eyes. And Zwelethu Mthethwa's
large-size photo of a worker leaning against a small, bare tree is
captivating. Most of the rest of the photos and paintings are relatively
silly, mundane, or barely average.



Thomas Demand, Clearing. 2003, The Museum of Modern Art, New York, © 2005
Thomas Demand
THOMAS DEMAND **** (out of four)
Museum of Modern Art
11 West 53rd St. between Fifth & Sixth Aves.
Closed Tuesday
Through May 30
Admission: $20, children sixteen and under free with an adult, includes
same-day film screenings (tickets needed)
MoMAudio: $5
Free Fridays 4:00 ­ 8:00
http://moma.org/exhibitions/2005/demand.html
We're usually turned off by work that doesn't necessarily stand on its own,
that requires extra information and research to better understand it or to
increase the enjoyment of it. But German photographer Thomas Demand's
installation at MoMA is well worth the additional investment. Demand builds
colorful paper-and-cardboard life-size models of architectural spaces,
photographs them, then destroys them. The constructions themselves are cool
to look at ­ from a distance it's hard to tell that they're not "real" --
but make sure to pick up the pamphlet that goes with the exhibition, which
reveals that the kitchen is Saddam Hussein's, that the phones and desks in
"Poll" are where Palm Beach County poll workers counted votes in the 2000
presidential election, and that "Staircase" is based on Oskar Schlemmer's
"Bauhaus Stairway." "Room" turns out to be Hitler's bombed-out headquarters,
"Archive" is where Leni Riefenstahl obsessively stored her material for her
Nazi propaganda film OLYMPIA, and "Barn" is Jackson Pollock's East Hampton studio. The most remarkable re-creation is "Clearing," based on part of Venice's Giardini, for which Demand made 270,000 leaves. Demand's "reality" is simply amazing.

RELATED GALLERY TALKS
Museum of Modern Art
11 West 53rd St. between Fifth & Sixth Aves.
The Donald B. and Catherine C. Marron Atrium, Second floor
Wednesday through Monday at 11:30 am and 1:30 pm
Free with museum admission
http://moma.org/events/adult
Thursday, May 12 "Thomas Demand," with Eddie Powers, 1:30
Friday, May 20 "Thomas Demand," with Anna Mecugni, 1:30
Wednesday, May 25 "Thomas Demand," with Jennifer Farrell, 1:30
Sunday, May 29 "Thomas Demand," with Georgia Krantz, 1:30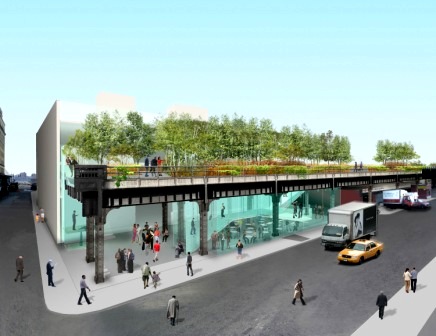 Field Operations and Diller, Scofidio + Renfro, the High Line, preliminary design,
(c) 2005. City of New York. All rights reserved.

THE HIGH LINE ***1/2 (out of four)
Museum of Modern Art, third floor
Through July 18
http://moma.org/exhibitions/2005/grasslands.html
http://thehighline.org
The High Line, an abandoned 1.45-mile stretch of railroad track running from
Gansevoort St. to 34th, built between 1929 and 1934 to transport goods
brought in to New York via ship, was nearly torn down recently, but the
Friends of the High Line fought to save it, and now it is being renovated as
public space. Field Operations and Diller Scofidio + Renfro's winning design
from an intense competition is now on view at MoMA, and it holds a lot of
promise. The new plan includes, among other things, a floating pond, a
sundeck, an event lounge, grasslands, a sunken overlook, a vegetal balcony,
a public roofspace, and a terrace. Digital images and a hanging model show
what the High Line could ultimately look like; Joel Sternfeld's photographs
and a video moving down the entire length of the railway reveal what it
looks like now. To put it into perspective, the exhibit also features
several other public projects from around the world, both realized and not,
including sketches, models, and plans for Mies van der Rohe's Resor House in
Jackson Hole, Foreign Office Architects' Yokohoma International Port
Terminal, Bernard Tschumi's Parc de la Villett in Paris, Steven Holl's
Bridge of Houses in New York, and Asymptote Architecture's Tohoku Historical Museum in Japan.

112 YEARS OF CINEMA: HIGHLIGHTS
FIRST NATIONS/FIRST FEATURES: A SHOWCASE OF WORLD INDIGENOUS FILM AND MEDIA:
HIGHLIGHTS
Roy and Niuta Titus Theaters 1 and 2
Tickets: $10, in person only, may be applied to museum admission within
thirty days, same-day screenings free with museum admission, available at
Film and Media Desk
http://moma.org/exhibitions/film_media/2004/112_years.html
http://moma.org/exhibitions/film_media/2005/first_nations.html
Cap off your day with a movie at MoMA, which is free with your paid
admission on the same day, although you have to pick up the tickets at the
front desk. Currently showing are "112 Years of Cinema," comprising one
carefully chosen film from each year since movies were invented, and "First
Nations/First Features," consisting of films made by indigenous directors
from around the world ­ Native North and South American, Sami, Inuit, Maori,
Australian, Nenet, and Rotuman.
Friday, May 13 First Nations/First Features: TE RUA (Barry Barclay,
Maori, 1991), introduced by the director, 6:00
Friday, May 13 First Nations/First Features: MAURI (Merata Mita, Maori,
1988), introduced by the director, 8:30
Saturday, May 14 112 Years of Cinema: LITTLE CAESAR (Mervyn LeRoy, 1931), 2:00
Saturday, May 14 112 Years of Cinema: DINER (Barry Levinson, 1982), 8:30
Saturday, May 14 First Nations/First Features: FIFTH WORLD (Blackhorse
Lowe, Navajo, 2005), introduced by the director, 8:45
Sunday, May 15 First Nations/First Features: THE DOE BOY (Randy Redroad, Cherokee, 2001), 2:30
Sunday, May 15 First Nations/First Features: TWO CARS, ONE NIGHT (Taika Waititi, Maori, 2004) and BENEATH CLOUDS (Ivan Sen, Gamilaroi, 2001), 5:00
Monday, May 16 112 Years of Cinema: THE LAST LAUGH (F.W. Murnau, 1924), with live piano accompaniment by Stuart Oderman, 5:30
Wednesday, May 18 First Nations/First Features: THE MINISTER OF STATE (Anders Simma, Sami, 1997), 5:30
Wednesday, May 18 112 Years of Cinema: THE NIGHT OF THE HUNTER (Charles Laughton, 1955) and CENTURIES OF JUNE (Joseph Cornell, 1955), 8:15
Thursday, May 19 First Nations/First Features: ONCE WERE WARRIORS (Lee Tamahori, 1995), 8:30
Friday, May 20 112 Years of Cinema: DR. NO (Terence Young, 1962), 8:30
Saturday, May 21 112 Years of Cinema: MILLER'S CROSSING (Joel Coen,
1990), 6:00
Saturday, May 21 112 Years of Cinema: THE HONEYMOON KILLERS (Leonard Kastle, 1970), 8:30
Sunday, May 22 112 Years of Cinema: MANSLAUGHTER (Cecil B. DeMille,
1922), with live piano accompaniment by Ben Model, 5:00
Monday, May 23 First Nations/First Features: ATANARJUAT: THE FAST RUNNER (Zacharias Kunuk, Inuit, 2001), 8:15
Wednesday, May 25 112 Years of Cinema: TAXI DRIVER (Martin Scorsese,
1976), 7:30
Friday, May 27 112 Years of Cinema: ALL THE KING'S MEN (Robert Rossen,
1950), 8:30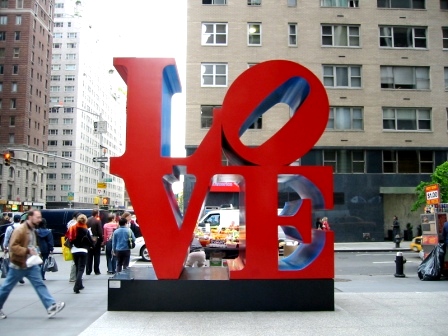 LOVE by Robert Indiana *** (out of four)
Southeast corner of 55th St. & Sixth Ave.
Admission: free
Pop artist and Warhol protege Robert Indiana, who was born Robert Clark but
changed his last name to the state where he was born, has work in the
collections of the Museum of Modern Art, the National Gallery in Washington,
DC, the Fine Arts Museum of San Francisco, and other prestigious locales.
His iconic Midtown depiction of the word "Love," which rests on two levels,
in red letters with a tilted "O," continues to attract tourist photos and
people looking for a place to sit on their lunch hour. Dating from 1966, the
statue evokes a "so-what" attitude from many native New Yorkers, but we have
always been enamored of the bold splash of color it brings to an otherwise
gray corner ­ big red letters with blue interiors ­ as well as its brash way
of screaming out a word so many people are afraid to say. And it's been fun
watching workers repaint it this week, freshening it up a bit.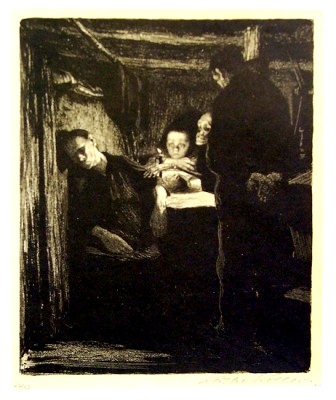 Kathe Kollwitz's "Death," courtesy Galerie St. Etienne
EVERY PICTURE TELLS A STORY: THE NARRATIVE IMPULSE IN MODERN AND CONTEMPORARY ART ***1/2 (out of four)
Galerie St. Etienne
24 West 57th St. between Fifth & Sixth Aves., eighth floor
Closed Sunday & Monday
Through May 27
Admission: free
212-245-6734
http://www.gseart.com/exhibitions.asp?ExhID=493
There are many ways to tell a story, and several unique methods are on
display at this fine exhibit at one of our favorite Midtown galleries.
Paintings and photographs capture a moment in time, but the scenes depicted
here have a past, present, and future inherent in their narratives. More
than six dozen works relate historical, religious, and mythological events
that are both familiar and imagined. Oskar Kokoschka's gorgeous "Christ on
the Cross" tells a more traditional story, while Sue Coe's brilliant "It's a
Wonderful Life" is about a very different kind of Christmas. Look deep into
Gregory Crewdson's untitled photograph of "Balloons in Backyard" to see that
all is not fun and games. Eight masterful works by Max Beckmann will not
bore you, especially "The Yawners." The headless cutouts in Ida Applebroog's
"I Am Full of Mystery and Quiet" have a story all their own. It's hard to
tell exactly what is happening as women undress in Eric Fischl's pair of
evocative oils on linen. Martha Rosler's "Election (Lynddie)" mixes a
conventional suburban kitchen with an image of Lynddie England holding a
leash. Robyn O'Neil's graphite pieces of a couple seemingly lost on a snowy
mountain are compelling, the sparse whiteness a stark contrast to such works
as Kathe Kollwitz's dark, poignant "Battlefield." Among the other artists
represented in this telling exhibition are William Kentridge, Gustav Klimt,
Alfred Kubin, Lovis Corinth, George Grosz, James Ensor, Ernst Ludwig
Kirchner, Alexis Rockman, and Henry Darger.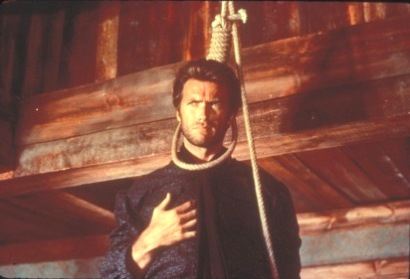 THE GOOD, THE BAD AND THE UGLY screens May 22 at BAM
ONCE UPON A TIME: SERGIO LEONE ***1/2 (out of four)
BAMcinematek
BAM Rose Cinemas
Brooklyn Academy of Music
30 Lafayette Ave. between Ashland Pl. & St. Felix St.
May 13-22
Tickets: $10
718-636-4100
http://bam.org/film/SergioLeone.aspx
If you've never seen any of Sergio Leone's Spaghetti Westerns on the big
screen, BAM is giving you a chance you shouldn't pass up. Four of Leone's
best noodlers ­ three of which star Clint Eastwood ­ make up this short
five-film mini-festival. We have no idea why BAM included the American
gangster film ONCE UPON A TIME IN AMERICA instead of the tongue-in-cheek
DUCK YOU SUCKER, thus resulting in the loss of half a star.
Friday, May 13 ONCE UPON A TIME IN THE WEST (Sergio Leone, 1968), 2,
5:30, 9
Saturday, May 14 ONCE UPON A TIME IN THE WEST (Sergio Leone, 1968), 2,
5:30, 9
ONCE UPON A TIME IN THE WEST (Sergio Leone, 1968) **** (out of four)
http://www.sergioleone.net/intro_sk.html
One of the grandest Westerns ever made, this masterpiece features an
all-star cast that includes Henry Fonda, Charles Bronson, Jason Robards,
Woody Strode, Keenan Wynn, Lionel Stander, and Jack Elam, all enhanced by
Ennio Morricone's epic score and Tonino delli Colli's never-ending extreme
close-ups. (The opening shot of a fly crawling over Elam's grimy face is
unforgettable.) Fonda was never more evil, and Bronson was perhaps never
more likable. The film is a huge step above most of Leone's Spaghetti
Westerns, partially because of the cast, but also because of the script help
he got from Italian horrormeister Dario Argento and iconic filmmaker
Bernardo Bertolucci.
Sunday, May 15 A FISTFUL OF DOLLARS (Sergio Leone, 1964), 2, 4:30, 6:50, 9:15
A FISTFUL OF DOLLARS (Sergio Leone, 1964)
***1/2 (out of four)
http://www.sergioleone.net/intro_sk.html
Sergio Leone's first Spaghetti Western is virtually a shot-by-shot
re-creation of Akira Kurosawa's awesome YOJIMBO, with Clint Eastwood taking over the Toshiro Mifune role, playing a stranger who walks into the middle of a turf war between rival gangs and really gets his butt kicked ­ but not
for long.
Thursday, May 19 FOR A FEW DOLLARS MORE (Sergio Leone, 1965), 4:30, 7:30
Friday, May 20 FOR A FEW DOLLARS MORE (Sergio Leone, 1965), 3, 6, 9
Saturday, May 21 ONCE UPON A TIME IN AMERICA (Sergio Leone, 1983), 2, 7
Sunday, May 22 THE GOOD, THE BAD, AND THE UGLY (Sergio Leone, 1966), 4, 8
THE GOOD, THE BAD AND THE UGLY **** (out of four)
http://www.sergioleone.net/intro_sk.html
You can't spell Clint Eastwood without TNT, but if you get tired of watching
all those commercial-laden small-screen Clint movies on the cable channel,
head to Brooklyn for a magnificent treat: the restored version of the best
spaghetti Western of them all. The dusty three-hour operatic tale stars
Clint as the Good (Blondie), Lee Van Cleef as the Bad (Angel Eyes), and Eli
Wallach as the Ugly (Tuco Benedicto Pacifico Juan Maria Ramirez, whose list
of criminal offenses is a riot). The trio is after $200,000 in Confederate
gold buried in a cemetery in the middle of nowhere. Nearly 20 minutes of
never-before-seen footage have been added to the film, with Wallach and
Eastwood overdubbing brand-new dialogue. Ennio Morricone's unforgettable
score and delli Colli's gorgeous widescreen cinematography have been
marvelously enhanced; their work in the scene when Tuco first comes upon the
graveyard will make you dizzy with delight. And then comes one of the
greatest finales in cinema history.

Also in Brooklyn
BASQUIAT **** (out of four)
Brooklyn Museum of Art
200 Eastern Parkway
Morris A. and Meyer Schapiro Wing, fourth and fifth floors
Closed Monday & Tuesday
Through June 5
Admission: $8 (two-for-one admission if you show your MetroCard)
Audio tour: $5
718-638-5000
http://www.brooklynmuseum.org/exhibitions/#basquiat
Brooklyn's own Jean-Michel Basquiat, a onetime junior member of the Brooklyn Museum, returns home in this awe-inspiring exhibit that follows the musician and artist from his early days as a graffitist through his popular success
and eventual tragic overdose at the age of twenty-seven. Arranged
chronologically, this display of more than one hundred pieces reveals
Basquiat's unique mix of African influence, Abstract Expressionism,
politics, and love of such masters as Pablo Picasso, Henri Matisse, and
Leonardo da Vinci. Basquiat, who often incorporated words and symbols into
his works, painted in a stream-of-consciousness mode that screams with a
bold energy that jumps out and assaults the viewer. His dark, skeletal
figures are torn open, exposing their bones, their organs, their souls. In
"Boy and Dog in a Johnnypump," a man's arms are outstretched, a dog by his
side, as violent splotches of red battle dripping black and white. An
untitled piece usually referred to as "Skull" is a giant head with its skin
ripped off, revealing a troubled, complex mind. In "Acque Pericolose," a man
stands naked, seemingly unaware of the coiled snake to his right and the
rotting animal carcass on his left as flies buzz about. A crowned halo
hovers over a proud "Boxer." Jesse Owens is celebrated as a Superman in
"Jesse." The Daros Suite is a marvelous collection of cartoonlike drawings.
"Now's the Time" is a huge re-creation of a record by heroin-addled Charlie
Parker. "Notary" recognizes Basquiat's growing success, complete with
copyright symbols. And "Grillo" is a stunning four-part installation on
wood, including nails sticking out ominously. Basquiat's last works,
however, are filled with repeated words and phrases and less actual painting
and drawing, perhaps the result of the heroin that had enveloped him. A year
and a half after the death of his mentor, Andy Warhol, Basquiat was dead.

RELATED "BASQUIAT" EVENTS
Brooklyn Museum
Free with museum admission
718-638-5000
http://www.brooklynmuseum.org/calendar
Saturday, May 14 Hands-On Art: Afternoon Groove, postcard workshop, 3:00
­ 5:00
Sunday, May 22 Movies @ the Museum: Basquiat on Film ­ BASQUIAT (Julian Schnabel, 1996), followed by discussion with Paul Laster, 3:00
Saturday, June 4 Target First Saturdays, including solo performance by
Basquiat's friend Roger Guenveur Smith, traditional Puerto Rican music and
dance, and walking tours of the exhibition, free admission after 5:00

TWENTY-FIFTH ANNIVERSARY SPRING ART SHOW
Brooklyn Waterfront Artists Coalition
499 Van Brunt St. in Redhook
Weekends from 12 noon to 6:00 pm through June 18
Admission: free
718-596-2507
http://www.bwac.org
Saturday, May 14
and
Sunday, May 15 Park Slope Open Studio Tour
Saturday, May 21
and
Sunday, May 22 Artists Speak Weekend
Saturday, May 28 Battle of the Brooklyn Bands
Saturday, June 4 Red Hook Waterfront Arts Festival
Saturday, June 4
and
Sunday, June 5 Cobble Hill/Carroll Gardens/Red Hook Open Studio Weekend
Saturday, June 11 Creative Art Therapy Day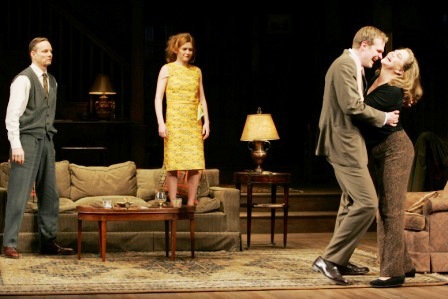 Tony nominees all: photo by Carol Rosegg
EDWARD ALBEE'S WHO'S AFRAID OF VIRGINIA WOOLF? **** (out of four)
Longacre Theatre
220 West 48th St. between Broadway & Eighth Ave.
Tickets on sale through September 4: $91.25
Returning to Broadway for the first time in nearly thirty years, WHO'S
AFRAID OF VIRGINIA WOOLF? is still a revelation. Very slightly tweaked by Edward Albee, the play stars Bill Irwin and Kathleen Turner in the roles
originated onstage by George Grizzard and Uta Hagen and made famous
on-screen by Richard Burton and Elizabeth Taylor. Irwin is simply remarkable
as George, a small-town New England history professor married to the college
president's shrewish daughter, Martha (Kathleen Turner in fine form). The
slight intonations of his voice, his slow, stuttering movements, and his sly
glances are a joy to behold. Turner goes toe-to-toe with him for fifteen
rounds (nearly three hours, with two brief intermissions) but can't wrest
the decision away from him in the end. The play, like the lead characters,
is wickedly funny, brutally honest, and utterly unforgettable, impeccably
directed by Anthony Page. It is about language and love, fact and fiction,
marriage and family, and, ultimately, promise and failure. David Harbour and
Mireille Enos costar as the young couple paying a visit to George and Martha
in the wee hours, completely unprepared for this frightening look at their
potential future ­ and more ready than they thought to reveal some dark,
dangerous secrets of their own. All four members of the cast have been
nominated for Tonys. Don't miss this thrilling night of theater as it
oughtta be.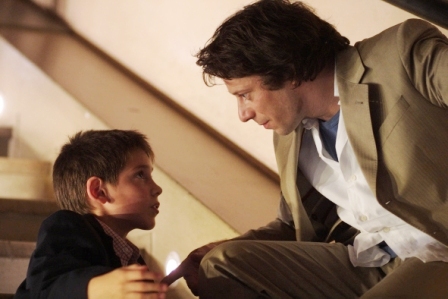 KINGS AND QUEEN (ROIS ET REINE) (Arnaud Desplechin, 2004) ***3/4 (out of four)
Cinema Village
22 East 12th St. between University Pl. & Fifth Ave.
Opens Friday, May 13
Tickets: $9
212-924-3363
http://cinemavillage.com
http://www.wellspring.com
Emmanuelle Devos is spectacular in this terrific film from Arnaud Desplechin
(ESTHER KAHN, MY SEX LIFEŠOR HOW I GOT INTO AN ARGUMENT), playing Nora, a divorced single mother with a ten-year-old son (Valentin Lelong), an ailing father (Maurice Garrel), a troubled sister (Nathalie Boutefeu), a straitlaced, boring fiance (Olivier Rabourdin), a dead ex-husband who appears as a ghost (Joachim Salinger), a manic, tax-evading ex-husband who is institutionalized (a fabulous Mathieu Almaric), and a deep-seated
survival instinct that is infectious. Throw in a suicidal woman (Magalie
Woch) who can't get enough sex, an alluring doctor (Catherine Deneuve), a
drug-addicted lawyer (Hippolyte Girardot), a remarkably calm, gun-toting
convenience-store owner (Jean-Paul Roussillon), and other unusual characters
and plotlines and you have one highly entertaining, complex, and marvelously
original French drama that will fly by much faster than its
two-and-a-half-hour length would lead you to believe.

UNLEASHED (Louis Leterrier, 2005) *1/2 (out of four)
Opens May 13
http://unleashedmovie.com
What a dog. We have a soft spot for Jet Li, but even we can't recommend this
bow-wow of a movie that should never have been unleashed on an unsuspecting
public. The plot bites, and the script, by Luc Besson, goes barking up all
the wrong trees. Li stars as Danny, an attack dog raised by British gangster
Bart (Bob Hoskins) to help him collect what's owed him. When Danny finally
gets away, he becomes a seeing-eye dog for blind piano tuner Sam (Morgan
Freeman, playing his usual role yet again) while his stepdaughter uses music
to sooth the savage beast. The opening martial arts scene is awesome, and
there are elements that could have made this a worthwhile venture, but
nearly every scene ends up catering to the lowest common denominator and
every cliche in the book. Perhaps that's why our dislike keeps growing for
UNLEASHED ­ somewhere in there, there was a good flick, but this ain't it.
This one should be sent back to the pound. (If you want to see a truly
bizarre film with a similar theme, check out Robert Martin Carroll's totally
crazy SONNY BOY [1990], which features David Carradine, Brad Dourif, Conrad Janis, and Michael Griffin as the title character, a wild child raised by
small-town sickos to kill.)

THE INCREDIBLES (Brad Bird, 2004) *** (out of four)
Available on DVD
http://disney.go.com:80/disneyvideos/animatedfilms/incredibles
This Best Animated Feature Oscar winner is more fun from Pixar, which
previously brought us TOY STORY, A BUG'S LIFE, MONSTERS INC., and FINDING NEMO. After the crime-fighting family the Incredibles are sued into early retirement and given a new identity in harmless suburbia, Bob/Mr. Incredible (Craig T. Nelson) can't stop protecting the world from evildoers, sneaking away from his suspicious wife, Helen/Elastigirl (Holly Hunter), to work with Lucius/Frozone (Samuel L. Jackson) in defeating evil. But he meets more than he bargained for in Syndrome (Jason Lee), a piece of his past resurrected to destroy him. Other recognizable voices include Wallace Shawn as Gilbert
Huph, writer Sarah Vowell as Violet, John Ratzenberger as Underminer, and
Elizabeth Pena as Mirage; writer/director Brad Bird (THE IRON GIANT) voices fashion designer Edna ŒE' Mode. The two-disc DVD includes Bird discussing unfinished deleted scenes, a behind-the-scenes featurette, the special short"Jack-Jack Attack," and an essay by NPR's Vowell about her experience on the movie while working at the same time on her latest book, ASSASSINATION VACATION.

RAILROAD EARTH ***1/2 (out of four)
Bowery Ballroom
6 Delancey St. at Bowery
Saturday, May 21, 8:00
Tickets: $20, $17 in advance
212-533-2111
http://www.boweryballroom.com
http://railroadearth.com
The Hobos should be out in full force as the jamming bluegrass/folk/jazz
sextet Railroad Earth returns to New York City for another night on the
Bowery. We've been listening repeatedly to a 2004 live sampler a twi-ny
subscriber passed on to us, and we're digging it massively. We caught the
band in January here, and they put on one heckuva groovy show. They opened
with "Storms," the first track on their latest record, THE GOOD LIFE, and
concluded the night with the album's stunning "Long Way to Go." Along the
way they did a sizzling version of our favorite Earth tune, "Smilin' Like a
Buddha," as well as a mighty "Mighty River," both from 2002's BIRD IN A
HOUSE. They also shuffled through "Warhead Boogie," floated with "Luxury
Liner," and crawled out of "Water Fountain Quicksand." With elements of the
Grateful Dead, Old and in the Way, and other country juke bands, the show
can veer off in numerous directions, but don't go with any expectations;
like the Dead, Railroad Earth never quite knows where the music will take
them every night, so just settle in for what should be a great ride. Heck,
you might even hear them do covers of "The Wheel," "Fire on the Mountain,"
"After the Gold Rush," "Friend of the Devil," "Terrapin Station,"
"Desolation Row," "Fisherman's Blues," or "Bang on the Ear," which have all
made it into relatively recent setlists, although not every performance
includes a cover tune. Which is more than fine, because their originals are
awesome fun.

THE KILLERS / LOUIS XIV AT SUMMERSTAGE BENEFIT CONCERT
Rumsey Playfield
Central Park (enter at Fifth Ave. & 69th St.)
Tickets: $32.50
212-777-1224/212-360-2777
http://summerstage.org
http://www.islandrecords.com/thekillers/site/home.las
http://www.louisxiv.net
Well, we finally found out what all the fuss is about. The Killers' debut
disc, HOT FUSS (Island, 2004), is indeed a killer. It opens with "Jenny Was
a Friend of Mine," which is impossible to listen to without thinking of the
Cure. The guitar line in "Change Your Mind" is infectious. We dig the synth
hook in "Smile Like You Mean It" as well as the transgendering in "Somebody
Told Me." And yes, more than every once in a while you'll think you've found
WLIR 92.7 circa mid-to-late 1980s. This album makes us smile, and we mean
it. The jury's still out on Louis XIV; we like at least a few of the songs
on their debut disc, THE BEST LITTLE SECRETS ARE KEPT (Atlantic, 2005), including the retro "Finding Out True Love Is Blind," but we're not sure
they're album-worthy yet, and we've never been fans of bands that write
songs named after themselves.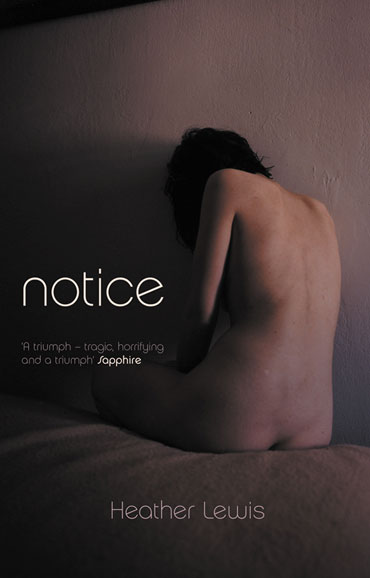 NOTICE by Heather Lewis (Serpent's Tail, 2004)
**** (out of four)
http://www.serpentstail.com/books/?_P=BOK1852424567
Heather Lewis's brilliant, devastating final novel is actually her second,
written in between HOUSE RULES and SECOND SUSPECT, but it took a courageous British publisher to set it in print. It is a painful masterpiece by a
deeply troubled, extremely talented soul who committed suicide three years
ago this month. This stunning, intensely personal book is primarily an inner
dialogue by an abused young woman who knows only how to suffer, yet there is
something both brave and frightening about her refusal to fight back. The
heartbreaking first-person narrative follows her reliance on drugs, alcohol,
intense physical abuse, and prostitution to avoid feeling anything real. An
afterword by Allan Gurganus (THE OLDEST LIVING CONFEDERATE WIDOW TELLS ALL), who was Heather's friend and mentor, pays tribute to her while also exposing many of her troubles and her last days. In the late 1980s and early 1990s, we worked with Heather, and through the years we knew of only some of the demons that had tormented her. But you don't have to have known her to see her genius here, one that is sadly gone forever.


twi-ny top two dozen (or so) weekly reminders & special events
FINE ART MUSIC PHOTOGRAPHY
Morrison Hotel
124 Prince St. between Greene & Wooster Sts.
Admission: free
212-941-8770
http://www.morrisonhotel.us/showschedule.html
Wednesday, May 11
through
Monday, May 16 Jerry Garcia Art Tour, featuring more than forty prints
and lithographs by the late musician / artist
Wednesday, May 25
through
Sunday, June 8 Swamps of Jersey, featuring late 1970s photos by Frank
Stefanko of Bruce Springsteen, Southside Johnny, and Patti Smith
---
CHARLES GATEWOOD'S EROTIC/FETISH PHOTOGRAPHY WORKSHOP
Museum of Sex
233 Fifth Ave. at 27th St.
Tickets: $50
Seating limited; reservations strongly recommended
212-689-6337 ext115
http://museumofsex.com/inside/events.asp
Thursday, May 12 Photography lecture and workshop with Charles Gatewood,
followed by participants photographing a nude model, 7:00 ­ 10:00 pm
---
WEEKEND STREET FAIRS/FESTIVALS/PARADES/CARNIVALS
All events approximately 11:00 am - 6:00 pm unless otherwise noted
Admission: free
http://www.nyctourist.com/st_fairs_calendar.htm
http://nycstreetfairs.com/sched.html
Thursday, May 12 Israel Independence Day Festival: Yom Ha'Atzmaut
Celebration, 235th St. & Independence Ave., the Bronx, 5:30 ­ 9:00 pm
Friday, May 13 Civic Community Day Fair: Murray St. between Broadway &
Church St.
Saturday, May 14 Gramercy Park Neighborhood Festival: Park Ave. South
between 17th & 23rd Sts.
Saturday, May 15
and
Sunday, May 15 Ninth Ave. Food Festival: Ninth Ave. between 37th & 57th
Sts.
Sunday, May 15 Norwegian-American 17th of May Parade: Fifth Ave. & 90th
St. to Seventh Ave. & 67th St.
Sunday, May 15 MLK/369th Regiment Parade: Fifth Ave. from 61st to 86th
Sts.
Sunday, May 15 Amsterdam Ave. Festival: Amsterdam Ave. between 77the &
90th Sts.
Friday, May 20 Financial Community Day Festival: Maiden Ln. between Water
& South Sts.
Saturday, May 21 Children of the World Festival: Sixth Ave. between 42nd
& 56th Sts.
Sunday, May 22 Amsterdam Ave. Fair: Amsterdam Ave. between 96th & 106th Sts.
Sunday, May 22 Second Ave. Jubilee: Second Ave. between 23rd & 34th Sts.
Sunday, May 22 Twelfth Annual Broadway Summer Festival: Broadway between 66th & 72nd Sts.
Sunday, May 22 Cuban Day Parade: Sixth Ave. from 35th St. to Central Park
South
---
MEET THE WRITERS
Barnes & Noble
33 East 17th St. at Union Square (US)
212-253-0810
600 Fifth Ave. at 48th St., Rockefeller Center (RC)
675 Sixth Ave. at 22nd St., Chelsea (CH)
160 East 54th St. at Third Ave., Citicorp (CC)
105 Fifth Ave. at 18th St. (18)
4 Astor Pl. at Broadway (AP)
1972 Broadway at West 66th St., Lincoln Triangle (LT)
396 Sixth Ave. at Eighth St., Greenwich Village (GV)
2289 Broadway at 82nd St. (BW)
240 East 86th St. at Second Ave. (86)
106 Court St., Brooklyn (CS)
267 Seventh Ave., Park Slope (PS)
Admission: free
http://www.barnesandnoble.com/frames/storeLocator/storeLocator_zip.asp?ZIP= 10016&userid=1D6CIO3Q8L&linkto=shop
Thursday, May 12 Eric Bogosian, WASTER BEAUTY, US, 7:00
Saturday, May 14 Maury Allen, BROOKLYN REMEMBERED: THE 1955 DAYS OF THE DODGERS, 176-60 Union Tpke., Fresh Meadown,
718-380-4340, 4:00
Wednesday, May 18 Amy Ephron, ONE SUNDAY MORNING, LT, 7:00
Thursday, May 19 Jason Alexander, DAD, ARE YOU THE TOOTH FAIRY?, RC, 1:00
Monday, May 23 Meg Cabot, PRINCESS IN TRAINING, 86, 7:00
Tuesday, May 24 Cheryl Ladd, TOKEN CHICK: A WOMAN'S GUIDE TO GOLFING WITH THE BOYS, RC, 1:00
---
THE SECOND TIME AROUND
St. James' Church
865 Madison Ave. between 71st & 72nd Sts.
212-774-4231
http://www.stjames.org
Friday, May 13
and
Saturday, May 14 Sale of gently used clothes and accessories benefiting
St. James' Church Outreach Program, 11:00 am ­ 4:00 pm
---
SUNSHINE AT MIDNIGHT
Landmark Sunshine Cinema
143 E. Houston St. between First & Second Aves.
Friday and Saturday nights at midnight
212-330-8182
http://www.landmarktheatres.com/Market/NewYork/NewYork_frameset.htm
Friday, May 13
and
Saturday, May 14 RAIDERS OF THE LOST ARK (Steven Spielberg, 1981)
Friday, May 20
and
Saturday, May 21 DISCO DOLLS IN HOT SKIN (Norm de Plume, 1977)
---
SUMMER IN LongIsCity 2005
P.S. 1 Contemporary Art Center
22-25 Jackson Ave. at 46th Ave.
Long Island City
Admission: free
212-708-2084
http://www.ps1.org
Sunday, May 15 Live Artist Performances: Ei Arakawa, Pattie Lee Becker,
and Tamy Ben-Tor, 4:00
---
ELDRIDGE STREET PROJECT
12 Eldridge St. between Canal & Division Sts.
Limited space: RSVP to asteinmilford@eldridgestreet.org to reserve
212-219-0888 ext302
http://www.eldridgestreet.org/programs_c.htm
Sunday, May 15 Stoop, Synagogue, Soapbox: Political Walking Tour, with
Tony Michels and Annie Polland, $12, 11:00 am
Sunday, May 15 Kinder Loshen: Reading and Discussion, with David
Bezmozgis, Lara Vapnyar, and Mia Yun, $12, 3:00
---
SECOND SUNDAYS
The Noguchi Museum Sculpture Garden
9-01 33rd Rd. at Vernon Blvd., Long Island City\
Weekend shuttle bus from the Asia Society at Park Ave. & 70th St.: $5
Free with museum admission of $5
http://www.noguchi.org/currentevents.html
Sunday, May 15 Music in the Garden: Music for Shakuhachi and Koto, with
Ralph Samuelson and Masayo Ishigure, 3:00
---
MCNY PROGRAMS
Museum of the City of New York
1220 Fifth Ave. between 103rd & 104th Sts.
212-534-1672
http://www.mcny.org/Calendar/prog.htm
Sunday, May 15 Russell Shorto, TOLERANCE AND IDENTITY: JEWS IN EARLY NEW YORK, 1654-1825, 3:00
Thursday, May 19 Charles Busch in Conversation with B.D. Wong,
reservations required, 6:30
---
MAKOR THEATER & FILM
Makor
Steinhardt Building
35 West 67th St. between Amsterdam & Columbus Aves.
212-601-1000
http://www.makor.org
Sunday, May 15 HABLO, DIABLO ( I SPEAK, DEVIL), new play by Nancy
Ancowitz, with Brad Holbrook and Laurie Graff, with live music by Yuvak
Cohen, $12, 7:00
Tuesday, May 24 Food on Film Salon: HAMBURGER AMERICA (George Motz, 2004), followed by discussion with director and Matteo Riccardella from P.J. Clarke's, moderated by Mr. Cutlets, $15, 7:30
---
MUSIC AT TRINITY: MADE IN THE USA
Trinity Church
Broadway at Wall St.
Thursdays at 1:00 pm
St. Paul's Chapel
Mondays at 1:00 pm
Admission: free
212-602-0747
http://www.trinitywallstreet.org/music/index.shtml
Monday, May 16 The Hyreus Duo: Works by Fauré, Brahms, Ireland, Debussy, Laks, Rorem, Hundley, and Hoiby
Thursday, May 19 Solid Rock Ensemble: Original compositions by the Rev.
Gloria Lyde German
Monday, May 23 Tricia Park, violin, and Riko Higuma, piano: Works by J.
S. Bach, Janacek, Brahms, and Wieniawski
---
THE WALTER ANNENBERG ANNUAL LECTURE
Whitney Museum of American Art
945 Madison Ave. at 75th St.
Admission: free
1-800-whitney/877-whitney
http://www.whitney.org
Wednesday, May 18 Photographer Hiroshi Sugimoto in conversation with Adam D. Weinberg, the Alice Pratt Brown director of the Whitney, 7:00
---
LECTURES, DIALOGUES & CONVERSATIONS
92nd St. Y, Kauffman Concert Hall
1395 Lexington Ave. at 92nd St.
212-415-5500
http://www.92ndsty.org/calendar/calendar.asp
Wednesday, May 18 Ruth Reichl in Conversation with Liz Smith: Food and
Dishing, $25, 8:00
---
THE MIDTOWN CONCERTS: MUSIC FOR THE SPIRIT
St. Francis of Assisi Church
135 West 31st St. between Sixth & Seventh Aves.
Thursdays at 1:15 pm
Admission: free
212-967-9157
http://www.polyphony.com/polyphony.asp
Wednesday, May 18 Robert Mealy, Bach for Solo Violin
---
KAYAKING ON THE HUDSON
The New York City Downtown Boathouse
Pier 26 between Chambers & Canal Sts.
Weekends and holidays 9:00 am ­ 6:00 pm
Pier 66A at the end of 26th St. on the Hudson River
Weekends and holidays 10:00 am ­ 5:00 pm
Informational sessions Wednesdays at 6:00 pm
Through October 16
Everything free, but walk-up only, first come, first served
646-613-0740/0375
http://downtownboathouse.org/calendar.html
Wednesday, May 18 Volunteer Introduction
Wednesday, May 25 Forward Stroke Clinic
---
EIN TROPFEN AUF DEN HEISSEN STEIN:
A DROP IN THE BUCKET!
Church of St. Luke in the Fields
487 Hudson St. south of Christopher St.
Tickets: $15-$20
212-517-1776
http://www.westvillagechorale.org
Saturday, May 21 German music for chorus, a cappella, and piano: Works by
Mendelssohn, Schutz, Schubert, Rheinberger, and Brahms, with the West
Village Chorale, Elena Belli, piano, Scott Williamson, tenor, and Michael
Conley, conductor, 8:00
---
STORIES FROM THE FIELD
The New School
66 West 12th St. between Fifth & Sixth Aves.
Tickets: $20 full day, $15 one segment
212-229-5488
http://www.nsu.newschool.edu/02a_specdiv.htm#0201
http://www.mcainy.org/common/11040/?clientID=11040
Saturday, May 21
and
Sunday, May 22 The First United Nations Documentary Film Festival, 12
noon ­ 9:00 pm
---
WORKS & PROCESS
Solomon R. Guggenheim Museum
1071 Fifth Ave. at 89th St.
212-423-3500
http://www.guggenheim.org/education/worksandprocess/schedule.html
Monday, May 23 Celebrating Milton Babbitt, with Lucy Shelton, Thomas
Meglioranza, Alan Feinberg, and six vocal soloists, $20, 8:00
---
RIPFest #6: MOVIE MUSICALS
Anthology Film Archives
32 Second Ave. at Second St.
Tickets: $10
212-505-8181
http://www.anthologyfilmarchives.org
Monday, May 23
and
Tuesday, May 24 Screening of six films made through guerrilla process,
with filmmakers given a random cast, crew, and theme on May 7, with only
sixteen days to complete ten-minute work, produced by Raw Impressions, 8:00
& 9:30 pm
---
SELECTED SHORTS
Symphony Space
Peter Jay Sharpe Theatre
2537 Broadway at 95th St.
212-864-5400
http://www.symphonyspace.org
Wednesday, May 25 Closing Night ­ Lost and Found, with stories by
Jonathan Lethem, Zadie Smith, Stuart Dybek, and Bernard Cooper, $21-$25,
6:30

All contents copyright 2005 by Mark Rifkin and twi-ny. All rights reserved.
Contents may not be reprinted without written permission. Please note that
events, dates, and prices are subject to change.
---------------------------------------------------------
Send all comments, suggestions, reviews, and questions to Mark Rifkin at
twi-ny@nyc.rr.com.
Please note that some e-mail clients may wrap links, so be sure to enter
them fully into your browser.
---------------------------------------------------------
To subscribe to this list, please e-mail the administrator at
twi-ny@nyc.rr.com with the word Subscribe in the Subject line; be sure to
ask for back issues, which are free as well. To unsubscribe from this list,
please think it over twice before e-mailing the same address. Please let us
know what you didn't like about this forum and we'll do our best to correct
it in the future -- if we agree with you. If you would like to see something
covered in a future issue, please let us know. Without you, there is no need
for us to exist.
---------------------------------------------------------