Sara D. Roosevelt Park and other locations
East Houston St. between Forsythe & Chrystie Sts.
February 19-28, free - $115
www.betterchinatown.com
www.explorechinatown.com
Gōng xǐ fā cái! New York City is ready to celebrate the Year of the Wood Goat (aka the Year of the Ram and the Year of the Sheep) this month with special events all over town, in all five boroughs. The sixteenth New Year Firecracker Ceremony and Cultural Festival will explode in and around Sara D. Roosevelt Park on February 19 at 11:00 am, with live music and dance, speeches by politicians, drum groups, lion, dragon, and unicorn dancers making their way through local businesses, and more than half a million rounds of firecrackers warding off evil spirits and welcoming in a prosperous new year. The Flushing Lunar New Year Parade takes place February 21 at 10:00; following the parade, there will be a family festival at the Queens Botanical Garden ($2-$4, 1:00 - 4:00). Also on February 21 ($5-$12, 1:00 – 4:00), Asia Society will present its annual Family Day: Moon over Manhattan, featuring lion dance and kung-fu demonstrations, live music, and arts and crafts. The New York Chinese Cultural Center will present a Lunar New Year program with folk dances, paper cutting, calligraphy, and lion dances at the Bronx Museum of the Arts on February 21 (free, 2:00 - 4:00). One of our favorite restaurants, Xi'an Famous Foods, will be hosting a culinary Lunar New Year concert at the Music Hall of Williamsburg on February 21 with MC Jin, Wanting Qu, Clara C, Esther & Lara Veronin, the Shanghai Restoration Project, and Mree, benefiting Apex for Youth ($50-$165, 6:00). There will be a performance by Chinese Theater Works, a zodiac-themed scavenger hunt, and sheep meet-and-greets at the Prospect Park Zoo February 21-22 ($6-$8). The Museum of Chinese in America will give Lunar New Year walking tours on February 21-22 ($8-$15, 11:00 and 1:00), followed on February 28 ($10, 11:00 am – 4:00 pm) by its Lunar New Year Family Festival, with lion dances and workshops, food tastings and demonstrations, storytelling, calligraphy, balloon animals, arts and crafts, and the Red Silk Dancers. The sixteenth annual Chinatown Lunar New Year Parade and Festival will wind its way through Chinatown, Sara D. Roosevelt Park, and Columbus Park on February 22 starting at 1:00, with cultural booths in the park and a parade with floats, antique cars, live performances, and much more from China, Korea, Japan, Vietnam, Taiwan, Malaysia, Singapore, and other nations.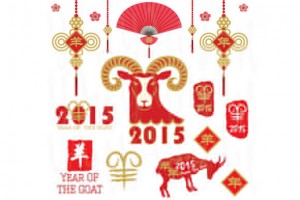 On February 22 (free - $25, 11:00 – 3:00), the China Institute's Chinese New Year Family Celebration boasts lion dance and kung-fu performances, gallery tours with receptions, and dumpling and lantern workshops. Dr. Hsing-Lih Chou has curated a Lunar New Year Dance Sampler at Flushing Town Hall on February 22 (free, 2:00). The New York Philharmonic gets into the party spirit with Yo-Yo Ma leading a Chinese New Year musical evening on February 24 at Avery Fisher Hall ($45-$115, 7:30); the program includes the U.S. premiere of Zhao Lin's Duo concerto for cello, sheng, and orchestra, conducted by Long Yu. Earlier that day, the Nai-Ni Chen Dance Company and students from the National Dance Institute will perform traditional dances on Josie Robertson Plaza (free, 4:30). The annual Lunar New Year Festival at the Metropolitan Museum of Art is set for February 28 (free with suggested museum admission, 12 noon – 5:00), with puppet shows, martial arts demonstrations, dances, storytelling, tea presentations and ceremonies in the Astor Chinese Garden Court, and activities inspired by the exhibition "The Art of the Chinese Album." And the Queens Zoo will honor the goat/ram/sheep February 28 - March 1 with scavenger hunts, arts and crafts, live live performances, calligraphy workshops, and meet-the-sheep programs.