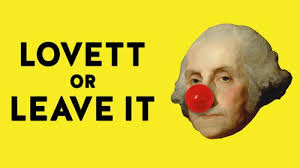 Who: Jon Lovett, Stacey Abrams, Desus and Mero, Wyatt Cenac, Dulcé Sloan, Alyssa Mastromonaco
What: Live broadcast of Lovett or Leave It
Where: Radio City Music Hall, 1260 Sixth Ave. at Fiftieth St.
When: Friday, September 13, $39-$79, 8:00
Why: Every Friday night, producer and former speechwriter Jon Lovett hosts Lovett or Leave It, a political podcast about the week in review recorded live in Los Angeles; recent episodes include "Dunaway or the Highway," "Gays Against Equinox," "Hot Inslee Summer," "Big Not So Little Lies," and "Send Him Back," with such guests as Larry Wilmore, Jay Inslee, Matt Walsh, Julian Castro, and Andy Richter. On September 13, Lovett, the cofounder (with Jon Favreau and Tommy Vietor) of Crooked Media, which produces such other podcasts as Keep It, Pod Save America, and Hysteria, brings his show to the East Coast, hosting the program at Radio City Music Hall with former Georgia House Democratic leader Stacey Abrams, Showtime's Desus and Mero, Problem Areas' Wyatt Cenac, The Daily Show's Dulcé Sloan, and former White House deputy and bestselling author Alyssa Mastromonaco, looking at the events of the past seven days, which keep getting crazier and crazier. There will also be related games and quizzes.