City Winery
155 Varick St.
May 31 - June 3, $45-$65
212-608-0555
citywinery.com
www.ianhunter.com
I first saw Ian Hunter perform on July 5, 1980, at the famed Malibu nightclub in Lido Beach, a memorable show and a formative part of my teenage existence. Last month, nearly forty years later, I was in awe as Hunter, who I've seen play many times over the decades, led Mott the Hoople '74 through a blistering set at the Beacon. Sinewy and lithe, he was as active as ever, making his way all over the stage, posing at the mic, playing electric and acoustic six-string razors, and teasing the crowd, ever the glam rock star in his trademark shades and curly golden locks. During the show, original Mott guitarist Ariel Bender made joking comments about age — "I'm happy to be here. . . . I'm happy to be anywhere," he declared more than once — but with Hunter, it was as if time had stood still. He has never rested on his laurels, relentlessly touring while carving out a prolific career as a solo artist in addition to his time with Mott.
On June 3, he'll be turning eighty — he's also been married to his wife, Trudi, for nearly fifty years — and he's celebrating the occasion with a four-night residency at City Winery, joined by his longtime backing group the Rant Band. On May 31 and June 2, they will be performing Mott the Hoople tunes; on June 1, the focus will be on Hunter's solo work, which includes such outstanding albums as 1979's You're Never Alone with a Schizophrenic, 1983's All of the Good Ones Are Taken, 2009's Man Overboard, and 2016's Fingers Crossed. And on June 3, there will be a gala party where anything can happen. In honor of the milestone, I asked the members of the Rant Band what impressed them most about Hunter's remarkable youthfulness.
Paul Page, Bass
"I always love seeing Ian at the baggage carousels after a long flight. While the rest of us are scattered, maybe a couple of us are in the restroom, or someone's on the phone or out getting some fresh air. There's Ian, right up front, picking bags and guitar cases off the belt, lining them up and nodding 'Is this yours?' 'Here's another.' He puts us all to shame."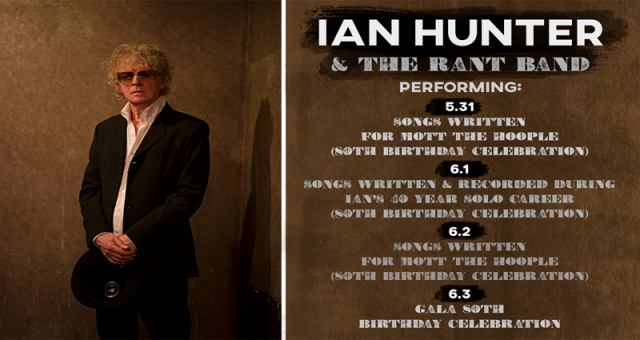 Steve Holley, Drummer
"I have had the distinct pleasure of playing drums with Ian Hunter for over thirty years and can say in all honesty that everything he does at the moment is beyond the reach of most people his age. However, age really has nothing to do with it; he just continues to write and perform at a level that we can only dream of.
"Happy birthday, Ian! And here's to many more!"
Dennis DiBrizzi, Keyboards
"What continues to amaze me is Ian's integrity and dedication to rock and roll. He's still relevant because he's still passionate about singing, songwriting, and performing. Age is no issue when you still have that."
James Mastro, Guitar, Saxophone, Mandolin
"Centuries from now scientists will be studying the genetic makeup of an anomaly that straddled the twentieth and twenty-first centuries known as Ian Hunter and try to figure out what made him rock so well for so long. I wish I knew. Put him in the category of the Grand Canyon, the Nile, the Acropolis, the Cyclone at Coney Island: all wonders of the world that never cease to amaze or disappoint. I'm just glad I've gotten to witness this force of nature up close."