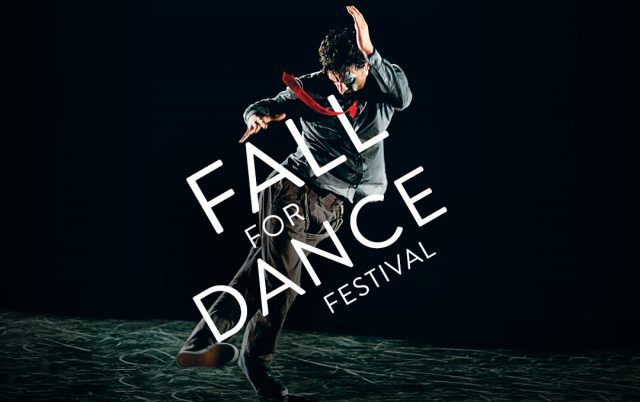 New York City Center
131 West 55th St. between Sixth & Seventh Aves.
Tickets go on sale Sunday, September 10, 11:00 am (get place in line starting at 10:00 am)
Festival runs October 2-14, $15
212-581-1212
www.nycitycenter.org
One of the hottest tickets of the season is always the annual Fall for Dance Festival at City Center, ten days of performances by twenty companies from around the world, each show a mere fifteen bucks. This year's lineup is stellar once again, with such troupes as Trisha Brown Dance Company, American Ballet Theatre, Alvin Ailey American Dance Theater, Abraham.In.Motion, the San Francisco Ballet, Stephen Petronio Company, and the Pennsylvania Ballet performing works by such choreographers as Christopher Wheeldon, Kyle Abraham, Alexei Ratmansky, Ronald K. Brown, Crystal Pite, Mark Morris, and Michelle Dorrance. Most evenings will be preceded by free dance lessons by members of one of that night's performing companies, open to all ticket holders (Tango Fire, October 4; Cie Art Move Concept, October 5; Alvin Ailey American Dance Theater with Ronald K. Brown, October 6; Ballet BC, October 11; Company Wang Ramirez, October 12; Danza Contemporanea de Cuba, October 13). More advanced dancers can sign up for master classes ($15) with Dorrance Dance (tap) on October 3 at 6:00 and with Wendy Whelan (ballet) on October 14 at noon. Tickets go on sale Sunday, September 10, at 11:00 am, but you need to get your place in line at 10:00, so don't waste any time if you want to see any of the below programs, because these events sell out ridiculously fast.
Monday, October 2, and Tuesday, October 3, 8:00
Miami City Ballet
Vincent Mantsoe, GULA, choreographed by Vincent Sekwati KoKo Mantsoe
Trisha Brown Dance Company, You can see us, choreographed by Trisha Brown
Dorrance Dance, Myelination, world premiere Fall for Dance commission, choreographed by Michelle Dorrance
Wednesday, October 4, and Thursday, October 5, 8:00
Pennsylvania Ballet, Rush©, choreographed by Christopher Wheeldon
Cie Art Move Concept, Nibiru, choreographed by Soria Rem and Mehdi Ouachek
Stephen Petronio Company, Bloodlines: Yvonne Rainer and Steve Paxton
German Cornejo's Tango Fire, Tango Fire, choreographed by German Cornejo
Friday, October 6, and Saturday, October 7, 8:00
Sanjukta Sinha, IceCraft Dance Company, Kin-Incede, choreographed by Padma Bhusan Kumudini Lakhia
American Ballet Theatre, Souvenir d'un lieu cher, choreographed by Alexei Ratmansky
Alvin Ailey American Dance Theater, Open Door, choreographed by Ronald K. Brown
Les Ballets Trockadero de Monte Carlo, Paquita, after Marius Petipa
Wednesday, October 11, and Thursday, October 12, 8:00
Gauthier Dance//Dance Company Theaterhaus Stuttgart, Streams, choreographed by Andonis Foniadakis
Abraham.In.Motion, Drive, world premiere Fall for Dance commission, choreographed by Kyle Abraham
Sara Mearns and Honji Wang, No. 1, world premiere co-commission, choreographed by Honji Wang and Sébastien Ramirez
Ballet BC, Bill, choreographed by Sharon Eyal and Gai Behar
Friday, October 13, and Saturday, October 14, 8:00
Hubbard Street Dance Chicago, Solo Echo, choreographed by Crystal Pite
San Francisco Ballet, Concerto Grosso, choreographed by Helgi Tomasson
David Hallberg, Twelve of 'em, world premiere Fall for Dance commission, choreographed by Mark Morris
Danza Contemporanea de Cuba, Matria Etnocentra, choreographed by George Céspedes