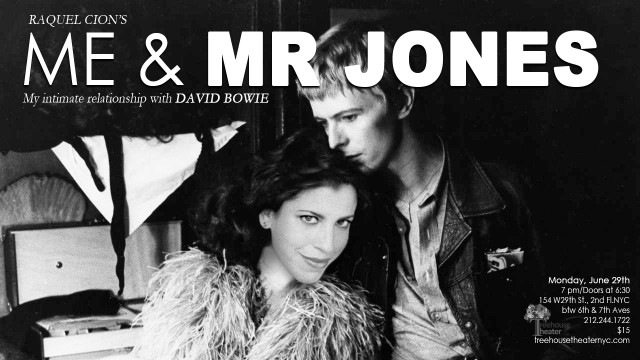 Treehouse Theater (Treehouse154)
154 West 29th St. between Sixth & Seventh Aves.
Monday, June 29, $15, 7:00
212-244-1722
treehousetheaternyc.com
In a 2012 twi-ny talk, sexy cabaret chanteuse Raquel Cion gushed about David Bowie, telling us, "I'm a ridiculously huge Bowie fan. His voice, his music, his presence in the world, just immediately comfort me on such a deep level. So, when I'm feeling lonely or pretty much any feeling, Bowie both sends me and grounds me." In her show Gilding the Lonely, Cion sang a stirring version of the Thin White Duke's "Sweet Thing / Candidate," while she tore up "Moonage Daydream" with Michael T & the Vanities at (le) poisson rouge in 2013. She will now reach even deeper into her Bowie fixation with her latest glittery spectacle, Me & Mr. Jones: My Intimate Relationship with David Bowie. Cion explores the nature of fandom and superstar worship in the piece, considering herself a "psychodelicate" girl who finds her "soul love" in the music and madness of the English singer and actor born David Jones in Brixton in 1947. On June 29 at the Treehouse Theater, Cion will mix intimate stories and Bowie covers with Jeremy Bass on guitar, Bill Gerstel on drums, Keith Hartel on bass, Karl Saint Lucy on piano, and Matthew Cleaver and DM Salsberg on background vocals. The show is directed by Joseph Hayward, with gowns, so much a part of Cion's sparkling style, by David Quinn. It should be quite a glam evening.