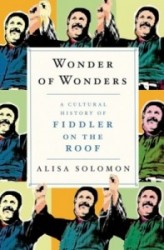 Who: Drama critic and author Alisa Solomon
What: Theatre for a New Audience's Open Books Series 2015
Where: Polonsky Shakespeare Center, 262 Ashland Pl. between Fulton St. & Lafayette Ave., 212-229-2819
When: Monday, March 23, free with advance RSVP, 7:00
Why: Theatre for a New Audience's Open Books series continues with Alisa Solomon presenting her book Wonder of Wonders: A Cultural History of Fiddler on the Roof (Picador, September 2014), an engaging analysis of one of Broadway's most popular musicals ever, which was adapted into an Oscar-nominated film. "As the first work of American popular culture to recall life in a shtetl — the Eastern European market towns with large Jewish populations — Fiddler felt tender, elegiac, even holy," Solomon writes in the introduction. "It arrived just ahead of (and helped to instigate) the American roots movement. It was added to multicultural curricula and studied by students across the country in Jewish history units, as if Fiddler were an artifact unearthed from a destroyed world rather than a big-story musical assembled by showbiz professionals." The free evening will include a conversation between Solomon and moderator Jonathan Kalb, an audience Q&A, a book signing, complimentary food and drink, and a meet-and-greet with Solomon.