Museum of Sex
233 Fifth Ave. at 27th St.
Daily through spring 2015, $17.50
Portal of Love: Sunday, February 15, $25-$30, 10:00 pm - 4:00 am
212-689-6337
www.museum.museumofsex.com
When it comes right down to it, sex, in all its iterations, if done right, should be fun, if a little dangerous. And that's the premise behind the Museum of Sex's playful interactive exhibition "Funland: Pleasures & Perils of the Erotic Fairground." Bompass & Parr, the jelly-loving London-based conceptual art duo of Sam Bompass and Harry Parr that has celebrated death in the architectural design competition Monumental Masonry, created a multisensory church organ promoting the wonders of whisky with the Flavour Conductor, and built the cake-inspired nine-hole Crazy Golf course on Selfridge's roof, has now transformed a section of the Museum of Sex into a kinky carnival where visitors get to shed a bit of their inhibition and have a rousingly bawdy good time — while getting to release orgasmic endorphins in public. "Funland" comprises a handful of amorous attractions that add tantalizing twists to fairground favorites, all set in a luridly lit amorously red setting, with a carny, carnal soundscape by Dom James. Begin with "Foreplay Derby," in which challengers roll balls into a hole in order to make their assigned gold phallus cross a finish line first; the winner just might get whipped by a seductively clad museum worker. "The Tunnel of Love" is a hall of mirrors that leads to a sculpture of a G-spot that is also a Theremin that plays music when you wave your hand over it.
"Grope Mountain" is a three-sided climbing wall where you have to grab on to casts of sexual body parts and orifices in order to successfully make it across. And in "Jump for Joy," visitors remove their jackets and shoes and spend several minutes bouncing around a room of giant inflated breasts, like kids playing in a balloon room; be prepared to exit somewhat dizzy and winded. The exhibit also includes a vitrine that offers daringly shaped edible delights and the "Erotic Picture Palace," which shows NSFW old movies and carnival footage, including The Rotascope. Professor Vanessa Toulmin of the National Fairground Archive at the University of Sheffield puts it all in cultural context in her essay "As Graceful as They Were Disgraceful: Eroticism and the Fairground," in which she writes, "Despite the attempts by moral puritans to tame the baying crowds, the elements of untamed sexuality, the Baktinian world of the carnivalesque remained beneath the veneer of the modernistic fairground roundabouts and carousels. . . . However, it was entry into the sideshows that revealed to the visitor the full frontal erotic reality of the female nude. . . . The sideshows of the twentieth century were a continuous link to the bacchanalia of the medieval and preindustrial European fairs, offering sex, nudity, and the wonders of gay Paree for a penny or a dime." The Museum of Sex offers its own whimsical twenty-first-century take on bacchanalia for $17.50 plus tax.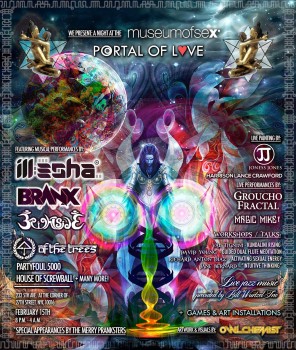 The museum also has a large yet intimate new café/den/bar appropriately called Play, where you can grab a drink or dinner while perusing a book from its extensive sexually charged library. For Valentine's Day weekend, MoSex is hosting "Get Steamy" specials, with "The Full Treatment: 3 Aphrodisiac Shooters," a trio of vodka-infused cocktails (Lychee Libidinal, Pomegranate Virility, and Citrous Oxide); bath and body packages; and extended hours, remaining open till midnight on Friday and Saturday. And on Sunday night from 8:00 till 4:00, "Portal of Love" will feature modern burlesque and genre-bending performances by ill-Esha, BRANX, Brightside, Of the Trees, PartyFoul 5000, Soohan, the Bill Wurtzel Trio, House of Screwball, Groucho Fractal, Magic Mike, Cat Wolf, Wild Torus, Kevin Karpt, Evelyn Von Gizycki, Lindsee Lonesome, and the Merry Pranksters, live painting by Joness Jones and Harrison Lance Crawford, and workshops led by Val Tignini ("Kundalini Rising"), David Young ("Guided Dual Flute Meditation"), Richard Anton Diaz ("Activating Sexual Energy"), and Jane Bernard ("Intuitive Thinking"). You can also check out the other exhibitions at the museum: "The Eve of Porn: Linda Lovelace" examines the controversy surrounding Deep Throat and the treatment of its star, while "The Sex Lives of Animals" is an engaging and educational exploration of animal sexual behavior.