St. Luke's Theatre
308 West 46th St. between Eighth & Ninth Aves.
Wednesdays at 2:00, Thursdays at 8:00, Sundays at 1:00 through September 21, $39.50-$59.50
212-246-8140
www.stlukestheatre.com
www.olympicsuberalles.com
In 1936, U.S. Olympic runners Marty Glickman and Sam Stoller were unexpectedly removed from the 4x100-meter relay team the day before the event. Glickman, who went on to have a Hall of Fame career as a sports broadcaster, always claimed that the move was due to anti-Semitism, made to to appease the German furor over Jesse Owens's having already won three gold medals. (The victories by the African American Owens infuriated Adolf Hitler, who had planned to use the Olympics to show off the dominance of the so-called master race.) However, Glickman's claim was denied by U.S. Olympic Committee president Avery Brundage and head coach Lawson Robertson. Playwright Samuel J. Bernstein investigates the controversy in Olympics Über Alles, a two-hour debacle that is part didactic history lesson, part Purim shpiel, minus the humor. Glickman's compelling story, which was recently told in an excellent HBO documentary, gets buried within a simplistic, heavy-handed exploration of centuries of anti-Semitism as Professor Steve Feinstein (Tim Dowd) attempts to convince college museum employee Kate McCarthy (Amy Handra) that the organization should mount his exhibition about Glickman (played by Michael Engberg in his younger years and Stewart A. Schneck as an adult) and the 1936 Nazi Olympics as part of its minority initiative. Director and dramaturg Debra Whitfield (The Banana Monologues, Trifles) cuts back and forth between various moments in the lives of Glickman and the Irish Catholic McCarthy, giving far too much time to the latter as Kate deals with a violent, alcoholic, virulently anti-Semitic father (Jim DiMunno) who refuses to allow her to have any Jewish friends.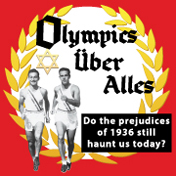 Dowd and Handra are the only two members of the cast who portray one person; the six others take on multiple roles, but it's not always clear who is who, and accents are primarily used only for Germans (although there is some Brooklynese as well). Glickman had a very distinctive voice, but neither Engberg nor Schneck attempt to re-create it. (Only one all-too-brief snippet of Glickman's golden vocal cords is heard over the loudspeaker.) The stage includes six vertical screens that remain static for the first act — which ends with a mind-boggling performance of "HaTikvah," the Israeli national anthem — but are moved around in the second half fairly randomly. Bernstein (Yank, Immortal Journey: Ponce de Leon and the Spring of Life), a Northeastern professor of English, collaborated on the play with coauthor Marguerite Krupp, who is officially credited with "bring[ing] the Catholic perspective to Olympics Über Alles," although we're not sure what that means. At one point, an influential Jewish businessman named Edelman (DiMunno) tries to convince Professor Feinstein that his exhibition will not be good for the Jews; unfortunately, the same thing can be said about the overly earnest Olympics Über Alles.