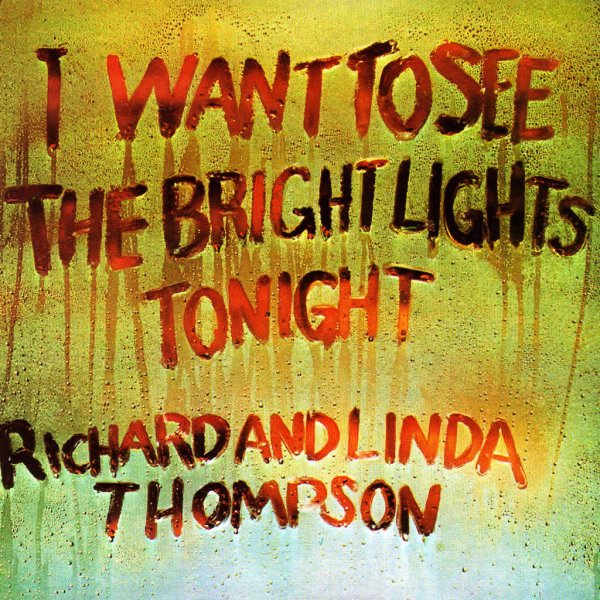 Who: Mary Fahl, Liz Tormes, Cassandra Jenkins, Hannah Read, Joy Askew, Oren Bloedow, Adam Minkoff, Glenn Patscha, Steven Bernstein and Sex Mob Horns, Matt Johnson, David Mansfield, Mark Marshall, Katie Scheele, Matt Darriau, more to be announced
What: All-star performance of Richard and Linda Thompson's I Want to See the Bright Lights Tonight album
Where: City Winery, 155 Varick St. between Spring & Vandam Sts., 212-608-0555
When: Monday, February 27, $25-$35, 8:00
Why: In 1974, former Fairport Conventioneer Richard Thompson and singer Linda Thompson (née Peters) helped redefine British folk rock with the classic album I Want to See the Bright Lights Tonight, consisting of such stand-out Richard originals as "The Calvary Cross," "Withered and Died," "Down Where the Drunkards Roll," "The Great Valerio," and the rollicking title track, in which the Thompsons proclaim, "Meet me at the station, don't be late / I need to spend some money and it just won't wait / Take me to the dance and hold me tight / I want to see the bright lights tonight." On February 27, you can meet up at City Winery as an all-star lineup performs the record in its entirety, along with other numbers from the Thompsons' canon, which came to an abrupt end in 1982 with the ultimate breakup album, Shoot Out the Lights. The event is organized by Canadian composer, producer, musician, and Ollabelle founder Glenn Patscha and will feature members of such groups as the October Project, Elysian Fields, and the Doyle Bramhall Band in addition to veterans of Bob Dylan, St. Vincent, Glen Hansard, and more. It's only fitting that the show is taking place at City Winery, where Richard Thompson has played many times. In fact, a few years ago we were at one of Richard's shows at City Winery when I had to ask the woman in front of me, who was enthusiastically singing along to the songs, if she could stop leaning so far forward, as she was blocking my view. My jaw dropped as she turned to me and sincerely apologized. "I'm so sorry. I've certainly seen him enough over the years, having lived with him," Linda Thompson told me, sitting back in her seat.