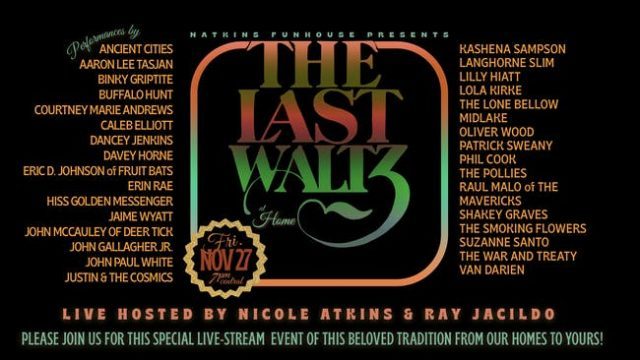 Who: Nicole Atkins, Ray Jacildo, Ancient Cities, Aaron Lee Tasjan, Binky Griptite, Buffalo Hunt, Courtney Marie Andrews, Caleb Elliott, Dancey Jenkins, Davey Horne, Eric D. Johnson, Erin Rae, Hiss Golden Messenger, Jaime Wyatt, John Gallahger Jr., John McCauley, John Paul White, Justin & the Cosmics, Kashena Sampson, Langhorne Slim, Lilly Hiatt, Lola Kirke, the Lone Bellow, Midlake, Oliver Wood, Patrick Sweany, Phil Cook, the Pollies, Raul Malo, Shakey Graves, the Smoking Flowers, Suzanne Santo, the War and Treaty, Van Darien, more
What: Livestream concert re-creating The Last Waltz
Where: Natkins Funhouse online
When: Friday, November 27, $12, 8:00
Why: On Thanksgiving night, November 25, 1976, the Band played its farewell concert, The Last Waltz, at the Winterland in Sand Francisco, joined by an all-star lineup of luminaries that included Bob Dylan, Eric Clapton, Joni Mitchell, Neil Young, Neil Diamond, Muddy Waters, Van Morrison, and others. Recently, a wide range of musicians have been gathering every other year or so at the Capitol Theatre in Port Chester to re-create the show; last November, Warren Haynes, Jamey Johnson, Lukas Nelson, Don Was, Cyril Neville, and John Medeski, among others, joined in the fun. With the pandemic lockdown closing all music venues, singer-songwriter Nicole Atkins has taken the reins and turned it into a virtual event. "I called a bunch of my musician buddies who are all homebound themselves and love the music of The Last Waltz and miss all being together to perform it in a theater, club, or dive bar for sweaty, singing, smiling humans and this, 'The Last Waltz from Home,' became our solution," she posted on Facebook.
On November 27 at 8:00, Atkins and jazz pianist Ray Jacildo will be hosting "The Last Waltz at Home," an online concert featuring more than two dozen performers going song by song through the remarkable Last Waltz setlist, from Ancient Cities, Binky Griptite, Courtney Marie Andrews, Eric D. Johnson, and Jaime Wyatt to John McCauley, Justin & the Cosmics, Langhorne Slim, Lilly Hiatt, Lola Kirke, Raul Malo, and more. Atkins and Jacildo will share stories and give out prizes, and everyone can take part in the live chat as the bands make their way from "Up on Cripple Creek" and "The Shape I'm In" to "I Shall Be Released" and "Baby Don't You Do It." Virtual admission is $12; Atkins also noted on Facebook, "All of the money raised from tickets, tipping, and poster sales will go directly to the artists performing. Our industry has taken quite the beating in this pandemic and many of our tours and work has been cancelled. The silver lining in all this has been you, our fans, and your support throughout this time is beyond appreciated." Last Waltz devotees will also want to check out the online photography exhibit "The Last Waltz: A Commemorative Retrospective" at the Morrison Hotel Gallery here.