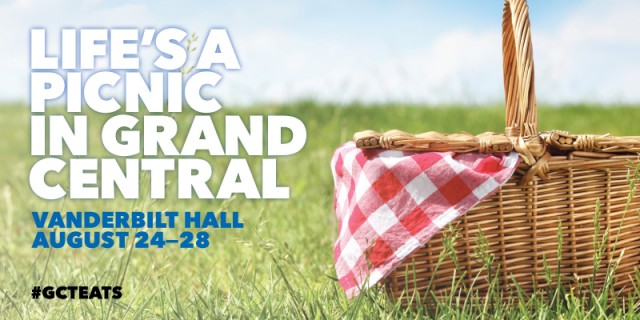 Vanderbilt Hall, Grand Central Terminal
89 East 42nd St. at Vanderbilt Ave.
August 24-28, free, 11:00 am - 2:00 pm & 4:00 - 7:00
www.grandcentralterminal.com
For the second August in a row, Grand Central Terminal's classy Vanderbilt Hall is getting a makeover, being transformed into an indoor public picnic space August 24-28, with tables covered in gingham cloth, an AstroTurf floor, prizes and giveaways, and food from many of the restaurants that are located throughout GCT. "Life's a Picnic in Grand Central" will also feature free Wi-Fi, air-conditioning, and live performances. You can bring your own lunch or pick up specials from a rotating lineup of GCT eateries, including Café Spice, Ceriello Fine Foods, Café Grumpy, Jacques Torres Ice Cream, Financier Patisserie, Junior's Bakery, Magnolia Bakery, Neuhaus Belgian Chocolate, Zaro's Bakery, Manhattan Chili Co., Li-Lac Chocolates, Manhattan Chili Co., Shiro of Japan, and Murray's Cheese. Below is the lineup of special events.
Monday, August 24
Live Food Demonstrations: The Bar Burger by Chef Cenobio Canalizo of Michael Jordan's, sushi rolling by Chef Hiro Isikawa of Shiro of Japan, mozzarella making with Dan Belmont of Murray's Cheese, and cupcake decorating by Amy Tamulonis from Magnolia Bakery, 11:00 am – 2:00 pm
Joe's Pub at the Public Theater presents "Echoes of Etta: A Tribute to Etta James," featuring William Blake & Michael Thomas Murray, 4:30 - 6:30
Tuesday, August 25
Broadway Hour featuring live performance and more from the Broadway musical Wicked, 12:30
Music Under New York: Robert Anderson Jazz Trio, 4:00 - 7:00
Wednesday, August 26
Big Apple Circus presents Peety the Clown's Yo-Yos & Stuff Show, 12 noon – 2:00 pm
Joe's Pub at the Public Theater presents Danny Lipsitz and His Brass Tacks, 4:00 – 7:00
Thursday, August 27
Broadway Hour featuring musical performances from the Broadway musicals On the Town and Finding Neverland, 12:30 – 1:30
Music Under New York: Receta Secreta, 4:00 – 7:00
Friday, August 28
Broadway Hour: musical performances from Chicago, Something Rotten! and A Gentleman's Guide to Love and Murder, 12:30 – 1:30