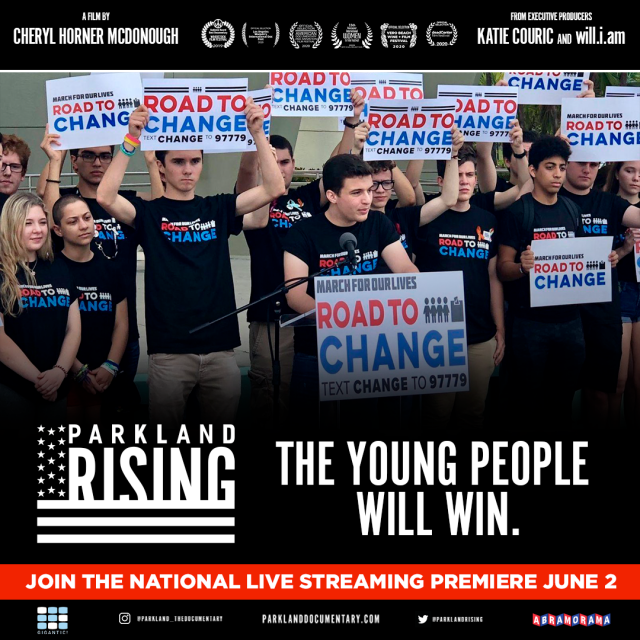 Who: The Black Eyed Peas, Pearl Jam, Katie Couric, will.i.am, Manuel Oliver, Greg Kahn, Cheryl Horner McDonough, Manju Bangalore, Rebecca Boldrick Hogg, Kevin Hogg, Jammal Lemy, John E. Rosenthal, Meghna Chakrabarti
What: Livestreamed movie premieres and panel discussions
Where: Parkland Rising YouTube and Facebook
When: Tuesday, June 2, free with RSVP, 8:00, and Wednesday, June 5, free with RSVP, 7:00
Why: June 2 marks the sixth National Gun Violence Awareness Day, which started in 2015 to call attention to the rash of school shootings and do something about it; just because there is no in-person school across the country right now, resulting in no recent mass murders at educational institutions, doesn't mean we still don't have a horrific problem in America. And what happens when schools reopen? This June 2, the day will be honored and the victims remembered with the livestream premiere of Cheryl Horner McDonough's 2019 documentary Parkland Rising, which examines the February 14, 2018, shooting that killed seventeen students and staff members at Marjory Stoneman Douglas High School in Florida. The film features interviews with David Hogg, Jaclyn Corin, Matt and Ryan Deitsch, Emma Gonzalez, Fred Guttenberg, Cameron Kasky, Patricia Padauy-Oliver, and Manuel Oliver. "We are grieving, we are furious, and we are using our words fiercely and desperately because that's the only thing standing between us and this happening again," Gonzalez says in the film. The event is hosted by the Black Eyed Peas and Pearl Jam; executive producer Katie Couric will introduce the film and moderate a postscreening conversation, which brings together executive producer will.i.am, Change the Ref founder Manuel Oliver, Gun Safety Alliance co-lead Greg Kahn, former March for Our Lives LA chapter co-lead Manju Bangalore, and two-time Emmy winner McDonough.
Three days later, June 5, is Wear Orange Day, a tribute to Hadiya Pendleton, who was shot and killed in a Chicago park in 2013 at the age of fifteen, a week after performing at President Barack Obama's second inauguration parade. At 7:00, Parkland Rising will have an encore Wear Orange screening, followed by a discussion with Marjory Stoneman Douglas student and parent activists Corin, Oliver, Padauy-Oliver, Rebecca Boldrick Hogg, Kevin Hogg, Jammal Lemy, and Stop Handgun Violence cofounder John E. Rosenthal, moderated by WBUR host Meghna Chakrabarti. Guttenberg, the father of shooting victim Jaime Guttenberg, said in a statement, "Since the coronavirus outbreak began, gun sales have skyrocketed to an all-time high in the US, potentially putting millions of new deadly weapons into unlicensed, untrained, unsafe hands. Now more than ever, we must take action on the issue of gun violence to prevent the kind of tragedy my family experienced in Parkland. I'm glad this powerful film will be available for all American voters to learn what we went through and to inspire more people to join the fight for change."