REPO MAN (Alex Cox, 1984)
Quad Cinema
34 West 13th St. between Fifth & Sixth Aves.
Friday, September 22, 7:00, Friday, September 29, 5:00, Sunday, October 1, 5:30
Series runs September 22 – October 5
quadcinema.com

The Quad's twenty-four-film series "Also Starring Harry Dean Stanton" was meant to be a celebration of the beloved character's actor long career in conjunction with the September 29 release of Lucky, in which he has a rare starring role. But the Kentucky-born actor, singer, and musician passed away on September 15 at the age of ninety-one, so the festival instead becomes a memorial tribute to the man who appeared in more than 130 films. One of his absolute best is Alex Cox's Repo Man, the 1984 cult classic about car repossessors and alien technology and one of the most quotable movies ever made. Stanton is Bud, one of four repo men named after beers, along with Tracey Walter as Miller, Sy Richardson as Lite, and Tom Finnegan as Oly (Olympia). Bud recruits young punk Otto (Emilio Estevez) to become a repo man, explaining to him, "The life of a repo man is always intense." Soon all of LA's repo men, including the group's main competitors, the Rodriguez brothers (Del Zamora and Eddie Velez), are after a mysterious 1964 Chevy Malibu being driven by the conspiracy-spouting scientist Fox Harris (J. Frank Parnell, who could not drive), which has a deadly glowing object in the trunk (a nod to Robert Aldrich's 1955 Mickey Spillane sci-fi picture, Kiss Me Deadly.) Otto hooks up with UFO hunter Leila (Olivia Barash), who works at the United Fruitcake Outlet; keeps bumping into former cohorts Duke (Dick Rude), Debbi (Jennifer Balgobin), and Archie (Miguel Sandoval), a trio of vandals who do things like "Let's go get sushi . . . and not pay!"; and has to get a job in the first place because his parents (Sharon Gregg and Jonathan Hugger) have donated all their money to a TV preacher (Bruce White). The eclectic cast also includes Vonetta McGee as Marlene, the office manager, Susan Barnes as Leila's boss, Agent Rogersz, Richard Foronjy as knitting security guard Plettschner, and a 1964 Ford Falcon, a 1973 Impala, a 1978 Cutlass Salon Couple, a 1971 AMC Matador, and two 1964 Chevy Malibus, as one was actually stolen during the making of the movie.
As crazy and bizarre as the film is, a remarkable amount of it is inspired by reality. Writer-director Cox rode around with a friend who was a repo man, so several stories are based on fact; the generic labels for food and drink were already in use by Ralphs supermarket; and even the classic John Wayne tale was told to Cox by someone who claimed it was true. The soundtrack is so amazing — featuring songs by Iggy Pop, Black Flag, the Plugz, Fear, and the Circle Jerks, who appear in the film and later added Zander Schloss, who plays Otto's nerdy supermarket coworker, to their lineup — that it saved the film, which was pulled from distribution a week after it was released but was brought back after the soundtrack became a hit. Cinematographer Robby Müller, who went on to shoot such films as To Live and Die in L.A. and Barfly and to work with Jim Jarmusch and Lars von Trier, adds a comic-book-like gauze to the proceedings. The film is also filled with words to live by, philosophical meanderings that are hysterical and, sometimes, very true. "The more you drive, the less intelligent you are," Miller opines. "Only an asshole gets killed for a car," Bud says. "No one is innocent," Agent Rogersz tells Olivia. And, perhaps most prophetically, Bud declares "I'd rather die on my feet than live on my knees," borrowing a line from Emiliano Zapata. It all comes together in a surfeit of ways, culminating in Miller's brilliant monologue that begins, "A lot of people don't realize what's really going on. They view life as a bunch of unconnected incidents and things. They don't realize that there's this, like, lattice of coincidence that lays on top of everything." You'll never look at a plate of shrimp the same way again. Cox has said that Stanton was a bit of a diva on the set, but given the results, who cares. Again, in the words of that grand philosopher, Miller, "It's all part of a cosmic unconsciousness." Repo Man is screening at the Quad on September 22 at 7:00, September 29 at 5:00, and October 1 at 5:30. The series continues through October 5 with such other Stanton vehicles as Alien, Escape from New York, The Last Temptation of Christ, Dillinger, The Straight Story, and Wild at Heart.
PARIS, TEXAS (Wim Wenders, 1984)
Quad Cinema
34 West 13th St. between Fifth & Sixth Aves.
Friday, September 22, 9:00, and Sunday, September 24, 1:00
Series runs September 22 – October 5
quadcinema.com

Winner of both the Palme d'Or and the Critics Prize at the 1984 Cannes Film Festival, Wim Wenders's Paris, Texas is a stirring and provocative road movie about the dissolution of the American family and the death of the American dream. Written by Sam Shepard and adapted by L. M. Kit Carson, the two-and-a-half-hour film opens with a haggard man (Harry Dean Stanton) wandering through a vast, deserted landscape. A close-up of him in his red hat, seen against blue skies and white clouds, evokes the American flag. (Later shots show him looking up at a flag flapping in the breeze, as well as a graffiti depiction of the Statue of Liberty.) After he collapses in a bar in the middle of nowhere, he is soon discovered to be Travis Henderson, a husband and father who has been missing for four years. His brother, Walt (Dean Stockwell), a successful L.A. billboard designer, comes to take him home, but Travis, remaining silent, keeps walking away. He eventually reveals that he is trying to get to Paris, Texas, where he has purchased a plot of land in the desert, but he avoids discussing his past and why he walked out on his wife, Jane (Nastassja Kinski), and son, Hunter (Hunter Carson, the son of L. M. Kit Carson and Karen Black), who is being raised by Walt and his wife, Anne (Aurore Clément). An odd man who is afraid of flying, has a penchant for arranging shoes, and falls asleep at key moments, Travis sets out with Hunter to find Jane and make something out of his lost life.
Longtime character actor Stanton (Repo Man, Wise Blood) is brilliant as Travis, his long, craggy face and sad, puppy-dog eyes conveying his troubled soul and buried emotions, his slow, careful gait awash in loneliness and desperation. The scenes between Travis and Jane are a master class in acting and storytelling; Stanton and Kinski (Tess, Cat People) will break your heart over and over again as they face the hardest of truths. Wenders and regular cinematographer Robby Müller use a one-way mirror to absolutely stunning effect in these scenes about what is hidden and what is revealed in a relationship. Wenders had previously made the Road Movie Trilogy of Alice in the Cities, The Wrong Move, and Kings of the Road, which also dealt with difficult family issues, but Paris, Texas takes things to another level. Ry Cooder's gorgeous slide-guitar soundtrack is like a requiem for the American dream, now a wasteland of emptiness. (Cooder would later make Buena Vista Social Club with Wenders. Another interesting connection is that Wenders's assistant director was Allison Anders, who would go on to write and direct the indie hit Gas Food Lodging.) A uniquely told family drama, Paris, Texas is rich with deft touches and subtle details, all encapsulated in the final shot. (Don't miss what it says on that highway billboard.) Paris, Texas is screening at the Quad on September 22 at 9:00 and September 24 at 1:00 as part of "Also Starring Harry Dean Stanton," which continues through October 5 with such other Stanton films as The Missouri Breaks, Rafferty and the Gold Dust Twins, Death Watch, Christine, and Pretty in Pink.
COCKFIGHTER (Monte Hellman, 1974)
Quad Cinema
34 West 13th St. between Fifth & Sixth Aves.
Sunday, September 24, 5:45, and Saturday, September 30, 3:10
Series runs September 22 – October 5
quadcinema.com

Director Monte Hellman and star Warren Oates enter "the mystic realm of the great cock" in the 1974 cult film Cockfighter. Alternately known as Born to Kill and Gamblin' Man, the film is set in the world of cockfighting, where Frank Mansfield (Oates) is trying to capture the Cockfighter of the Year award following a devastating loss that cost him his money, car, trailer, girlfriend, and voice — he took a vow of silence until he wins the coveted medal. Mansfield communicates with others via his own made-up sign language and by writing on a small pad; in addition, he delivers brief internal monologues in occasional voiceovers. He teams up with moneyman Omar Baradansky (Richard B. Shull) as he attempts to regain his footing in the illegal cockfighting world, taking on such challengers as Junior (Steve Railsback), Tom (Ed Begley Jr.), and archnemesis Jack Burke (Harry Dean Stanton); his drive for success is also fueled by his desire to finally marry his much-put-upon fiancée, Mary Elizabeth (Patricia Pearcy). The cast also includes Laurie Bird as Mansfield's old girlfriend, Troy Donahue as his brother, Millie Perkins as his sister-in-law, Warren Finnerty as Sanders, Allman Brothers guitarist Dickey Betts as a masked robber, and Charles Willeford, who wrote the screenplay based on his novel, as Ed Middleton.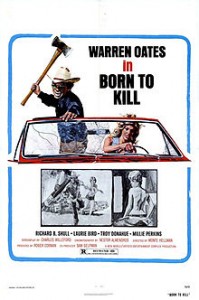 Shot in a mere four weeks, Cockfighter is not a very easy movie to watch. The cockfighting scenes are real, filmed in a documentary style by master cinematographer Néstor Almendros, who had previously worked with Eric Rohmer and François Truffaut and would go on to lens such films as Days of Heaven, Kramer vs. Kramer, Sophie's Choice, and The Blue Lagoon. However, Almendros was hampered by a less-than-stellar staff and a low budget courtesy of producer Roger Corman, who wanted more blood and sex and did not allow Hellman (Two-Lane Blacktop, The Shooting) to rewrite the script the way he wanted to. Corman even had coeditor Lewis Teague (Cujo, The Jewel of the Nile) film some additional scenes to increase the lurid factor. (Hellman, who was inspired by A Place in the Sun and Shoot the Piano Player, has noted that the versions that are not called Cockfighter are not his director's cut.) Even the music, by jazz singer-songwriter Michael Franks, feels out of place. But the film ultimately works because of Oates's scorching performance as Frank, another in a long line of luckless, lovable losers that would fill his resume (Bring Me the Head of Alfredo Garcia, Race with the Devil, The Wild Bunch). Oates ambles from scene to scene with an infectious relish; you can't wait to see what Frank will do next, and how Oates will play it. Hellman also doesn't glorify the "sport" of cockfighting but instead presents it as pretty much what it is, a vile and despicable business populated by low-grade chumps. Cockfighter is screening at the Quad on September 24 at 5:45 and September 30 at 3:10 as part of "Also Starring Harry Dean Stanton," which continues through October 5 with such other Stanton films as Rancho Deluxe, The Rose, Wise Blood, UFOria, Twister, and Stars and Bars.