PUTNEY SWOPE (Robert Downey, 1969)
Alamo Drafthouse Downtown Brooklyn
445 Albee Square West
Wednesday, September 18, 7:00
718-513-2547
drafthouse.com

The past, present, and immediate future of indie cinema are represented in the fourth annual Art House Theater Day, taking place September 18 at several venues in New York as well as around the country. Peter Strickland's 2018 In Fabric and Brett Story's 2019 The Hottest August will be screening at IFC; In Fabric will also be shown at Nitehawk's Prospect Park cinema. But the film to see is the fiftieth anniversary 4K restoration of Robert Downey Sr.'s counterculture cult classic, the low-budget 1969 satire Putney Swope, playing at the Alamo Drafthouse in Downtown Brooklyn and Yonkers. Downey Sr. is still alive, and this presentation includes a prerecorded introduction from the eighty-three-year-old writer-director of such other movies as Chafed Elbows, Sweet Smell of Sex, Greaser's Palace, and Rittenhouse Square.
Downey skewers race, religion, politics, the corporate world, and Madison Ave. in the absurdist comedy, featuring a crazy cast of characters portrayed by professional actors as well as first-timers Downey found in city bars and cafés and on the street. When ad agency owner Mario Elias Sr. (David Kirk) drops dead during a meeting, the rest of the board, consisting primarily of a bunch of conniving, corrupt white men, accidentally vote the one black man, musical director Putney Swope (Arnold Johnson), to be the next chairman. Instead of stepping aside, Swope decides to take over and make radical changes, renaming the company Truth and Soul, Inc., firing white employees for any reason whatsoever, and hiring a team of Black Power men and women with no advertising experience to produce commercials that go far beyond industry standards, featuring foul language, nudity, and interracial relationships while promoting such products as Dinkleberry Frozen Chicken Pot Pie and Lucky Airlines, where one lucky passenger will win a trip to a back room with nearly naked stewardesses. However, he refuses to make ads for alcohol, toy guns, and tobacco. Putney courts favor with US president Mimeo and the first lady, portrayed by real-life husband-and-wife little people Pepi and Ruth Hermine, whose right-hand man, Mr. Borman Six (Larry Wolf), is a neo-Nazi. But power corrupts, and Swope soon becomes more militant and dictatorial, getting away with his bizarre business plan as the film turns into a fable of rebellion gone astray.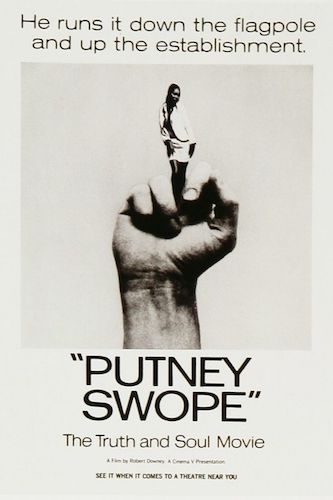 Putney Swope almost didn't get distributed. In 1969, at a special advance screening, Native New Yorker Downey, the father of Robert Downey Jr., reluctantly allowed Don Rugoff of Cinema Five in, even though Rugoff was late; afterward, Rugoff told him, "I don't understand this movie, but I like it," and shortly released the film to sold-out audiences. Downey and cinematographer Gerald Cotts switch between black-and-white for the main narrative and color for the television commercials, giving extra oomph to the latter, which get stranger and stranger, while Charley Cuva provides the groovy music and New Breed Inc. the chic costumes. The cast and crew had such trouble understanding Johnson's mangled line readings that Downey dubbed in his dialogue in postproduction himself, using a raspy black voice that is way over the top; Putney Swope might be an equal opportunity offender, but it could never be made today, given the current politically correct environment.
Much of the acting is terrible, but a few familiar faces show up to offer a bit of a respite: Antonio Fargas, best known as Huggy Bear on Starsky and Hutch, plays the ever-angry Arab; Allan Arbus, who was Dr. Sidney Freedman on M*A*S*H (note that the poster to the left is a takeoff of the marketing campaign for Robert Altman's film version of M*A*S*H) and is the son of photographer Diane Arbus, is Mr. Bad News, filling in Swope on the continuing adventures of serial sex offender Sonny Williams (Perry Gewirtz); Shelley Plimpton (the mother of Martha Plimpton) and singer Ronnie Dyson, who were in Hair together, appear as the interracial couple pushing face cream; and Allen Garfield, a successful character actor in such films as The Conversation and Nashville, is Mario Elias Jr. The tall, awkward Stanley Gottlieb is a hoot as Nathan, who speaks primarily in bad jokes, while poet Donald Lev is a lone anarchist. Added to the US National Film Registry by the Library of Congress in 2016, Putney Swope — a major influence on such films as Paul Thomas Anderson's Boogie Nights, in which Don Cheadle plays a character named Buck Swope, Cosmo the firecracker boy is inspired by Chinese businessman Wing Soney, and Downey Sr. makes a cameo (in addition, Louis CK hosted a Q&A with Downey in LA five years ago) — holds up better than expected, despite its cutting-edge story and small details that leave no one unblemished. It's certainly no Mad Men, but it's still a far-out document of a critical time in American history.