F.T.A. (Francine Parker, 1972)
New Plaza Virtual Cinema
Opens Friday, March 5
kinomarquee.com
newplazacinema.org
In 1972, actress Jane Fonda was excoriated for posing for a picture in North Vietnam sitting on an anti-aircraft gun with members of the Viet Cong, earning her the nickname "Hanoi Jane." But the previous year, Fonda was being cheered wildly by US soldiers as she brought the antiwar F.T.A. tour to American military bases in Hawaii, Japan, Okinawa, and the Philippines. The tour, alternately known as "Fun, Travel, and Adventure," "Free the Army," "Free Theater Associates," "Foxtrot Tango Alpha," and "Fuck the Army," featured comedy sketches and music with Fonda, fellow actors Donald Sutherland, Pamela Donegan, and Michael Alaimo, singer-songwriters Rita Martinson, Len Chandler, and Holly Near, and comedian Paul Mooney. Kino Marquee has just released a 4K restoration by IndieCollect of Francine Parker's rarely screened, little-known 1972 film, F.T.A., documenting the Pacific section of the tour. The movie, about "the Show the Pentagon Couldn't Stop!," according to its ad campaign, ran for a week before being pulled from theaters by the distributor, who destroyed most copies.
"Histories of the Vietnam War all mention the widespread antiwar movement that was centered on college campuses. What most histories don't tell you is that an equally widespread and powerful movement against the war existed inside the military itself," Fonda says in a new video introduction, recorded in what has become a very familiar scene to viewers of Fire Drill Fridays, her weekly show about climate change and the Green New Deal, which the two-time Oscar and Emmy winner hosts in her home, sitting in front of a wall of photos.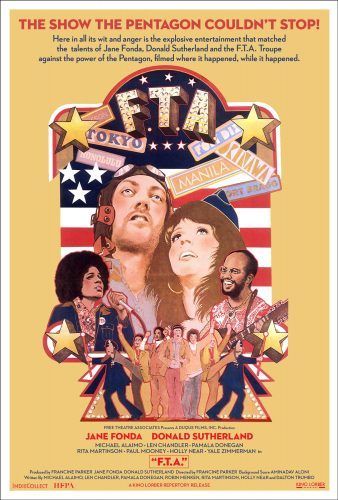 The brainchild of court-martialed antiwar army doctor Howard Levy, F.T.A. was created specifically as "a counter show to the very pro-war, sexist" Bob Hope shows that were so popular, Fonda notes. She had just completed shooting Klute and so she invited her costar, Sutherland, who had previously appeared in such war films as The Dirty Dozen, M*A*S*H, Kelly's Heroes, and Johnny Got His Gun, to join her. Working with material garnered from GI magazines in addition to skits written by the likes of Jules Feiffer and Herb Gardner, the revue ended up entertaining some 64,000 active-duty soldiers, sailors, marines, and air force men and women. But it wasn't just fun and games; Fonda, Sutherland, and the rest of the team were there to make a point.
The film doesn't open with comedy or music but with an unidentified GI saying, "I mean, how can you write your mother and tell her that her handsome young darling marine, her hero, is anti-military? But I sat down and I wrote her a letter and told her exactly how I felt, and my mother wrote back and she said she fully understood and she was happy I felt that way." Parker follows that with several other servicemen and -women explaining that they were serving in the military either to avoid jail or because they didn't have any other options, not because they wanted to fight Communism and defend democracy in Southeast Asia.
The narrative then shifts to the tour itself, an alternative modern vaudeville with political songs and short skits that skewer the government and military leaders, poking fun at the bureaucracy while focusing on the very real class, gender, and race differences that are inherent in war and society. "I went down to that base / They took one look at my face / And read out an order to bar me / I said, 'Foxtrot Tango Alpha' / 'F-f-free the army,'" Fonda sings with Chandler and others.
Amid the laughs — and there are many of them, including one funny scene in which Sutherland and Alaimo play two sports announcers, both named Red, calling the war as if it were a football game — Parker, Fonda, and Sutherland speak with more antiwar soldiers, individually and at small gatherings, where they feel comfortable enough to express their views about chemical warfare and nuclear weapons. The crowd gets rocking singing along with such songs as Chandler's "My Ass Is Mine" and "Set the Date!" and Robin Menken's "Nothing Could Be Finer Than to Be in Indochina!" and "So Nice to Be a Member of the Military Class," while Martinson's "Soldier, We Love You," about injustice and inequality, hits hard and Beverly Grant's feminist rant, "I'm Tired of Bastards Fuckin' Over Me," brings down the house.
Produced by Parker, Fonda, and Sutherland, F.T.A. is a clarion call against the misuse of military power; it feels today much more than a mere time capsule celebrating opposition to one war fifty years ago but a shot across the bow for protestors everywhere fighting against the military-industrial complex, against corrupt government, in a country that's more divided than ever and where identity politics have run rampant.
"You won't see a change here [overseas] until you see a change back in the world [in the US]," one man says. "Gimme a cause that I can believe in and let me die for that," another adds. After watching F.T.A., you'll realize that 2021 is not as different from 1971 as you might have thought, or wanted it to be.