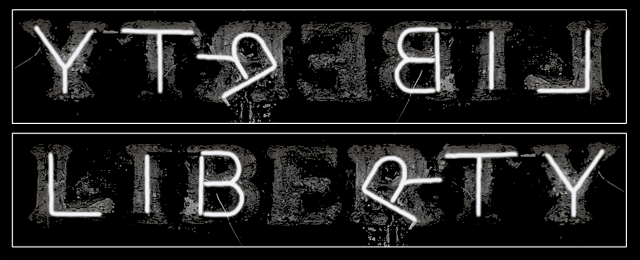 The Invisible Dog Art Center
51 Bergen St.
Thursday - Sunday, March 18 - April 18, free with advance RSVP
www.theinvisibledog.org
www.theamericanvicarious.org
The american vicarious and the Invisible Dog Arts Center follow up their socially distanced Static Apnea with Negative Liberty / Positive Liberty, an immersive performance installation for one audience member at a time. The piece explores Latvian-born British philosopher Isaiah Berlin's Oxford lecture delivered on Halloween 1958, "Two Concepts of Liberty: Negative & Positive." while also incorporating Anthony Barboza's 1966 photograph, Pensacola, Florida, of a neon sign depicting the word Liberty with a broken "E" and dangling "R," revealing the fragility of freedom, as they both relate to current events. Berlin writes:
"To coerce a man is to deprive him of freedom – freedom from what? Almost every moralist in human history has praised freedom. Like happiness and goodness, like nature and reality, the meaning of this term is so porous that there is little interpretation that it seems able to resist. I do not propose to discuss either the history or the more than two hundred senses of this protean word, recorded by historians of ideas. I propose to examine no more than two of these senses – but those central ones, with a great deal of human history, behind them, and, I dare say, still to come. The first of these political senses of freedom or liberty (I shall use both words to mean the same), which (following much precedent) I shall call the 'negative' sense, is involved in the answer to the question 'What is the area within which the subject – a person or group of persons – is or should be left to do or be what he is able to do or be, without interference by other persons?' The second, which I shall call the positive sense, is involved in the answer to the question 'What, or who, is the source of control or interference, that can determine someone to do, or be, one thing rather than another?' The two questions are clearly different, even though the answers to them may overlap."
Conceived and directed by Christopher McElroen (Debate: Baldwin vs Buckley, Static Apnea), the installation features performers Sarah Ellen Stephens and Olivia Gilliatt, with scenography by Troy Hourie, video design by Adam J. Thompson, sound by Andy Evan Cohen, and lighting by Lucrecia Briceno. Admission is free to each eight-minute session but must be reserved in advance; slots are already filling up, so you'd best sign up fast. In addition, Barboza is included in the Whitney exhibition "Working Together: The Photographers of the Kamoinge Workshop," which continues through March 28.