Who: Everyone
What: Panorama festival
Where: Randall's Island Park
When: Friday, July 28, through Sunday, July 30, 12 noon - 11:00 pm
Why: Resting for a moment near the main stage, twi-ny struck up a conversation with a few of the thousands of music fans who traveled by ferry, bus, and shuttle to enjoy the three days of perfect summer sunshine, thoughtful event planning, and spectacular music that came together for Panorama NYC. From outstanding sets from headliners Girl Talk, Frank Ocean, Solange, A Tribe Called Quest, and Nine Inch Nails to newer performers including Foxygen, Dhani Harrison, and Angel Olsen to the excellent food, futuristic HP Lab, and dance music (and free water everywhere!), all of us agreed that in more than twenty-five years of NYC festivals, highlighted by the great late 1990s Guinness Fleadh (1997–99), the Beasties' epic Tibetan Freedom Concert (1997), and a brief flash of Catalpa (2012), Panorama NYC has outdone them all, achieving possibly the best vibe ever at a NYC-based festival. For two years in a row, Goldenvoice, which produces Coachella, FYF, Stagecoach, and many other music fests, has done a fabulous job with vendors, sponsors, staging, and transport, creating an inclusive, joyful weekend of music and art that should not be missed. Below are just a few of our many photos; you can find more from Friday here and from Sunday here.
Who: Future Islands
What: Panorama festival
Where: Randall's Island Park
When: Friday, July 28, Panorama Stage, $125, 5:15
Why: Baltimore trio Future Islands has a special connection to New York City; their video for "Cave," from their latest album, April's The Far Field, features Jonathan Lamberton, Mayor Bill de Blasio's rather expressive sign-language interpreter, signing the lyrics to the song. Perhaps Lamberton will be onstage with the band on July 28 when they play the Panorama festival on Randall's Island. Future Islands was formed in North Carolina in 2006 by high school friends Gerrit Welmers and Samuel Herring along with William Cashion and Erick Murillo; Murillo left the next year, and since 2014 lyricist and lead singer Herring, keyboardist Welmers, and guitarist Cashion have been joined on tour by drummer Michael Lowry. The new album also includes such heartfelt, synth-driven songs as "Ran," "Aladdin," "Time on Her Side," "North Star," and "Shadows," with special guest Debbie Harry. And yes, in December 2015 they covered WHAM!'s "Last Christmas." Future Islands will be on the huge Panorama Stage at 5:15, after Vance Joy and before MGMT. The full Friday schedule is below.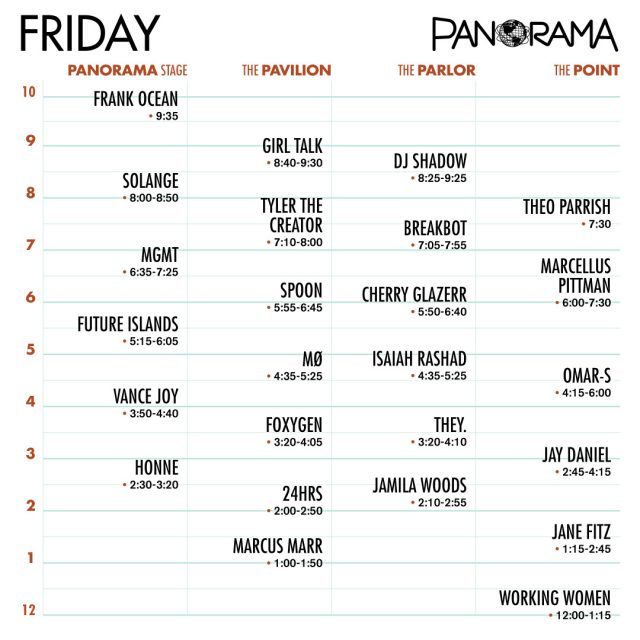 Who: Mura Masa
What: Panorama festival
Where: Randall's Island Park
When: Sunday, July 30, the Pavilion, $125, 5:35
Why: World musical influences sampled from the internet + a teen in a bedroom: Electronic producer and songwriter Mura Masa (Alex Crossan) has pretty much perfected that mix. Though the isle-of-Guernsey–born twenty-one-year-old describes himself as "more of a 'stay at home in my room and eat cereal' kind of guy," he's touring worldwide after his singles, many released on the innovative Majestic Casual channel as well as on SoundCloud, have become #1 viral hits on Spotify; his "Love$ick" feat. A$ap Rocky has been viewed more than 30 million times on YouTube. He'll be at Panorama on Sunday, just about two weeks after the release of his self-titled debut album, but he's got a deep store of cuts going back to 2014, including "Lotus Eater" and "Firefly" feat. Nao, as well as the previously released "1 Night" with Charli XCX, "All Around the World" feat. Desiigner, and "What If I Go?," which also appear on the new album and are bound to keep the crowd moving at the Pavilion at 5:35. This down-to-earth and immensely talented twentysomething is definitely someone we want to keep on our radar. The full Sunday Panorama schedule is below.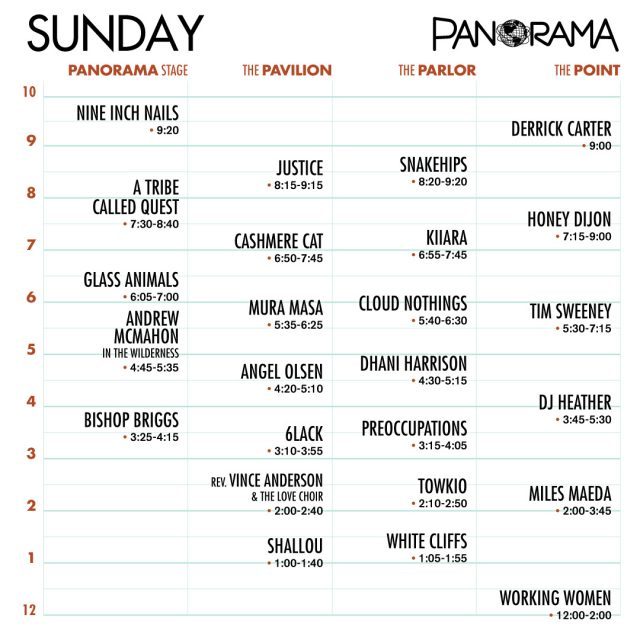 Who: Sofi Tukker
What: Panorama festival
Where: Randall's Island Park
When: Saturday, July 29, the Parlor, $125, 4:20
Why: Do you give a fuck about they? Because Brooklyn duo Sofi Tukker sure doesn't, as they declare over and over again on their hit single, "Fuck They." (Of course, we're pretty sure they're not referring to LA duo THEY., which is playing Panorama on Friday.) The Grammy-nominated band, which was named after both groundbreaking singer-comedian Sophie Tucker and themselves, Sophie Hawley-Weld and Tucker Halpern, will be at Panorama on Saturday, playing their groovin' dance pop at the Parlor at 4:20. Be on the lookout for such hot numbers as "Drinkee," "Matadora," "Awoo" (feat. Betta Lemme), "Déjà Vu Affair," "Moon Tattoo," and "Hey Lion" from the duo's debut 2016 EP, Soft Animals, as well as such other hoppin' tunes as "Johny" and "Greed." You can also check out their sizzling September 2016 DJ set at the Lab NYC here. The full Saturday Panorama schedule is below.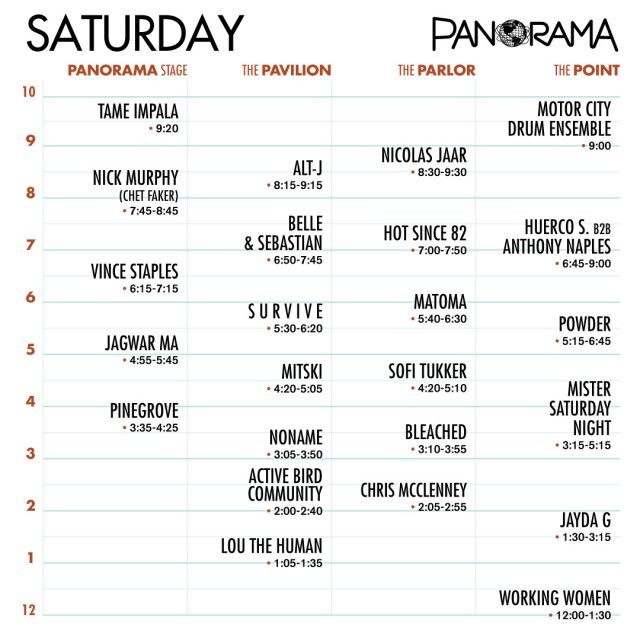 Who: Spoon
What: Panorama festival
Where: Randall's Island Park
When: Friday, July 28, the Pavilion, $125, 5:55
Why: No one can predict New York weather these days, but Hot Thoughts will be in the air on Friday, July 28, at Panorama when Spoon takes the stage at the Pavilion on Randall's Island. Twenty-one years and eight albums after their 1996 debut, Telephono, the critically acclaimed and wildly popular Spoon returned to their original label, Matador, with the March 17 release of their ninth record, Hot Thoughts. An enthusiastic reception at SXSW was followed by triumphant appearances on Jimmy Kimmel Live!, Ellen, and more. Coproduced with Dave Fridmann, who has also produced such acts as the psychedelic Flaming Lips and Saturday's Panorama headliner, Tame Impala, Hot Thoughts brings the beloved Austin band, led by original members Britt Daniel on vocals and multiple instruments and Jim Eno on drums, into new territory, with touches of funk, disco, and Bowie on tunes including "Can I Sit Next to You" and "I Ain't the One," while "Us" brings in some spacey jazz, only fitting for a band named for a 1972 song by Krautrock pioneers Can. Spoon — which also features Rob Pope, Alex Fischel, and Gerardo Larios on guitars and keyboards, will be playing the Pavilion at Panorama at 5:55 on July 28; you can see the full Friday schedule below.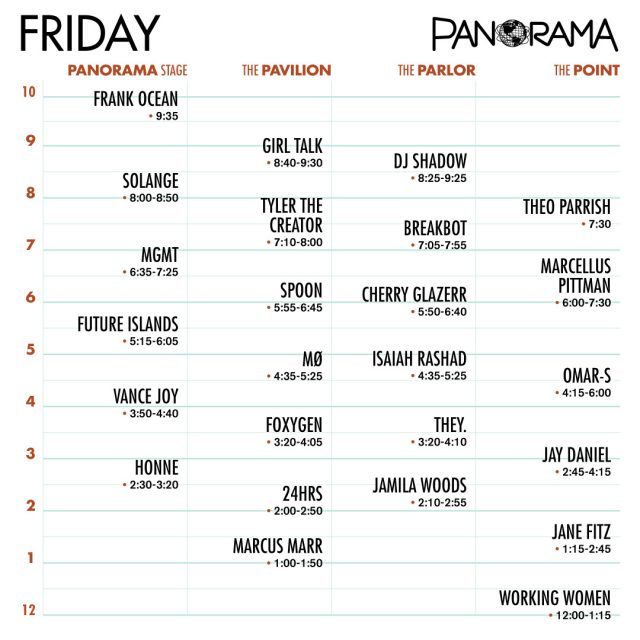 Who: Dhani Harrison
What: Panorama festival
Where: Randall's Island Park
When: Sunday, July 30, the Parlor, $125, 4:30
Why: If the voice on Dhani Harrison's "All About Waiting" sounds familiar, it shouldn't be too surprising. The thirty-eight-year-old musician is the son of Beatle George Harrison and his wife, Olivia, and he's releasing his debut solo album, In/Parallel, on October 6. He not only looks and sounds like his father but also shows the Quiet Beatle's knack for creating progressive, psychedelic music. "Revolution evolution patience / revolution evolution wasted," he sings over a driving electro-beat on "All About Waiting," then repeats, "It's not like it used to be." Harrison is also the lead singer and guitarist for Thenewno2 (yes, it's a reference to The Prisoner), writing and performing the soundtrack for the film Beautiful Creatures, which they recorded at Abbey Road Studios. In/Parallel also features such tracks as "Never Know," "#WarOnFalse," "Úlfur Resurrection," and "Admiral of Upside Down." Harrison will be playing the Parlor at Panorama at 4:30 on Sunday, July 30; you can see the full schedule for Sunday below.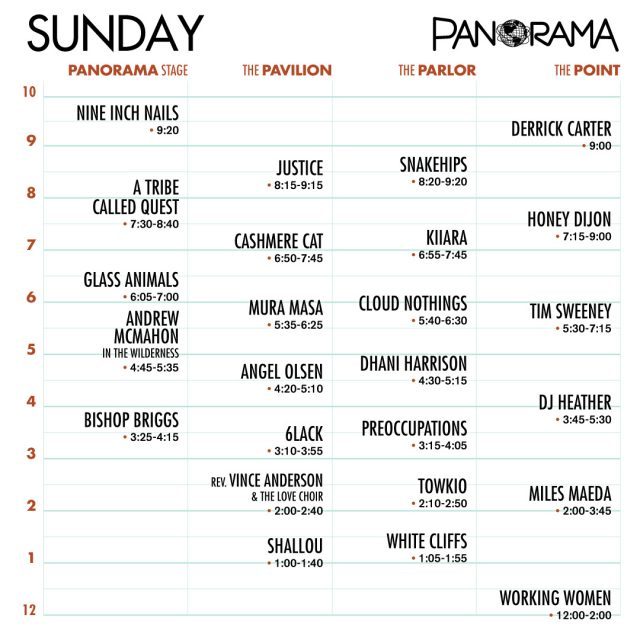 Randall's Island Park
July 28-30, $125 per day, $345 for all three days
www.panorama.nyc
randallsisland.org
Last year's inaugural Panorama festival was everything it promised it would be, three days of cool music, art, technology, and food on Randall's Island. It's back for its second go-round, taking place July 28-30. Tickets are $125 per day and $345 for the full weekend to see such performers as Future Islands, Girl Talk, MGMT, Spoon, Solange, DJ Shadow, and Frank Ocean on Friday, Belle & Sebastian, Matoma, Vince Staples, Motor City Drum Ensemble, and Tame Impala on Saturday, and Cloud Nothings, Justice, Glass Animals, a Tribe Called Quest, and Nine Inch Nails on Sunday at four different locations — the main stage, the Pavilion, the Parlor, and the Point. Eats and drinks will be available from El Paso, Oddfellows, Roberta's Pizza, Salvation Taco, Ed & Bev's, Loco Coco, Spicy Pie, Trapizzino, Uma Temakeria, Matchabar, Pasquale Jones, PDT, Sam's Fried Ice Cream, and others. The Lab is also back, a 360-degree virtual-reality theater with such interactive works as Future Wife's "Boolean Planet," Emilie Baltz's "Dream Machine," Prism's "Future Portrait," Ekene Ijeoma's "Heartfelt," the Windmill Factory's "Right Passage," Dirt Empire's "The Ark Dome Show," and SOFTlab's "Volume." Among the sponsors selling products, giving away samples, and hosting unique experiences are Rough Trade, Barefoot Wine & Bubbly, Sephora, Califia, Macy's Pool Party, Bai, the Global Inheritance Recycling Store, and Tullamore Dew. Keep watching twi-ny for daily highlights as the fest approaches.