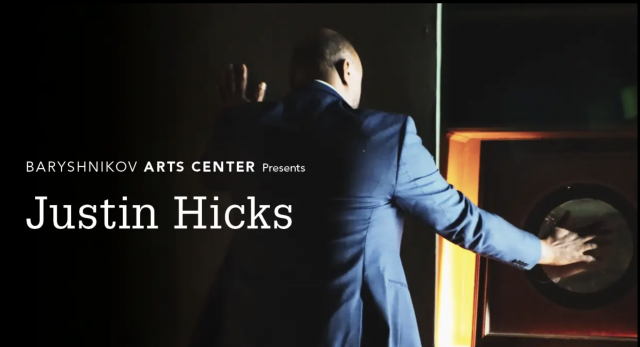 Who: Justin Hicks, Meshell Ndegeocello
What: Live conversation about Hicks's Use Your Head for More
Where: Baryshnikov Arts Center Zoom
When: Wednesday, February 24, free with RSVP, 8:00 (Use Your Head for More available on demand through March 1 at 5:00)
Why: On February 24 at 8:00, multidisciplinary artist and performer Justin Hicks, who was born in Cincinnati and is based in the Bronx, will be joined by DC-born singer-songwriter, musician, and ten-time Grammy nominee Meshell Ndegeocello to talk about Hicks's world premiere commission from the Baryshnikov Arts Center, Use Your Head for More, which is streaming for free through March 1 at 5:00. The half-hour piece is an experimental audiovisual poem with spoken text based on a 2004 conversation Hicks had with his mother, found sound and background vocal samples from members of his family, and rich, dreamlike imagery, from empty corners and doors to a wrinkled hand repeatedly rubbing a wall, all bathed in a golden glow and filmed in his home. "The saying 'Use your head for more than a hatrack' became a song my mom wrote as a reminder to her children that mining your imagination offers a way to create lushness with little at hand," Hicks said in a statement. "She would also use it in moments to let us know that your brain is much more valuable than anything you could acquire. She used songs to remind us of things that kept us safe."
Use Your Head for More, which features editing by Breck Omar Brunson, lighting by Tuce Yasak, cinematography and styling by Kenita Miller-Hicks, and vocals by Jade Hicks and Jasmine Hicks, is part of the BAC Artist Commissions initiative, which was started in September 2020 to support new online works made during the COVID-19 pandemic; Mariana Valencia's brownout premieres March 1, followed by Holland Andrews's Museum of Calm March 15-29, Stefanie Batten Band's Kolonial May 3-17, Tei Blow's The Sprezzaturameron May 17-31, and Kyle Marshall's STELLAR June 7-21.