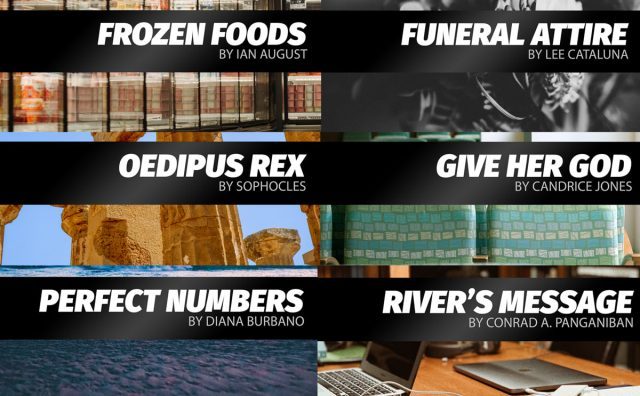 San Francisco Playhouse
Mondays at 10:00 through March 1, free with RSVP (available on demand for an extended period of time)
www.sfplayhouse.org
San Francisco Playhouse has been busy during the pandemic lockdown with its Zoomlet series, new and classic short works premiering at 10:00 EST on Monday nights, bookended by an introduction and an in-depth discussion often featuring the playwright in addition to the actors, director, and SFP cofounder and artistic director Bill English. Up next is Perfect Numbers by Diana Burbano, about a homeless woman and a philosophical octopus, with Stacy Ross and Michelle Talgarow, directed by Katja Rivera, streaming live February 22, followed March 1 by the final winter presentation, River's Message by Conrad A. Panganiban, directed by Jeffrey Lo.
After the initial livestream, most of the works can still be seen on demand on the company's website. A handful of the early entries are no longer available, and you're likely to kick yourself for missing them: The Logic by Will Arbery with Jesse Vaughn and E. J. Gibson, directed by Michael Torres; Night Vision by Dominique Morriseau with Joseph Pendleton and Tristan Cunningham, directed by Margo Hall; Great to See You by Theresa Rebeck, with Susi Damilano, John Walker, and Pamela Walker; and The Forgotten Place by Jeff Locker, with James Seol and Jomar Tagatac, directed by Lo.
However, you can still catch eighteen works, including Walls Come Tumbling Down by Genevieve Jessee, with Leigh Rondon-Davis, Kenny Scott, and Dwayne Clay, directed by Darryl V. Jones; Two Pigeons Talk Politics by Lauren Gunderson, with Nic A. Sommerfeld and El Beh, directed by Tracy Ward; an excerpt from The Bacchae by Euripides, with Anthony Fusco and John Douglas Thompson, directed by Carey Perloff; Flight by DeLanna Studi, with Eileen DeSandre, Brent Florendo, and Tanis Parenteau, directed by Marie-Claire Erdynast; Cashed Out by Claude Jackson Jr., with Rainbow Dickerson, Carolyn Dunn, and Lulu Goodfox, directed by Edris Cooper-Anifowoshe, which has been commissioned for a full-length production; and an excerpt from Oedipus Rex  by Sophocles, with Steven Anthony Jones and Thompson, directed by Perloff, in addition to works by Ian August, Lee Cataluna, Candrice Jones, Dipika Guha, Lynne Kaufman, Geetha Reddy, and Aaron Loeb. Most of the programs run more than an hour, but the plays themselves are between ten and forty-five minutes. The introductions and postshow talks reveal a fun camaraderie among the participants, who are truly enjoying the experience, even if it is over Zoom, with everyone chiming in from wherever they are sheltering in place.
SFP has also been hosting live Fireside Chats with some of the best playwrights and directors in the business, including Simon Stephens, Pam MacKinnon, Rajiv Joseph, Lauren Yee, Aaron Posner, Stephen Adly Guirgis, Luis Alfaro, and several of the Zoomlet writers, moderated by English, which you can watch here. In addition, SF Playhouse was among the first companies to get permission to stage works in their theater, without an audience and adhering to all Covid-19 protocols. Last season included Yasmina Reza's Art, Brian Copeland's solo show The Jewelry Box, and Jason Robert Brown's Songs for a New World. "Act II: Adjusting Mid-Air" consists of Erika Dickerson-Despenza's [Hieroglyph] March 13 through April 3, Julia Brothers's one-woman show I Was Right Here March 27 to April 17, and Ruben Grijalva's Shoot Me When . . . May 1 to 22.
follow twi-ny
 navigate
listings