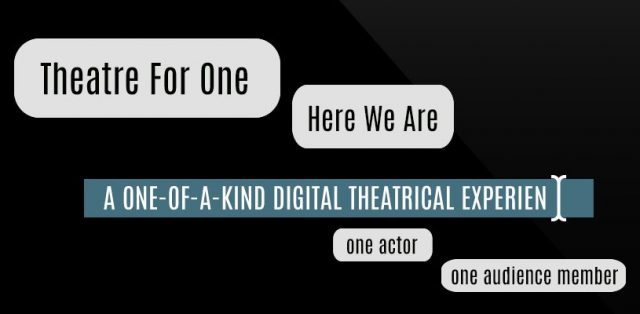 THEATRE FOR ONE: HERE WE ARE
Court Theatre, Chicago
Free tickets for first week available Thursday, February 11, 11:00 am EST
Wednesday - Sunday, February 18 - March 14, free with advance RSVP
www.courttheatre.org
In my review of the inaugural iteration of Theatre for One's "Here We Are," I wrote that it "comes the closest to conjuring the feeling [of experiencing live theater], that swell of emotion between audience and performer. It is not only a brief, temporary panacea for what ails you; it fills a deep need for those desperate for live theater to return, taking advantage of current technology to make that exhilarating connection again." The presentation, created by Christine Jones, consists of eight solo works between five and eight minutes apiece, written by some of today's most exciting BIPOC women playwrights, performed live for one person at a time; the performers (seven women and one man) can see and hear you, and you can see and hear them, resulting in a unique atmosphere that is utterly thrilling. Chicago's Court Theatre is bringing "Here We Are" back February 18 through March 4, with a cast and crew from the Windy City. You have to reserve your one free ticket in advance, and you won't know which play you are going to see until it starts. I went back week after week last fall till I eventually saw them all, and it was well worth the time and effort. Below is the full roster of the Chicago edition; you can find out more about each play and the show as a whole here.
Thank You for Coming. Take Care., by Stacey Rose, directed by Miranda Gonzalez, featuring Sydney Charles
What Are the Things I Need to Remember, by Lynn Nottage, directed by Chris Anthony, featuring TayLar
Pandemic Fight, by Carmelita Tropicana, directed by Miranda Gonzalez, featuring Melissa DuPrey
Here We Are, by Nikkole Salter, directed by Monet Felton, featuring Xavier Edward King
Thank You Letter, by Jaclyn Backhaus, directed by Lavina Jadhwani, featuring Adithi Chandrashekar
Before America Was America, by DeLanna Studi, directed by Chris Anthony, featuring Elizabeth Laidlaw
whiterly negotiations, by Lydia R. Diamond, directed by Monet Felton, featuring Deanna Reed-Foster
Vote! (the black album), written and directed by Regina Taylor, featuring Cheryl Lynn Bruce