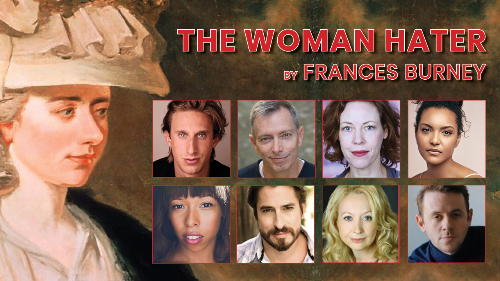 Who: Red Bull Theater company
What: Benefit reading of The Woman Hater and live Q&A
Where: Red Bull Theater website and Facebook Live
When: Monday, January 25, free (suggested donation $25), 7:30 (available on demand through January 29); Bull Session on Thursday, January 28, free, 7:30
Why: For its previous livestream benefit reading, Red Bull Theater, known for its exquisite stagings of Jacobean plays — the company was named after an English playhouse that produced works between 1604 and 1642, not after an energy drink — dipped its toes into the contemporary era with Carlyle Brown's The African Company Presents Richard III, which was written in 1994 and set in 1821. Red Bull heads to the turn of the eighteenth century with a benefit reading of Frances Burney's rarely performed The Woman Hater, a protofeminist satire of romance, misogyny, and high society. "The discovery of Frances Burney's stage plays is a wonderful revelation, and it is a joy for us to be able to share what just might be her funniest play with audiences online," artistic director Jesse Berger said in a statement. Directed by Everett Quinton and featuring Bill Army, Arnie Burton, Veanne Cox, Rebecca S'Manga Frank, Cherie Corinne Rice, Matthew Saldivar, Jenne Vath, and Nick Westrate, with visual design by David M. Barber and costumes by Sara Jean Tosetti, the work will be performed live January 25 at 7:30 and will be available on demand through January 29.
In addition, Red Bull is hosting a Bull Session on January 28 at 7:30 with Quinton, members of the cast, and scholar Tara K. Menon, who in a statement explained, "Frances Burney wrote The Woman Hater between 1796 and 1801. Although the play was never performed in public, Burney drew a cast list of prominent actors from Drury Lane, including Sarah Siddons, the best known tragedienne of the day, as Eleonora. The play shares its title with the 1607 play by Francis Beaumont and John Fletcher, which also lampoons misogyny. Burney's play first came to light in 1945 when the Berg Collection of the New York Public Library acquired a collection of her writing. Her plays were published for the first time in 1995. The Woman Hater is best characterized as a sentimental comedy, but it contains elements of several other genres including gothic drama, farce, and comedy of manners." It also has echoes of Burney's 1779 comedy, The Witlings. Tickets to both events are free, but there is a $25 suggested donation for the reading if you are able to contribute.