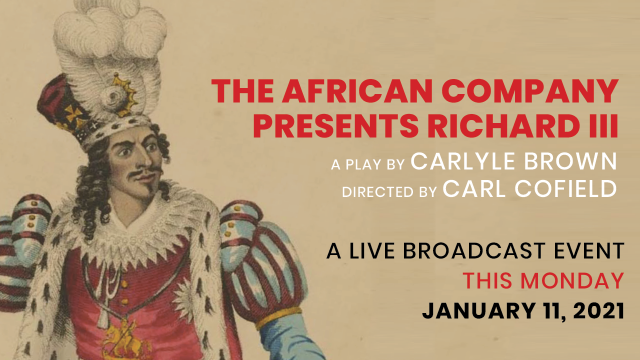 Who: Red Bull Theater company
What: Livestreamed benefit reading of The African Company Presents Richard III
Where: Red Bull Theater website and Facebook Live
When: Monday, January 11, free with RSVP (donations accepted), 7:30 (available on demand through January 15 at 7:00); "Bull Session" Thursday, January 14, free with RSVP, 7:30
Why: As winters go, this one has been pretty chock-full of discontent. Thankfully, after a much-deserved holiday hiatus, Red Bull Theater is back with its next live benefit reading, Carlyle Brown's 1994 play The African Company Presents Richard III, a tale of a battle of Shakespearean proportions. In 1821, the nation's first Black theater troupe, the African Company of New York, started by William Henry Brown, was staging Richard III downtown, starring James Hewlett. Angry that the production was attracting Black and white audiences, Park Theatre manager and duelist Stephen Price produced a competing version while trying to stop the African Company's.
"Exactly two hundred years ago, the real events that form the plot of The African Company . . . took place not much more than a stone's throw from where I'm sitting typing these words at this moment in New York City, isolated. Carlyle's play gives us a personal and poetic window through which to look in on our ever-present racially charged past, helping us better understand our own times — and how we all might think about who gets to tell whose stories," Red Bull founder and artistic director Jesse Berger said in a statement. The reading is directed by Carl Cofield and features Clifton Duncan, Edward Gero, Dion Johnstone, Paul Niebanck, Antoinette Robinson, Craig Wallace, and Jessika D. Williams. The reading will premiere live on January 11 at 7:30 and will be available on demand through January 15; on January 14 at 7:30, Red Bull will host a live "Bull Session" discussion with Brown, Cofield, scholar Marvin Edward McAllister, and members of the company. The two programs should help bring some of solace during this "weak piping time of peace."