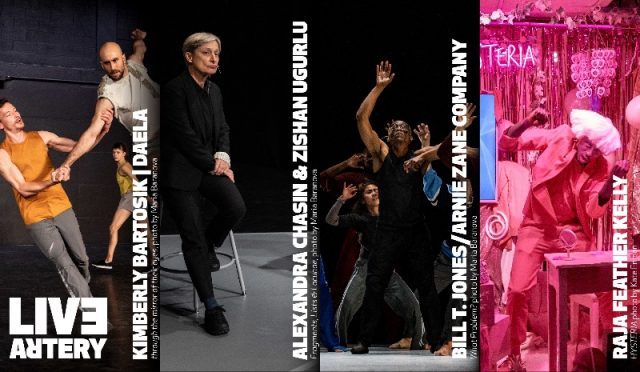 LIVE ARTERY 2021
New York Live Arts
January 9-12, $5 ($15 for all four shows)
newyorklivearts.org
Every January, New York Live Arts brings us "Live Artery," a collection of movement-based works in conjunction with the annual APAP conference, where dance fans and members of the Association of Performing Arts Professionals can watch the latest of what's happening in the dance community. This year's tenth anniversary will be virtual, with four pieces open to the public.
Kicking things off on January 9 is Kimberly Bartosik / dalea's through the mirror of their eyes, a fifty-minute Bessie nominee featuring Joanna Kotze, Dylan Crossman, and Burr Johnson, with music by Sivan Jacobovitz; the work, which begins in a storm, premiered at NYLA in March 2020. On January 10 at 7:30, Bill T. Jones/Arnie Zane Company asks the always pertinent question What Problem? The eighty-five-minute piece is adapted from the 2020 epic Deep Blue Sea and is choreographed by NYLA artistic director and cofounder Bill T. Jones, Janet Wong, and the company, with an original score by Nick Hallett. It incorporates elements of Dr. Martin Luther King Jr.'s "I Have a Dream" speech, a quote from W. E. B. Du Bois's The Souls of Black Folk, and Herman Melville's Moby-Dick while exploring issues of community, isolation, and political division.
On January 11 at 7:30, "Primetime" streams Alexandra Chasin and Zishan Ugurlu's Fragments, Lists & Lacunae, which ran at NYLA in February 2020. The two-hour multimedia work is led by Judith Butler as a professor teaching students Hailey Marmolejo, Aigner Mizzelle, and Jackie Rivera some valuable lessons about the world and life over the course of nine lectures. And on January 12 at 7:30, the one and only Raja Feather Kelly follows up his 2018 Ugly with Hysteria, another campy dance-theater mashup that takes on pop culture and sociopolitical and deeply personal (and extraterrestrial) issues. The piece premiered last month, online and in NYLA's glassed-in gallery space, where people could watch from outside.
APAP presenters also have access to "Close Encounters" January 10-12 at 11:30 am with such creators as Holly Bass, Christopher Williams, Charlotte Brathwaite, Faye Driscoll, Vanessa Anspaugh, Emily Johnson, Bartosik, Kelly, Jones, and others. These sessions will stream in the customized 3D environment Interspace; NYLA has already been hosting the interactive and immersive "EdgeCut" series on the Nowhere platform, which bodes well for this program.