MEDITATION WITH HEART
Thursday, January 7, Intention Setting Ceremony at Shantideva Meditation Center, 7:00 pm
Saturday, January 9, Steady, Calm, and Brave workshop, $30-$50, 10:00 am
Sunday, January 10, "How to Work with Difficult Thoughts and Emotions," All Souls Church Online, 9:45 am
www.meditationwithheart.com
Back in September, Kimberly Brown held a virtual launch party for her new book, Steady, Calm, and Brave: 25 Practices of Resilience and Wisdom in a Crisis (Publishing with Heart, July 2020, $12.95). It's now four months later, and despite the approval of several vaccines, the United States is in the midst of yet another horrific surge of coronavirus infections and our electoral system is still in upheaval. The New York City–based Brown, who teaches guided meditation and mind-body therapy at the Rubin Museum, the Shantideva Center, and other institutions as well as privately, is ready for the new year, facing it with a steady, calm, optimistic bravery.
"January 2 has always been my favorite day of the year," she posted on Instagram on the second day of 2021. "After the hectic holidays and anticipatory celebrations, it's a relief to return to my normal routine. 😐😀 Today I wish you an ordinary day too. May you find joy in quiet moments and freedom from stress and struggle. May it be so!"
Brown is going to help make it so with several special events this week. On January 7, she'll lead an Intention Setting Ceremony at Shantideva Meditation Center, followed on Saturday by a Steady, Calm, and Brave workshop and on Sunday by the guided meditation and Q&A "How to Work with Difficult Thoughts and Emotions" at All Souls Church Online in addition to her weekly Thursday "Discovering Self-Compassion" classes. She recently discussed her book and the benefits of mindfulness and meditation in our first twi-ny talk of the new year.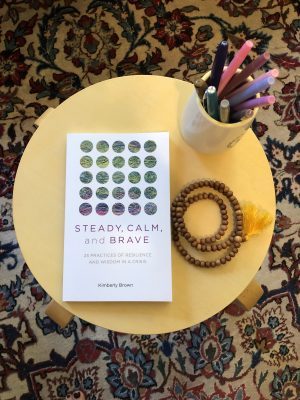 twi-ny: Your book Steady, Calm, and Brave came out this past summer. It deals with such topics as grief and loss, fear and separation, and kindness and support. It also deals very specifically with Covid-19. Were you working on the book before the pandemic, or was the health crisis the driving force behind it from the start?
kimberly brown: In March, I was writing a book proposal for a different meditation book, one that I've been working on for the past couple years. When the pandemic began, I put it aside temporarily because I really could only think about the crisis. My editor, Alice Peck, suggested I write a shorter book to help everyone through this terrible time, which is how it came about. I wrote it in April and May and it was published in July. It was strangely easy to write as I was simply sharing what I was experiencing in real time and hoping it would benefit others who were struggling like me.
twi-ny: In the book, you write, "Our delusions about being independent from other people, or separate from those we don't like or don't know, are revealed as dangerous and demonstrably false in any time of crisis." Meanwhile, our country is being torn apart over police brutality, health care, systemic racism, and wealth inequality, to name four key issues. What can we do as individuals to rectify that, especially while so many of us are still stuck at home?
kb: We can each do our best to ensure our actions — including our communications — are beneficial and not harmful to ourselves or anyone else, and that they're not fueling the problems we already have. In order to do this, to act skillfully and with wisdom, we need to be sure we're not caught up in hatred or ignorance or greed. Buddhists call these mind states "poisons" because they cause us to make bad decisions and act in ways that harm ourselves and others.
With meditation and mindfulness we can keep a steady mind and an open heart and choose to do our best to make changes in our country, in whatever way we can — outreach, voting, volunteerism, being a good neighbor, giving your resources and time to those who need it. The problems we're facing have many causes, and it will take many different remedies to create all the conditions necessary for an equitable and compassionate world. It's important to remind yourself of your resources — the support you have from friends and family, your material comfort, health, your good qualities — so you don't get discouraged and overwhelmed. The truth is that we have many difficulties and we also have many blessings.
twi-ny: Speaking of being stuck at home, you've been holding classes online; how has that been going? How have you adapted your methods to make personal connections over Zoom?
kb: I was very resistant to teaching meditation classes online, believing that we would feel less connected each other and more distracted. I've found that it's true that there are more distractions, but videoconferencing brings us closer than I imagined it would. We're looking directly in each other's face and it can be surprisingly intimate. I also noticed early on that it feels more awkward to sit in silence together online than it does in person. I've had to make a conscious effort to resist the impulse to speak and just allow the quiet to unfold.
As a Buddhist student, I've been grateful to sit retreats from my apartment here in NYC with Insight Meditation Society. It's not the same as being away from home, but it's beautiful to connect with the community and to remember that our life is our practice, and we don't need to go anywhere to develop our mind.
twi-ny: What would you tell a person who is interested in meditation but doesn't know how to get started or is hesitant to try it online?
kb: So many people tell me they've been "thinking about doing" meditation and I say, "Stop thinking and just do it!" There are so many audio and video resources out there, like the free recordings on dharmaseed.org or the Insight Timer app, and many useful books like Sharon Salzberg's Real Happiness, which is a twenty-eight-day step-by-step guide to learning mindfulness meditation, or Thich Nhat Hanh's book How to Meditate. And my book, Steady, Calm, and Brave, has short and easy meditations that are helpful for this difficult time. But the most important thing is to simply sit yourself down and get still without your cellphone or TV or computer for ten minutes a day. Just pay attention to your breath, the air on your skin, the sounds entering your ears. Being quiet with yourself is surprisingly healing and restful.
twi-ny: Do you have any special classes or events coming up?
kb: This week, I have two New Year events. On Thursday, January 7, at 7:00, I'll be leading our annual Intention Setting Ceremony at Shantideva Meditation Center, and on Saturday at 10:00, I'll lead a Steady, Calm, and Brave workshop. Both are on Zoom and you can learn more at my website.
twi-ny: Have you been getting out at all during the pandemic, and if so, what are some of your favorite things to do when you and your husband are away from your apartment?
kb: In the spring, the city restricted car traffic on one of the widest and loveliest boulevards in our neighborhood. Now, for over two miles, it's a pedestrian-only walkway as part of the Open Streets initiative. It's been a delight to see our neighbors and go for a nice long walks together. And, my husband is a history buff, so we've been upstate and out in Connecticut at forts and battlefields from the Revolutionary and Civil Wars. Most are located in state and federal parks, which are wonderful resources during this pandemic.