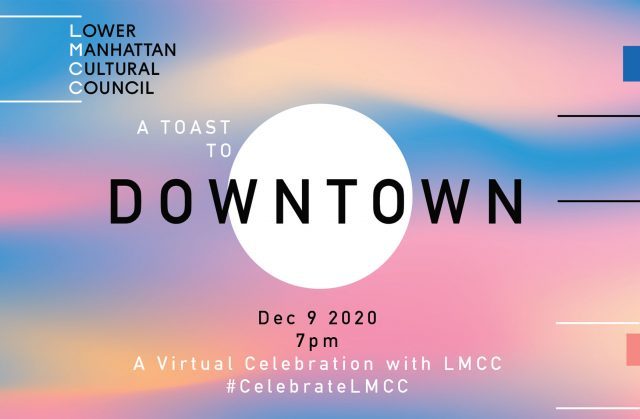 Who: Paul Pfeiffer, Eiko Otake, Amina Henry, Morgan Bassichis, Mona Chalabi, Ivy Mix, Mariana Valencia, Jessica Lappin, Maggie Boepple
What: LMCC benefit fundraiser
Where: Lower Manhattan Cultural Council online
When: Wednesday, December 9, free with RSVP (donations accepted), 7:00
Why: Since 1973, the Lower Manhattan Cultural Council has "served, connected, and made space for artists and communities in NYC through programs that deepen artists' creative practice and afford them opportunities to share their process and work with local communities." Rarely has that been more important than during the pandemic lockdown. On December 9 at 7:00, LMCC's annual fundraiser goes virtual with "A Toast to Downtown," celebrating the great work the organization does not only in Lower Manhattan but on Governors Island and other locations. This year's civic leadership honorees are Downtown Alliance president Jessica Lappin and former LMCC president Maggie Boepple; in addition, Amina Henry (The Animals, Bully) will receive the Sarah Verdone Writing Award, Eiko Otake will be presented with the Sam Miller Award for Performing Arts, and Paul Pfeiffer will receive the Michael Richards Award for Visual Arts.
The evening will include video from Pfeiffer, who will show excerpts from a new work as well as from 2001's Orpheus Descending, which was installed at the World Trade Center and follows the life cycle of a flock of chickens; a new video from Eiko, made for this gala and recently shot on location at LMCC's Arts Center at Governors Island; and appearances by LMCC artists and alumni Morgan Bassichis, Mona Chalabi, Ivy Mix, and Mariana Valencia. It's free to RSVP, but $20 gives you a chance to win a limited edition "100 New Yorkers" print by Chalabi based on her 2020 River to River project, $50 helps fund artist residencies, $100 supports grants to neighborhood arts communities, and $250 gives artists the opportunity to share their work and their creative process.