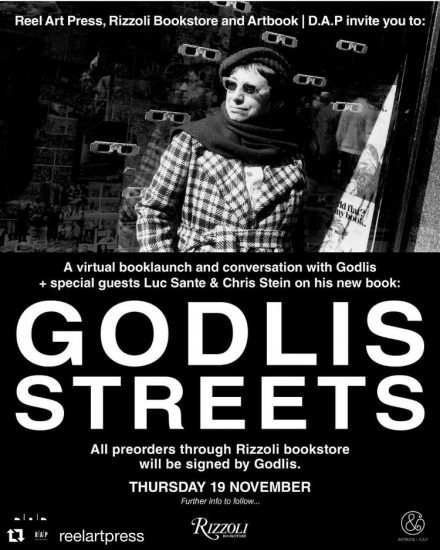 Who: David Godlis, Luc Sante, Chris Stein, Dave Brolan
What: Virtual book launch
Where: Rizzoli Zoom
When: Thursday, November 19, free with RSVP, 5:00
Why: "As Garry Winogrand said, 'I photograph to see what things look like photographed.' This book is what I photographed," David Godlis explains in his new book, Godlis Streets (Reel Art Press, $39.95, November 2020). I'm used to seeing the ever-cool Godlis and his impressive curly hair every year at the New York Film Festival, snapping away from his seat at front and center, but this year's event, of course, was virtual, so I will have to settle for catching up with Godlis on Zoom when Rizzoli hosts his book launch on November 19 at 5:00, when Godlis will speak with Reel Art Press music editor Dave Brolan. Godlis is known for his black-and-white documentation of the punk scene, cinema luminaries, and street photos from the 1970s to 1990s, ever since he purchased his first 35mm camera in 1970; his motto is "Better Living Through Photography." Look out for his photo of an outdoor stand selling "Black Art," a drawing of Dr. Martin Luther King Jr., next to "American Art," a painting of a clown; a shot of a nun walking past a bus with an ad featuring a naked man and woman on it; and a picture of two women looking askance at him as they pass a peep show. The book includes a foreword by Luc Sante and an afterword by Chris Stein; both Sante and Stein will be part of the launch as well, which is free with RSVP.