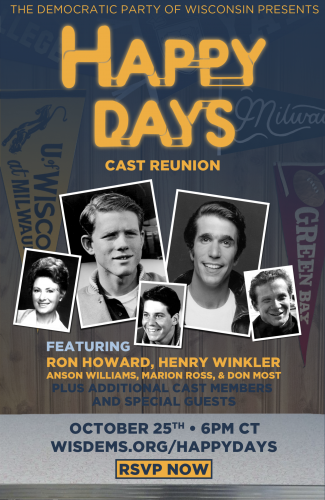 Who: Ron Howard, Henry Winkler, Anson Williams, Marion Ross, Don Most, Lowell Ganz, Josh Gad, D'Arcy Carden, Yara Shahidi, more
What: Live reunion reading
Where: WisDems Zoom
When: Sunday, October 25, minimum donation $1, 7:00
Why: It will not be the happiest of days for everyone when the cast of Happy Days reunites for a benefit script read and Q&A in support of the Democratic Party of Wisconsin in an effort to help turn the state blue again in the upcoming presidential election. On October 25 at 7:00, a classic episode of the sitcom, which aired on ABC from 1974 to 1984 and was set in Milwaukee, will be read live on Zoom by Henry Winkler as the too-cool Arthur "Fonzie" Fonzarelli, Ron Howard as the the freckle-faced Richie Cunningham, Don Most as the wacky Ralph Malph, Anson Williams as the doofy Potsie Weber, and Marion Ross, on her ninety-second birthday, as the frisky Mrs. C. Sadly, creator Garry Marshall, Tom Bosley (Howard Cunningham), Erin Moran (Joanie Cunningham), Pat Morita (Arnold), and Al Molinaro (Al) are no longer with us. But what about Scott Baio, as tough-guy Chachi Arcola, you ask? Well, the staunch Trump-supporting conservative recently tweeted, "What a shame to use a classic show like Happy Days about Americana to promote an anti-American socialist. #Shameful." So John Stamos will be stepping into Chachi's shoes for the presentation, which will also include writer Lowell Ganz, Josh Gad, D'Arcy Carden, Yara Shahidi, and surprise guests. (Ted McGinley, Cathy Silvers, Linda Purl, Lynda Goodfriend, and Crystal Bernard are still around.) And maybe, just maybe, we'll get the real, inside story of what happened to Chuck.
"We're thrilled a show made famous in Milwaukee is coming back home to help make Donald Trump a one-term president," Democratic Party of Wisconsin chair Ben Wikler said in a statement. "We know all roads to the White House go through the Badger State, and with the cast of Happy Days helping us raise money to take back the White House, we believe even more we can deliver a victory on November 3." Happy Days hasn't held up very well, but this should be a fun night anyway, following two other WisDems reunions, The Princess Bride and Veep, as well as the PA Dems benefit reunion of This Is Spinal Tap and the Texas Democratic Party's Seinfeld Fundraiser About Something on October 23.