Who: Molissa Fenley, Jared Brown, Lloyd Knight, Sara Mearns, Shamel Pitts, Annique Roberts, Cassandra Trenary, Michael Trusnovec, Peter Boal
What: Livestreamed performances from the Joyce stage
Where: JoyceStream YouTube
When: October 24 - November 1, each dance $12, full Choreographers & Cocktails experience $150 per household
Why: In 1988, dancer and choreographer Molissa Fenley created State of Darkness, an American Dance Festival commission that is a solo set to Stravinsky's Le Sacre du Printemps ("Rite of Spring"); the thirty-five-minute piece was performed exclusively by Fenley through 1994, then by Peter Boal in 1999-2000 and Rachel Foster, James Moore, and Jonathan Porretta of the Pacific Northwest Ballet in June 2007. With the pandemic lockdown, Fenley, who was born in Las Vegas, grew up in Nigeria, and has been based in New York City since 1975, is revisiting the work, presenting it live on the Joyce stage to an empty house, performed October 24-25 and October 31 - November 1 by seven dancers with their own interpretations, livestreamed via the JoyceStream YouTube channel, the first live show from the Joyce stage since March. The October 24 lineup features Michael Trusnovec (formerly Paul Taylor Dance Company) at 5:00 and Jared Brown (Shechter II — Hofesh Shechter Company) at 8:00; October 25, Annique S. Roberts (Ronald K. Brown/EVIDENCE, A Dance Company) at 5:00 and Shamel Pitts (formerly Batsheva Dance Company) at 8:00; October 31, Lloyd Knight (Martha Graham Dance Company) at 5:00 and Cassandra Trenary (American Ballet Theatre) at 8:00; and concluding November 1 with Sara Mearns (New York City Ballet principal) at 5:00. There will also be a behind-the-scenes discussion of the work on October 24 at 7:00 with Fenley and the dancers, moderated by Boal.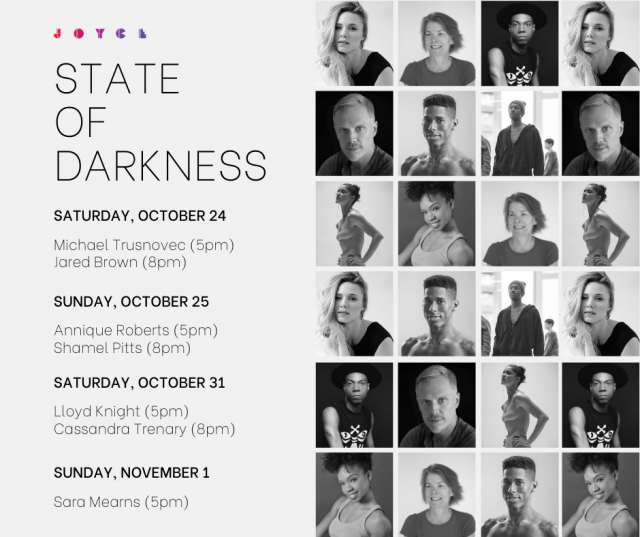 "It has been truly inspiring and uplifting to see the dancers and Molissa tackle State of Darkness during this difficult and unprecedented interruption to our lives," Joyce executive director Linda Shelton said in a statement. "To me, this piece is about emerging from the darkness we have been coping with since March." Fenley added, "In 1988, environmental, political, and social unrest inspired me to create State of Darkness. Today, a response to similar influences affecting us feels even more urgent and necessary." Tickets for each individual dance is $12; the complete Choreographers & Cocktails experience, including all seven performances, an interview with Fenley, a live Q&A with the dancers, and a signature cocktail recipe by chef Peter Kelly, is $150 per household.