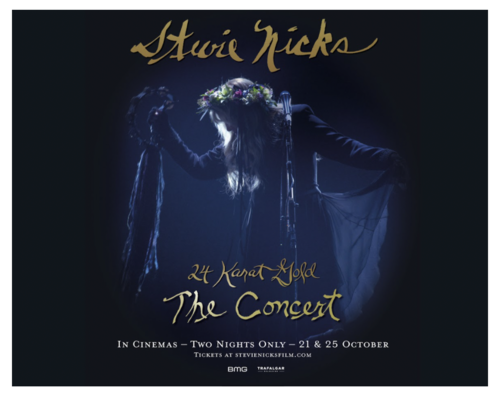 Who: Stevie Nicks
What: New concert film
Where: Tavern on the Green and other locations
When: Wednesday, October 21, and Sunday, October 25, $20, 7:30
Why: In an August 10 journal entry on Facebook about Covid-19, Stevie Nicks wrote, "If I get it, I will probably never sing again. Put me on a ventilator and I will be hoarse for the rest of my life ~ I don't have much time . . . I am 72 years old. . . . Everyone gathering at the beaches ~ in the bars ~ block parties ~ etcetera ~ Let's get drunk and make out and by the way 'Can I have the other half of your drink?' ~ We are heading for a crash. People are dying because people aren't wearing their masks." Off the road because of the pandemic lockdown, Nicks is now offering fans of her solo career and work with Fleetwood Mac the chance to gather together in person and enjoy her music — masked and socially distanced — with two special screenings of the film Stevie Nicks 24 Karat Gold The Concert, taking place at theaters, drive-ins, and other exhibition spaces across the country. Here in New York City, the film, which features such songs as "Rhiannon," "Stop Draggin' My Heart Around," "Edge of Seventeen," "Stand Back," and "Landslide" and takes audiences behind the scenes of the tour, will be shown outside at Tavern on the Green in Central Park on October 21 and 25 at 7:30; tickets are $20, and all attendees must wear masks and follow official city Covid-19 regulations.
Doors open at 7:00, and the venue will seat groups together as long as social distancing can be maintained, and drinks will be available for cash purchase. You can get a taste of what you're in for with the above clip of "Gypsy," performed during the 2016-17 tour, which crossed the United States and also traveled to Canada, Australia, and the UK; directed and produced by Joe Thomas, the film was recorded at the March 2017 shows in Indianapolis and Pittsburgh and includes Nicks sharing personal stories about Tom Petty, Prince, Lindsey Buckingham, and others. "The 24 Karat Gold Tour was one of my favorite tours I've ever done," Nicks wrote on Facebook last month. "It's a trip. It's a journey. Come with me!‬"