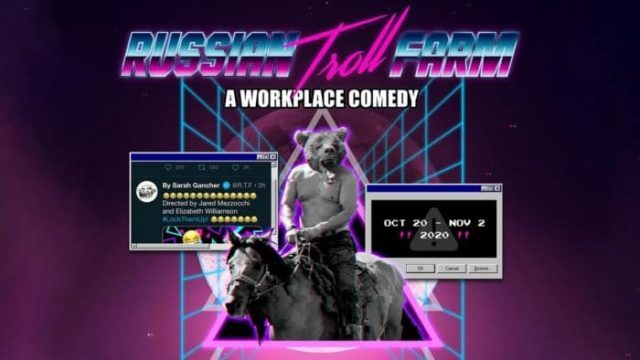 Who: TheaterWorks Hartford, TheatreSquared, the Civilians
What: Live site-specific theatrical digital experience
Where: Zoom
When: October 20-24, $20.20, 7:30 (available on demand October 25 - November 2)
Why: I've just watched the first part of Alex Gibney's Agents of Chaos, a frightening documentary about Russian interference in American elections, primarily through troll farms spreading misinformation and disinformation over social media. Award-winning American playwright Sarah Gancher delves into that ever-growing issue in her new play, Russian Troll Farm: A Workplace Comedy. Production on the show began prior to the pandemic, so Gancher (The Lucky Ones, Hundred Days) has reimagined it as a "site-specific work for the internet," with TheaterWorks Hartford in Connecticut and TheatreSquared in Fayetteville, Arkansas, in association with the Brooklyn-based troupe the Civilians. The play, inspired by actual transcripts from the government-owned Internet Research Agency, aka Glavset, will be performed live on Zoom October 20-24, with tickets going for an appropriate $20.20; the five performances will then be archived for on-demand viewing October 25 - November 2, the eve of the election. "The trolls are out in full force right now," Gancher said in a statement. "I want everyone on the right and the left to be able to spot them and to see what they're doing — or at least wonder: What happens to a democracy when the voices of real citizens are drowned out by fictional characters?" The fab cast features Danielle Slavick as Masha, Mia Katigbak as Ljuba, Haskell King as Egor, Ian Lassiter as Steve, and Greg Keller as Nikolai; the play is directed by Jared Mezzocchi and Elizabeth Williamson, with sets and costumes by Brenda Abbandolo, sound and music by Andre Pluess, and lighting by Amith Chandrashaker. In the meantime, I'll be sitting down for the second part of Agents of Chaos; wish us all luck.