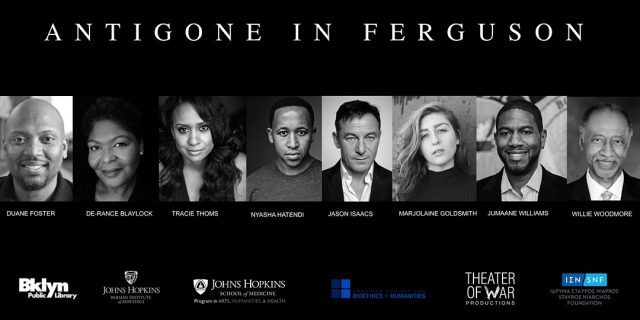 Who: Bryan Doerries, Tracie Thoms, Jason Isaacs, Jumaane Williams, Marjolaine Goldsmith, Nyasha Hatendi, Willie Woodmore
What: Live Zoom theatrical production and discussion from Theater of War
Where: Zoom link sent with advance registration
When: Saturday, October 17, free with RSVP, 6:00
Why: On August 9, Theater of War presented a live Zoom reading of its 2016 project, Antigone in Ferguson, which was created in collaboration with community members of Ferguson, Missouri, in the wake of the death of Michael Brown in 2014. The August presentation was part of the sixth annual "Michael Brown Memorial Weekend" and was followed by a discussion with Gwen Carr (Eric Garner's mother), Valerie Bell (Sean Bell's mother), Marion Gray-Hopkins (Gary Hopkins Jr.'s mother), and Uncle Bobby X (Oscar Grant's uncle). Theater of War, which specializes in relating classic and classical plays to contemporary issues — from Sophocles's Antigone and Ajax and Euripides's Medea and The Bacchae to works by Eugene O'Neill, Tennessee Williams, Conor McPherson, and William Shakespeare — is revisiting Antigone in Ferguson on October 17, partnering with Johns Hopkins to focus on how police brutality, community violence, and the Covid-19 crisis have impacted the city of Baltimore, where Freddie Gray died in police custody in 2015. The cast features Tracie Thoms as Antigone, Jason Isaacs as Creon, Jumaane Williams as the messenger, Marjolaine Goldsmith as Ismene, Nyasha Hatendi as Haemon, and Willie Woodmore as Tiresias in an adaptation translated and directed by Theater of War artistic director Bryan Doerries, who will facilitate the postshow talk with De-Andrea Blaylock Johnson. The play also includes live choral music composed and conducted by Dr. Philip Woodmore.
Theater of War has been busy during the pandemic, forging ahead with Zoom versions of The King Lear Project, The Oedipus Project, and other virtual events. On October 15 at 1:00, Theater of War teams up with the Brooklyn Rail for a live "Common Ground" Q&A with Carr and Bell of Mothers of the Movement, cohosted by Doerries and community liaison Dominic Dupont; you can register for free here.