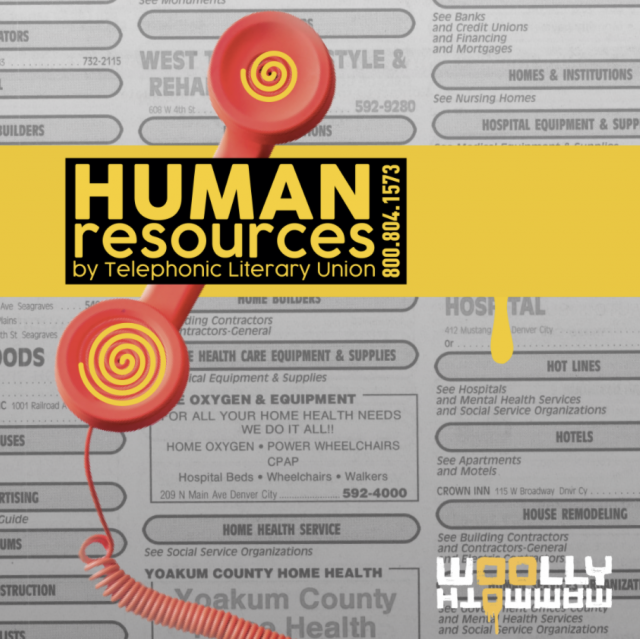 HUMAN RESOURCES
Telephone audio play
Thursdays at 12:01 am through Sundays at 11:59 pm through November 1, $7 minimum
www.woollymammoth.net
We've all been there. Whatever our class, race, gender, religion, ethnicity, politics, geographic location, or height, we call up a customer service hotline and spend an annoying amount of time shuttled between mechanical voices, with no resolution in sight and no one to scream at. The DC-based Woolly Mammoth Theatre Company has taken that infuriating scenario and transformed it into a unique and fun theatrical piece, an audio rabbit hole that is well worth a deep dive.
Human Resources is a telephone play with no visuals and no live people, only recordings. For as little as seven dollars, you receive not a ticket but an access code that allows you to explore all that can be found at 800-804-1573, the number for the Telephonic Literary Union. Organized as a kind of choose-your-own-adventure narrative with texting (landlines will limit your experience), the show encourages you to track various threads either in one call or over several during the course of ninety-six hours, from 12:01 am Thursday to 11:59 pm Sunday. The goal is acquiring the super-secret happiness access code, which requires plenty of patience.
Right from the start, you are given the option of filing a claim for unhappiness (because of financial pressure, loneliness, race relations in America, mask fogging, or guilt over buying products from Amazon), seeking self-care with a travel agent through the Department of Conscious Rearrangement, or holding for technical support. You might end up hearing actor Jin Ha recite a poem by Wendell Berry in multiple accents, booking a mental escape pod vacation, or being offered the opportunity to reach parties in the Office of Essential Workers, which includes some of the creators of Human Resources: The thoroughly entertaining play was developed by Brittany K. Allen, Christopher Chen, Hansol Jung, Sarah Lunnie, Stowe Nelson, Zeniba Now, and Yuvika Tolani and features Marc Bovino, David Greenspan, Mia Katigbak, Brian Quijada, Ikechukwu Ufomadu, and Ha.
Although I was given the chance to leave a message at the end of some threads, the calls always got cut off at that moment; I'm not sure whether that was on purpose or a technical flaw, but it was the only element that left me frustrated. Oh, wait; maybe that's the point: the inability to make any real connection or achieve any kind of legitimate progress with an actual human.
I don't want to give anything else away, but take your time and wander through the handful of alternatives. When you do reach a dead end, call back and frolic down another path. Eventually you will find yourself hearing a very strange conversation that just might lead you to the promised land.