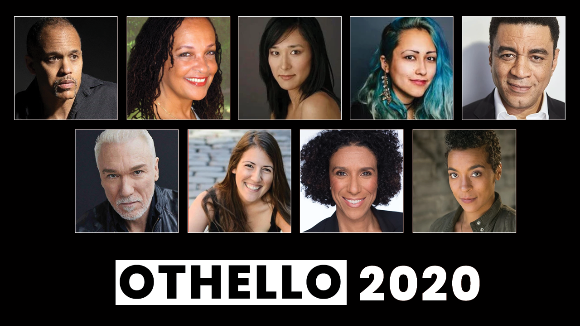 Who: Grantham Coleman, Franchelle Stewart Dorn, Jennifer Ikeda, Harry Lennix, Patrick Page, Madeline Sayet, Jessika D. Williams, David Sterling Brown, Erika Lin, Ayanna Thompson, more
What: Performances and discussions surrounding Shakespeare's Othello
Where: Red Bull Theater livestream
When: October 5, 7, 12, 15, 19, 22, 26, 28, free with RSVP
Why: One of the most remarkable aspects of William Shakespeare's plays is how relevant they remain today, as companies infuse the histories, comedies, and tragedies with contemporary relevance. Red Bull Theater, one of the most active troupes during the pandemic lockdown, will take on the Bard's The Tragedy of Othello, the Moor of Venice with "Othello 2020," a series of special programs that explore the work's lasting impact as it continues to thrill and challenge audiences around the world. "All of us at Red Bull are excited to deepen our exploration and understanding of the intersection of race and classical theater," artistic director Jesse Berger said in a statement. "This October, with Shakespeare's Othello as our launching point, we invite audiences to take a deep dive into these issues as we examine them from a variety of perspectives over the course of four key projects. Together, we'll ask, 'What does Othello mean for us in 2020'?" The initiative begins October 5 with the RemakaBULL Podversation "Exploring Iago" with Patrick Page, who will perform one of Iago's most important speeches ("Thus do I ever make my fool my purse: / For I mine own gained knowledge should profane, / If I would time expend with such a snipe. / But for my sport and profit. I hate the Moor"), then talk about it with associate artistic director Nathan Winkelstein; Page played Iago opposite Avery Brooks's Othello in 2005 at the Shakespeare Theatre Company.
On Wednesday afternoons at 2:00, the free webinar "Exploring Othello in 2020" consists of salon seminars examining the work in the context of racial justice and the BLM movement, featuring BIPOC voices, moderated by Shakespeare scholar Ayanna Thompson; each week will feature readings, by Keith Hamilton Cobb (American Moor), Franchelle Stewart Dorn ('Tis Pity She's a Whore), Jennifer Ikeda (Women Beware Women), Anchuli Felicia King (White Pearl), Harry Lennix (Radio Golf), Madeline Sayet (Where We Belong), and Jessika D. Williams, who is currently portraying Othello at the American Shakespeare Center in Virginia. On October 12 at 7:30, Cobb will deliver a live benefit reading of his one-man show, American Moor, in which he auditions for a white director, followed on October 15 at 7:30 by a Bull Session with scholar Erika Lin, original director Kim Weild, and members of the company. On October 19, Red Bull teams up with the American Shakespeare Center for a benefit reading of King's Keene, which takes place at at a Shakespeare conference, directed by Ethan McSweeny and starring Grantham Coleman, followed October 22 at 7:30 by a Bull Session with scholar David Sterling Brown and members of the company, moderated by Anne G. Morgan. All events are free with advance RSVP.