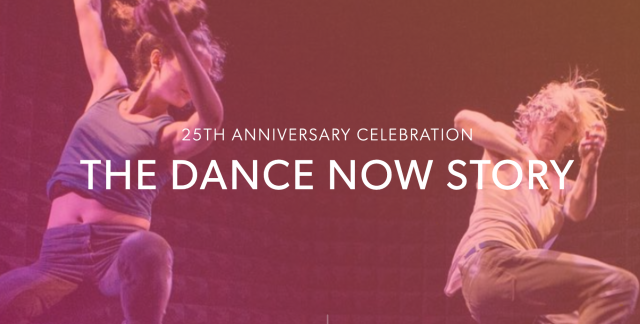 Who: Honorees Gus Solomons jr., Robert Battle, Jane Comfort, Claire Porter, Satoshi Haga, David Parker/the Bang Group, many dance companies
What: Annual festival moves from Joe's Pub to online for twenty-fifth anniversary
Where: Dance Now online
When: September 10 - May 20, performances $10, performance plus celebration $20,
Why: Dance Now is celebrating its silver anniversary by looking at the past and into the future with "The Dance Now Story," a six-part virtual series that kicked off September 10 with new five-minute digital commissions from Ayodele Casel, Mike Esperanza, and LMnO3 in addition to archival works from HUMA, Tricia Brouk, and DN honoree Gus Solomons jr.; it will be followed by a live, virtual Artist-to-Audience Celebration on October 1 at 7:00 hosted by TruDee. Chapter two takes place October 8 with new digital commissions from Jamal Jackson and Nicole Wolcott & Katy Pyle, along with archival works from Wanjiru Kamuyu & Katherine Helen Fisher and DN honoree Robert Battle; the live celebration is set for October 22 with host Christal Brown. "The DN Story" continues November 12 with new digital commissions from Mariana Valencia and Nicole Vaughan-Diaz & Orlando Hernandez and archival works from Take Dance & Amber Sloan and DN honoree Jane Comfort, with the celebration set for December 3 with host Sara Juli. Chapter four launches on February 11 with new digital commissions by Kate Ladenheim, Alice Sheppard, Subject: Matter, and Maleek Washington and archival works from Adam Barruch and Mark Gindick, with a February 25 celebration honoring Claire Porter with host TruDee.
On March 11, chapter five features new digital commissions by Tsiambwom M. Akuchu, Brendan Drake, and Jasmine Hearn and archival works by Ruben Graciani and Megan Williams, with a March 25 party honoring Satoshi Haga, hosted by Germaul Barnes. And the series concludes May 6 with new digital commissions by Sarah Chien, Kayla Farrish, and Joshua L. Peugh and archival works by John Heginbotham and Paula Josa-Jones, along with the final live Artist-to-Audience Celebration, honoring David Parker/the Bang Group on May 20, hosted by Larry Keigwin and Nicole Wolcott. The Dance Now festival usually takes place at Joe's Pub, so maybe parts of the event will be allowed to move indoors by the time some of the later chapters come up. Virtual tickets are $10 for each chapter performance, which you can watch any time once it releases, and $20 for access to the chapter as well as the live party.