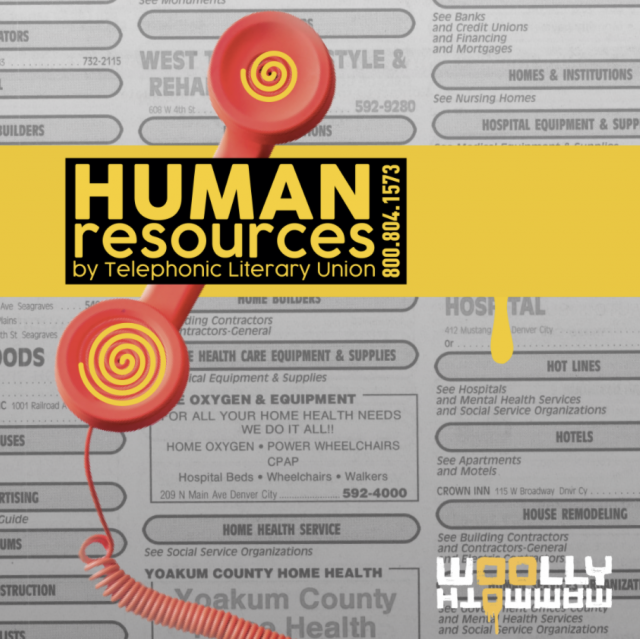 Who: Woolly Mammoth Theatre Company
What: Live telephone play
Where: Your personal phone
When: October 1 - November 1, $7
Why: One of my favorite, and most unusual, artistic experiences during the pandemic lockdown has been On Site Opera's To My Distant Love, a reimagining of Beethoven's six-song cycle, An die ferne Geliebte, which starts out over email and finishes in a big way over the phone, with a singer and pianist performing just for you, using only sound, no images or video. DC-based Woolly Mammoth Theatre Company is also taking the sonic route with Human Resources, a telephone play developed by Brittany K. Allen, Christopher Chen, Hansol Jung, Sarah Lunnie, Stowe Nelson, Zeniba Now, and Yuvika Tolani in conjunction with Telephonic Literary Union. For a $7 minimum fee, you call up a "human resources" department to file a complaint or for another reason and go on an adventure of the mind as you seek fulfillment during these difficult times. Each ticket gives you a four-day window to complete the call. During the Covid-19 crisis, Woolly Mammoth is also participating in Play at Home, a free collection of ten-minute plays written specifically for people to read and/or perform at home, not onstage, in partnership with Baltimore Center Stage, Long Wharf Theatre, the Public Theater, and the Repertory Theatre of St. Louis; among Woolly's commissions are Alshea Harris's If, Can, Mayhap, Mike Lew's Performance Review, Diana Oh's The Impossible Play, Dani Figueroa Edidi's The Diaz Family Talent Show, and Michael R. Jackson's Trees on Broadway.