KAJILLIONAIRE (Miranda July, 2020)
Opens theatrically September 25
Live virtual red carpet with Q&A September 24; live Q&A September 28
www.focusfeatures.com
www.mirandajuly.com
www.bam.org
Miranda July's third feature is another wholly original, endlessly inventive tale, this time about a rather unusual family with a unique approach to their day-to-day life. The follow-up to July's 2005 engaging romantic comedy, Me and You and Everyone We Know, and her 2011 eccentric domestic drama, The Future, Kajillionaire is a family portrait of the Dynes, a trio of extremely low-level con artists whose dynamic changes considerably with the addition of a new member.
Evan Rachel Wood is sensational as Old Dolio, the twenty-six-year-old daughter of Theresa (Debra Winger) and Robert (Richard Jenkins) Dyne. Although a practical reason is given for her name, Dolio, the word is the preterite form of the Spanish verb doler, which means "to hurt." And Old Dolio is hurting something fierce, even if she and her parents don't realize it. The three of them appear to live on their own planet, in their own time and space. They pull off absurdly tiny swindles in order to try to keep up with their meager rent. They live in a vacated office next to a company that manufactures bubbles; twice a day (and three times on Wednesday), pink bubbles start flowing down the far wall in their "home," so they have to be sure to be there at those designated hours to catch the bubbles in garbage cans and steer them down the drain to avoid flooding. July adds wacky moments of physical comedy each time they have to get to their door without their strange landlord, Stovik (Mark Ivanir), seeing them and demanding money. It's both hysterically funny and hugely pathetic, but there's a beautiful magic to it, reminiscent of the peeling wallpaper in the Coen Brothers' Barton Fink. It's also representative of their Sisyphean lives as a whole, repeating the same patterns, getting nowhere, just bubbles disappearing.
Old Dolio is like a feral child, reminiscent of the boy in François Truffaut's The Wild Child, Johnny Depp in Tim Burton's Edward Scissorhands, and even Brendan Fraser's caveman in Les Mayfield's Encino Man. (Los Angeles is very much a character unto itself in Kajillionaire, as the Dynes make their way through various LA neighborhoods to pull off their very minor-league ripoffs; July grew up in Berkeley and lives in California with her husband and child.) Old Dolio looks down at the ground, shuffles her feet, and talks in a low-pitched voice with no nuance, as if she is still learning language. Her father admits that she was taught how to write via forgery. She can't relate to other people, unable to have a real conversation, even with her parents, unless it's about their cons.
The family structure shifts when Melanie (Gina Rodriguez) enters the picture, like a new baby sister who her parents nurture and care for more than they ever did Old Dolio. They meet when the Dynes are in the midst of a luggage scam, the parents acting as if they don't know Old Dolio, which is a rather apt metaphor. Sitting next to Theresa and Robert on a plane, the outgoing, talkative Melanie instantly feels comfortable with them while Old Dolio looks on from another row, jealousy quickly building, likely a new emotion for her. The relationship between the two women drives the second half of the film, as they teeter on the edge of sisterhood, friendship, and maybe even a little more. Meanwhile, the parents recognize a change in their daughter, but they don't necessarily know how to react, or even if they want to; they're more like mini-cult leaders than mother and father. "They're my parents," Old Dolio tells Melanie, who replies, "In what sense?"
Kajillionaire is so enrapturing, so expertly made by writer-director July — with lovely, humorous cinematography by Sebastian Winterø, fun production design by Sam Lisenco, and a sweet score by Emile Mosseri — it is easy to wonder why it's only July's third film in fifteen years. But she's also a performance artist, an author, a visual artist, an actress (she starred in her first two films), and an app creator. She has written the short story collection No One Belongs Here More Than You, the book It Chooses You, and the novel The Last Bad Man; created the Somebody app in conjunction with her 2014 short film Somebody; has released several records on the Kill Rock Stars label; has staged such interactive art projects as Eleven Heavy Things, Learning to Love You More, and New Society; and has just released her first monograph, to which I contributed a few photographs. Thus, film is only part of her vast, multidisciplinary oeuvre, but it is one she has mastered with her singular style.
Oscar nominees Winger (An Officer and a Gentleman, Urban Cowboy) and Jenkins (The Visitor, The Shape of Water) make a terrific oddball pair, with Emmy nominee Wood (Thirteen, Westworld) and Golden Globe winner Rodriguez (Jane the Virgin, Filly Brown) as the very different "children," an introvert and an extrovert in search of some kind of real bonding. This family does not operate like the smooth hustlers of The Grifters or Ocean's 11, Melanie's favorite movie, but have more in common with the petty swindlers of Paper Moon and Nagisa Oshima's Boy. In one of the film's many running gags, the Dynes are terrified that a giant earthquake, "the big one," is liable to hit at any moment; they freeze at the tiniest of tremors, as if the end of the world is near, but nothing of any sizable consequence ever happens to them; they've trapped themselves in a paltry existence they have created, a dour loneliness and sadness hanging over them like a dark cloud (as opposed to cute pink bubbles). "Me, I prefer to just skim," Robert explains. July has done much more than skim in this captivating film that captures peculiar and idiosyncratic aspects of the human experience as only she can. Now, if we can only get her to make more movies.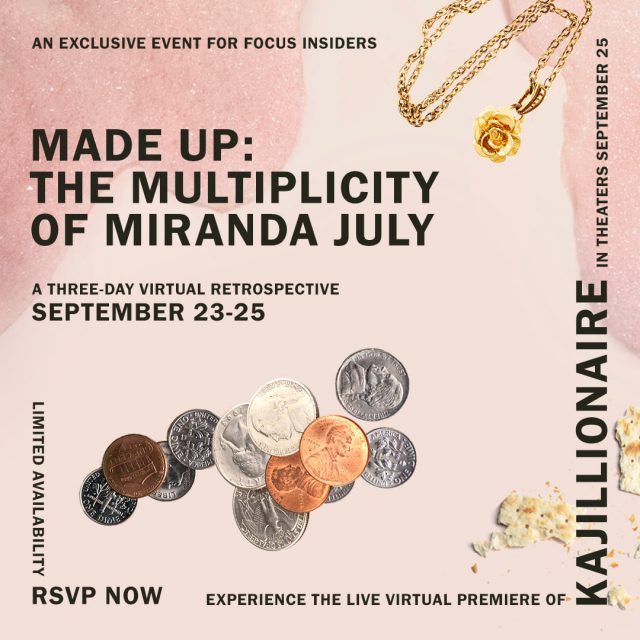 Kajillionaire begins streaming through BAM beginning September 25, preceded by the three-day festival "Made Up: The Multiplicity of Miranda July," a Focus Insiders exclusive consisting of screenings of Me and You and Everyone We Know, The Future, Love Diamond (her first full-length performance piece, which debuted in 1998), and other videos, along with a virtual red carpet and Q&A with July and the cast on September 24; you can also join a live Q&A with July and Spike Jonze hosted by American Cinematheque on September 28 at 10:30 EDT.