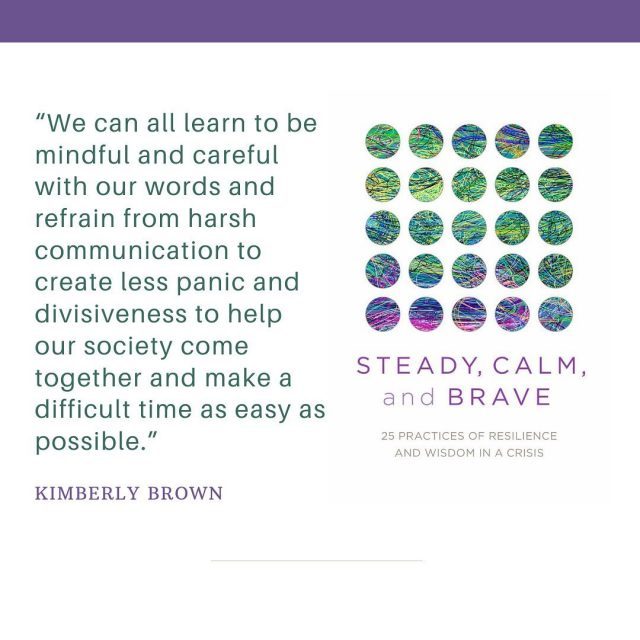 Who: Kimberly Brown
What: Virtual book launch party
Where: Zoom
When: Monday, September 14, free with RSVP, 7:00
Why: In her new book, Steady, Calm, and Brave: 25 Practices of Resilience and Wisdom in a Crisis (Publishing with Heart, July 2020, $12.95), New York City meditation teacher Kimberly J. Brown offers advice on how to deal with the current pandemic and the protests raging across the country. "Our delusions about being independent from other people, or separate from those we don't like or don't know, are revealed as dangerous and demonstrably false in any time of crisis," she writes in the preface. Later, in the chapter "When It's Us Against Them," she explains, "Divisive thinking is a root cause of racism and so many other social problems throughout the world. The idea that we can separate ourselves from others is a type of delusion that Buddhism calls a 'wrong view.' Right view is the scientific fact that all humans — all living beings — are profoundly connected. We live together on the same planet, breathe the same air, share the resources of our ecosystem, and all of our actions affect one another. There is no us and them — only us."
Brown teaches guided meditation and mind-body therapy at the Rubin Museum, the Interdependence Project, the Shantideva Center ("Metta for [Self]Compassion" on Thursday nights), and other institutions as well as privately; in addition, her "Wisdom and Healing for the World" class takes place every Sunday morning at 10:00. On September 14 at 7:00, she will be hosting a virtual book launch party for Steady, Calm, and Brave, which includes such chapters as "Harm and Healing," "Grief and Loss," "When Your Family Is Making You Crazy," "When You're Mad at the World," "When Others Behave Badly," and "When You're Keeping Your Distance." The book also features extensive back matter with blessings and resources, and Brown offers numerous types of meditation practices (five-minute, virtual, safety) for experienced meditators as well as beginners. The book is as warm and lovely as she is — I've known her for about ten years — so you can expect a warm and lovely event, much-needed healing during these intense times of stress and pressure coming at us from all sides.