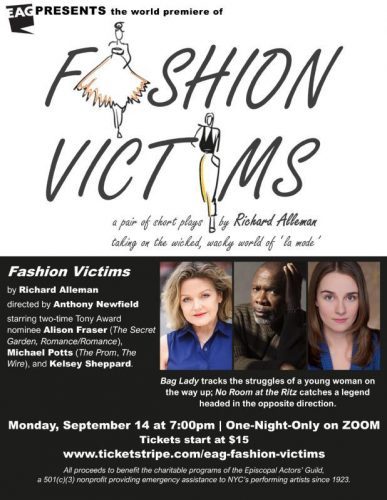 Who: Kelsey Sheppard, Michael Potts, Alison Fraser
What: Two plays benefiting the Episcopal Actors' Guild
Where: Zoom
When: Monday, September 14, $15-$100, 7:00
Why: The Episcopal Actors' Guild is taking part in NY Fashion Week in a unique way; on September 14, it is presenting two new one-act plays about fashion, written by longtime Vogue writer and editor Richard Alleman. And like Fashion Week, it is happening online. First up is Bag Lady, in which an aspiring model from Ohio (Kelsey Sheppard) meets a wise old man (Michael Potts) in a Greenwich Village park. That will be followed by No Room at the Ritz, in which a legendary fashion editor (Alison Fraser) is unaware she might have lost her powerful job. Both works are directed by actor Anthony Newfield, who participated last month in a virtual reading of Alleman's Adrift with Karen Archer, Glauco Araujo, and Fraser for Cape May Stage, which you can watch here. (Bag Lady and No Room at the Ritz are actually part of a trilogy that also includes #HeToo, about a male model who claims he has been sexually abused.) In a statement, Alleman said about his Vogue career, "It's a crazy world. But I don't regret one minute of my time there. If anything, I felt privileged. Of course, there was a dark side to it as well, but all that makes a great background for stories and plays." The $15 and $25 tickets are sold out, but you can still get $50 and $100 tickets, which come with special benefits; for $100, you are invited to a postshow virtual cocktail party with the cast.
Founded in 1923 and based in the Church of the Transfiguration on East Twenty-Ninth St., the Episcopal Actors' Guild "helps bridge the inevitable gaps that happen in performing arts careers so these artists can keep working in the career of their choice. During this unprecedented Covid-19 public health crisis, not only have all productions shut down but our performing arts community now finds their supplementary sources of income cut off as well. Your gift will ensure that the services of EAG remain available for our city's amazing performers 'of all faiths, and none' during this difficult time."