Who: Cary Elwes, Robin Wright, Mandy Patinkin, Wallace Shawn, Christoper Guest, Billy Crystal, Carol Kane, Chris Sarandon, Rob Reiner, Josh Gad, Eric Idle, King Bach, Finn Wolfhard, Shaun Ross, Whoopi Goldberg, Jason Reitman, Patton Oswalt, Norman Lear
What: Benefit reunion reading of The Princess Bride script
Where: Act Blue
When: Sunday, September 13, suggested donation $27, 7:00
Why: After voting Democratic from 1988 to 2012 in the presidential election, Wisconsin went red in 2016, helping Donald J. Trump become the forty-fifth president of the United States of America. Amid protests and riots in the wake of the shooting of Jacob Blake seven times in the back by a police officer, Wisconsin is once more a key swing state, this time in the battle between Trump and former vice president Joe Biden. One way to contribute to turn the Badger State blue again is by signing up for an amazing livestreamed reunion reading of Rob Reiner's 1987 cult classic, The Princess Bride. On September 13 at 7:00, most of the original cast will participate in a one-time-only table reading of the script, with Cary Elwes as Westley, Robin Wright as Buttercup, Mandy Patinkin as Inigo Montoya, Wallace Shawn as Vizzini, Christoper Guest as Count Rugen, Billy Crystal as Miracle Max, Carol Kane as Valerie, and Chris Sarandon as Prince Humperdinck; joining them are director Rob Reiner as the Grandfather, Josh Gad as Fezzik, Eric Idle as the Impressive Clergyman, Finn Wolfhard as the Grandson, Shaun Ross as the Albino, Whoopi Goldberg as the Ancient Booer and the Mother, Jason Reitman as the Narrator, and King Bach as Yellin, the Assistant Brute, and the King, with Patton Oswalt as the Q&A Moderator and executive producer Norman Lear as the Man That Made It All Happen. Gad has been the king of reunions during the pandemic, having hosted online cast and crew reunions for Back to the Future, Splash, Lord of the Rings, Ferris Bueller's Day Off, Ghostbusters, and The Goonies on his YouTube channel.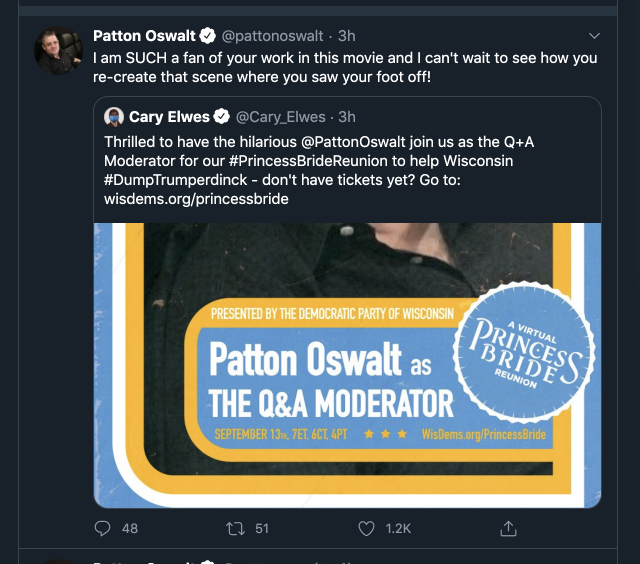 Based on William Goldman's 1973 novel — he wrote the screenplay as well — The Princess Bride is a riotously told fairy tale about power, family, vengeance, and true love, with memorable lines appearing throughout. (My favorite is "Hello. My name is Inigo Montoya. You killed my father. Prepare to die." You might prefer "As you wish," "Anybody want a peanut?," "You rush a miracle man, you get rotten miracles," or "Inconceivable!") In order to get the Act Blue link, you have to make a donation of any amount to the Democratic Party of Wisconsin, which explains, "Anything you donate will be used to ensure that Trump loses Wisconsin, and thereby the White House," as per the famous saying "As goes Wisconsin, so goes the nation." In a statement, Elwes added, "I think most people are aware by now that Donald Trump has completely abdicated his duties as president to represent and stand up for all Americans. He has failed to keep the country safe from Covid-19 and as a result he is responsible for the devastating chaos, violence, and economic collapse that we are now experiencing. If America is going to have a real chance at healing we must get rid of Trump. And that is only possible if we win Wisconsin. I am thrilled to be part of this very rare reunion of my colleagues from The Princess Bride as a way to increase awareness and garner resources for the state that will determine the fate of America." Be sure to take a moment of silence to pay your respects to the crew and cast members who are no longer with us, including Goldman, Peter Falk (the Grandfather), André the Giant (Fezzik), Peter Cook (the Impressive Clergyman), Mel Smith (the Albino), Margery Mason (the Ancient Booer), Anne Dyson (the Queen), and Willoughby Gray (the King). When Westley says, "We'll never survive!," he's of course referring to another four years of the current administration, but we also can't forget what the Grandfather explains: "Life isn't always fair." (For more Princess Bride fun, check out the star-studded Quibi home movie version here, benefiting World Central Kitchen.)