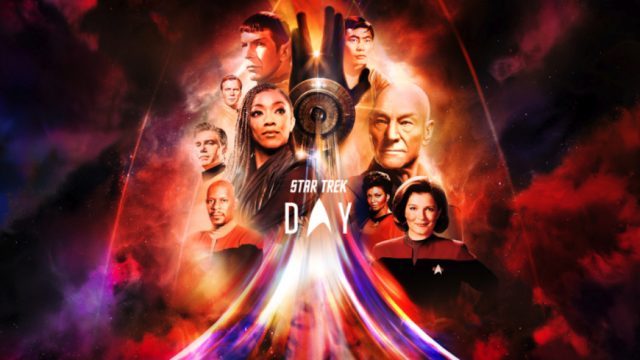 Who: Mica Burton, Sonequa Martin-Green, David Ajala, Alex Kurtzman, Michelle Paradise, Wil Wheaton, Cirroc Lofton, Alexander Sidding, Nana Visitor, Armin Shimerman, Terry Farrell, Ira Behr, Anson Mount, Rebecca Romijn, Ethan Peck, Akiva Goldsman, Henry Alonso Myers, Akela Cooper, Davy Perez, George Takei, Rod Roddenberry, Kate Mulgrew, Robert McNeill, Ethan Phillips, Robert Picardo, Tim Russ, Garrett Wang, Scott Bakula, John Billingsley, Dominic Keating, Anthony Montgomery, Linda Park, Connor Trineer, Mike McMahan, Tawny Newsome, Jack Quaid, Noël Wells, Eugene Cordero, Patrick Stewart, Jonathan Frakes
What: Online celebration of all things Star Trek
Where: CBS All Access and startrek.com
When: Tuesday, September 8, free, select shows streaming at 3:00 am on CBS All Access, panels beginning at 3:00 pm on startrek.com
Why: With so many small and large indoor and outdoor gatherings shut down during the pandemic, one of the industries taking the hardest hit is conventions. On September 8, CBS All Access and startrek.com are adapting by having a major online edition celebrating the Star Trek universe. The pop-culture phenomenon created by Gene Roddenberry continues to impact society and technology fifty-four years after the original series kicked off a three-season run on television in 1966, spreading to the big screen and the internet, with numerous live-action movies, prequels, sequels, and animated tales.
The first episode of Star Trek, The Man Trap, aired on NBC on September 8; this September 8, CBS All Access will be streaming twelve hours of shows from all over the Trek map, followed by eight live discussions on the official Star Trek site, all free. The event will be hosted by Wil Wheaton and Mica Burton and feature panels dedicated to Discovery, Deep Space Nine, Strange New Worlds, Voyager, Enterprise, Lower Decks, the original series, and The Next Generation and Picard, with more than three dozen ST veterans participating, including George Takei, Kate Mulgrew, Scott Bakula, Robert Picardo, Anson Mount, Rebecca Romijn, Patrick Stewart, and Jonathan Frakes. May they all live long and prosper.