Who: Jon Meacham, Wes Moore
What: Live discussion about John Lewis
Where: 92nd St. Y online
When: Friday, August 28, $20, 6:00
Why: In his new book His Truth Is Marching On: John Lewis and the Power of Hope (Penguin Random House, August 25, $30), Pulitzer Prize-winning presidential historian Jon Meacham writes, "There seemed no hope. An omitted 'Mister' might get you dumped in a swamp on an otherwise unremarkable summer day; walking home from church could lead to horrific sexual violence. 'We know that if we protest we will be called "bad ni--ers,"' the novelist Richard Wright wrote in his 1941 book Twelve Million Black Voices. 'The Lords of the Land will preach the doctrine of "white supremacy" to the poor whites who are eager to form mobs. In the midst of general hysteria they will seize one of us — it does not matter who, the innocent or guilty — and, as a token, a naked and bleeding body will be dragged through the dusty streets.' That was the way of the world into which John Lewis was born." Lewis contributed an afterword to the book.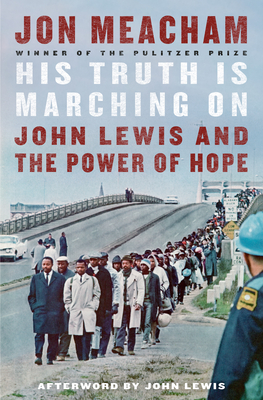 On August 28 at 6:00, as part of the 92nd St. Y program "92Y Confronts Hate: The Great Thinkers," Meacham, who has written such other books as American Lion: Andrew Jackson in the White House, Franklin and Winston, and The Soul of America: The Battle for Our Better Angels, will be joined by bestselling author, army combat veteran, and Robin Hood CEO Wes Moore to discuss the life and legacy of Congressman John Lewis, the beloved civil rights leader who passed away in Atlanta last month at the age of eighty. The talk is being held in conjunction with the fifty-seventh anniversary of the March on Washington, which is being honored virtually this year by the NAACP here. Tickets are $20 and help benefit the 92nd St. Y as it deals with the Covid-19 pandemic; you can hear an audio clip of the book here. "The Great Thinkers" continues August 31 with "Marion Nestle: Master Class on the Politics of Food and Health," September 15 with "Master Class with Paul Krugman and Mauro Guillen: Our World in 2030," and September 17 with "Paula Scher: Master Class on Design, Branding and Identity with Ellen Lupton," while "92Y Confronts Hate" continues September 8 with "Symone Sanders with Jonathan Capehart — No, You Shut Up: Speaking Truth to Power."