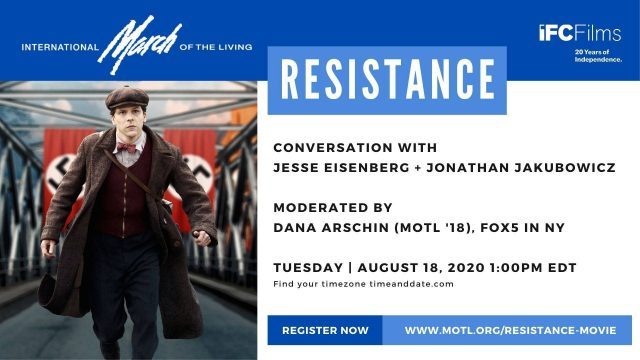 Who: Jesse Eisenberg, Jonathan Jakubowicz, Dana Arschin
What: Conversation and Q&A
Where: The International March of the Living Zoom
When: Tuesday, August 18, free with RSVP, 1:00
Why: Writer-director Jonathan Jakubowicz's 2020 Holocaust thriller, Resistance, features a surprising hero: French mime Marcel Marceau, who was a teenage member of the French resistance during WWII. Known at the time as Marcel Mangel, he is portrayed in the film by actor and playwright Jesse Eisenberg; the film also stars Ed Harris as General George S. Patton and Matthias Schweighöfer as Klaus Barbie. On August 18 at 1:00, Eisenberg (The Social Network, Zombieland) and Jakubowicz (Hands of Stone, Secuestro Express) will discuss the film and more with moderator and Emmy-winning reporter Dana Arschin, hosted by the March of the Living, an organization dedicated to honoring and remembering the six million Jews who were murdered during the Holocaust, supporting Israel, and fighting anti-Semitism, discrimination, hatred, and intolerance everywhere. You can watch the film in advance here.