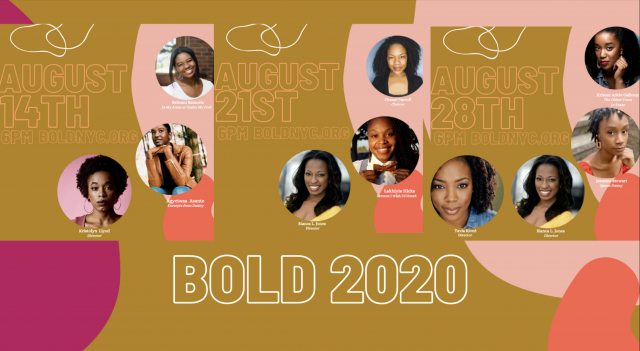 Who: Black theater creators
What: Short plays with talkbacks
Where: BOLD 2020 (link sent after registration and prior to event)
When: August 14, 21, 28, free with RSVP, 6:00
Why: With Kamala Harris being selected as Joe Biden's running mate, the prominence of Black women in America takes another giant leap forward. Expect that to be part of the discussion when BOLD, an organization that "seeks to create a culture in which Black womxn are one another's allies," presents "BOLD 2020," a virtual edition of its ten-minute play festival, consisting of six new works written and directed by Black women and streamed for free over three successive Friday nights. "Black womxn will change the world! The restoration of our culture is dependent on the amplification of the Black womxn's voices," BOLD cofounder Destinee Rea said in a statement. "In this year alone we have seen the ways Black womxn are using their voices to inspire, empower, and shift culture. We are in desperate need of their stories being contributed creatively, grafted into the American canon."
August 14 will feature Brittani Samuels's In My Arms, or Under My Foot (with Anastacia McCleskey, Tiffany Denise Hobbs, J. Alphonse Nicholson, and Trevor Hayes) and Agyeiwaa Asante's Dainty (with Amber Iman, Zurin Villanueva, Capathia Jenkins, and Candice Marie Woods), directed by Kristolyn Lloyd; on August 21, Chanel Carroll's Choices and Lakhiyia Hicks's Sermon I Wish I'd Heard will be directed by Bianca LaVerne Jones; and the festival concludes August 28 with Kristen Adele Calhoun's The Oldest Town in Texas and Jazmine Stewart's Queen Nanny, directed by Jones and Tavia Riveé Jefferson. Each night, the two plays will be followed by a live discussion with the creators and others.