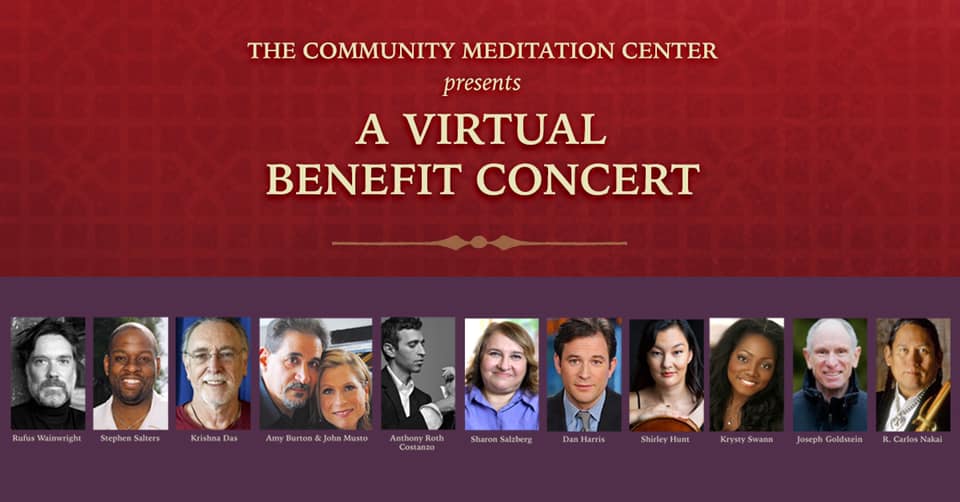 Who: Rufus Wainwright, Stephen Salters, Krishna Das, Amy Burton, John Musto, Anthony Roth Costanzo, Sharon Salzberg, Dan Harris, Shirley Hunt, Krysty Swann, Joseph Goldstein, R. Carlos Nakai
What: Live virtual benefit concert
Where: Community Meditation Center online
When: Sunday, August 9, $25 - $1,000, 7:00
Why: Since 2007, the Community Meditation Center has been "supporting each individual's efforts to alleviate suffering, stress, and discord in themselves and in the world. CMC objectives oppose the destructive forces of greed, hatred, and delusion by cultivating generosity, compassion, and wisdom." On August 9 at 7:00, the Upper West Side institution will be holding its annual gala online, benefiting CMC in addition to the Black Lives Matter Global Network and First Nations Development Institute. The all-star lineup features singer-songwriter Rufus Wainwright, kirtan chanter Krishna Das, Met Opera stars Anthony Roth Costanzo and Krysty Swann, soprano Amy Burton and pianist John Musto, cellist Shirley Hunt, baritone Stephen Salters, and Native American flutist R. Carlos Nakai, with Insight Meditation Society cofounders Joseph Goldstein and Sharon Salzberg, hosted by Dan Harris. Donations begin at $25 to attend the benefit and go up to $1,000 with copies of several of the participants ' books and CDs.