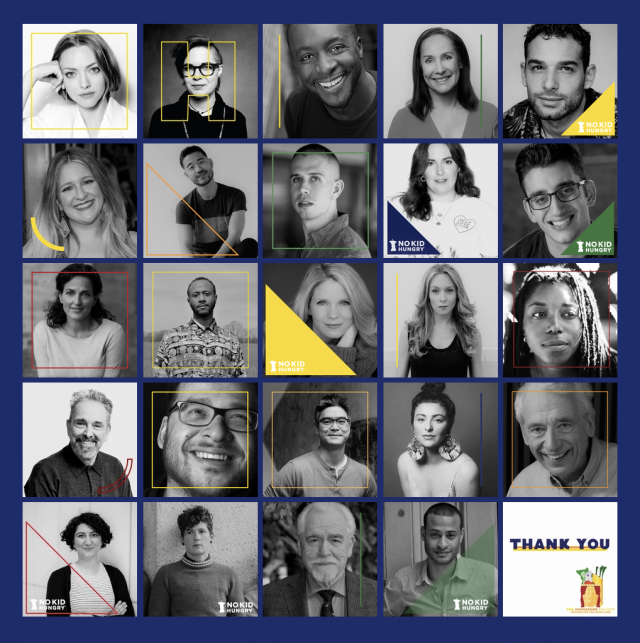 Who: Brian Cox, Nicole Ansari-Cox, Orson Cox, Torin Cox, Joslyn DeFreece, Lena Dunham, Ryan J. Haddad, Daniel K. Isaac, Andy Lucien, Laurie Metcalf, Kelli O'Hara, Cesar J. Rosado, Amanda Seyfried, Johnny Sibilly, Janelle Monáe, Billy Shore
What: New online theatrical works to benefit No Kid Hungry
Where: Link supplied by the Homebound Project after donation
When: August 5-9, $10 or more, 7:00
Why: One of the best theatrical series during the pandemic has been the Homebound Project, short one-act plays, generally between five and ten minutes each, featuring award-winning actors, writers, and directors, filmed wherever the performer is sheltering in place. Among the many highlights from the first four iterations were Alison Pill in C. A. Johnson's diversions, Marin Ireland in Eliza Clark's The Jessicas, Kimberly Hébert Gregory in Loy A. Webb's These Hands, Utkarsh Ambudkar in Marco Ramirez's Is This a Play Yet, Ashley Park in Bess Wohl's The Morning Message to the Second Graders in Room 206, directed by Leigh Silverman, Daveed Diggs in Johnson's Here and Now, Diane Lane in Michael R. Jackson's Let's Save the World, also directed by Silverman, Sue Jean Kim in Leslye Headland's The Rat, directed by Annie Tippe, and ​Marquise Vilsón in Migdalia Cruz's Meat & Other Broken Promises, directed by Cándido Tirado. However, if you didn't catch them the first time around, when they ran online for four days each, then you're out of luck. But you can catch the fifth and final presentation, which premieres August 5 at 7:00 and can be viewed, with a minimum donation of ten dollars, through August 9 at 7:00. All proceeds benefit No Kid Hungry; more than one hundred thousand dollars has been collected so far.
The theme of the first four installments were "Home," "Sustenance," "Champions," and "Promise"; taking on the prompt of "Homemade" are the following exciting actor/writer/director collaborations: Brian Cox, Nicole Ansari-Cox, Orson Cox, and Torin Cox / Melis Aker / Tatiana Pandiani; Joslyn DeFreece / Lloyd Suh / Colette Robert; Lena Dunham / Lena Dunham / Maggie Burrows; Ryan J. Haddad / Christopher Oscar Peña / Jaki Bradley; Daniel K. Isaac / Sylvia Khoury; Andy Lucien / Donnetta Lavinia Grays; Laurie Metcalf / Stephen Karam; Kelli O'Hara / Lindsey Ferrentino / Scott Ellis; Austin Pendleton / Craig Lucas / Pam MacKinnon; Cesar J. Rosado / Basil Kreimendahl / Samantha Soule; Amanda Seyfried / Catya McMullen / Jenna Worsham; and Johnny Sibilly / Korde Arrington Tuttle / Worsham; along with special appearances by Janelle Monáe and Share Our Strength executive director Billy Shore. These compilations have done a superb job of putting the pandemic in perspective, particularly how it relates to theater; in addition, there's the major bonus of seeing where these actors are hunkered down during the coronavirus crisis.
follow twi-ny
 navigate
listings