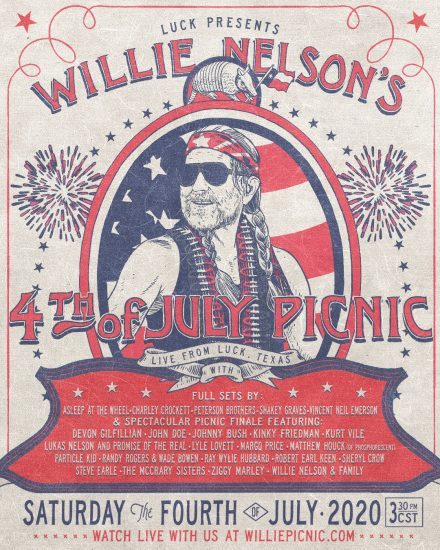 Who: Willie Nelson & Family, Lukas Nelson and Promise of the Real, Particle Kid, Sheryl Crow, Lyle Lovett, Margo Price, Shakey Graves, Ziggy Marley, Ray Wylie Hubbard, Robert Earl Keen, Asleep at the Wheel, Steve Earle, Kurt Vile, the McCrary Sisters, John Doe, Randy Rogers & Wade Bowen, Devon Gilfillian, Nathaniel Rateliff, Charley Crockett, the Peterson Brothers, Johnny Bush, Matthew Houck, Vincent Neil Emerson, Kinky Friedman, Gina Chavez, Kalu James, Monte Warden, Parker McCollum, Trey Privott, the War and Treaty
What: Virtual Independence Day celebration
Where: LuckStream
When: Saturday, July 4, $35 in advance, $45 day of show, 4:30
Why: Since 1973, Willie Nelson has been hosting July 4 week picnics with great music, food, and more. This year the festivities go virtual, with Willie hosting from his Luck ranch in Texas with an all-star lineup either performing live from the Luck saloon and chapel, at Nelson's Pedernales Studios, or from wherever they're sheltering in place. The roster features live sets by Charley Crockett at 4:40, the Peterson Brothers at 5:40, Particle Kid at 6:40, Shakey Graves at 7:00, Vincent Neil Emerson at 8:00, and Asleep at the Wheel at 9:00, followed at 9:30 by a prerecorded ninety-minute finale with music, interviews, and stories by such luminaries as Sheryl Crow, Lyle Lovett, Ziggy Marley, Robert Earl Keen, Steve Earle, Kurt Vile, John Doe, and Kinky Friedman as well as Willie and his sons, Lukas and Micah. Food and drink are also on the menu, with a "Prime Cuts" episode with chef Scott Roberts of Salt Lick BBQ, cocktail suggestions from mixologist Jessica Sanders, and delivery packages if you live within spitting distance of the ranch. Tickets are $35 in advance and $45 day of show, with one dollar from each sale going to the Luck Reunion Fund, which "is dedicated to preserving and supporting the musical and cultural community inspired by the work of Willie Nelson and the Luck Reunion family." Happy birthday, America!