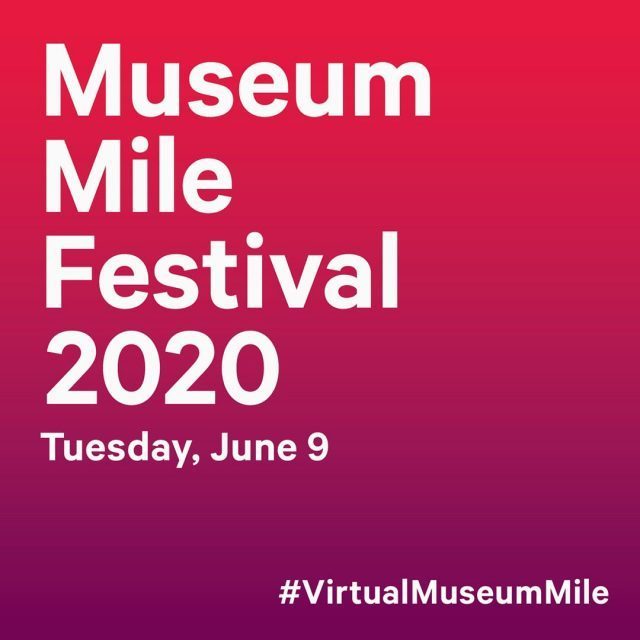 Who: Eight arts institutions along upper Fifth Ave..
What: Virtual Museum Mile Festival
Where: Individual websites, Twitter, Instagram, Facebook
When: Tuesday, June 9, free 9:00 am - 9:00 pm
Why: For forty-one years, New Yorkers have crowded onto Fifth Ave. between 82nd and 105th Sts. for the annual Museum Mile Festival, in which eight popular arts institutions open their doors for free, providing access to exhibitions and hosting live performances, workshops, panel discussions, and more between 6:00 and 9:00. With the pandemic lockdown still in place for museums, the festival goes virtual for 2020, taking place all day instead of just three hours, offering exhibition tours, curator and artist talks, family-friendly activities, and other special programs that people can experience from the comfort of their home. The live and prerecorded events are scheduled for 9:00 am to 9:00 pm on Twitter, Instagram, and Facebook; follow #VirtualMuseumMile for specific info. Below are some of the highlights.
The Africa Center
"African/American: Making the Nation's Table," prerecorded videos with Ezra Wube, livestreamed conversation at 5:00 between culinary historian and exhibition's curator Jessica B. Harris and exhibit advisor and Teranga executive chef and co-owner Pierre Thiam
Museum of the City of New York
"Curators from the Couch: Who We Are," with chief curator and deputy director Sarah Henry, information designer Giorgia Lupi, and artist and computer scientist Brian Foo; MCNY Live, with cartoonist Roz Chast and novelist and Hugo Award winner N. K. Jemisin
El Museo del Barrio
Prerecorded interviews with artists, including iliana emilia garcia and Hiram Maristany; Collection-ary, with curators Rodrigo Moura and Susanna Temkin and artists Elia Alba and Scherezade García, 6:00; "¡Muevete!" with Nina Sky, free with advance RSVP, 8:00
The Jewish Museum
At-home art projects for families; audio tours with Isaac Mizrahi, Kehinde Wiley, Alex and Maira Kalman, Ross Bleckner and Deborah Kass, and others; "Movies That Matter: Teens Confront Segregation in America," with artist and filmmaker Gillian Laub; interview with artist Rachel Feinstein about the exhibition "Rachel Feinstein: Maiden, Mother, Crone"; discussion with artists Rachel Feinstein and Lisa Yuskavage, filmmaker Tamara Jenkins, and curator Kelly Taxter; performance for families from the Paper Bag Players at Home
Cooper Hewitt, Smithsonian Design Museum
Virtual tour of the exhibition "Contemporary Muslim Fashions"; video art-making lessons, including potato stamp pattern making inspired by Eva Zeisel; design talk "Exploring A.I.: Data Portraits," with curator Ellen Lupton and artists R. Luke DuBois, Jessica Helfand, and Zachary Lieberman
Solomon R. Guggenheim Museum
Virtual Stroller tour/talk for young children, 3:00; Guggenheim at Large, with curators talking about the collection; "Sketch with Jeff," a hands-on activity for families with teaching artist Jeff Hopkins; a self-directed audio/visual experience via the Guggenheim Digital Audio Guide
Neue Galerie New York
Virtual tour of "Madame d'Or" with exhibition curator Dr. Monika Faber; a hands-on arts and crafts activity "Making Hats: Use What You Have," with Deborah Rapoport; "Baking Linzer Cookies: A Recipe from Café Sabarsky"
The Metropolitan Museum of Art - Twitter, Instagram, Facebook, YouTube
Virtual tours of "Sahel: Art and Empires on the Shores of the Sahara" and "Gerhard Richter: Painting After All"; prerecorded interview with artist Wangechi Mutu; design your own puppet and banjo using recycled materials; flower crown making; streaming of 2019 MetLiveArts dance performance by Silas Farley filmed in museum galleries