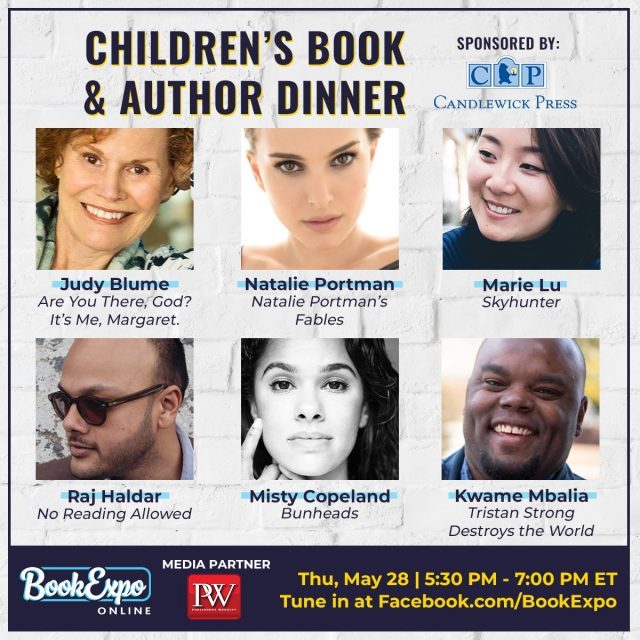 Who: Judy Blume, Natalie Portman, Misty Copeland, Raj Haldar, Marie Lu, Kwame Mbalia, Rebecca Roanhorse, Rep. Ilhan Omar, Carmen Maria Machado, Zerlina Maxwell, Joy Harjo
What: Annual events honoring adult and children's book authors
Where: BookExpo Facebook
When: Wednesday, May 27, and Thursday, May 28, free, 5:30
Why: Two of the hottest tickets every year at BookExpo are the Adult Book & Author Breakfast and the Children's Book & Author Breakfast. Because of the pandemic shutdown, the convention has moved online, and the breakfasts have become virtual dinners, taking place for free on May 27 and May 28 at 5:30. The adult celebration features Rebecca Roanhorse, author of Black Sun; Rep. Ilhan Omar (This Is What America Looks Like: My Journey from Refugee to Congresswoman); Carmen Maria Machado (The Low, Low Woods); Zerlina Maxwell (The End of White Politics — How to Heal Our Liberal Divide); and U.S. poet laureate Joy Harjo (An American Sunrise). The participants for the children's party are Oscar winner Natalie Portman (Natalie Portman's Fables); ABT principal dancer Misty Copeland (Bunheads, illustrated by Setor Fiadzigbey); Raj Haldar, aka Lushlife, (No Reading Allowed); Marie Lu, (Skyhunter); Kwame Mbalia, (Tristan Strong Destroys the World); and Judy Blume, celebrating the fiftieth anniversary of Are You There God? It's Me, Margaret. "This event showcases the diversity of genres, book types, authors, and publishers within the world of children's and young adult literature," BookExpo event director Jennifer Martin said in a statement. "We're extraordinarily thrilled to have such a varied group of authors who will bring such unique and different perspectives to our show. We know all our attendees will walk away with valuable insights about how these books, and ones like them, can help their own bookstores, libraries, and retail shops." BookExpo runs online May 26-29 with other free panel discussions, author talks, and showcases, followed May 30-31 by BookCon.